Fans of world-famous Italian opera singer Alessandro Safina in the UAE will have a unique opportunity to witness this extraordinary talent as he celebrates his 60th birthday with a special concert.
Known for his innovative approach to mixing classical opera with rock and popular music, Safina continues to captivate audiences around the world with his powerful vocals and unforgettable charm.
Alessandro Safina, a graduate of the Florentine Conservatory and opera singer who had previously performed leading roles on the stages of the best theaters in Europe in the operas "La Boheme," "The Barber of Seville," and "Mermaid," broke out beyond the confines of the academic art, essentially founding a new genre that would be known as "opera rock," with his album "Insieme A Te," which sold a million copies.
His distinctive voice, natural charisma, lively disposition, and courageous creativity—which allowed him to blend opera with popular music, rock, and soul—became the foundation of his international success.
Following the release of the first single, "Luna," which reached the top of the European charts and was used as the theme song for the hit TV show "Clone," Andrew Lloyd Webber recorded the soundtrack for the Baz Luhrmann film "Moulin Rouge" and performed "Music of the Night" for Her Majesty Queen Elizabeth II.
Five solo albums and incredible duets with Elton John ("Your Song"), Rod Stewart ("Don't Get Around Much Anymore"), Chrissie Hynde of The Pretenders, Andrea Bocelli, and Sumi Cho, as well as appearances on Sarah Brightman's "Symphony" album and the "Symphony World Tour 2008," helped Alessandro achieve gold and platinum status for his albums and sell out shows all over the world.
It will be the only chamber symphony orchestra performance in Dubai.
The "Luna" smash hit, everyone's favorite songs, and brand-new music will all be featured in the setlist.
Date&Time Of Alessandro Safina Concert in Dubai
The concert is scheduled to start at 8:00 PM local time on Thursday, October 26, 2023.
Doors will open at 7:00 PM. So you'd better come earlier.
Dress-code is casual.
Tickets Prices
Prices range from AED 270 to AED 920 depending on the seat location. You are advised not to hesitate as tickets are selling out very quickly.
The minimum age eligible for this concert is 6 years old.
Where To Buy Tickets
You can buy tickets to the Alessandro Safina Concert in Dubai 2023 online at Platinumlist.
Location
The performance will take place at the Agenda located in Dubai Media  City which can accommodate up to 5, 000 people.
The address is Abdullah Omran Taryam St – corner Al Jaddi St – Dubai Media City – Dubai.
On-site dining is available.
How To Reach
by car. You can use your car to get to the Agends. Underground parking with plenty of parking spaces available for guests.
by taxi. You can use the Careem app, RTA app, or Yango app.
by metro. The nearest station is Dubai Internet City which is only 10 10-minute walk.
by bus. You can take routes 8 or 84 to get there.
Latest Concert of Alessandro Safina in Dubai
In his previous concert in Dubai in 2013, Safina demonstrated his impressive vocal range and emotive performances, earning him a dedicated fan base in Dubai and beyond.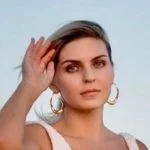 I am Anastasia, the author of this blog and a passionate and experienced traveler who resides in the UAE.
I have visited every Emirate, every popular sight, and every hidden gem.
I m here to help you make your trip to the UAE unforgettable.