The 3D World Dubai Selfie Museum should be on your list of must-see sites in Dubai if you're searching for a distinctive and enjoyable experience. You have the opportunity to immerse yourself in the realms of art, 3D illusions, and interactive exhibitions at this cutting-edge location.
The selfie museum is the ideal location for a memorable visit with friends or family because of its enjoyable and welcoming environment.
In this museum, you'll find over 185 reality-defying artworks that are designed to be captured in your photos, making you the star of your very own 3D masterpiece.
As you stroll through the 21,000 sqft space, you'll be amazed by the mind-bending illusions, from gravity-defying scenes to magical landscapes. So, grab your camera and unleash your creativity as you explore Dubai's first 3D trick art museum and create memorable pictures at the same time.
Don't be shy! The 3D World Selfie Museum is made for you to interact with the exhibits and snap as many photos as you can. Share your experience on social media with your friends and followers, showcasing your talent for blending into the art while having a blast in this unusual and captivating Dubai attraction.
About 3D World Dubai Selfie Museum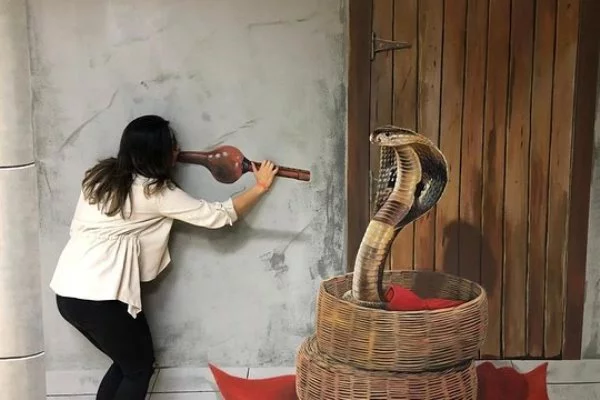 Recommended time: 2 hours
Welcome to the 3D World Dubai Selfie Museum, a place where you can interact with art and immerse yourself in illusions, creating fun and memorable photos.
This unique museum features hand-painted "trick-art" paintings and optical illusions that will spark your imagination and encourage you to engage with the two-dimensional paintings and three-dimensional images in a whole new way.
As you explore the museum, you'll discover over 185 artworks spread across 21,000 sq. ft of space. The illusions are not limited to the ground, but extend up to the ceilings and walls, enveloping you in a vibrant world of trompe-l'oeil.
This remarkable form of French art, translated as "deceive the eye," aims to use optical illusions and perspective techniques to make objects appear three-dimensional.
The 3D World Dubai Selfie Museum is designed with nine different zones for you to let your imagination run wild:
Illusion
Arabic
Egyptian
Water World
Animal Kingdom
World of Masterpieces
Fantasy
Jungle
Humor
Each zone is brimming with skillful murals and optical illusions, all waiting for you to hop in and pose with them. You and your friends will have a blast becoming part of these captivating, Instagram-worthy scenes.
If you're unsure of how to engage with the artwork or strike the ideal posture, don't worry; the helpful staff members at the museum are always willing to assist and advise you.
They sincerely want you to enjoy yourself as much as you can while exploring this unusual and distinct setting.
So, take a step into the interactive gallery, and let your creativity and imagination run wild. Immerse yourself in this playful world where art and reality merge, snap stunning photos, and create memorable photos that you'll cherish for years to come.
Timings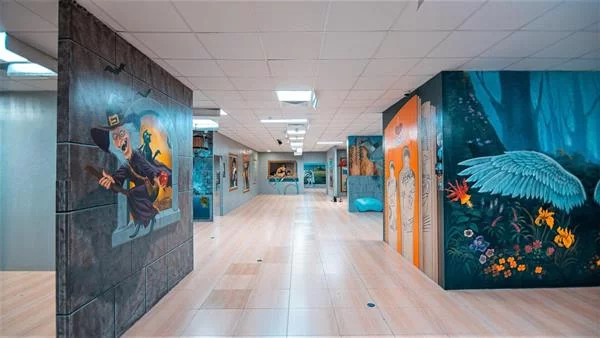 The museum is open every day, including public holidays, so you can plan your visit without worrying about the days it might be closed.
The opening hours of the museum are from 10:00 AM to 8:00 PM.
As you enjoy the myriad of interactive and hand-painted 3D artwork during your visit, please keep the last admission time in mind.
The museum's final admission is at 7:00 PM, which means make sure to arrive before that time. This approach will ensure that you have ample time to explore and capture some fantastic photos in the museum without feeling rushed.
Tickets Options
Booking policy
Most ticket providers allow free cancellation up to 24 hours in advance for a full refund.
Only when buying tickets through the official website you will not have any refunds or exchanges on any tickets.
Location

You'll find the 3D World Dubai Selfie Museum conveniently located along Sheikh Zayed Road, near the Natuzzi Showroom.
This exciting attraction is situated in Al Quoz, a vibrant area known for its art galleries, cafes, and innovative businesses.
How To Reach
In this guide, we'll briefly go over your options, including public transit and private vehicles, so you can plan your visit accordingly.
If you're traveling by metro, the nearest metro station to the museum is Noor Bank Station, which is easily accessible from various parts of the city. After exiting the metro station, it's a short walk lasting 9 minutes.
For those who prefer to take the bus, there are a couple of nearby bus stops that you can use. The Shirawi, Scania 2 and Bosch Center 2 closest bus stops are all within walking distance from the museum. You can take 10, 15, 21, or 98 E buses.
In case you're traveling by car, there's ample parking available around the museum, making it a convenient option if you'd like to drive yourself. Alternatively, you can also choose to take a taxi to reach the 3D World Selfie Museum.
Taxis are widely available in Dubai and can be hailed from any part of the city. Just make sure to provide the museum's address to your driver for a smooth journey.
Tips
For people of all ages, going to the 3D World Dubai Selfie Museum may be a thrilling and enjoyable experience. Consider the following helpful recommendations to get the most out of your visit:
Dress comfortably: It's a good idea to dress comfortably because you'll be moving around several zones and engaging with the 3D artworks. You will be able to walk about freely and strike poses as you merge with the artwork.
Bring a fully charged phone or camera: Don't pass up any of the ideal photo possibilities! To record your favorite museum experiences, make sure your phone or camera is fully charged. To keep your smartphone charged throughout the stay, a power bank might be useful.
Take your time in each zone: The museum features nine artistic zones, including Illusion, Arabic, Egyptian, Water World, Animal Kingdom, World of Masterpieces, Fantasy, Jungle, and Humor. Don't rush through them – take your time to appreciate the 3D artwork and let your creativity flow when posing for pictures.
Experiment with angles: To get the best photos, try experimenting with different angles and perspectives. The artwork is designed to create amazing illusions, so use your camera to find the perfect angle for that jaw-dropping shot.
Get snacks in a café: In case you feel hungry, the museum offers a small café where you can purchase some light snacks and drinks to refresh yourself.
Enjoy the experience with others: The museum is a great place to visit with friends and family. Share the experienced fun times with your loved ones and capture those precious moments together.
Frequently Asked Questions
How much is the ticket for the 3D museum in Dubai?
The admission price for the 3D World Dubai Selfie Museum can vary. Currently, entrance tickets cost from 65 AED for children 3-11 years old and 89 AED for adults. It's free for kids under 3 years old. There are also guided tour options available, which start at approximately 65 AED per person.
What is the best time to visit 3D World Dubai Selfie Museum?
The 3D World Dubai Selfie Museum is open daily, including public holidays, from 10:00 AM to 8:00 PM. The last entry is at 7:00 PM. The best time to visit depends on your schedule and preference, but it's generally advisable to visit during off-peak hours and weekdays to avoid potential crowds.
Is there a daily limitation for visitors?
There doesn't seem to be a specific daily limitation for visitors at the 3D World Dubai Selfie Museum. However, it's a good idea to arrive early or to book your tickets in advance, especially during peak season or holidays, to ensure a smooth and enjoyable experience. Note that the gallery can accommodate up to 150 visitors simultaneously, which is the maximum capacity allowed at any given time.
Reviews
As you plan your trip to The 3D World Selfie Museum, take these most mentioned pros and cons of visitors into consideration.
Pros:
Many visitors enjoyed the interactive and fun experience of taking pictures at the museum.
The museum offers a wide variety of backdrops and props for visitors to use in their photos.
The staff is reported to be friendly and helpful.
Cons:
Some visitors felt that the museum was overpriced for the amount of time they spent there.
Photos
Videos
Immersing yourself in the realm of art and optical illusions is exciting and engaging when you visit the 3D World Selfie Museum in Dubai.
You will be astounded by the 185 hand-painted "Trick-Art" pieces that cover 21,000 square feet and provide you with several possibilities to interact with the artwork and create memorable pictures.
The animal kingdom, the aquatic world, fantasy, and comedy are just a few of the fascinating topics you'll come across as you tour the museum. With the help of these 3D interactive galleries, you can interact with the artwork and make special memories with your friends and family.
You can be sure that this one-of-a-kind attraction will leave you with priceless memories, cool photo ideas, gorgeous pictures, and a greater understanding of the delicate beauty of paintings and illusion.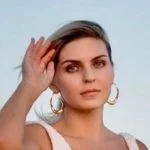 I am Anastasia, the author of this blog and a passionate and experienced traveler who resides in the UAE.
I have visited every Emirate, every popular sight, and every hidden gem.
I m here to help you make your trip to the UAE unforgettable.