Dine in the clouds at Dinner in the Sky Dubai, where a 22-person table is being suspended by a crane at a high 165 feet (50 meters) in the air above Dubai for an unforgettable dining experience. An array of main Dubai's landmarks including Palm Jumeirah, Burj Al Arab, Dubai Marina, and Bluewaters with Ain Dubai can be seen from this lofty restaurant!
Choose between lunch sessions or dinner sessions to enjoy three delicious courses featuring starters, mains, and desserts.
All meals last 60-90 minutes so we hope you have plenty of time to take pictures and take it all in with friends while enjoying unique scenery too good not to miss out on!
What Is Included
Package includes:
3-course menu
Fresh juice and soft drinks
Coffee and tea
Timings
You can choose from 2 main options which happen on a scheduled time:
Lunch: at 2.00 PM, 3.30 PM or 5.00 PM
Dinner: at 6.30 PM, 8.00 PM, or 9.30 PM
Duration of the experience: 1 h – 1.30 h
Important to know!

8 years old is the minimum age requirement to engage in this activity.
Participants must weigh no more than 150 kilos and be at least 1.2 meters (120 cm) tall.
Smoking is not allowed at any time during Dinner in the Sky Dubai.
Pregnant women are not allowed.
Where To Buy Tickets
Tiqets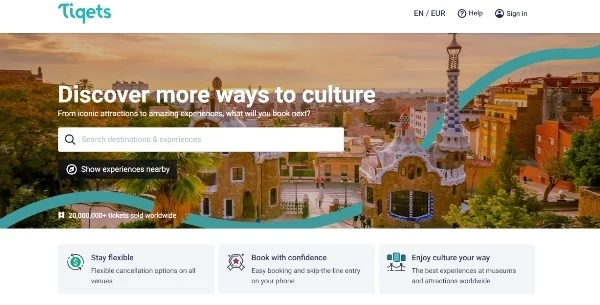 4.5 rating and more than 30 593 reviews on Trustpilot
Free cancellation prior 24/72 hours *(for most tickets)
Skip-the-line service *(for most tickets)
8+ payment methods
24/7 support
Mobile tickets with instant delivery
Convenient app
GetYourGuide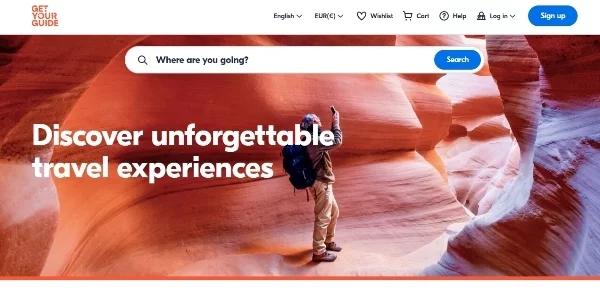 4.4 rating and more than 20 235 reviews on Trustpilot
Reserve now & pay later
Free cancellation prior to 24 hour
Transfer (Optional for some tickets)
Regular promotions
24/7 support
Available in 23 languages and 40 currencies
RaynaTours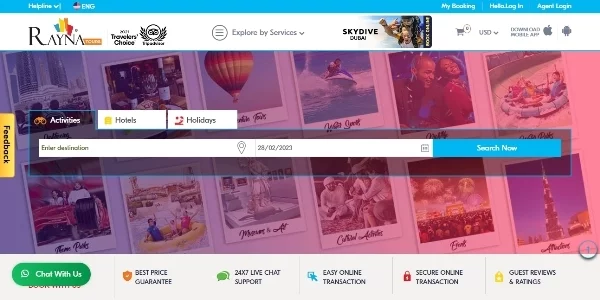 4.9 rating and more than 20 802 reviews on Trustpilot
Free cancellation prior to 24 hours
Pick up & Drop Back Service (Optional)
24/7 Online help
Best Price Guarantee
Viator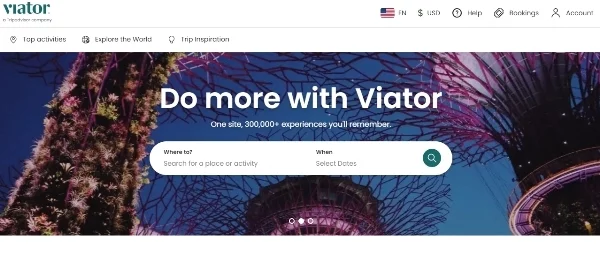 4.2 rating and more than 108 240 reviews on Trustpilot
Reserve Now & Pay Later
Free cancellation *(For some tickets)
24/7 customer support
Lowest price guarantee
Klook
 3.3 rating and more than 4446 reviews on Trustpilot
Free cancellation prior to 24 hours
24/7 customer service
Guaranteed best prices and offers
Tickets Options
Booking Policy
Some services provide non-Refundable tickets (for example Rayna Tours, and Klook), and some offer free cancellation prior to 24 hours of arrival (for example Tiqets, Viator, and GetYourGuide).
Rescheduling usually is not possible for this ticket.
Location

It is located in Sky Dive Dubai. The address is Al Sufoh – Skydive – Al Seyahi St – Dubai.
How To Reach
Taxi: The easiest and most convenient way to reach Dinner in the Sky Dubai is by taking a taxi. You can order Careem or Uber,
Car: If you are driving yourself, you can easily find parking nearby at free spacious parking near Dinner in the Sky Dubai.
Tips
If you ever go, keep in mind the weather conditions.
Please arrive at least 15-20 minutes early.
Bring your camera to make amazing pics.
Refrain from donning laces-free or open-toed footwear while having an adventure.
The cost of tickets is lower on weekdays.
F.A.Q.
How much does it cost to have Dinner in the Sky Dubai?
The cost of Dinner in the Sky Dubai varies depending on the chosen package, meal plan, and day of the week.
Generally, an average dinner package starts at AED 599 per person and can go up to AED 800 per person depending on your selections. If you want to celebrate special days such as birthdays and anniversaries with your guests at this one of the most unusual restaurants, it could cost higher.
What is the dress code for Dinner in the Sky Dubai?
The dress code for Dinner in the Sky Dubai is smart casual, so you should wear something that is comfortable yet elegant.
Men should avoid wearing shorts and flip-flops. Women are not required to cover their heads or shoulders.
Always keep in mind weather conditions, because sometimes it the night could be cool and windy.
How many people will be there at the table?
The maximum group size is 22 people.
Reviews
People who have experienced Dinner in The Sky Dubai notice the following pros:
You feel very secure during Sky Dinner even if you are scared of heights.
There are vegetarian options on the menu.
Great music from a live DJ.
Breathtaking scenery of Dubai skyline.
Very nice and polite staff.
Great food.
It is worth every single penny, an unforgettable experience.
There is free spacious parking.
People who have experienced Dinner in the Sky Dubai notice the following cons:
Unexpected weather conditions – sometimes it might be cold and windy.
Some people say that food is just ok.
There is no alcohol served.
Quite a high price.
Photos
Videos
In conclusion, Dinner in the Sky Dubai is a unique, fun, and memorable dinner experience indeed.
Whether it's with friends or family, a visit to this spectacular one-of-a-kind luxurious dining experience will surely create wonderful memories.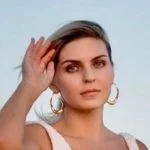 I am Anastasia, the author of this blog and a passionate and experienced traveler who resides in the UAE.
I have visited every Emirate, every popular sight, and every hidden gem.
I m here to help you make your trip to the UAE unforgettable.