Numerous top-notch zoos and animal parks can be found in the UAE, giving visitors the chance to get up close and personal with a wide range of various animal species. Every location, from the well-known Aquarium and Underwater Zoo located at Dubai Mall to the cutting-edge Dubai Safari Park, offers something special to offer animal enthusiasts of all ages.
Dubai zoos and wildlife parks are must-see destinations, whether you like to explore natural habitats, learn about conservation initiatives, or just awe at exotic and favorite animals from far-off locations.
Zoo Dubai
In Dubai, there are several public zoos and parks, including underwater zoos, and outdoor and indoor ones, that are home to a diversity of animal and plant species. To learn about the best zoos, their amenities, and animal "residents", read our review of six of the most well-known ones.
Dubai Safari Park
An outstanding Dubai Safari Park measuring 119 hectares may be found in Dubai, United Arab Emirates. There are more than 3,000 creatures featured there, including African elephants, lions, Arabian oryxes in African Village, and lots of exotic birds, giraffes, rhinos, and other animals. When the oldest zoo, Dubai Zoo in Jumeirah, was closed in 2017, its inhabitants were relocated to the brand-new Dubai Safari Park.
Additionally, the Dubai Safari Park provides different zones, for instance, African Village, Arabian Desert Safari, Explorer Village, Asia Village, and a range of participatory activities, including regular animal encounters, Hippo Aquarium, bird show, feedings of giraffes, and goats, and educational programs for both adults and kids.
The vast grounds of the Dubai Safari Park may be explored on foot by visitors or they can join guided tours to learn about the conservation efforts being made there. The Dubai Safari Park prohibits the use of bicycles, scooters, skateboards, and roller skates.
Consumers may take use of multiple facilities at Dubai Safari Park:
Well-maintained toilets
Dinings options (food trucks, kiosks, and 4 restaurants providing Persian, Italian, Asian, and Mediterranean cuisines)
Stroller accessible walkways
Wheelchair services
Prayer rooms
Baby changing facilities only in the female toilets
Free WI-FI
Two souvenir shops offering toys, plush animals, apparel, gifts, and souvenirs
A 10-minute electric vehicle trip through the Arabian Desert Safari, Live Shows, and the Kid`s Farm, where children may feed and pet animals including donkeys, ducks, and ponies, are all included with the Day Pass ticket. To enjoy unlimited train journeys and reserved seats for live performances, upgrade to the Day Pass+!
Additionally, join the 35-minute Safari Journey bus excursion for a memorable adventure around Dubai Safari Park. Choose Safari Journey+ to get reserved seats for Live Shows as well. Children's prices begin at 35 AED, while adult prices begin at 75 AED.
Prices: from 20 AED (children 3-12 years old), from 50 AED (adults)
Location: 5CCW+H5 – Al Warqa 5 – Dubai
Tripadvisor: 3.5 (416 reviews)
Google Maps: 4.5 (5,112 reviews)
Green Planet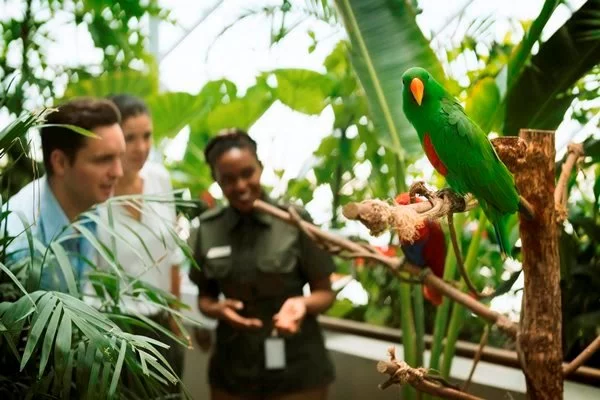 Visitors of Dubai's The Green Planet may explore a tropical paradise populated by exotic birds, reptiles, plants, ants, and animals. It is a rainforest experience that is housed inside a building. This beautiful green paradise, home to more than 3,000 different animal species, was created to allow visitors of all ages to appreciate the beauties of nature.
A 25-meter tall circular glass dome that holds some of Green Planet's most remarkable and favorite animals, including iguanas, chameleons, butterflies, sloths, and toucans, is the popular attraction's centerpiece.
Another highlight of the indoor rainforest is the world's largest man-made tree.
A special walk-through aviary at The Green Planet lets visitors get up close and personal with colorful parrots and other feathered beauties from all around the world. With the Bird Encounter Package, which starts at 320 AED, you may spend 20 minutes interacting with parrots, toucans, and caiques.
Additionally, Green Planet offers educational opportunities including engaging speeches from their qualified employees and kid-friendly eco-programs and wildlife protection programs. Professional zookeepers also provide guided tours of the various habitats, allowing visitors to get a face-to-face look at the animals living there.
There is a special deal called "Exclusive Zookeeper Experience" for individuals who wish to learn even more about these exotic animals and plants. It includes helping biologists prepare food, visiting labs, and other activities. The cost of the deal starts from 410 AED purchasing tickets online.
The Dome, unquestionably one of the most stunning sights in Dubai, provides visitors with not only amazing views of this complex and natural environment, but also well-organized amenities like free parking for four hours and the Green Planet café with children's play area, restrooms, prayer rooms, and a gift store.
Prices: from 140 AED (adults), from 120 AED (children 2-10 years old), and children under 2 are free of charge
Location: City Walk – Al Wasl – Dubai
Tripadvisor: 4.5 (815 reviews)
Google Maps: 4.4 (5,888 reviews)
Dubai Aquarium & Underwater Zoo
Located in Downtown Dubai, the Dubai Aquarium & Underwater Zoo provides guests with a distinctive and immersive experience. Visitors of the Dubai Aquarium may experience a staggering array of marine species in breathtaking 10 million liters of water. More than 140 species, including sharks, rays, eagle rays, octopuses, and many others, may be found in the large underwater zoo.
Additionally, the world's largest suspended aquarium offers breathtaking vistas from its 48-meter-long acrylic panel tunnel promenade, where guests may get up-close views of aquatic life.
In addition to the aquarium, visitors can also get up close to other animals in Otter Encounter, King Croc Encounter, and Penguin Encounter, explore attractions including diving experiences for certified or non-certified divers as well as educational programs for children such as storytelling and interactive labs.
Shark diving costs 632 AED per person, whereas scuba diving costs 969 AED per person. To find out the cost and program of educational courses, contact the specialists by phone.
Within the territory of Dubai Aquarium Underwater Zoo, there are also dining options such as coffee shops and cafes, and retail shops.
Visit VR Park in the Aquarium Underwater Zoo if you want to see animals and aquatic species in their natural habitat without having to go far from the UAE.
Prices: Monday to Thursday: from 199 AED, Friday to Sunday: from 209 AED
Location: Dubai Mall, Downtown Dubai – Dubai
Tripadvisor: 4 (15,528 reviews)
Google Maps: 4.5 (54,985 reviews)
Atlantis The Lost Chambers Aquarium
A stunning underwater world is waiting for you at the Lost Chambers Aquarium. You'll be astounded by the incredible variety of sea life on the show, which includes over 65,000 marine animals from more than 250 species worldwide.
The aquarium underwater zoo offers an immersive experience, complete with touch pools, underwater tunnels filled with colorful fish and other aquatic species, and daily diving demonstrations.
There are a few underwater activities for those who looking for an even more intense trip, like Aquatrek Xtreme, Shark Snorkel, Shark Safari, and Dive Discovery.
These extra activities, which will undoubtedly make a splash during your visit to the aquarium underwater zoo, are available for purchase: a 20-minute swim with sharks through Shark Snorkel – 635 AED, a Shark Safari adventure – 800 AED; the Aquatrek Xtreme – 1155 AED.
There are all the additional amenities you will like, such as a food court right outside the exit and very clean restrooms. This popular attraction also offers educational tours and birthday parties for kids.
Prices: from 155 AED (adults), from 115 AED (children 3-7 years old)
Location: 44J9+V7P Atlantis, The Palm – The Palm Jumeirah – Dubai
Tripadvisor: 4.5 (5,725 reviews)
Google Maps: 4.5 (9,165 reviews)
Ras Al Khor Wildlife Sanctuary
Visit Ras Al Khor to enjoy the natural beauty! Numerous animals, crabs, fish, and thousands of migratory birds may be found here. The best time to go is during the winter when flamingo groups will welcome you and surround the marshes. The refuge has lagoons, mangroves, and mudflats where the birds live.
Visit the three hides at the Wildlife Sanctuary to witness different types of wetlands, and amazing creatures and take in Ras Al Khor in all its splendor. They are very near to the birds and feature useful information on the walls as well as a telescope for a closer look.
Prices: free entry
Location: 58RF+G32 – Ras Al Khor Rd – Ras Al Khor – Dubai
Tripadvisor: 4 (363 reviews)
Google Maps: 4.2 (1,454 reviews)
Dubai Dolphinarium
The Dubai Dolphinarium is home to adorable northern fur seals and intelligent bottlenose dolphins.
Come see their incredible shows, performed by skilled performers and instructors. But that's not all; the location also provides several additional attractions, like the entertaining mirror maze and the exhilarating 5D movie experiences. You can go swimming with the dolphins after the performance and take some photos with them for extra pay (around 475 AED).
Prices: from 40 AED
Location: Riyadh Street, Inside the Creek Park Gate 1 – Dubai Dolphinarium Building – Umm Hurair 2 – Dubai
Tripadvisor: 4 (1,224 reviews)
Google Maps: 4.5 (13,193 reviews)
Abu Dhabi Zoo
Emirates Park Zoo
Emirates Park Zoo located in Abu Dhabi is a must-see site for animal lovers! The little ones will love interacting with diverse animal species including big cats such as Amur Leopard and Black Jaguar, Elephants, Zebra, Moon Bears, Scimitar Horned Oryx, Meerkats, Crocodiles, Capybaras, and others.
The Emirates Park Resort is a lodge that proudly stands in the middle of the Emirates Park Zoo. The hotel has classy accommodations, a playground, a gift store, and an area with bars and restaurants serving Arabian and casual food.
The zoo offers a variety of activities, like riding a horse, camel, or pony, feeding animals including giraffes, elephants, ostriches, ducks, crocodiles, and baby goats, watching thrilling birds, sea lions, and magic shows, and going to the rope park.
Would you like to enjoy a meal with a leopard for lunch, feed crocodiles for supper, or perhaps have elephants over for dinner? Get the VIP experience! The cost of breakfast with a giraffe is 2100 AED per person, accessible offers are dinner with elephants costing 262.50 AED and breakfast with parrots costing 168 AED per adult person.
Other facilities include a children's playground, parking, clinic, and children's nursery. The zoo is also wheelchair accessible.
Even though the majority of the attractions are outside, the park has air-conditioned spaces to keep visitors cool and comfortable. The air conditioning in Snake Alley, Reptile House, and Wildlife Walk makes it possible to enjoy the experience without feeling hot or uncomfortable. We advise going in the early evening for the finest experience.
Al Ain Zoo
Looking for a fun day excursion an hour away from Dubai? Visit Abu Dhabi's Al Ain Zoo! Over 4,000 animals from 200 different species live in this 400-hectare zoo at the foot of Jebel Hafeet.
You will get the opportunity to see a diverse range of species, including different birds (flamingos, owls, Emu bird, Steppe Eagle, Blue-necked Ostrich), gorillas, White Lions, Aldabra Giant Tortoises, Nubian Giraffes, African Wolves, Arabian Oryx, and others.
In addition to being an exciting adventure, the Al Ain Zoo is a leader in animal conservation. As the first Emirati organization focused on protecting endangered species like the Dama Gazelle and Brown Capuchin, you can feel good about supporting this important work while enjoying a memorable day out.
Al Ain Zoo provides some special services and facilities such as free wheelchairs, single and double strollers for rent (42 AED / 73.50 AED), shuttle bus service between stations (42 AED per adult person and 21 AED for children), guided tours with free giraffe feeding (the cost for a tour starts from 252 AED).
Dining options (buffet and restaurants), gift shops, and interactive shows make it perfect for families to enjoy!
Prices: from 31.50 AED (adults), from 10.50 AED (children 3-12 years old)
Location: Nahyan The First St – Shiab Al Ashkhar – Abu Dhabi
Tripadvisor: 4 (1,395 reviews)
Google Maps: 4.3 (15,648 reviews)
Ajman Zoo
UAE Pygmy Zoo
You may interact closely with some of the tiniest and most intriguing creatures in the world at the UAE Pygmy Zoo in Ajman. Learn about the behaviors and habitats of different birds, reptiles, and mammal species as you explore them.
After an exciting time with the animals, you can unwind in the designated outdoor space, which has seating options ideal for a picnic with the family. Additionally, you can watch a movie at the open-air theater, enjoy their food court, or rent a private chalet for just AED 100 per day. You can even let your kids play in the entertaining play area.
Check more places to visit in Ajman.
Visitors without dogs at home are really fond of the dog enclosure. Come spend some time with the wide variety of toys and small breed dogs and pups, such as Norfolk terriers, chihuahuas, and shih tzus.
The horseback ride and animal feeding experience will surely be the highlight of your zoo excursion. Hedgehogs, pygmy goats, tiny horses, dwarf donkeys, tortoises, Arabian oryx, miniature cows, and buffaloes are among the animals that children will appreciate most.
Prices: 15 AED (adults), 10 AED (children 3-12 years old)
Location: Al Zorah – الزورا – Ajman
Tripadvisor: 4.5 (8 reviews)
Google Maps: 4.3 (3,026 reviews)
Sharjah Zoo
Sharjah Desert Park
Wildlife enthusiasts, families, and vacationers take note! Put this Sharjah wildlife center at the top of your list of Sharjah attractions to see.
Sharjah Desert Park boasts stunning museums, such as the Natural History Museum, and other attractions such as a charming children's farm, and the captivating Wildlife of Arab exhibit.
Arabia's Wildlife Centre, one of the center's four spectacular locations, allows visitors to get up close and personal with exotic species like the Arabian leopard and oryx. You may learn many things about the flora and wildlife of the Arabian Peninsula by visiting the Natural History Museum and Botanical Garden, a top ecotourism attraction in Sharjah.
Weavers, partridges, and Houbara bustards, among other bird species, are housed in the aviary. These birds are native to diverse Arabian valleys, deserts, and mountains. In the bat cave, you may also see Omani blind cavefish and Egyptian fruit bats.
Watch nocturnally active creatures in their native environments, such as foxes, mongooses, wild big cats, and honey badgers. Enjoy the enclosures for Hamadryas baboons, an Arabian wolf, a striped hyena, an Arabian leopard, and other carnivorous animals in the area devoted to them.
The cafeteria and viewing area offer panoramic views of a large antelope exhibit, Arabian Oryx, ostrich, gazelles, and other animals thriving in their natural habitats.
The Children's Farm's outside area is the ideal place for young guests to get up close and personal with their favorite animals. Feed and care for household animals including camels, goats, horses, sheep, and cows.
Additionally, folks of all ages may participate in lectures and awareness-raising events to learn more about wildlife and bird areas.
A small library with kid-friendly reading material is available in the indoor part for those looking for a little peace and quiet. You may watch environmental documentaries and movies here.
Prices: from 5 AED
Location: 7MJV+4P Al Batayih, Sharjah
Tripadvisor: 4.5 (102 reviews)
Google Maps: 4.5 (454 reviews)
Um Al Quwain Zoo
The Zoo Wild Life Park Umm Al Quwain
The Umm al Quwain Zoo is a must-see location for animal enthusiasts and families looking for an exciting and instructive day trip. The zoo offers the ideal opportunity to get up close and personal with exotic wildlife thanks to its broad selection of over 100 distinctive kinds of animals, interactive displays, and fun activities.
The opportunity to interact with the animals is what makes the Umm al Quwain Zoo unique. By feeding and touching the camels, goats, and kangaroos, visitors may engage with them. Adventurers can also meet huge cats like lions and tigers while being guided by experts.
Children may also play in the special playground, which has a mini-golf course, and obstacles both enjoyable and challenging. Even a train journey around the park gives visitors a very unique view of the animals and their environments. Furthermore, there are several picnic areas spread out across the park.
The Zoo Wild Life Park in Umm Al Quwain provides an array of amenities and convenient options to make your visit enjoyable:
Visitors with young children or in need of a wheelchair can rent strollers or wheelchairs. Motorized wheelchairs or scooters are currently unavailable.
Things can get easily misplaced. If you lose something during your visit, their helpful staff will take lost articles to the zoo office where they are held until claimed. Articles left for extended periods will be disposed of.
Safety is their top priority! First aid supplies are located at the main office at the Zoo Entrance and throughout the park in case of injury.
The facilities are designed to accommodate visitors of all abilities. All major facilities and restrooms are wheelchair accessible.
Exciting changes are on the horizon! The official website notes to stay tuned for newly added animals and the upcoming Giraffe Café.
Prices: from 25 AED
Location: Kabir – Alzubair – Umm Al Quawain
Tripadvisor: 2 (5 reviews)
Google Maps: 4.5 (2,889 reviews)
Ras-Al-Khaimah Zoo
Rak Zoo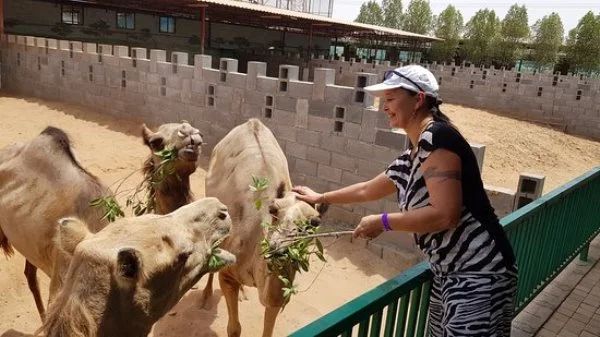 The Ras Al Khaimah Zoo and Park is the perfect location if you're searching for a pleasant family adventure that provides a tranquil respite from the rush and bustle of daily life. After Al Ain Zoo and Emirates Park Zoo, it has grown to be the third-largest zoo in the United Arab Emirates since its inception in 2014. Over 40 wild and endangered animals will be available for you to see and admire up close.
There you can embark on an adventure across one million square meters of bewitching habitats, immersed in a fascinating world of preservation and conservation. With plenty of attractions to discover, the RAK Zoo offers the option to rent a golf car should you prefer not to explore on foot.
The RAK Zoo is committed to protecting endangered creatures, including golden tigers, white lions, and various birds. Experience the joy on your children's faces as they watch playful chimpanzees in their air-conditioned hall. For an extra fee of 200 AED, you can even offer them a snack.
Check a list of things to do in Ras-Al-Khaimah!
The RAK Zoo has more to offer than just animal encounters! At the equestrian club ladies and kids may take part in horseback riding and other thrilling sports while being closely supervised and adhering to the greatest safety requirements.
Additionally, the outdoor theater, which hosts cultural events all year long, allows you to enjoy the arts. And when you need a break, stop by a café or restaurant located on the territory of the famous zoo, for a meal and some downtime.
Prices: from 40 AED
Location: الفحلين – Ras al Khaimah
Tripadvisor: 2.5 (80 reviews)
Google Maps: 3.7 (1,142 reviews)
F.A.Q.
How much does Dubai Zoo cost?
The cost of entry to Dubai Zoo (Dubai Safari Park) is 50 AED per adult visitor and 20 AED per child between 3-12 years. Children under the age of two are admitted free of charge.
Although during holidays or other special events, the cost of admission tickets may change.
The cost of entry to The Green Planet starts from 140 AED per adult, from 120 AED per child 2-10 years old, children under 2 age can visit this site for free.
How many zoos are there in the UAE?
There are six zoos in the United Arab Emirates and some parks provide petting zoos. Here are some of them: the Green Planet and the Dubai Safari Park in Dubai, the Emirates Park Zoo and Al Ain Zoo in Abu Dhabi, UAE Pygmy Zoo in Ajman, Sharjah Desert Park, Umm Al Quwain's Zoo Wild Life Park, Rak Zoo located at Ras-Al-Khaimah. Also, you can find Dubai Mall The Lost Chambers Aquarium, Dubai Aquarium & Underwater Zoo within the Dubai Mall with different sea creatures and activities: sand tiger sharks, the VR zoo, and other aquatic animals and underwater sports.
These zoos provide tourists with a wide range of activities, such as aviaries, petting zoos, interactive animal encounters, and more. To meet the varying demands of their tourists, each zoo provides special offers.
Which is the biggest zoo in the UAE?
The 400-hectare-large Al Ain Zoo now housing over 4,000 animals from 200 different species is the biggest zoo in the United Arab Emirates.
What is the best zoo in the UAE?
Choosing the perfect zoo in the UAE is entirely up to your personal preferences.
Large zoos are beloved for their numerous activities and interactions, while smaller ones provide distinctive animal encounters that are sure to impress.
Underwater Zoo and Dubai Dolphinarium are must-see locations for aquatic species lovers.
Anyway, the best zoo in the UAE is widely considered to be the Dubai Safari Park which is home to around 3,000 different species of animals. The size of Dubai Safari Park is equivalent to double the size of Vatican City. Also, it is close to Downtown Dubai as it takes 15 minutes to take.
Which is the famous private zoo in Dubai?
The most famous zoo and private zoo in Dubai is the Green Planet. At City Walk in Dubai, there is a canopy-themed rainforest experience that is privately owned and run. More than 3,000 different varieties of tropical plants and animals from all over the world are available for guests to engage with at this environmentally friendly attraction.
Visitors may take part in educational performances, animal interactions, interactive exhibitions, and activities like watching animal feeding demonstrations or touring laboratories. Undoubtedly one of the finest attractions to see in Dubai, Green Planet offers free parking for four hours as well as a café with a children's play area, restrooms, prayer rooms, and a gift shop.
There are several zoos, including aquariums, underwater zoos, and petting zoos in Dubai that cater to different interests.
There are many possibilities in Dubai, whether you're seeking for an up-close encounter with animals or simply want to unwind in the splendor of nature.
Visitors will find plenty to explore and enjoy when visiting any one of these incredible attractions, from Green Planet Dubai, which offers wildlife protection programs and animal interactions, to Dubai Safari Park, which offers four different zones, each celebrating the varied wildlife and culture of the world. Therefore, if you're arranging a trip soon, don't overlook the fantastic zoos in the UAE!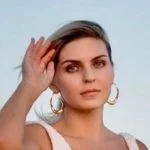 I am Anastasia, the author of this blog and a passionate and experienced traveler who resides in the UAE.
I have visited every Emirate, every popular sight, and every hidden gem.
I m here to help you make your trip to the UAE unforgettable.