Lots of tourists are attracted to the center of the city by the breathtaking Dubai Fountain. This landmark is tucked away between the renowned Burj Khalifa, Dubai Mall, and Souk Al Bahar and is known as the biggest musical fountain in the world. You can't help but be charmed by its magnificence, with its alluring water, music, and light show.
Do you want to know when to witness this beautiful show at its best? Check out our guide to the showtimes and the best places to enjoy the Dubai Fountain Show. Prepare to be awed by a performance unlike any other as the lit jets synchronize to a wide variety of music that suits all preferences.
Dubai Fountain Timings
Visiting the Dubai Fountain is an unforgettable experience, and knowing the show timings can help you make the most of your visit. Here's a breakdown of the fountain's schedule to help you plan.
During the evenings, the Dubai Fountain comes to life every 30 minutes from 6:00 PM to 11:00 PM, daily, providing you with ample opportunities to witness the breathtaking water, music, and light spectacle.
During the daytime, you can catch the shows from 1:00 PM to 1:30 PM (from Friday to Saturday: 1:00 PM to 2:00 PM). Be prepared to be mesmerized by the illuminated jets as they sway in time to a range of melodies, from Michael Jackson's Thriller to Andrea Bocelli and Sarah Brightman's Time to Say Goodbye, and Power by Korean pop band EXO.
The fountain's timetable can alter during the holy month of Ramadan. To be sure you don't miss the program at this time, it is recommended to check for updates online.
Burj Khalifa Light Show Timings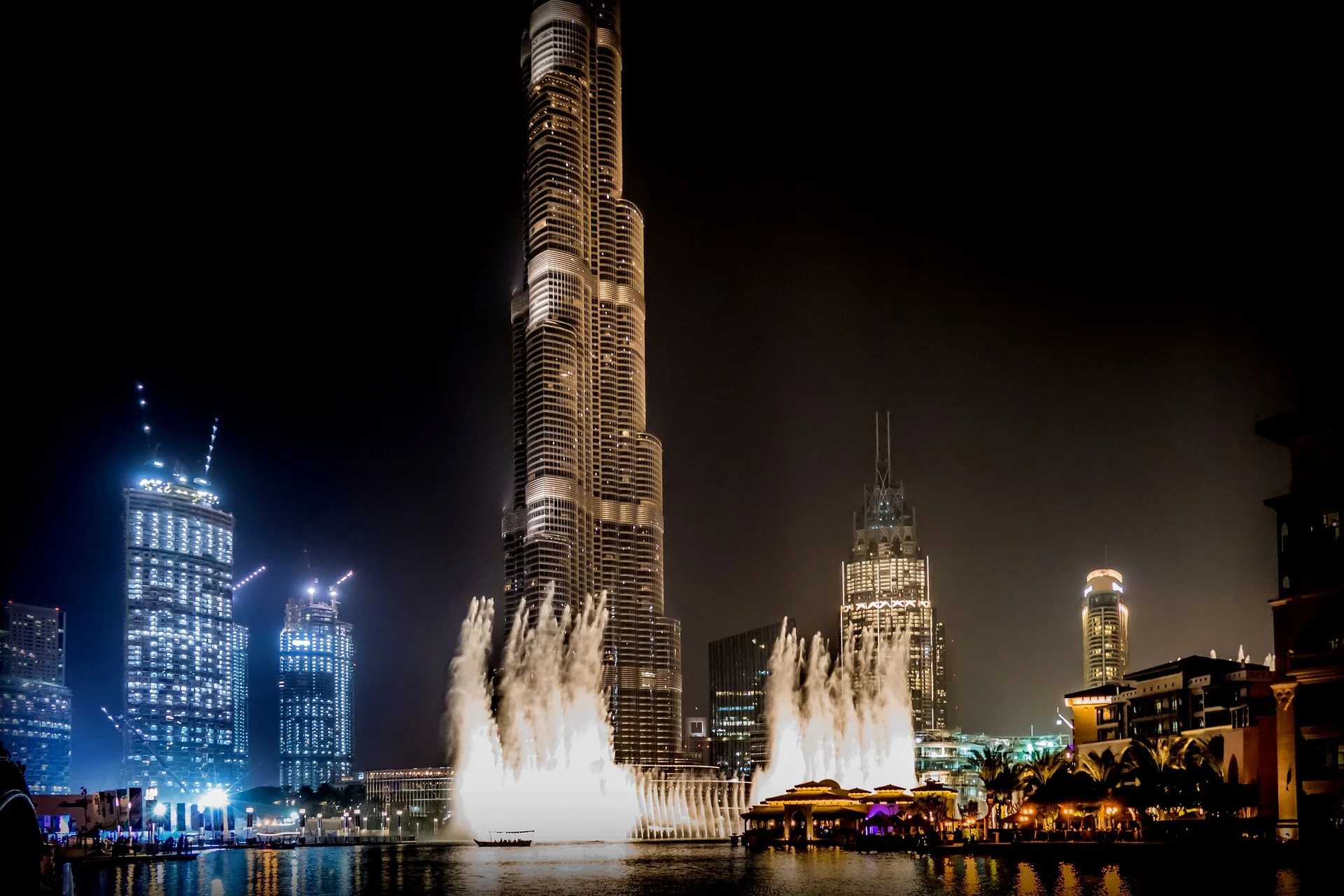 The Burj Khalifa Light Show is a stunning spectacle that you shouldn't miss when visiting Dubai. Here's some information to help you plan your visit.
Occasionally, The Dubai Fountain light show takes place differently every year. From January 1 to March 31, 2023, laser light shows were held from Wednesday to Sunday at 7:45 PM, 8:45 PM and 9:45 PM.
Dubai Fountain Facts
The Dubai Fountain, which is situated in the center of Downtown Dubai, is a must-see sight while you are there. This magnificent performing fountain, created by WET Design, can be seen on the lovely Burj Khalifa Lake just close to The Dubai Mall. The combination of water, music, and light creates a wonderfully captivating experience.
The Dubai Fountain is a true marvel of engineering and artistry, standing as the world's tallest performing fountain. With a height of up to 150 meters, the fountain's powerful water jets and beam of light create an awe-inspiring visual display that can be seen from miles away. During each performance, over 22,000 gallons of water are gracefully propelled through 6,600 lights and 25 color projectors, making for a truly breathtaking experience.
What sets the Dubai Fountain apart is its captivating choreography, featuring a range of songs from different genres and cultures.
From classical to contemporary, there's something for everyone to enjoy. The accompanying dancing water and light show is perfectly synchronized with the music, creating an unforgettable performance that will leave you wanting more.
There are many ways to experience the Dubai Fountain show, but one of the most unique is the Dubai Fountain Boardwalk. This floating platform offers a close-up view of the captivating performances, with a 272-meter walkway that begins at Burj Park.
For those seeking a more traditional experience, the Abra or dhow boat Lake Ride is a great option. Departing 30 minutes prior to closing and costing 68.25 AED per person, this ride allows you to take in the fountain's beauty from the comfort of a boat.
Dubai Fountain VS Palm Fountain
When you explore Dubai, seeing a magnificent fountain show is a must. There are two major fountains that you can choose to visit: The Dubai Fountain and the Palm Fountain.
The Dubai Fountain is located in Downtown Dubai, at the foot of Burj Khalifa, right next to the Dubai Mall and Souk al Bahar. It holds a captivating spectacle at Burj Lake. Witnessing its beauty and synchronization with music and light is an experience that you shouldn't miss.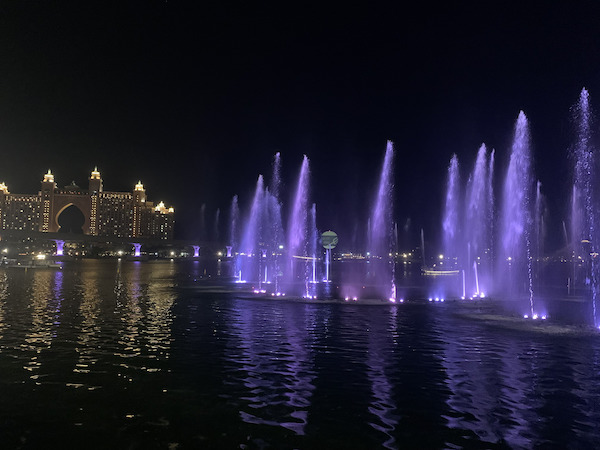 On the other hand, the Palm Fountain is situated at The Pointe on Palm Jumeirah. This world's largest fountain had remarkable fountain shows happening at the waterfront.
On May 15, 2023, it was regrettably shut down till further notice. The spectacular display of water and light that has become a well-liked attraction in the city will thus have to be delayed until the show restarts.
Best Dubai Fountain View Points
Waterfront Promenade
The Waterfront Promenade surrounding the Burj Khalifa Lake offers a splendid view of the Dubai Fountain show for no cost. Take a leisurely stroll by the waterfront and find a comfortable spot to catch the breathtaking spectacle.
The central Dubai Mall's exit is where most people usually leave the mall, which can result in long queues. We advise either going to the mall beforehand or selecting an alternative location that is less congested if you want to avoid the throng. By doing this, you may enjoy the show without having to worry about navigating past a lot of people.
Souk Al Bahar Bridge
For those looking for a unique and unobstructed view of the Dubai Fountain show, the Souk Al Bahar Bridge is the perfect vantage point. And it's completely free! This pedestrian bridge connects The Dubai Mall and Souk Al Bahar, spanning across the Burj Lake and offering a stunning view of the surrounding area.
Standing on the Souk Al Bahar Bridge, you'll be able to take in the beauty of the captivating water, Dubai fountain shows, and the surrounding architecture without the crowds that typically gather at other viewing locations.
In addition, the Souk Al Bahar Bridge is also a great spot for taking photos. The unique perspective of the Dubai Fountain show from this location makes for some truly incredible shots that you'll treasure for years to come.
Restaurants With Fountain Views
 

View this post on Instagram

 
If you prefer dining with a view, numerous restaurants in the area offer dancing fountain views while you enjoy your meal. Options range from casual eateries to fine dining establishments, so make sure to choose one that suits your preference and make a reservation for a guaranteed table.
Dubai Mall Restaurants With Fountain View
Bosporus Turkish Cuisine – The Dubai Mall
Hurricane's Grill
Carluccios
Wafi Gourmet
Zouzou
Walnut Grove
Open Flame Kitchen (OFK)
Tribes
Opso
Huqqa
Tulum
Souk Al Bahar Restaurants With Fountain View
The Meat Co.
BiCE Mare
Karma Kafe
Abd el Wahab
The Tap House Downtown
Time Out Market
Burj Khalifa Restaurants With Fountain View
At.Mosphere
Armani/Mediterraneo
The Burj Club
Downtown Restaurants With Fountain View
Thiptara at Palace Downtown
Asado at Palace Downtown
Neos (The Restaurant at The Address Hotel Downtown)
Ewaan
Al Bayt
The Full List of Restaurants With Fountain View check here.
Dubai Fountain Boardwalk
Join the Dubai Fountain Boardwalk to get a closer look at the Dubai fountains. Nine meters separate you from the fountains on this 272 m floating platform, allowing you to fully immerse yourself in the captivating water show.
Ticket prices are the same for adults and children above 4 years old, 20 AED, and kids under the age cannot pass.
From Burj Khalifa Observation Decks (At The Top)
The Burj Khalifa Observation Decks offer a birds-eye view of the Dubai Fountain show. You can admire the fountains from a unique perspective while taking in the panoramic views of the city. Make sure to book tickets in advance for the ideal time slot.
If you're planning a visit to the Burj Khalifa, it's important to know that ticket prices vary depending on the level and extra options that you choose. For example, the cheapest option for viewing from levels 124 and 125 is priced at 169 AED, while the high 148 level included in the "At the Top, Burj Khalifa SKY" ticket starts at 399 AED.
In addition to the standard viewing options, there are also packages that include other attractions. For 145 AED, you can visit both At the Top and the Dubai Aquarium, while for 769 AED, you can visit the world's highest lounge.
Dubai Fountain Lake Ride (Traditional Boat)
To create an unforgettable experience, embark on an authentic wooden vessel, known as an abra, for the Dubai Fountain Lake Ride. Glide across the tranquil waters of Burj Lake and relish in the spectacular fountain display from a front-row seat, surrounded by a peaceful ambiance.
The cost of the boat ride is 68.25 AED per individual, providing an exceptional value for the exceptional experience.
Night City Tour with Fountain Show
A Night City Tour with the Fountain Show lasting 4 hours will take you to see the illuminated sights of Dubai, ending with a stop to witness the captivating Dubai Fountain show. This way, you can explore the city and appreciate the beauty of the fountains as part of your adventure.
Investigate a typical souq to become fully immersed in the culture of the area and see how the locals live. As you take pictures that will last a lifetime, don't forget to capture the stunning vistas of the tallest building in the world from the outside.
The trip, costing from 1 319,18 AED and conducted by English, German, French, Spanish, or Italian-speaking guides, starts at 4:30 PM and is formed for parties of up to six individuals, giving it a cozy and tailored experience.
From Hotels
 

View this post on Instagram

 
A few hotels nearby have accommodations with views of the Dubai Fountain Show. Find a hotel that fits your needs and reserve a room with a view so you can take in the show from the comfort of your lodging. Here are some prices for a 1-night stay for the person as of Booking.com:
Palace Downtown: from 1 349 AED (July), from 899 AED (August), from 824 AED (September)
Address Downtown:  from 1 349 AED (July), from 1 274 AED (August), from 1 049 AED (September)
Armani Hotel Dubai:  from 1 630 AED (July), from 1 222 AED (August), from 1 154 AED (September)
Wyndham Downtown Dubai: from 385 AED (July), from 341 AED (August), from 504 AED (September)
Location

The Dubai Fountain is strategically located in the heart of Downtown Dubai, making it easily accessible for both tourists and residents.
Surrounded by iconic landmarks such as the Burj Khalifa, The Dubai Mall, and the Souk Al Bahar, you can easily immerse yourself in a captivating blend of water, music, and light.
The address is Downtown Dubai – Dubai – United Arab Emirates.
How To Reach
Reaching the Dubai Fountain is quite easy, as it's located in the heart of the city.
To reach the Dubai Fountain, you have a few options:
By Metro: If you prefer public transportation, take the Dubai Metro's Red Line and stop at the Burj Khalifa/The Dubai Mall station. Keep in mind that it's about a 15-20 minute walk from the metro, but the path offers some lovely views along the way.
By Car: If you're driving, you can park at the nearby Dubai Mall. A short stroll from the mall's waterfront promenade will lead you directly to the fountain. Dubai Mall has several parking areas (Grand Parking, Fashion Parking, Cinema Parking, Zabeel Parking), they are all free of charge. You`d better choose Cinema Parking, it is a bit closer to Dubai Fountain.
By Taxi: Taxis are abundant in Dubai, so you can easily grab one from your location and ask the driver to take you to the Dubai Fountain.
Consider crossing the Dubai Fountain Walk Bridge to get a better view of the fountain's show. You may enjoy a fantastic viewpoint from this pedestrian bridge and fully immerse yourself in the mesmerizing visual spectrum of lights, water, and music.
If you don't mind spending a little more for a truly memorable experience, book a Dubai Dancing Fountain Boat Tour. These tours provide a unique perspective of the fountain from a charming wooden abra (boat), gliding along the Burj Khalifa Lake.
F.A.Q.
What time is the Dubai Fountain show?
The Dubai Fountain holds daily evening shows starting from 6:00 PM to 11:00 PM, with performances happening every 30 minutes. Occasionally, lunchtime shows are added at 1:00 PM and 1:30 PM on weekdays, and 1:30 PM & 2:00 PM on weekends. Show timings may change during Eid & public holidays with extra shows possibly scheduled all afternoon through to midnight.
Is Dubai Fountain free to watch?
There are various viewing areas throughout Downtown Dubai where you may take in the magnificent Dubai Fountain performance without spending any money at all. View the magnificent show, among other places, from the walkway outside Souk Al Bahar or the waterfront promenade outside Dubai Mall.
What time is the Dubai Light Show?
The Burj Khalifa Light Show usually accompanies the Dubai Fountain shows and its timing is different every year. Therefore, you can expect to enjoy the light show during the same timings as the fountain performances. From January 1 to March 31, 2023, laser light shows were held from Wednesday to Sunday at 7:45 PM, 8:45 PM and 9:45 PM.
Dubai Fountain at night or day?
Even though daytime performances are occasionally offered, evening performances are unquestionably the most magnificent and alluring choice due to their lighted dances set against the night sky.
What Is Dubai Fountain Boardwalk?
The Dubai Fountain Boardwalk gives you the thrilling opportunity to get closer to the fountain action. It's a floating platform that allows you to walk within only 9 meters from the performing fountains. The Boardwalk entry fee starts from AED 20.
Where can I watch the fountain show in Dubai?
There are several vantage points for watching the Dubai Fountain show. Some popular spots include the waterfront promenade outside the Dubai Mall, the walkway outside Souk Al Bahar, the restaurants overlooking Dubai fountain, and of course, the Dubai Fountain Boardwalk for an up-close view.
Reviews
After experiencing the Dubai Fountain and its show, visitors have noted several advantages and disadvantages. Here are some of the most common pros and cons:
Pros:
Spectacular water show with stunning choreography and music
Free to watch from various locations around Downtown Dubai
The fountain's location is beautiful and adds to the overall ambiance
Shows are different every time, with a variety of music genres
Great photo opportunities
Very clean area
Suitable for all ages and families
Cons:
Can be crowded, especially during peak times
Limited seating is available, so it can be challenging to find a good spot to watch the show
The fountain can be difficult to see from certain angles or locations
Some reviewers found the show to be short
Not enough info signs
Photos
Videos
No visit to Dubai is complete without experiencing the spectacular Dubai Fountain. Prepare to be spellbound by the stunning water show, which takes place on Burj Khalifa Lake, at the heart of Downtown Dubai, every evening from 6 pm.
Each performance is unique, as the fountain's choreography is set to a diverse range of music genres, including pop, classical, and Arabic tunes.
Immerse yourself in a friendly and inviting ambiance, where you can create unforgettable memories with your loved ones. Sit back and enjoy the world's largest choreographed fountain, as it dazzles you with a mesmerizing display of water, lights, and music.
Don't forget to bring your camera to capture the magic and share your experience with others.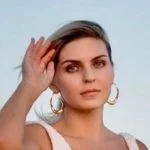 I am Anastasia, the author of this blog and a passionate and experienced traveler who resides in the UAE.
I have visited every Emirate, every popular sight, and every hidden gem.
I m here to help you make your trip to the UAE unforgettable.