Before we start I would like to provide some facts about Waldorf Astoria Dubai Palm Jumeirah.
Waldorf Astoria Dubai Palm Jumeirah is located on the famous Palm Jumeirah island.
Since its opening on March 12, 2014, the resort has solidified its standing as one of the area's premier destinations.
Part of the esteemed Hilton portfolio, the Waldorf Astoria Dubai Palm Jumeirah provides the ideal fusion of comfort, refinement, and luxury. Located on a secluded beach, visitors may enjoy breathtaking vistas of the Arabian Gulf and the cityscape. With its exquisite details and striking design features, the hotel's architecture presents a contemporary take on the traditional Art Deco style.
The hotel has very nice green lush territory.
You should know that:
The hotel has 319 rooms and suites, all with balconies and sea views.

Waldorf Astoria Dubai Palm Jumeirah features 6 restaurants, 3 pools (including a children's pool and an adults-only pool), a spa (including 12 treatment rooms, a traditional hammam, a steam room, and a sauna) and fitness center, a kids club, tennis court, helipad lawn,

water sports facilities and more.

The hotel's signature restaurant is Social by Heinz Beck, which has been awarded three Michelin stars.

The hotel has won several awards, including Middle East's Leading Luxury Wedding Resort 2022&2023, Middle East's Leading Wedding Resort 2023 at World Travel Awards, and  Best Dubai Hotel At Luxury Lifestyle Awards.
Please note that pets are not allowed at Waldorf Astoria Dubai Palm Jumeirah.
Accommodation
Waldorf Astoria Dubai Palm Jumeirah offers a variety of accommodation options to suit every traveler's needs. 
Smoking is allowed only in designated areas. All rooms are non-smoking.
What options are available:
King Superior Room (62 sqm/669 sqft)

King Deluxe Room (61 sqm/657 sqft.)

Two Quenn Deluxe Rooms (59 sqm/631 sqft)

King Pearl Club Room (58 sqm/622 sqft.)

Two Quenn Pearl Club Room (59 sqm/636 sqft)

King Deluxe One Bedroom (113 sqm/ 1218 sqft.)

Chairman Two Bedroom Suite Pearl Club (386 sqm/4155 sqft.)

Waldorf Astoria One Bedroom Suite Pearl Club  (160 sqm/1722 sqft.)

Royal Suite (1500 sqm/16145 sqft)

Pearl Club One Bedroom Suite (115 sqm/1238 sqft)
Rooms and amenties for the disabled are available as well.
Guests can select from several room categories, each designed to provide ultimate comfort and relaxation. Each room is equipped with air conditioning,  a spacious dressing room, a bathroom, plush bedding, and a selection of comfortable pillows to guarantee a restful night's sleep. 
Additionally, guests can enjoy the convenience of a fully stocked minibar, coffeemaker, Safety deposit box, and free Wi-Fi access in their rooms.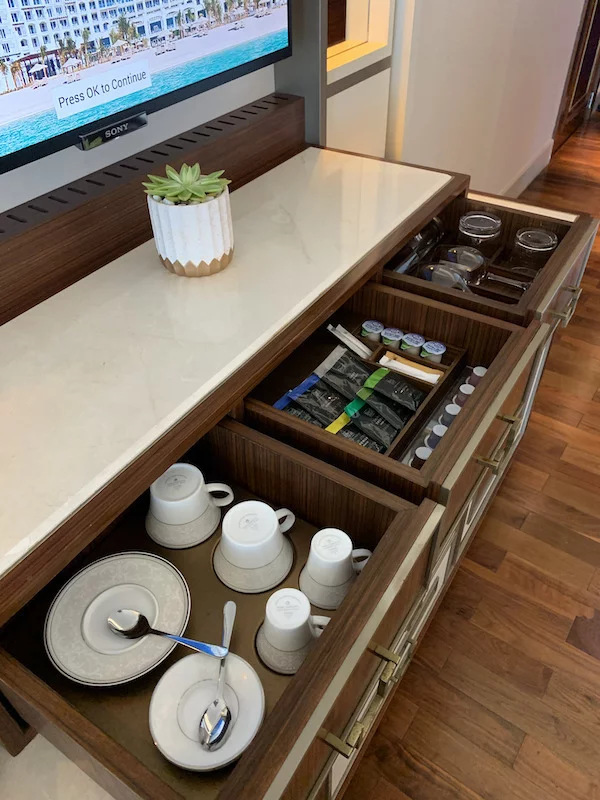 We traveled with our daughter (9 y.o.) and chose a King Deluxe Palm Sea View for our stay. Extra-bed for my daughter was provided for free by the hotel.
Interconnected rooms and family rooms are also available at the hotel. 
All the rooms at the Waldorf Astoria Dubai Palm Jumeirah boast private balconies, showcasing breathtaking views of the surrounding area. These elegant spaces are perfect for unwinding after a long day of exploring or simply enjoying a morning coffee while taking in the stunning scenery.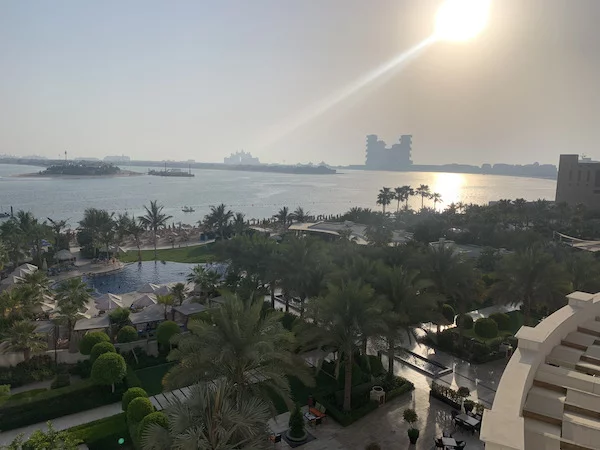 Some rooms include access to Pearl Club, which offers all-day dining options where you may indulge in delicious food.
Bathrooms in the hotel are designed with guest comfort in mind and feature luxurious touches such as soft towels, plush bathrobes, and premium toiletries.  You will have both a bathtub and a shower. By the way, there is a TV screen in front of the bathtub. Also, you can enjoy a fantastic panoramic view while taking a bath. 
Food/Dining Options
The hotel provides BB and HB options.
If you have BB option you are eligible for an international buffet breakfast at the Mezzerie on the LG Floor.
For breakfast, cold and hot non-alcoholic beverages are included and for dinner, beverages are served at extra charge.
If you have the HB option you may have your lunch/dinner whether at Mezzerie (international buffet) or one of the hotel restaurants with a credit of AED 175 per adult and AED  87.5 per child.
We chose the HB option and had our breakfast and dinner at Mezzerie.
For breakfast, you can expect a variety of options, including fresh fruit, pastries, eggs, and traditional Arabic breakfast dishes such as shakshuka and foul medames. For dinner, the menu features a range of appetizers, main courses, and desserts, with options such as grilled seafood, lamb chops, and beef tenderloin. 
Also, there are gluten-free corner, pork station, and vegetarian and halal options to serve all the needs.

Kids get to enjoy a special Kids Breakfast as well as a Kids Welcome. You can choose meals from the Kids Menu to enjoy family dinners.
Restaurants&Bars At Waldorf Astoria Dubai Palm Jumeirah
Alcoholic drinks are served in this hotel.
Palm Avenue (Mediterranean cuisine) is a chic poolside destination where guests can delight in fresh, modern salads, light bites, and refreshing cocktails. The venue boasts a relaxed atmosphere, making it ideal for a casual daytime meal or a laid-back evening with friends. 
Mezzerie (international buffet), the hotel's main dining venue, offers an extensive buffet selection featuring international and local favorites. The open kitchen allows guests to watch as the chefs expertly prepare each dish. Mezzerie is an ideal choice for a family meal or a lively brunch with friends.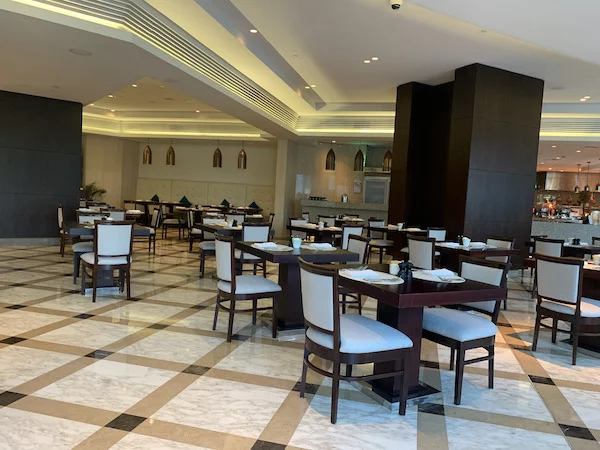 For a unique and trendy lounge experience, look no further than the Peacock Alley. With its stylish setting, the lounge serves a tempting array of signature cocktails, fine wines, shisha, and exquisite pastries. Whether catching up with friends or enjoying pre-dinner drinks, Peacock Alley provides the perfect backdrop.
LAO (South Eastern Asian cuisine) – this dining destination captures the essence of the country's vibrant street food culture, transporting you to the bustling streets of Hanoi with its bold flavors and tantalizing textures.
Social is an award-winning Micheline restaurant that offers a modern and playful take on authentic peninsular Italian cuisine. Delight your taste buds with dishes crafted by the talented Chef Carmine Faravalo. Excite your senses with flavors from the rich and diverse culinary heritage of Italy, all enjoyed within the restaurant's relaxed and welcoming atmosphere. 
For LAO and Social dress code is smart-casual. For others casual attires is fine.

Swimming Pools
The hotel has three outdoor swimming pools, including a 200-meter-long pool that runs parallel to the private beach. 
Guests can lounge on the poolside chairs, sunloungers, or cabanas and enjoy the beautiful views of the Arabian Gulf. 
The hotel provides complimentary towels for guests to use while they are at the pool. The towels are soft and fluffy, ensuring that guests can dry off quickly and comfortably after a swim.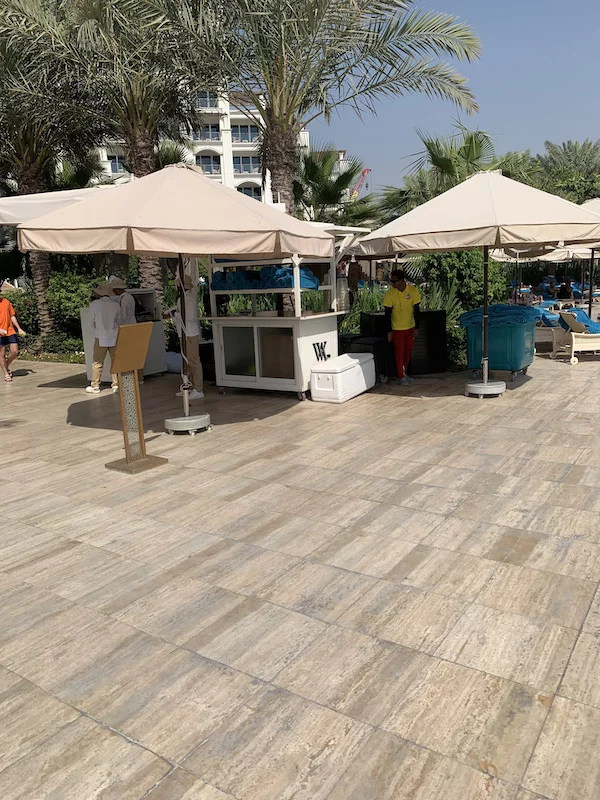 In addition to towels, the hotel also provides guests with magazines to read while they relax by the pool. The magazines cover a range of topics, from fashion and beauty to travel and lifestyle. Guests can enjoy flipping through the pages of the latest magazines while they soak up the sun and enjoy the beautiful surroundings.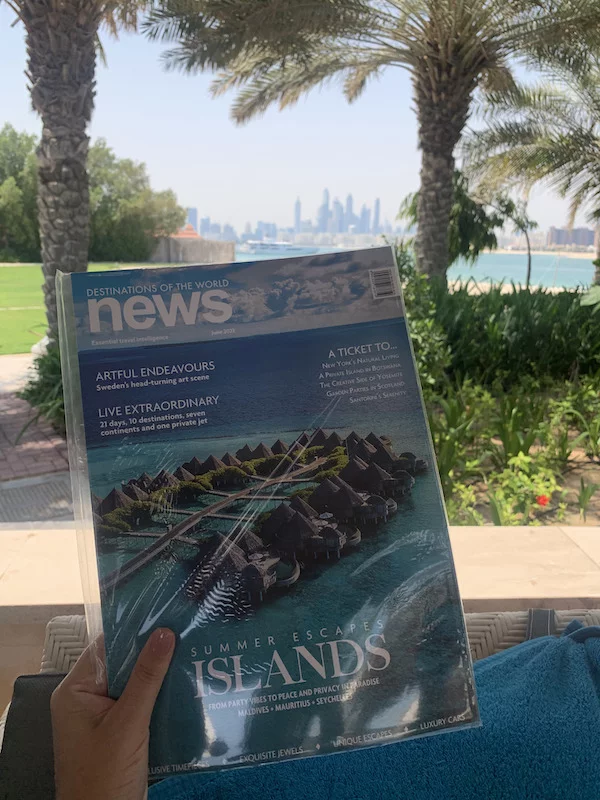 To ensure that guests stay hydrated while they are at the pool, the hotel provides cold bottled water with ice. The water is refreshing and helps guests to stay cool and hydrated in the warm Dubai weather.
Comfortable washrooms and showers can be found near the beach and pool area.
As well as a small poolside bar providing refreshing beverages and snacks.
Additionally, the considerate lifeguards make sure that visitors feel secure and well-cared for during their whole stay at the pool.
Adult Pool
When seeking a peaceful setting to rest and rejuvenate, visitors may enjoy an amazing Only Adult Infinity Pool experience at the Waldorf Astoria Dubai Palm Jumeirah. The pool area is spotless, well-maintained, and a great place for visitors to soak in the warm Dubai sun. 
Also, you can find a jacuzzi area nearby.
Visitors may unwind on cozy loungers while taking in the breathtaking views provided by the opulent surroundings. 
For individuals seeking to escape the hubbub of family activities taking place in other sections of the hotel, the adult pool area is the perfect place.
Family Pool
The hotel staff at the family pool are dedicated to creating a pleasant atmosphere, as they attentively cater to guest needs and maintain the cleanliness of the pool area. 
The inviting water, combined with the beautiful beach and pool views, make the Family Pool a favorite among guests visiting the Waldorf Astoria Dubai Palm Jumeirah.
This pool is temperature-controlled so you can enjoy it all year round.
Beach
The Waldorf Astoria Dubai Palm Jumeirah is known for its beautiful beachfront area, providing a perfect place for guests to enjoy the sun, sand, and various fun activities. The lovely setting offers an ideal spot for both relaxation and exciting water sports.
The beach at Waldorf Astoria Dubai Palm Jumeirah offers comfortable sunloungers and cabanas for guests to unwind and soak up the sun, along with complimentary towels and refreshing bottles of water. 
The beach is wide and clean and has a smooth and gentle sea entrance.
The hotel's waterside location provides a fantastic array of water sports that cater to every guest's preference. 
For adrenaline junkies, there's jet-skiing, wakeboarding, and even flyboarding for a thrilling experience.
Watersports enthusiasts can also indulge in activities like snorkeling, and exploring the vibrant marine life that surrounds the Palm Jumeirah.
In addition to adrenaline-pumping options, more leisurely activities such as sport fishing and paddleboarding are available to those who prefer a slower pace.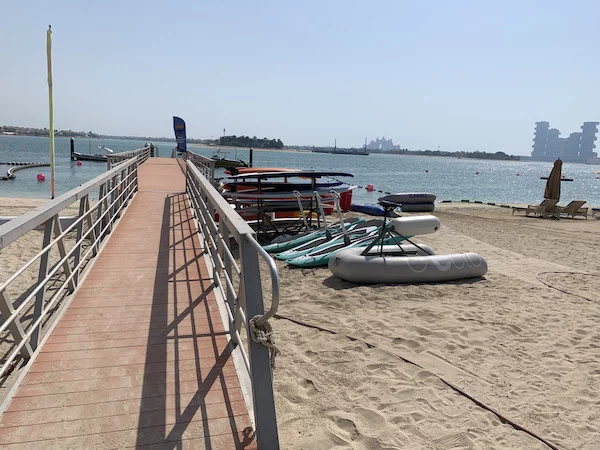 For Kids
Kids Club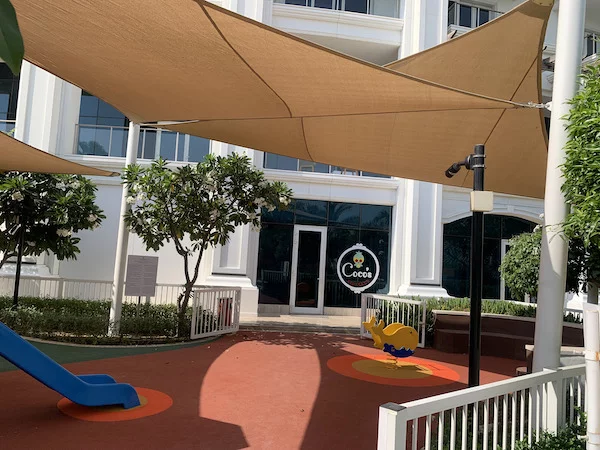 The Waldorf Astoria Dubai Palm Jumeirah offers a fantastic CoCo's Kids Club for children from 4 to 12 years old to enjoy. 
This dedicated space is clean and boasts a friendly atmosphere, ensuring a delightful experience for the little ones. 
The club is well-equipped with a wide selection of toys, and the staff is attentive and welcoming, which makes it easy for kids to feel comfortable and enjoy their time.
It is open from 9 a.m. – 7 pm, providing activities for all ages throughout the day.
Playground
In addition, the hotel offers a fun-filled playground for kids to explore and burn their energy. The playground is equipped with a variety of play structures, ensuring endless entertainment for children of various age groups.
Outdoor Play Area
Waldorf Astoria Dubai Palm Jumeirah provides an extensive outdoor play area where not only kids, but adults as well can engage in physical activities and interact with their peers.
Jenga, darts, aero hockey, and many other games are available in this play area.
Kids Pool
To let the young guests enjoy their time to the fullest, the resort features a kid's pool designed specifically with their needs in mind. The pool is safe, shallow, and shaded, allowing for hours of splashing and playing under the supervision of attentive staff.
Sport And Wellness
Gym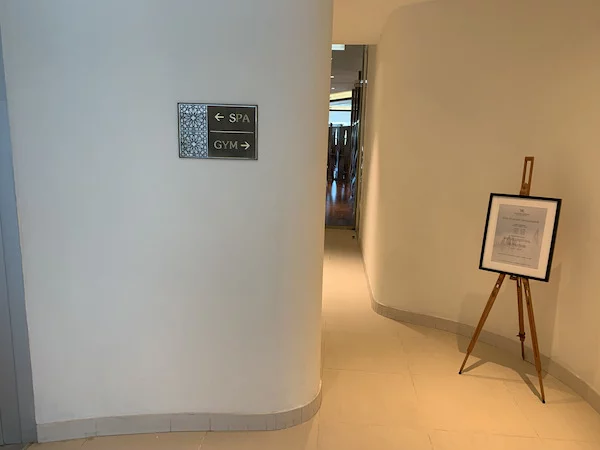 The Waldorf Astoria Dubai Palm Jumeirah boasts a modern and well-equipped gym that caters to the fitness needs of its guests. The facility offers a variety of fitness classes to suit different interests and abilities, including yoga classes which provide a relaxing and rejuvenating experience. The friendly instructors and staff are always on hand to assist guests with their workouts, ensuring a comfortable and enjoyable stay
Spa
For those seeking relaxation and pampering, the luxurious spa at the Waldorf Astoria Dubai Palm Jumeirah offers an array of treatments and therapies. It features 12 treatment rooms, a traditional hammam, a steam room, and a sauna. Guests can indulge in soothing massages, revitalizing facials, and invigorating body treatments, all designed to rejuvenate both the body and mind. The serene ambiance, coupled with the attentive services, make for a truly unforgettable spa experience.
Tennis Court
Sports enthusiasts will appreciate the hotel's well-maintained tennis court. Guests can enjoy an energetic game of tennis while staying at the resort, perfect for those who like to stay active during their vacation. The hotel also offers tennis lessons for guests who wish to improve their skills, ensuring they have a memorable and exciting time at the Waldorf Astoria Dubai Palm Jumeirah.
Service
At Waldorf Astoria Dubai Palm Jumeirah, guests can expect exceptional service from the moment they step in. The friendly and professional staff are there to provide a warm welcome and ensure a comfortable stay. Whether checking in or simply asking for directions, guests can count on the staff to be attentive and helpful.
One of the highlights of the resort is its complimentary Bentley service for Suite guests.
On the practical side, Waldorf Astoria Dubai Palm Jumeirah takes care of its guests' needs with services such as dry cleaning and laundry service. For those with more specific requirements, the personal concierge service can assist in arranging reservations, transportation, or even unique experiences in the city.
Reviews And Rankings
TripAdvisor ranks the hotel as the 116th out of 965 hotels in Dubai. The ratings are a reflection of the hotel's exceptional service (4.7 out of 5), cleanliness (4.8 out of 5), location (4.5 out of 5), and value (4.4 out of 5). The hotel has even earned the prestigious "Travelers' Choice" accolade, showcasing its dedication to a great guest experience.
Google Maps users also endorse the hotel, citing easy access to Dubai's famous attractions and breathtaking views of the Palm Jumeirah. The establishment's commitment to hospitality and exceptional service are the cornerstones of its success.
Guests notice the following pros:
The facilities and staff are highly rated, with guests praising the helpful and friendly staff and the beautiful setting, grounds, and pool with beach access.

The hotel's rooms are spacious and comfortable, with guests noting the large rooms and spacious bathrooms.

The food at the hotel is also highly rated, with guests praising the taste and quality of the food.

The hotel's location on Palm Jumeirah is also a plus, with guests enjoying the views and proximity to attractions such as Atlantis The Palm.
Personally, I would agree with all the pros and notice:
Spacious room with an amazing view.

The best bathroom we ever had) 

Lots of dining options.

Green lush territory.

Convenient location.

Attentive service and friendly staff.

Fast WI-FI.

Excellent amenities including a spa, gym, kids club, tennis court, water sports, and more.
As for cons, I can notice only that some could find the hotel's location can be a bit isolated. 
Also, the pool area and the family pool itself are a bit crowded. 
I received points for my stay as I am a member of Hilton Honors, the Hilton Loyalty Program. I may pay for any hotel service or the following one with them. Therefore, if you want to save some points, I would advise you to register there before your visit.
Photos
Videos
Location
The address is Crescent Rd – The Palm Jumeirah – Dubai.
It is only 35 km away from Dubai International Airport (DXB).
How To Reach
You can pre-arrange a transfer, order a taxi (Careem, Hala Taxi, Uber, YanGo), or use a rented or your own car to get there.
If you go by car, take note free valet parking is available for hotel  guest. It is underground, by the way)
Sights&Attractions Nearby
Ittihad Park 

Nakheel Mall 

Aura Skypool

Aquaventure Waterpark

The Lost Chambers Aquarium

Atlantis The Palm

JBR And Dubai Marina

Bluewaters and Ain Dubai
Conclusion and Final Thoughts
Waldorf Astoria Dubai Palm Jumeirah is an exquisite choice for travelers seeking an opulent getaway in Dubai. 
With impeccable service, a serene location, delectable dining options, and top-notch facilities, guests will undoubtedly leave with a lasting impression of their stay at this magnificent resort.
I would advise it for families with kids and for newlyweds.
Learn more about family-friendly hotels in Dubai.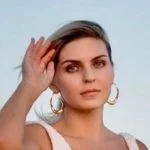 I am Anastasia, the author of this blog and a passionate and experienced traveler who resides in the UAE.
I have visited every Emirate, every popular sight, and every hidden gem.
I m here to help you make your trip to the UAE unforgettable.