With Dubai's continued expansion and each year's arrival of millions of tourists, effective transportation is more and more crucial. The taxi Dubai service is one of the most practical and popular ways of transportation in the city.
Dubai taxis provide a convenient and hassle-free method to travel around busy cities thanks to their large fleet of well-maintained vehicles, online taxi apps, and qualified drivers.
To make sure you have a flawless and pleasurable travel experience in this vibrant city, we will discuss the numerous facets of taxi services in Dubai in this article, including how to hail a cab, fare structure, safety precautions, and more.
About Dubai Taxi
The Roads and Transport Authority (RTA) controls Dubai taxis, assuring standardized prices, superior cars, and skilled drivers.
The main taxi company is the Dubai Taxi Corporation, although many other franchise businesses follow RTA regulations, like Cars Taxi, Metro Taxi, Arabia Taxi, and National Taxi. Hatta Taxi, Airport Taxi, and Limousine Services, among other services, are offered by Dubai Taxi Corporation.
Each taxi company has a distinct color scheme for their cars, making them simple to recognize. While some cabs may have a full-color body, the majority of them have a cream-colored body with a colorful roof.
As a result, the following taxi operators may be identified:
Official Taxi
Private Taxi
Pink Taxi
UberChopper
Official Taxi cars have distinctive markings which make them easy to detect.

Passengers shouldn't be charged if the taxi drivers fail to activate the taximeter at the beginning of the trip. Official transportation is affordable and secure. Watch out for vehicles with matching-colored roofs and bodies, and bear in mind that three federal taxi companies – RTA Taxi, and Careem – offer this service.
Uber drivers cannot use their own automobiles while working. To provide the greatest level of comfort for customers, the taxi depot offers opulent Lexus EX automobiles. Most taxi drivers of Uber are always dressed professionally to provide a pleasant experience. Therefore, their car service is slightly more expensive than others.
RTA Taxi is the best bet if you're looking for a trustworthy and reasonably priced Dubai taxi service. RTA provides specific services to satisfy the requirements of all customers, including ladies' taxis, airport pickups, and choices that are accessible to people of determination.
Private taxi refers to the unlawful and perhaps dangerous practice of regular folks using their automobiles to carry clients. These drivers might not be reliable and lack official meters. We urge you to stay away from their services.
You may feel comfortable knowing that the UAE government is concerned about your safety if you're a lady or a parent of small children. The distinctive Pink Taxi will be easy to recognize on the road thanks to its pink roofs or identification markings. Only female passengers and children under the age of twelve are allowed in these vehicles. The pink cab drivers are all female drivers, which adds another level of comfort.
With the UberChopper service, you can witness the beauty of the well-known sights of Dubai from a breathtaking vantage point. In addition to easily avoiding traffic, you have the option of taking a 12, 15, or 25-minute scenic trip. As you soar over them, you will see the Burj Khalifa and Burj Al Arab, Palm Jumeirah, The Islands, and more.
Additionally, the Atlantis Hotel's accessible air transfer helipad guarantees a hassle-free journey. Get together with your friends and family and reserve a helicopter flight for AED 530 per person or pay AED 630 for a single seat.
Fares
The taximeter-based price structure determines how much a ride will cost depending on waiting time and distance traveled.
Here is a list of taxi fares:
Flagfall: The initial charge that the taximeter makes when you get in the vehicle is often referred to as the "flag fall". The usual flag fall is around 5 AED. The flag fall is 12 AED for reservations made through the phone center or online app throughout the day (6 AM to 10 PM). The flag fall for airport taxis is 25 AED.
Charges depending on the distance: after the flag fall, the fare is adjusted for distance. For regular Dubai taxis, the cost of each kilometer is around 2-2.19 AED.
Time-based fares: the fare is also calculated based on waiting time. The rate for regular and airport taxis is 0.5 AED per minute.
Minimum fee: each Dubai taxi ride has a minimum cost of 12 AED.
Additional charges: there can be additional fees; for instance, an extra fare of crossing the emirate costs is 20 AED.
Fares for pink taxis are usually 20% higher.
How To Book A Taxi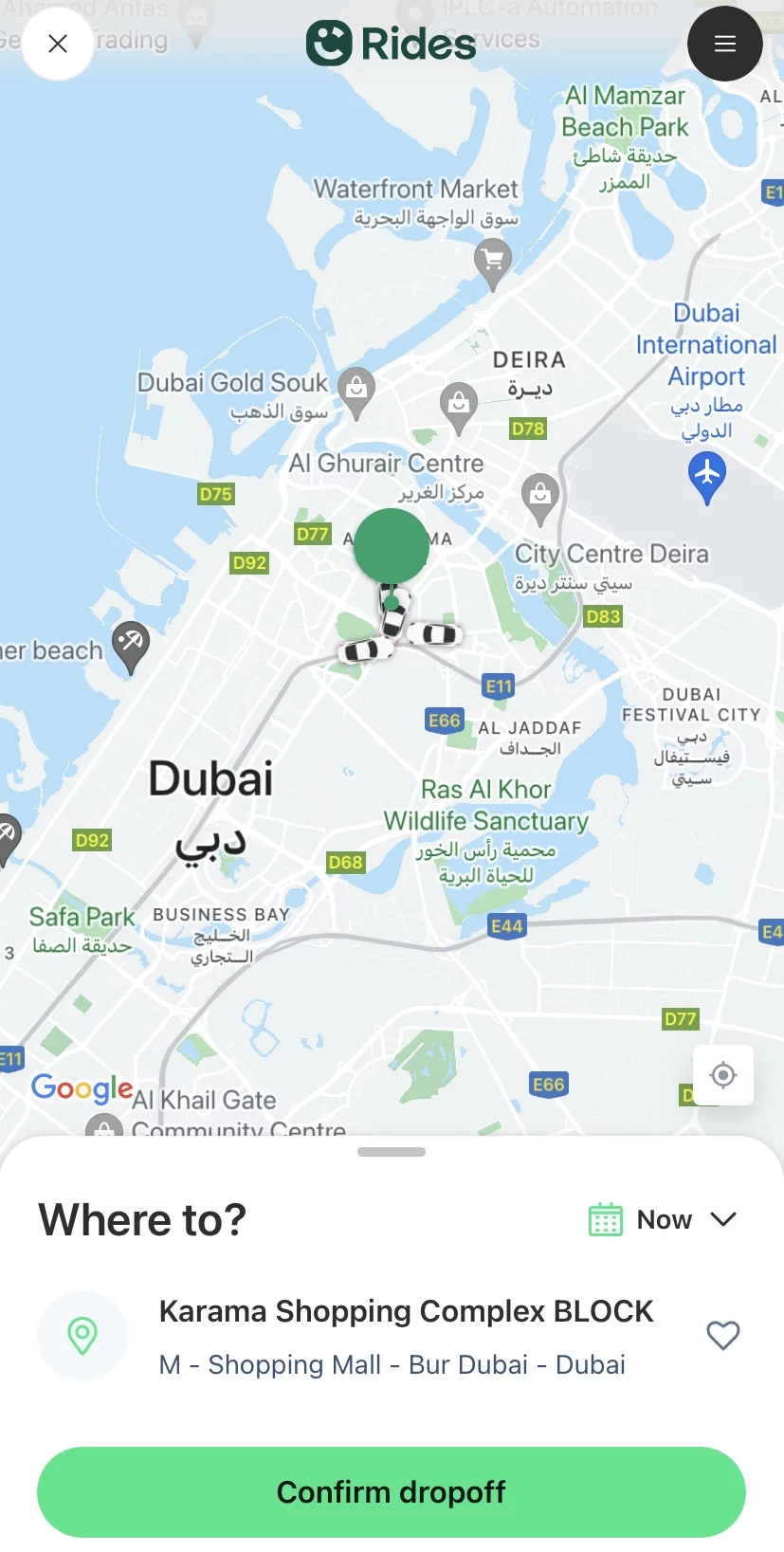 Via Mobile App
Use one of the following mobile applications to instantly hire a Dubai taxi:
Careem
RTA
Uber
Yango
DTC App
Prices tend to appear a little bit higher on the app. This is due to their a separate charge for calling a car and a small service fee.
Note! Taxi apps are available in all Emirates except Umm-Al-Quwain.
Taxi Lane At Popular Destinations
If you're in Dubai and need a public taxi, go to the approved nearest taxi rank for a pickup location. These taxi lanes provide a faster method for hailing a ride and are dispersed across the city.
Official taxis including Dubai Taxi Corporation ones may generally be located close to retail malls and popular tourist attractions. They can be identified by their cream color and identifying branding.
Remember that boarding happens on a first-come, first-served basis, so be prepared to wait in a queue during busy times near taxi rank.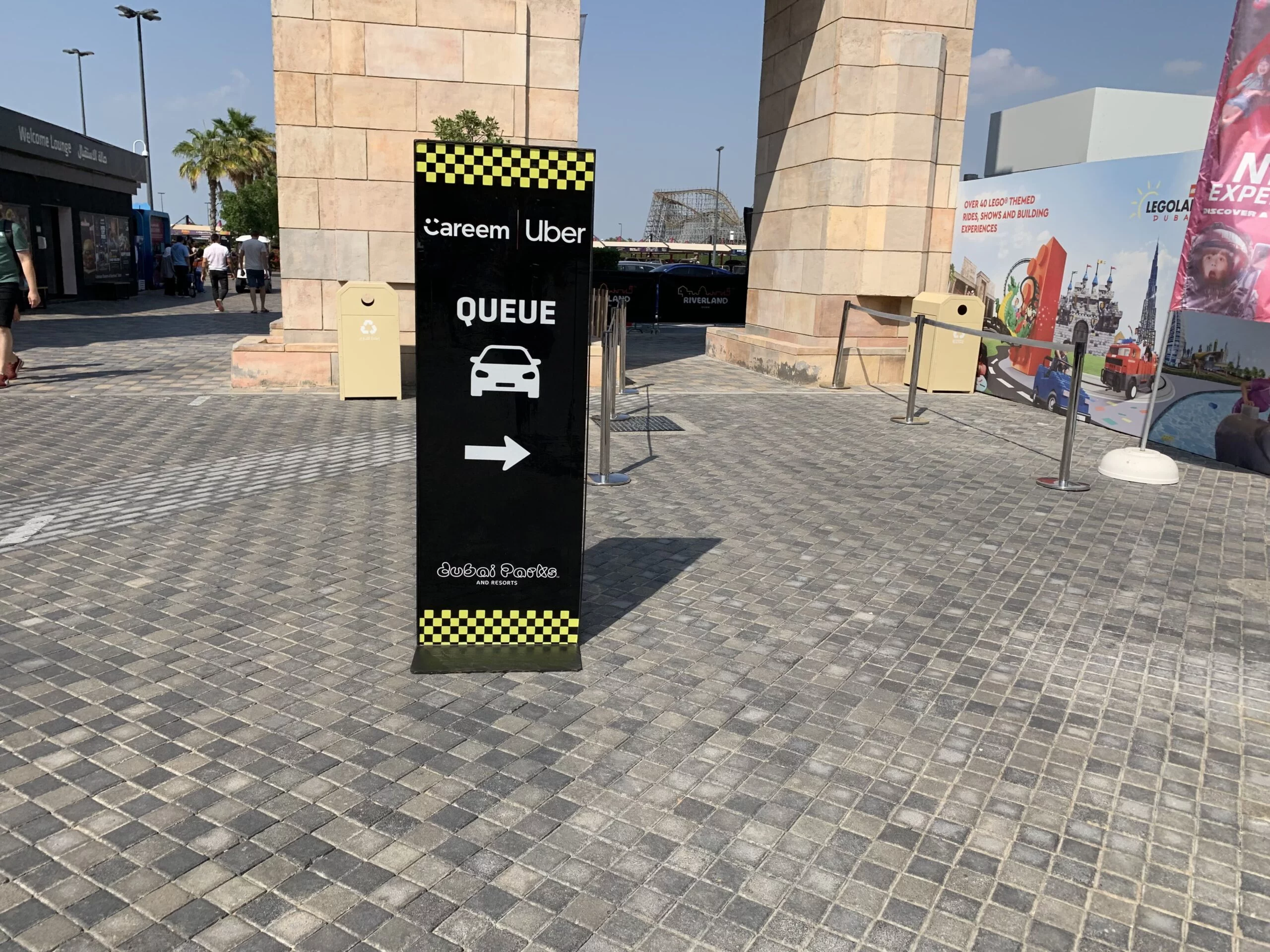 At The Street
Due to their distinctive cream color and brightly colored roofs, Dubai Taxis are easily recognized around the city.
Want a ride? You may easily and conveniently pick up a taxi car on the street. Look for taxis with their lights and taximeters on the vehicle. Additionally, they will only stop in safe locations for your protection.
SMS or Phone Call
Follow these easy steps to SMS-order an RTA taxi:
Send a text message to 4774 with the taxi rank number for your area
An SMS with your booking number and information about the designated taxi will be sent to you
As a result of SMS integration with the Dubai taxi reservation and distribution system, you will be allocated to the closest available cab as soon as your request is received
The only locations where this booking option is accessible are taxi ranks.
Additionally, you can call 04-2080808 to book Dubai taxi.
Taxi Reservation Centre
You only need to make a brief call to the Taxi Reservation Centre if you want to reserve a cab in Dubai in an easy and stress-free way. You may quickly hire your cab and prevent any hassles by dialing 800 88088.
How To Pay
Although the majority of taxis in Dubai have credit card machines, it's advisable to have cash in dirhams on hand to ensure a pleasant journey.
You'll be ready and won't face any delays if the terminal is down. Check the terminal's condition and whether card payments are accepted before you travel.
Look for a sticker on the window of an official Hala Taxi Dubai that promises a free trip if the taximeter or card payment terminal isn't functional.
You may quickly pay your fare with a debit/credit card or cash when requesting a cab using an app.
Additionally, you can use Samsung Pay, Apple Pay, and NOL Cards to pay for your ride on the subway, buses, and other public transport including taxis through RTA.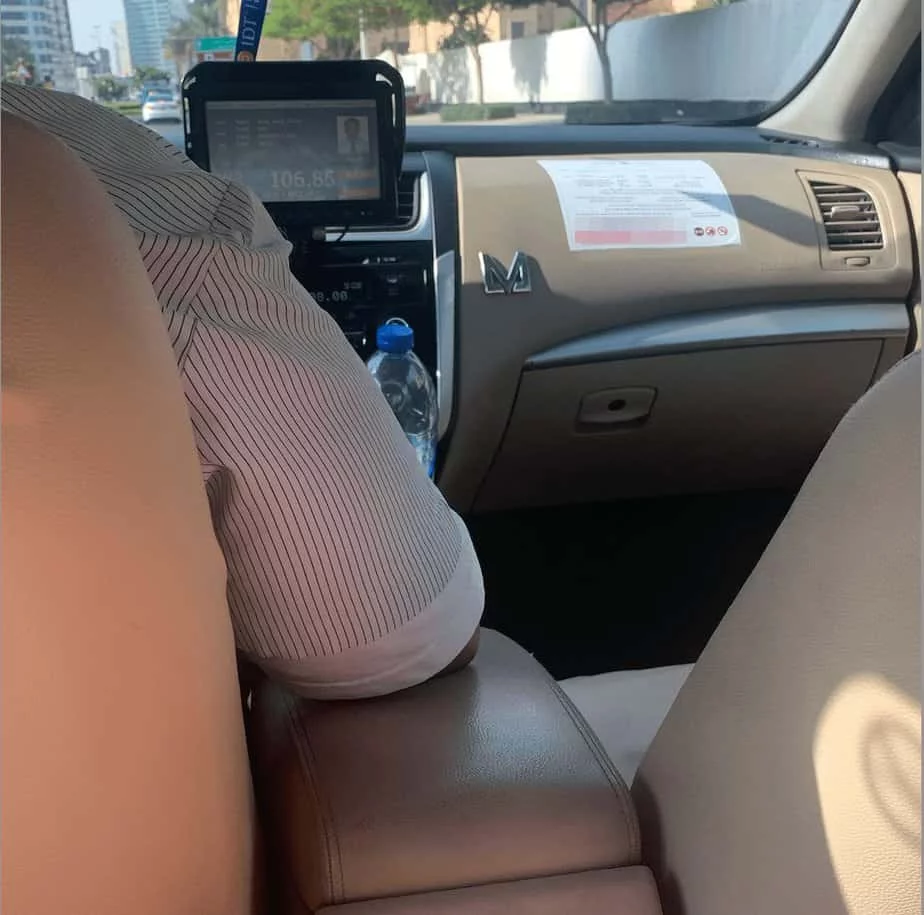 Transfers
Instead of hailing a cab to pick up someone at the airport, we advise choosing a transfer to save money.
The UAE has GetTransfer and Kiwi-taxi transfers that provide customers with a dependable and in-demand service for travel between airports, cities, hotels, and other emirates. It's simple and hassle-free to book online on the website or through the app.
Popular routes include Dubai International Airport to the city center for about 110 AED, Dubai to Abu Dhabi for 300 AED (including toll roads), Dubai to Sharjah from 73 AED (including toll roads), and Dubai to Fujairah from 220 AED.
Tips
As a guide to a smooth and comfortable taxi ride in Dubai, the following suggestions are provided:
Always order a taxi through an official route. Don't take trips from illegal or unsafe taxis.
To make your ride smoother, have your destination address and any nearby landmarks ready to share with taxi drivers. This will help them locate your destination more quickly.
Although there are several ways to pay in taxis, it's a good idea to have little change in UAE dirhams on hand for cash payments as drivers might not always have enough.
Riding in a taxi in Dubai requires respect for local customs and laws. Avoid eating or drinking while driving, for instance, and always make sure to buckle your seatbelt.
If you need an airport taxi, only female drivers, or a taxi accessible for people with disabilities, make your request through the proper booking channels.
Before you begin your trip, make sure the taximeter is turned on and functioning properly. If there are any inconsistencies or problems, respectfully bring them up with the driver or contact the RTA.
Baby seats are not automatically available in Dubai taxis. We kindly recommend carrying your own to guarantee your child's security and comfort during the trip.
Finding a Dubai public taxi could be more difficult at peak hours or during major events. If taxicabs aren't easily accessible, think about other transit choices like the Dubai Metro or buses.
F.A.Q.
How do you call a taxi in Dubai?
To call a Dubai taxi, you have several options:
* Phone or SMS booking: Call the public taxi booking hotline at 04-2080808. Provide your name, contact number, current location, and preferred time for the taxi to arrive. Call to 8008-8088 (Taxi Reservation Centre). Also while you are at taxi ranks you can send a text message "4774" to book a taxicab.
* RTA's Smart Taxi app: On your smartphone, download the RTA Smart Taxi app. It is compatible with iOS and Android mobile devices. Put your pick-up and destination information after logging in and registering with the app. You may call the closest available Dubai public taxi using the app.
* Third-party apps: you can also use third-party ride-hailing apps like Careem, Uber, Yango, and DTC App, which allow you to book a Dubai taxi through their platform.
To guarantee a trustworthy and secure taxi service, always make use of the official booking methods.
What are the cheapest taxi options in Dubai?
The cheapest taxi options in Dubai are Dubai Taxi Corporation operated under the Roads and Transport Authority (RTA) and Hala Taxi. These taxis offer affordable rates to customers compared to other transportation services.
You will pay an 5 AED starting fare, a minimum price of 12 AED, and a cost of 1.91 AED per kilometer for Hala Taxi. The starting fare for a Dubai Taxi Corporation ride under RTA is 5 AED during the daytime and 5.5 AED at night, plus 2.19 AED for each kilometer.
Is it expensive to take a taxi in Dubai?
Compared to many other cities, the price of taking a taxi in Dubai is relatively affordable. The Roads and Transport Authority (RTA) sets the rates, and the taximeter system figures out how much it will cost based on how far you have to go and how long you wait.
Even though the total cost of a taxi journey in Dubai varies depending on factors like distance, traffic, and any additional fees, it is typically seen as a cost-effective means of transportation, especially when compared to private taxi services in some other large cities.
However, sometimes taking advantage of public transport like the Dubai Metro, bus, or trams may be more economical for longer distances or frequent journeys. It's important to assess your own travel requirements and preferences to choose the most practical and cost-effective mode of transportation.
Do taxis in Dubai accept credit cards?
Yes, credit cards are accepted as a payment mode in Dubai taxis. Taxi card payment terminals, installed by the Roads and Transport Authority (RTA), enable passengers to simply pay for their journeys using major credit and debit cards.
Overall, the first step in ensuring a good journey is deciding why you are calling a taxi car in Dubai. Choose the official, RTA taxis and Hala taxis if you want to travel throughout the city on a cheap. These may be reserved using the Careem App or RTA smartphone apps as well as hailed on the street or in busy areas.
Despite the increased expenses, Ladies' taxis and Uber are excellent options for those who want more comfort when traveling. A transfer service, however, could be a better choice if you need to transport a group of people to or from the Dubai International Airport, hotel, or other sites and even to Abu Dhabi.
When looking for Dubai taxi services, caution must be used. Both legitimate and illegal taxi drivers may be found throughout the city. We advise you to always use the services of licensed operators to protect yourself.
Videos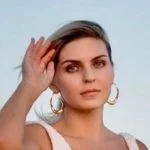 I am Anastasia, the author of this blog and a passionate and experienced traveler who resides in the UAE.
I have visited every Emirate, every popular sight, and every hidden gem.
I m here to help you make your trip to the UAE unforgettable.