Mushrif Park Dubai is a 5.25 square kilometer (1300 acre) oasis that is located near the Al Khawaneej area. It provides a plethora of things for holidaymakers of all tastes to hang out.
Established by Dubai Municipality in 1974, the park has become a popular sight. As proof of its popularity, more than 700,000 people visited the park in the first quarter of 2023 alone.
Mushrif Park is home to a wide range of flora and animals, especially a forest of more than 70,000 ghaf trees which hosts over 110 different bird species. A leisurely stroll through the park provides a chance to soak up the amazingness of nature and spot fascinating birdlife.
While strolling through the park, you could come across play areas, jog tracks, and pools to cool down.
The park's rich vegetation and dedicated cycling path that round its circumference are guaranteed to appeal to nature lovers.
Aventura Park, a high-ropes adventure park, caters to thrill-seekers with breathtaking tree-top thrills like zip-lining and dangling from branches.
Families looking for excitement and pleasure should visit Mushrif Park. There is plenty for everyone to enjoy with a wide choice of amenities and activities, including a pool, playgrounds, bicycle track, and picnic sites with barbecue facilities.
Entrance Fee
Mushrif Park charges only 3 AED per individual as its entry cost.
The park is a great deal for large parties or families because it only costs 10 AED to enter by car.
The park is dedicated to inclusion and grants a no-pay policy to disabled people and kids younger than 2 years old.
You can pay the entrance fee by NOL Card.
Timings
Mushrif Park welcomes guests every day of the week and offers a range of hours of operation to meet your needs.
It's open to you on Mondays to Thursdays from 8:00 AM to 10:00 PM
The desert park extends its hours from Friday to Sunday and on holidays to make your visit even more pleasurable.
During these days, you can visit Mushrif Park from 8:00 AM to 11:00 PM.
Facilities
Create lasting memories by using a variety of services, facilities, and amenities for people of all ages:
Sports fields, such as the artificial grass soccer field, basketball, and handball courts.
Electronic games for indoor fun.
Children's play area zones designed to accommodate different people's needs.
Separate pools for men and women.
Opportunities to enjoy horse and camel riding.
Aventura Park – Dubai`s largest zipline park.
Scenic bicycle paths for exploring the park.
Hiking trails.
Al Thuraya Astronomy Center for science fans.
Well-equipped theatre for outdoor performances and events.
Picnic and barbecue areas for relaxing meals.
Prayer rooms, food stalks, and cafeterias for visitors' needs.
Public facilities like restrooms with baby-changing facilities.
Free parking spaces are located near entrances.
Accessibility features, including flat pathways and public utilities accommodating various needs.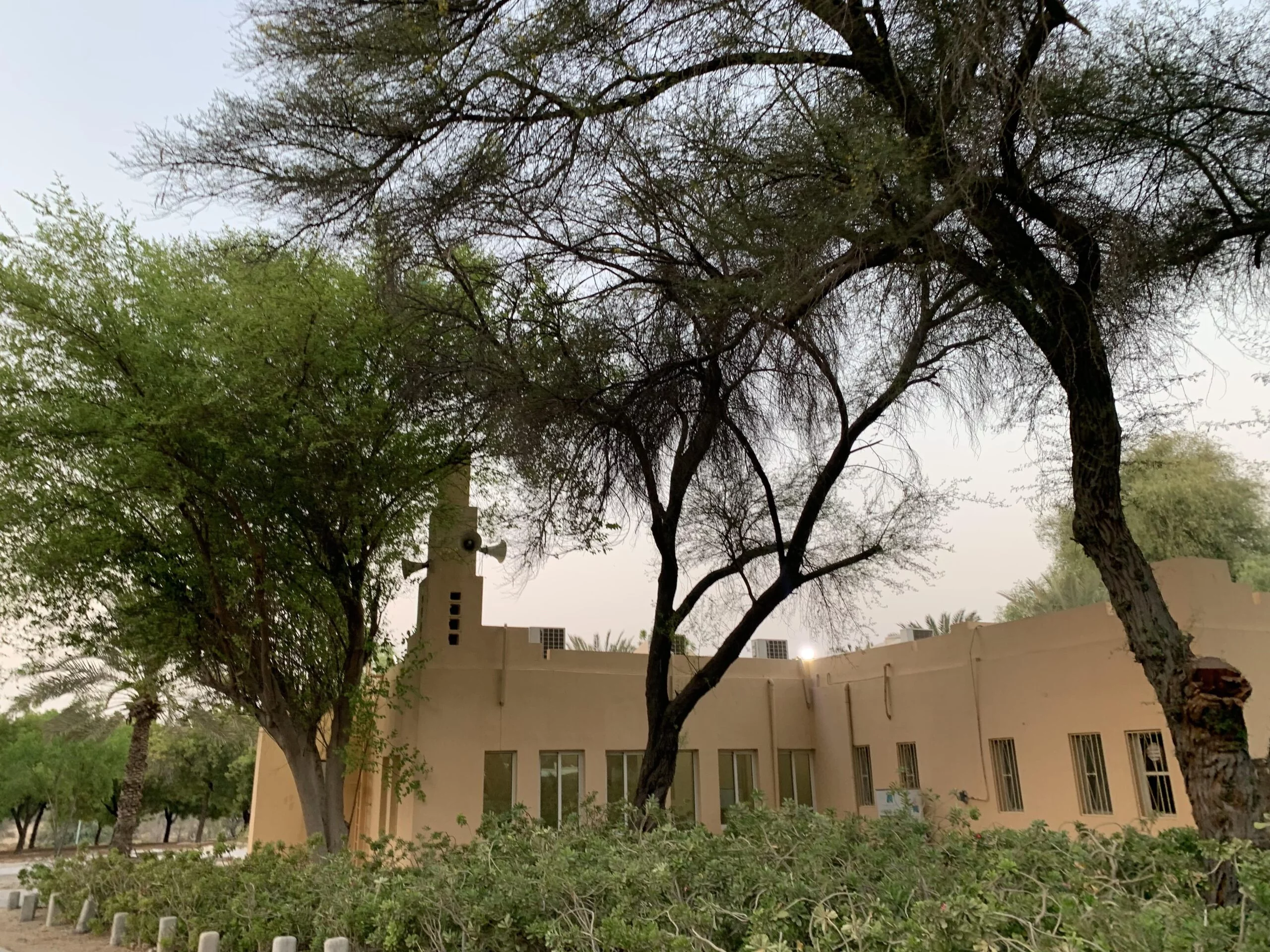 Things To Do At Mushrif Park
Swimming Pool
Mushrif Park features two swimming pools designated for people of different sexes to cool off and have a refreshing swim.
It's a perfect way to enjoy warmer days and relax with family and friends.
Dive into refreshing waters from 9:00 AM to 9:00 PM, with affordable entrance fees of just 10.5 AED per adult and 5 AED per child which can be paid by NOL card.
Note! Bikinis are not allowed.

Aventura Park
The best place for risky games is Aventura Parks, which provides lots of exciting games and extreme circuits for people of different physical training with scenic views of the Ghaf tree forest.
With over 104 challenging and fun activities, including 24 ziplines and 80 obstacles, there's something to choose from.
Ticket prices for Aventura Parks depend on the chosen circuits and experiences, starting from just 50 AED per hour for players and 35 AED for non-players.
All entry tickets include unlimited water, so you can stay refreshed while you tackle the circuits. To enhance your experience, gloves may be purchased for just 10 AED, and special bags can be used for 15 AED.
Opening hours:
Monday to Thursday: 12:00 PM – 6:00 PM
Friday to Sunday: 10:00 AM – 9:00 PM
Cycle & Mountain Bike Ride
Take a mountain bike or a bicycle through the stunning landscapes of Mushrif Park. Cycling lovers may enjoy riding on designated trails in the park which are open from 6:00 AM to 9:00 PM while taking in the views and sounds of birds' songs. Bicycle rental costs from 60 to 70 AED.
Hiking trail
The 8.3-kilometer trail is ideal for beginners since it provides a straightforward path through the park's breathtaking environs. It also offers an easy-to-follow itinerary. For individuals who are new to hiking or who simply want to take a leisurely stroll, the Yellow Recreational Trail is a perfect choice.
Mushrif Park also offers a 1.4-kilometer orange sports trail that is particularly created to provide a safe and entertaining route for experienced hikers searching for a challenge. For those looking for a more challenging trek, the trail offers a variety of challenges, such as balancing beams and rope bridges.
The Mushrif Park hiking route is open year-round, allowing visitors to take advantage of the park's gorgeous Ghaf forests and variety of species whenever they choose. A variety of birds, reptiles, and other animals can be spotted as you go along the route, adding to the trekking experience in general.
Train Ride
Take a 2 AED train journey in the park and take your time exploring. It adds a distinctive touch to your stay and is a fun pastime for children and adults tired of walking.
International Village
Discover the unique International Village featuring 13 building styles of different structures from around the world, for instance, traditional houses, Traditional Floating Thai House & English Tudor House, giving you a glimpse of different cultures and architecture. An excellent method to broaden your worldview without leaving the park.
Picnic
Savor a good time by having a meal at Mushrif Park. Enjoy your feast while chilling out on the expansive, beautiful grass, the BBQ spots, or the shady park benches.
Kids Playgrounds
Mushrif Park is a haven for kids with its vast array of attractions, including playgrounds, merry-go-rounds, swings, and many other fun-filled activities. It's a safe place to occupy the kids for a long time.
Happy Fun
It is a great place for your children with carousels, trampolines, and more. The park is open from Saturday to Friday from 03:00 PM till 11:00 PM.
Al Thuraya Astronomy Centre
Visit the Al Thuraya Astronomy Centre to gain astroknowledge while gazing at the stars and marveling at the grandeur of the cosmos.
For just 20 AED, enjoy a 20-minute Planetarium Show or observe celestial wonders up close for 10 minutes with the Telescope Observation.
The Astro Cinema offers a 30-minute journey through the cosmos for the same price, while the Tour of the Center, a 15-minute guided tour, costs only 30 AED. Enhance your understanding of the universe and its mysteries with Al Thuraya Astronomy Center's immersive experiences.
Opening hours:
Saturday to Thursday: 1:00 PM – 9:00 PM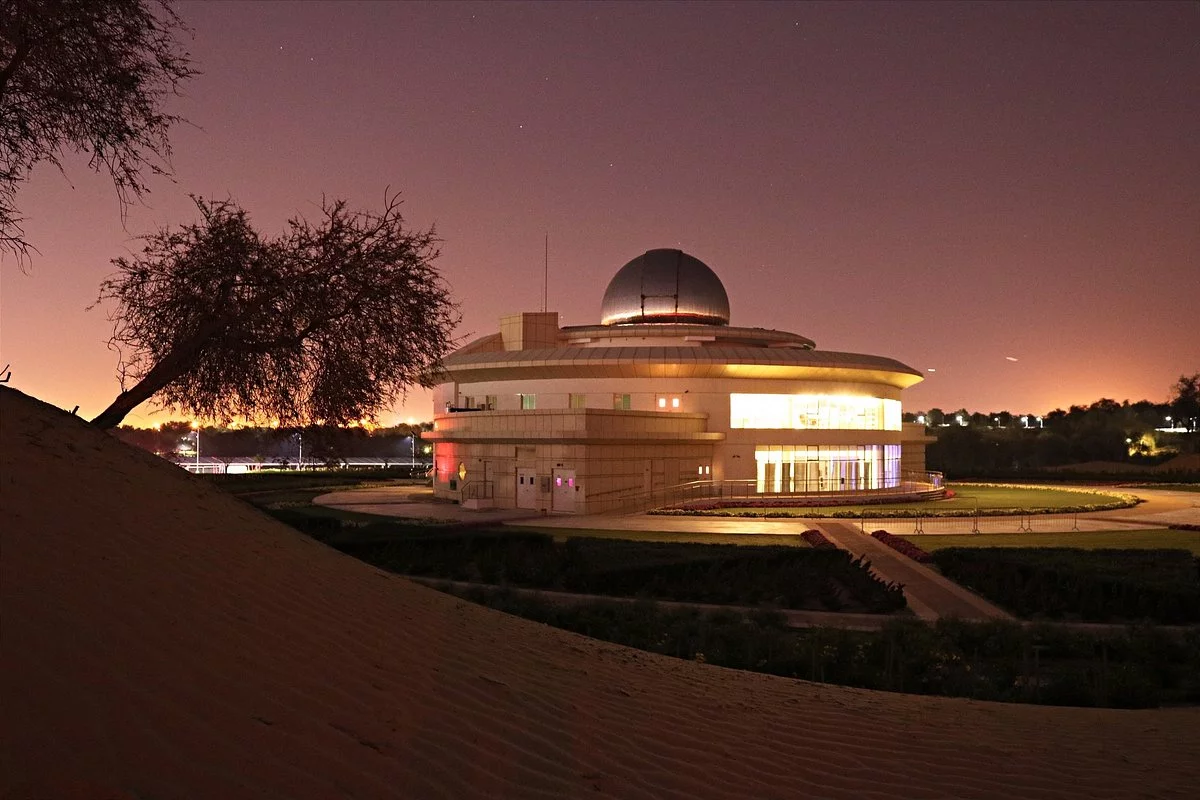 Mushrif Equestrian and Polo Club
Get new impressions from horse riding! One lesson for a child under 12 years old costs around 150 AED and for an adult – around 250 AED. The price for one desert ride lasting 90 minutes is around 300 AED per person. With professional trainers and well-groomed horses, it's a great way to learn and enjoy equestrian sports. Learn more here.
Opening hours:
Lessons (every day except Monday): Morning: 7:00 AM – 11:00 AM, Evening: 4:00 PM – 7:00 PM
Desert Rides: Morning: 7:00 AM and 8:30 AM, Evening: 3:00 PM, 4:30 PM and 6:00 PM
Outdoor Sports
On the special courts in the park, play a variety of sports in the fresh air. Throw a basketball into the hoop, train your hands with a strong kick while you play hand- or volleyball, and hit the opponent's goal in a friendly game of football. Choose a formula for healthy rest – active sports, fitness + team building.
Bird Watching
Mushrif Park is a haven for bird-seeking sessions, with its natural habitat gaining a diverse range of over 110 bird species. The park is a special chance to immerse yourself in the fascinating world of bird watching, with kinds like Shikra, the Arabian babblers, Gray-brown bulbul, and so on.
Whether you're a pro bird watcher or a fresh hand, Mushrif Park's diverse ecosystem provides the perfect setting to observe and learn about different bird species. Bring your binoculars and explore the park's ghaf tree forest, where you'll find an abundance of birdlife.
Events at the Theater
Visit the park's theater for various events and shows that are appropriate for the whole family and highlight the ability and creativity of people from many cultural backgrounds.
Mushrif Park Map
Things To Do Nearby
Dubai Crocodile Park
There you may explore the fascinating world of crocodiles in a pleasant and secure setting. It provides an informative experience that promotes awareness of these huge reptiles and their natural place of living. Learn about crocodiles' daily activities, see them feed, and be astounded by their majestic presence.
Opening hours: 10:00 AM – 8:00 PM
Entry fee: 50 AED (child 3-12 years old), 75 AED (child 12+ years old), 95 (adult)
Malls
Mirdif Mall: While visiting the Mushrif Park area, you can take a shopping break at Mirdif City Centre. Located a few minutes away, this mall offers numerous shops, restaurants, and entertainment options. Opening hours: 10:00 AM-10:00 PM.
Warqa Mall: Another great shopping option near Mushrif Park is Al Warqa City Mall. This cozy neighborhood mall provides a comfortable shopping experience with various grocery stores, fashion outlets, and dining venues. You can also enjoy some leisure time by visiting the food court or grabbing a coffee at your favorite café. Opening hours: 10:00 AM-11:00 PM.
Check out our blog post about the best malls in Dubai.
Don't forget to include these sights in your schedule before or after visiting the public park. Your day will be chock full of memorable moments and fascinating interactions.
Location
In the east of Dubai, next to the neighborhood of Al Khawaneej, sits the gorgeous Mushrif Park. The distance to Dubai's historic core is around 16 kilometers. Dubai International Airport is only 10 km away from Mushrif Park.
The address is 6C7X+M7M – Al Khawaneej St – Mushrif – Dubai.
How To Reach
The 11A route is an option if you'd rather ride a bus. Don't forget to bring your Nol card with you, as it's the standard payment option for public transportation in Dubai.
You may take the CentrePoint (previously Rashidiya metro station) or the Etisalat Metro Station on the Red and Green Lines if you're in the mood to use the Dubai Metro. These are the nearest metro stations.
Learn more about Dubai metro timings, fees, lines, and cabins,
To reach Mushrif Park, either take a quick taxi trip or board a connecting bus.
If driving your own car is more convenient for you, just use the E311 road to find Mushrif Park. To direct you to the place, there will be signboards along the route. More than that, there will be plenty of free parking spots.
Reviews
Pros of Mushrif Park Dubai based on Google Maps reviews:
Large territory with plenty of greenery.
A welcoming environment for families with lots of kid-friendly games and rides.
Many high-quality recreation options.
Affordable entrance fees for swimming pools and other attractions.
Cons of Mushrif Park Dubai based on Google Maps reviews:
Littering and lack of cleanliness in certain areas.
Can be difficult to navigate due to its size and layout.
Limited dining options.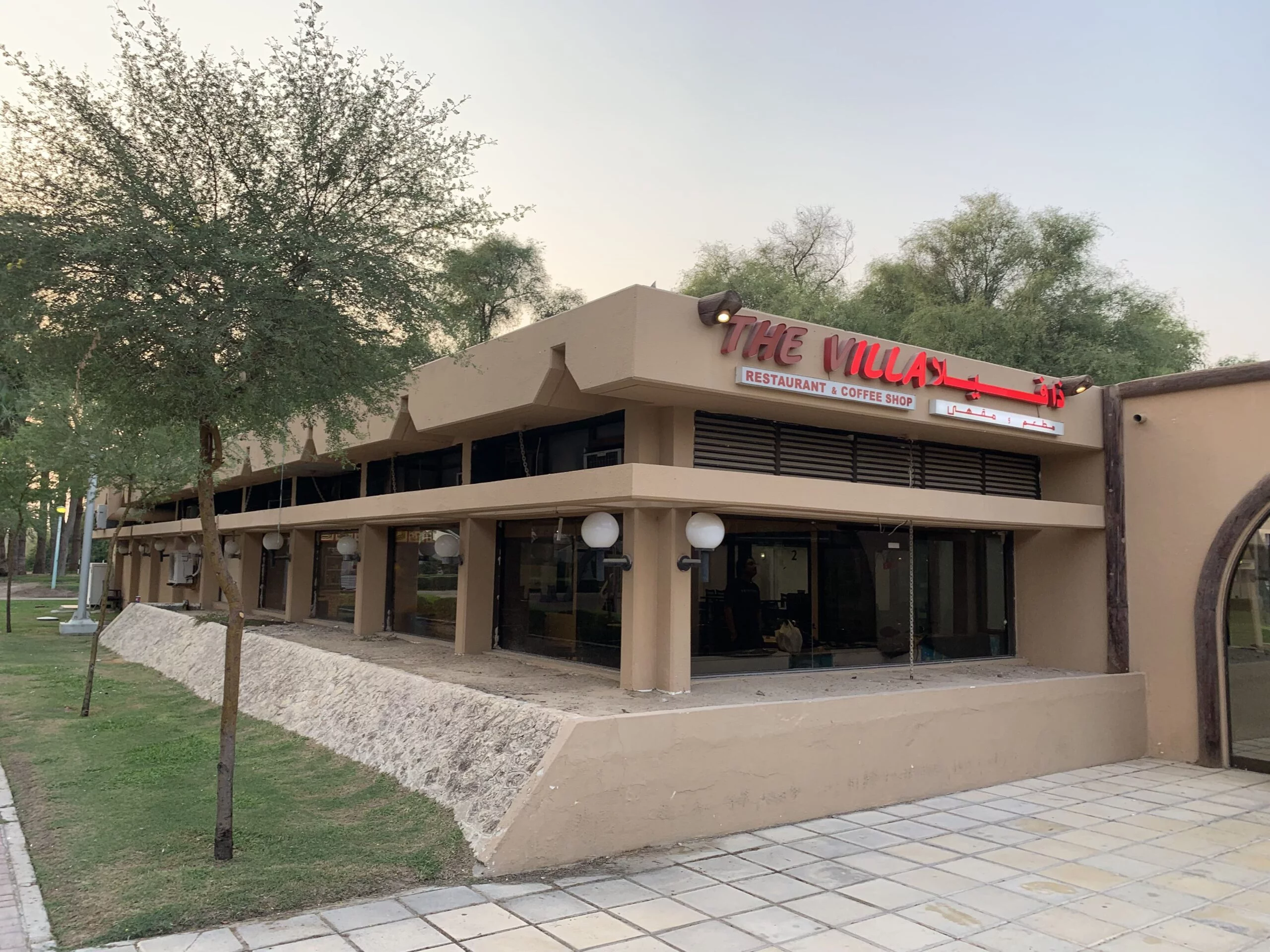 As for my personal opinion, it is a great place to spend time outdoor with your family or friends. Just better to take everything you may need (water, food, things for playing games, for picnic etc) with you. Also i recommend to enter the park via car as it is really huge.
Tips
There are some recommendations to bear in mind while organizing your trip to Mushrif Park:
Check beforehand the weather forecast and dress appropriately.
Take enough water, sunscreen, and insect repellent.
Respect park rules and regulations, and keep the park clean.
Take advantage of the dedicated BBQ spots for a family lunch.
Visit early mornings or late afternoons for a more pleasant temperature.
The attractions at the park should be thoroughly explored and enjoyed throughout your trip. Save our guide to plan your visit!
Rules
Some of the key regulations you should be aware of during your visit:
Pool restrictions: Firstly, proper attire is required when using the swimming pool facilities. Men should wear swim shorts, while women are expected to wear one-piece swimsuits. For the protection of other people's privacy and to avoid any potential problems, snapping photographs in the pool is also not permitted.
Not pet-friendly: Please be aware that although Mushrif Park's verdant surroundings may appear ideal for a walk with your animal friends, pets are not permitted. This regulation was put in place to protect both park guests and the native species, as well as to keep the area tidy.
Keep your child close: Be sure to keep an eye on your minors as adult supervision is required at all times. This rule helps create a safe and enjoyable experience for not just your children but for other park guests as well.
No smoking in children's play area: Smoking is not permitted inside, as it wants to promote a healthful vibe for everyone. So, kindly hold off the urge to light up until you have exited the park premises.
No shisha.
No camping.
No littering.
BBQ is allowed only in designated areas.
No hunting.
By adhering to these guidelines, you'll help create a pleasant experience. Have a great time!
Frequently Asked Questions
How much is the entry fee for Mushrif Park Dubai?
Mushrif Park Dubai has a fee for entry of 3 AED per person and 10 AED for parking a car to ensure a well-maintained and enjoyable environment for visitors. It's free of charge for the disabled and little ones younger than 2 years old.
Is shisha allowed in Mushrif Park?
Mushrif Park doesn't permit the use of shisha. It's recommended to avoid smoking shisha or engaging in any activity that violates the park's laws because they support a clean and family-friendly environs.
Is football allowed in Mushrif Park?
Yes, it is allowed as it offers a play field. But note that it is forbidden to play games with balls when visiting the pool.
Is there a parking area at Mushrif Park?
The answer is that Mushrif Park offers tourists free parking spots. Because of its size, parking will be available for everyone. So you may visit the park and take pleasure in your visit knowing that there is a place designated for your car.
Is Mushrif Park pet-friendly?
No, pets are not allowed at Mushrif Park.
Videos
A fantastic excursion awaits you in Mushrif National Park, where you'll be surrounded by wildlife and fresh air. The park is the ideal place for a family outing or a tranquil getaway from the city since you can immerse yourself in beautiful scenery and an oasis of calm while you explore it.
You will without a doubt appreciate Mushrif National Park's distinct features and special atmosphere. Take a leisurely stroll, play in the greenery, or engage in fun outdoor activities.
A chance to reconnect with nature, refresh your senses, and make priceless memories may be found when visiting public parks like Mushrif National Park Dubai. Discover animal rides, bird therapy sessions, family amusement spaces, playing grounds, and more at Mushrif Park.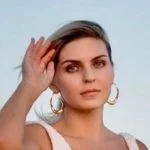 I am Anastasia, the author of this blog and a passionate and experienced traveler who resides in the UAE.
I have visited every Emirate, every popular sight, and every hidden gem.
I m here to help you make your trip to the UAE unforgettable.