Skydive Dubai is one of the world's leading skydiving centers, offering an unforgettable experience for adrenaline seekers and thrill-seekers alike.
With breathtaking views over some of the city's most iconic landmarks, you can take to the skies and enjoy this once-in-a-lifetime adventure.
From registration, Skydive Dubai price, and timings to helpful tips, F.A.Q., and reviews – here's everything you need to know about your upcoming Skydive Dubai experience!
About Skydive Dubai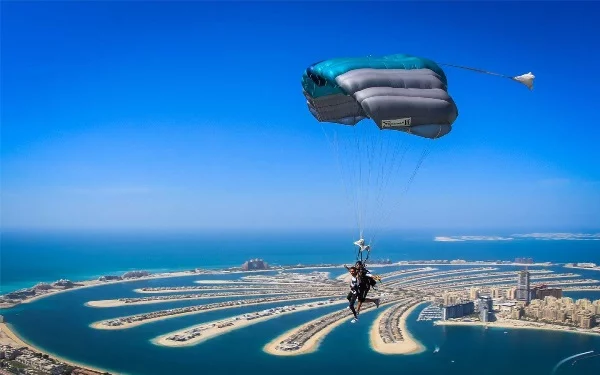 It all started with H.E. Nasser Al Neyadi's passion for aerial sports.
Armed with just one helicopter and a wind tunnel, he began his journey toward becoming a world-class parachuting champion.
In 2010, His Highness Sheikh Hamdan bin Mohammed bin Rashid Al Maktoum, Crown Prince of Dubai and Chairman of Dubai Executive Council, gave his blessing to Dubai's first international parachuting championship at the Palm Dropzone.
From this event, the brand Skydive Dubai was born, launched by H.E. Nasser Al Neyadi.
Today Skydive Dubai offers a unique experience of a lifetime, with stunning views of the city's most iconic landmarks from up to 4,000m in the air.
It is also one of the world's largest skydiving centers and is known worldwide for its commitment to excellence in aerial sports.
The brand boasts multiple Guinness World Records, a testament to its dedication to pushing the limits of what's possible.
Its experienced instructors take customers through an extensive safety briefing and demonstration before they jump, offering peace of mind for first-time jumpers and experienced divers alike.
The entire experience lasts two to three hours, with customers typically soaring through the air for up to 60 seconds at 120 miles/hour during their skydive.
Experienced instructors are on hand throughout who ensure that all safety standards are maintained at every dive stage.
Also On-site, you will be able to find:
Free WI-FI
Cafe with snacks and beverages
Outdoor deck for visitors and companions
Free lockers
What To Expect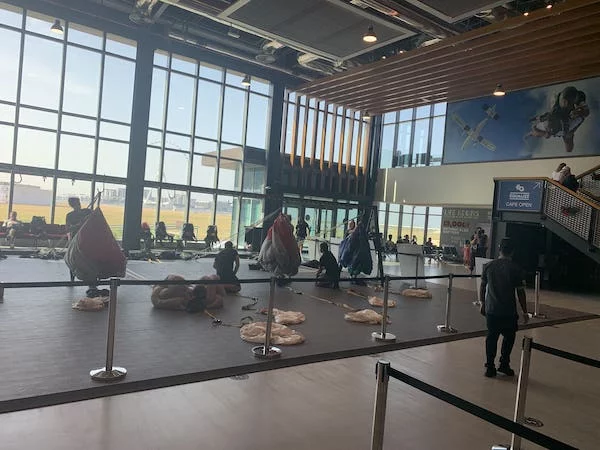 Registration
Registration for Skydive Dubai is a simple process that can be done online or in person. Customers are required to read and sign a liability release form and provide valid identification at the time of registration.
For those registering online, you will need to provide information such as their full name, date of birth, contact number, emergency contact, email address, and nationality. Payment options may include credit cards, debit cards, or cash payment upon arrival.
While waiting, you will have a small video interview, which will be used in a final video with your jump.
Training
After registering, customers will watch the video tutorial and will go through an orientation session led by two experienced skydiver instructors who will ensure all safety standards are maintained before they take off on their skydiving adventure.
During the orientation session, customers will learn about the gear used for skydiving as well as proper diving technique and safety protocols.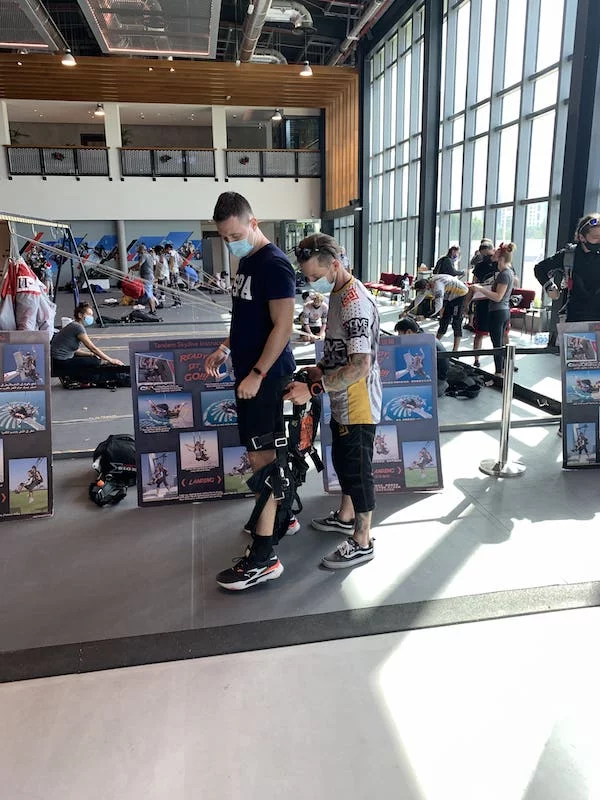 Flight
Customers will board a plane in a group of 4-5 people and reach heights of up to 13,000 feet. As the aircraft ascends higher, they will enjoy spectacular views of the incredible scenery below.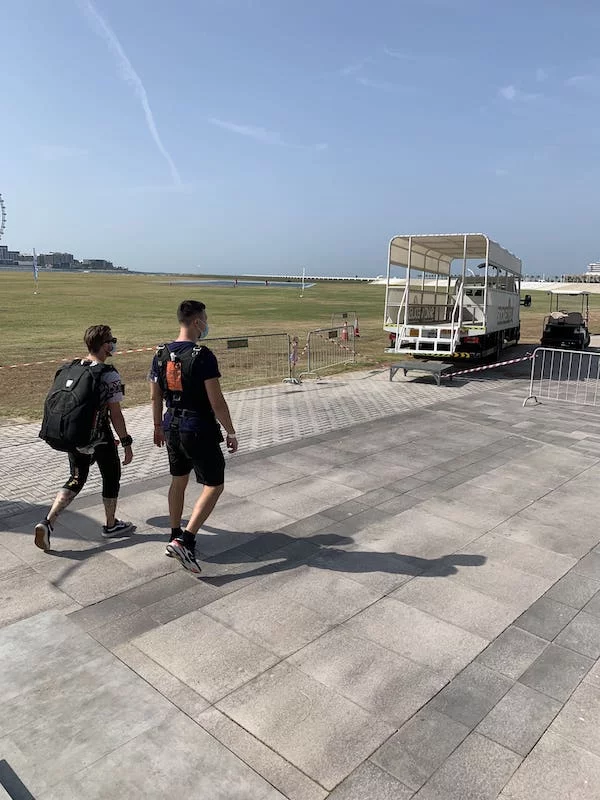 Jump
Once the plane reaches its maximum altitude of 13,000 feet, customers will take a thrilling jump from the aircraft.
During their free fall, they will experience an adrenaline rush like no other as they reach speeds of up to 200km/hr before their instructor deploys the parachute.
Once the parachute is deployed, customers can enjoy a peaceful and scenic ride down to the ground as they take in the incredible views of Dubai's skyline, beaches, and desert landscape.
Landing
After the parachute is deployed, customers will have around five minutes of peaceful and scenic descent, with breathtaking views of Dubai's skyline, beaches, and desert landscape.
The instructors then take over as they guide the skydivers to a smooth landing on the designated drop zone. Customers are also provided with a safety briefing before jumping and during their flight, making sure that everyone has a safe and enjoyable experience.
Skydive Dubai Prices
Skydive Dubai's price for tandem skydiving is the same as most providers and is estimated at AED 2399 per person.
What Is Included In Skydive Experience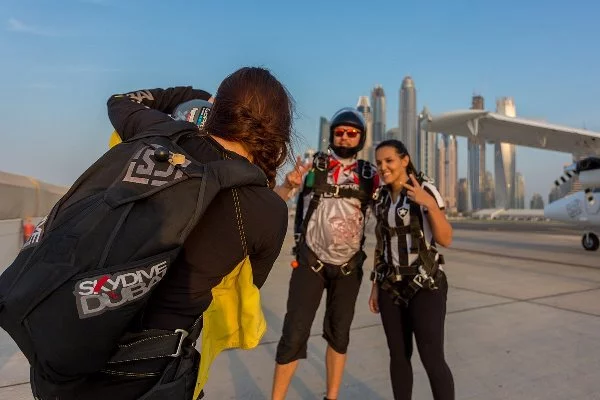 Tandem skydive at The Palm Dropzone
An experienced and accomplished instructor
Photographs and 3-minute standard edited video (you will receive them within 48 hours after you complete your experience)
Medical insurance
Transfer ( if the option is available and selected)
Booking Policy
You need to contact SkyDive Dubai at least 24 hours before your booked booking to reschedule your skydive.
You will forfeit the entire purchase amount for any booking you make if you do not show up at the time specified in your reservation. The only way to request modifications to your reservation is via email.
Important To Know!

As skydiving is a weather-dependent sport, high-speed winds, poor visibility, rain, and low clouds might cause skydiving operations to be delayed or even canceled.

You could be advised to reschedule your skydive experience in case of inappropriate weather conditions.

You will be able to receive a refund if they will be forced to cancel operations due to poor weather and you are unable to reschedule for another day.
Rules And Requirements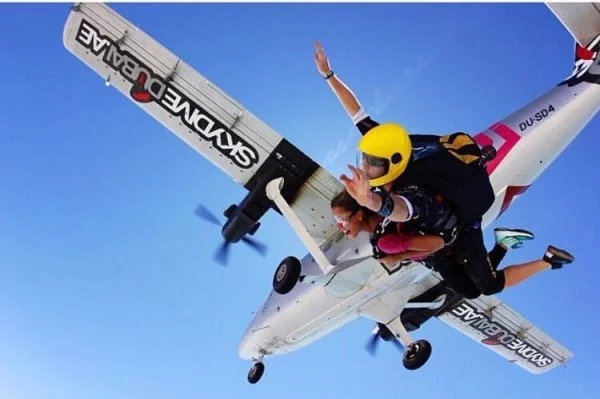 To join skydiving experience, you must be 18 years old or above.
If you're 70 years old or older, please fill out the Declaration of Fitness form beforehand. Remember, it has to be signed and stamped by your doctor.
For women, the weight limit is 90.0 kg or less, with a BMI of 27.5 or less. Men, on the other hand, should be 100.0 kg or less with a BMI of 30.0 or less. And there's no minimum weight requirement for skydiving.
There is a zero-tolerance drug and/or alcohol policy at Skydive Dubai. 24 hours before your skydiving, you must be drug- and alcohol-free.
Before your tandem skydiving, please refrain from scuba diving for at least 24 hours.
If you are experiencing any of the following medical conditions you need to provide a Declaration of Fitness form signed by your doctor: epilepsy, fits, severe head injury, recurrent blackouts or giddiness, disease of the brain or nervous system, high blood pressure, heart or lung disease, dislocated shoulder or another limb (s), recurrent weakness, diabetes, mental illness, drug or alcohol addiction, and any past or present medical conditions.
Pregnant women are not allowed.
What To Bring With You For Skydiving Experience
Your ID (It could be an international passport or resident card).
A completed Declaration of Medical Fitness form (You can download it on the website).
Please bring your gift certificate if you plan to use one since it will be used to pay for your skydiving.
What To Wear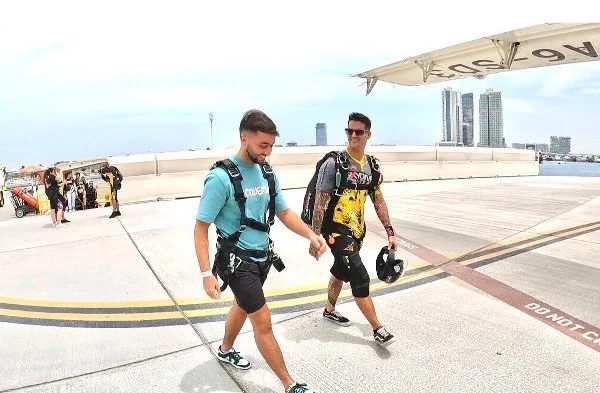 Respect the local culture and sentiments while dressing in athletic and comfortable clothing for your skydive.
Ensure that your t-shirt/top has sleeves and that your shoes are sneakers or sports shoes without any buckles or studs.
Avoid low-cut, sleeveless, collared, or crop tops, as well as short shorts, sandals, boots, or heeled/platform shoes.
For your safety, remove any jewelry, watches, and other accessories and utilize the free personal lockers at our locations.
Skydive Dubai Timings
Now everyday 8:00 AM–2:30 PM
But note that opening hours depend on the season:
– Feb to May: Open Daily from 08:00 am, payment window until 12:30 pm.
– June: Open Daily from 07:00 am, payment window until 11:30 am.
– July to Aug: Open Thu-Tue from 05:00 am, closed on Wed, payment window until 10:30 am.
– Sep: Open Daily from 07:00 am, payment window until 11:30 am.
Location
Al Seyahi St – Dubai Marina – Dubai. (Palm Drop zone)
E66, Dubai-Al Ain road, near Margham ( Skydive Dubai Desert Campus (Desert Dropzone))
How To Reach
Palm Dropzone:
– By Car: Skydive Dubai is located at Al Seyahi St – Dubai Marina – Dubai. You can drive to the location and use the available free parking space.
– By Bus: You can take buses 81, 8, and 84 to get to the nearest bus station.
– By Tram: Take the T1 tram to Mina Seyahi and then you can walk 1.7 km to the Skydive Dubai.
– By Metro: The nearest metro station is Sobha Realty Metro Station. Then you will need to walk around 2.8 km to Skydive Dubai, or you can take a taxi.
– By Taxi/Uber/Careem: You can book an Uber, Careem, or Hail Rides car and reach your destination quickly with minimal fuss.
Skydive Dubai Desert Dropzone can be reached by car or taxi only.
Tips
Check weather conditions before booking as the skydiving experience could be rescheduled or canceled in case of bad weather.
The time listed in the email that confirmed your reservation is your arrival time, not your skydiving time. Please attend at the time you specified.
You can request a female instructor if you are a woman,
We advise you to plan up to 3 to 4 hours for the activity because bad weather might delay your travel.
Before skydiving, better taking off any jewelry, watches, and/or other accessories. You can store these in the no-cost individual lockers on-site.
F.A.Q.
How much does it cost to skydive in Dubai?
The Skydive Dubai price starts at AED 2399 for tandem skydives and can go up depending on what type of experience you're looking for.
What is the best time of day to skydive in Dubai?
The best time of day to skydive in Dubai is early morning.
Early morning offers cooler temperatures and less wind.
What is the location of Skydive Dubai?
SkyDive Dubai has two locations: Desert Dropzone which is a desert zone located on E66 (Dubai-Al Ain road), near Margham, and Palm Dropzone which is located on Al Seyahi Street, Dubai.
What is tandem skydiving in Dubai?
Tandem skydiving in Dubai is the safest way to experience skydiving for first-time jumpers. A tandem skydive in Dubai involves being securely attached to an experienced instructor as you exit a plane from up to 13,000ft and plummet toward Earth at 120mph!
The instructor will deploy the parachute for you, allowing you to safely enjoy the view of soaring over magnificent dunes and beaches during your descent. After landing, your professional instructor will help you make memories with a souvenir video and pictures that capture this thrilling adventure.
How long is Skydive Dubai?
Skydive Dubai usually takes around 1-2 hours from start to finish. The actual skydive itself lasts for up to one minute, depending on the height you jump from (up to 13,000ft). After preparation and briefing, it typically takes about 10 minutes until you reach the correct altitude before jumping. Once the parachute is deployed, you'll be able to enjoy an exhilarating 5-7 minute descent with your instructor. Finally, after landing safely back on the ground your instructor will help make memories with a souvenir video and pictures of your experience.
Is Skydive Dubai worth it?
Yes, Skydive Dubai is definitely worth it! The experience will give you an unforgettable view of the city and desert landscape while providing a rush of adrenaline. It's an amazing way to challenge yourself and create lifetime memories!
What should I wear to the Dubai skydive?
When going skydiving in Dubai, it's important to dress appropriately based on the season and weather. Check our section with the recommended outfit.
What is the skydive Dubai height?
Skydive Dubai offers a height of up to 13,000 feet (4,000 meters). You'll free fall for around 40-60 seconds before your instructor deploys your parachute at approximately 5,000 feet and you soar through the sky taking in amazing views.
What's the age limit for skydiving in Dubai?
Skydiving in Dubai has an age limit of 18 years old.
What is the weight limit for a skydive in Dubai?
The weight limit for skydiving in Dubai is 100 kilograms for men and 90 kg for women. All participants must be within this weight range to go skydiving safely.
Should you eat before skydiving?
It is recommended to eat something light before skydiving, such as a piece of fruit or a snack bar. Eating a heavy meal could make you feel uncomfortable during the flight and afterward while in free fall.
Avoid foods that are high in sugar as this may cause your energy levels to crash mid-flight. Drinking plenty of water before taking off is also recommended to help stay hydrated during the experience.
Is Dubai skydiving good for beginners?
Yes, Dubai skydiving is suitable for beginners. Skydive Dubai offers tandem jumps that allow first-time jumpers to experience the thrill of skydiving safely and easily. There is also an experienced instructor assigned to each beginner that provides instructions on how to properly position the body during free fall and correctly deploy the parachute.
For those who are completely new to skydiving, Skydive Dubai also offers Accelerated Free fall (AFF) courses which will teach participants how to take control of their own body in freefall using specialized equipment, under close supervision from certified instructors.
Is there anything I need to bring?
Yes, you will need to bring comfortable clothes and shoes that are suitable for outdoor activities. Also it is mandatory to have your ID and filled medical form.
Can I take my dog with me?
No, pets are not allowed in this area.
Can I come with my kids?
Yes, you can but beware that under no circumstances is it permitted to leave a child under the age of 15 unattended.
If both are supposed to skydive, they should do it one by one while one of the parents is looking after the kid. When they sign in for their skydiving, they must let our personnel know that they will be doing this.
Reviews
People who have experienced SkyDive notice the following pros:
Memorable experience
Skydive Dubai Booking process is simple
Video tutorial before meeting your instructor is slick and comprehensive
The trainers are very clear with the instructions
Great photos and videos
The facility is very modern, clean
Great customer service
People who have experienced SkyDive notice the following cons:
You need to be prepared for a long wait before you jump.
Photos
Videos
If you like extreme, you can also try seaplanes in Dubai.
Skydive Dubai is an experience that will not soon be forgotten. From the modern facility to the comprehensive video tutorials before meeting your instructor, it's easy to see why so many people choose SkyDive for their skydiving experience.
With great customer service and a simple booking system, you can rest assured that you are in good hands when taking part in this thrilling activity. The prices may be high but with memories like these, it's worth every penny!
So if you're looking for an unforgettable experience full of thrills and excitement then look no further than Skydive Dubai – book today and prepare yourself for an amazing journey!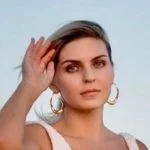 I am Anastasia, the author of this blog and a passionate and experienced traveler who resides in the UAE.
I have visited every Emirate, every popular sight, and every hidden gem.
I m here to help you make your trip to the UAE unforgettable.