Nestled along the serene coastline of Umm Al Quwain, the Vida Beach Resort offers an idyllic getaway for travelers seeking solace and relaxation in the United Arab Emirates.
Before we start I would like to provide some facts about Vida Beach Umm Al Quwain.
This 5-star beachfront resort is owned by Emaar Hospitality Group, a Dubai-based hospitality company.
It was opened in March 2021 and now it is the newest hotel in Umm-Al-Quwain.
The resort is about 60 km away (approx.45 min. drive) from Dubai International Airport and 29 km away from Sharjah International Airport.
Vida Resort has over 130 rooms, suites, and chalets, all of which are pet-friendly.
Amenities at the resort include a spa, fitness center, pool, kids pool, playground, tennis court, kids club, and several restaurants.
So with all the above-mentioned amenities, you can see that it is a kid and family-friendly hotel as well.
You can find a lot of olive trees in the area. It is some kind of hotel feature.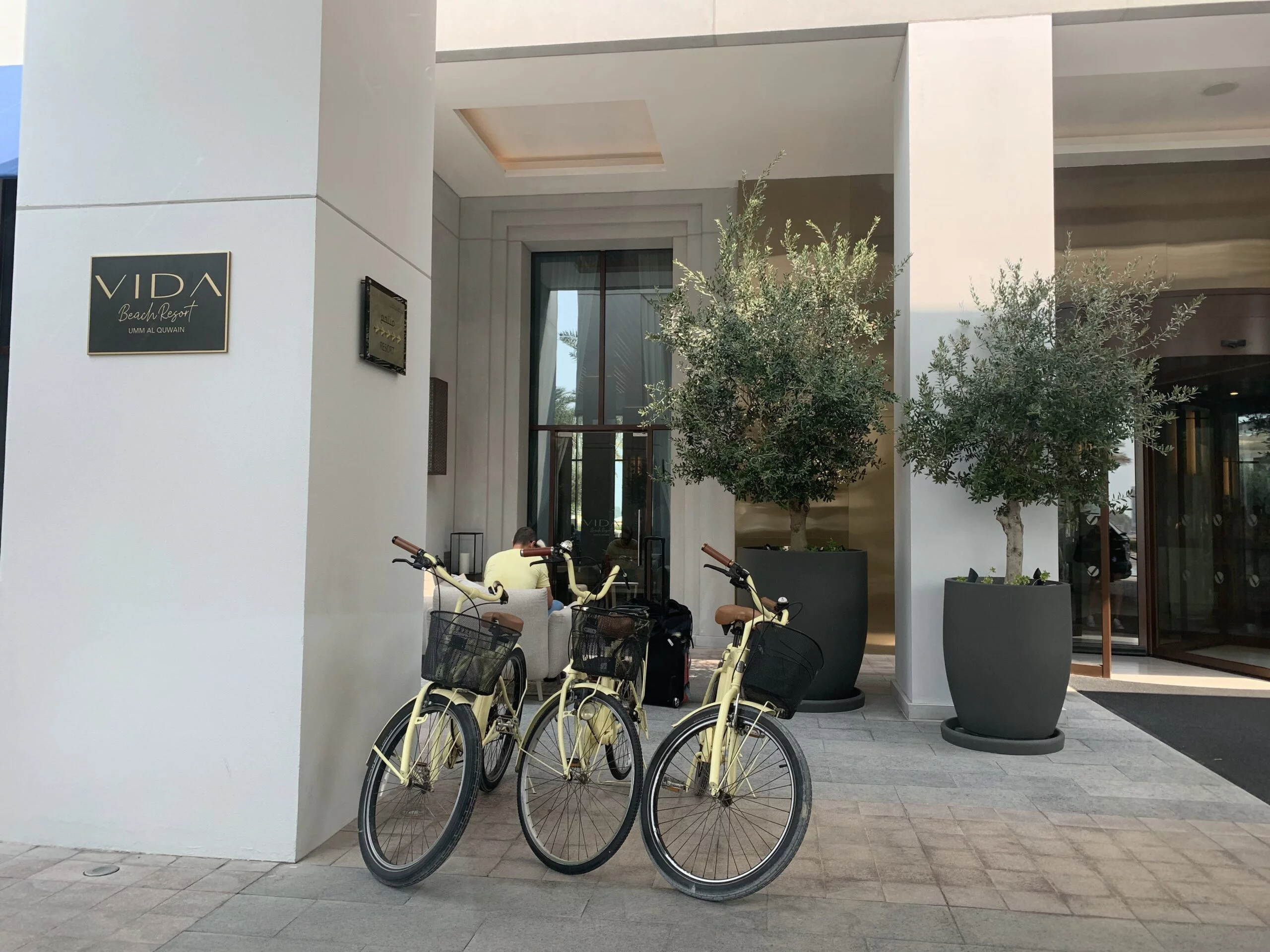 Further, its contemporary design and breathtaking views have earned it the distinction of being ranked as the #1 hotel in Umm Al Quwain.
From leisure travelers to couples, and families, the Vida Beach Resort Umm Al Quwain truly caters to the needs and preferences of every visitor.
The combination of its idyllic natural surroundings, exceptional service, and top-tier amenities ensure guests have an unforgettable experience during their stay at this premier beachfront resort.
Accommodation in Vida Beach Umm Al Quwain
What options are available:
Deluxe Room with City, Partial Sea View, or Sea View (31 sqm)
Family Deluxe Room with City View or Sea View (62 sqm)
One Bedroom Suite With City View or Sea View (70 sqm)
Executive One Bedroom Suite (102 sqm)
Beach Chalet (89 sqm)
As I told before all the accommodation options are pet-friendly.
We traveled with our daughter (9 y.o) and chose Deluxe Room With a Sea View.
The room had only 1 large bed but we asked for an extra bed and they provided it immediately for free.
Things that are very important for me – the mattress and pillows. And to be honest they were very comfortable.
The Deluxe Room was also equipped with a flat TV screen, WI-FI, a safety deposit box, a hairdryer, an electric kettle, several bottles of water, and a tea/coffee set.
In the bathroom, there was a shower (I mean, not a bathtub, if it is important for you) with very nice smelling shampoo, conditioner, and shower gel.
Bathrobes, slippers, and free toiletries were also at our disposal.
We didn't have a balcony in our Deluxe Room With Sea View. Note that.

As it is very inconvenient to dry all the things in the bathroom.

I do not know whether it is common for all the Sea View Deluxe Rooms, but our friends who lived in a deluxe room with a sea view didn't have a balcony either. But our friend in a partial sea view deluxe room had it.
Dining Options
At Vida Beach Resort Umm Al Quwain, guests are treated to a delightful culinary experience with a variety of dining options.
When booking you can choose from bed only, breakfast, half-board, and full-board packages.
But it seems like some travel agencies provide all-inclusive options as well.
If you select any of the packages with breakfast, lunch, and dinner you will dine in Origins, a restaurant with an international buffet located on the Ground floor.
We selected the bed &breakfast as we planned to have dinner in one of the restaurants nearby (I will tell you later).
Staff told us that breakfast is served from 7 a.m. to 11 a.m.
We arrived at around 9 a.m. and it was quite crowded.
Our friends who came a bit later even needed to wait till seated.
Note! Come earlier if you do not like to wait.
There we found quite classic choices like flakes, porridge, omelet, eggs, sausages, waffles, pancakes, cheese, meat, plenty of fruits, vegetables, pastries, and beverages.
Actually, I didn't find the gluten-free menu or any other special dietary options at the breakfast. Maybe they could be provided on request.
The resort also features several more restaurants such as So Cal with American cuisine and Stage2 with international cuisine and a pool bar, where alcoholic drinks are served throughout the day.
We had dinner at Little Bavaria, a Deutsh restaurant nearby (8-9 km) with non-expensive prices, a wide range of pork dishes, and beer. Just because we like this place)
Beach
You will find pretty sandy beach-facing mangroves in Vida Beach Resort Umm Al Quwain.
It is not very large, but there is enough place for everyone.
Note! The water near the shore is shallow at first, and then suddenly becomes deep.
Pool
A clean infinity pool with a sea view awaits you there. It is not very deep (max. 1.20cm) and has jacuzzi areas.
Beach towels and water are provided.
Several lifeguards are on duty.
Note! It was quite crowded when we arrived at 10 a.m, Better to come earlier to have a sun lounger.
For Kids
Kids Club
The resort has an indoor Kids Club that offers a range of activities for children of 4-12 years old.
The Kids Club is open daily and is supervised by trained staff. Activities include arts and crafts, games, and movies. Also, elder guests can enjoy aero-hockey, board games, table soccer, and PlayStation.
Outdoor Playground
An outdoor playground that is suitable for children of all ages can be found near the kids club. The playground has slides, swings, and climbing frames, and is located in a shaded area.
Kids Pool
The resort has a dedicated children's pool that is shallow and safe for young swimmers. The pool is located next to the main pool and is supervised by trained lifeguards.
Sport And Wellness
Gym
For fitness enthusiasts, Vida Beach Resort features a well-equipped gym opened 24/7 with modern equipment, ensuring that guests can maintain their exercise routines during their stay.
They hold some activities like yoga, stretching, and so on on a daily basis.
Spa
The resort's spa offers a range of treatments, including massages, facials, and body scrubs. The spa also has a sauna and steam room for guests to relax in.
Water Sports
Activities include kayaking, paddleboarding and more can be found at the beach area. All water sports activities are supervised by trained instructors and lifeguards to ensure safety.
Tennis Court
The resort has an outdoor tennis court that is available for
guests to use for free. Equipments is also complimentary. The court is floodlit, so guests can play in the evening as well.
Volleyball
The resort has a beach volleyball court on the sand. Guests can play a game with friends or family while enjoying the beautiful beachfront location.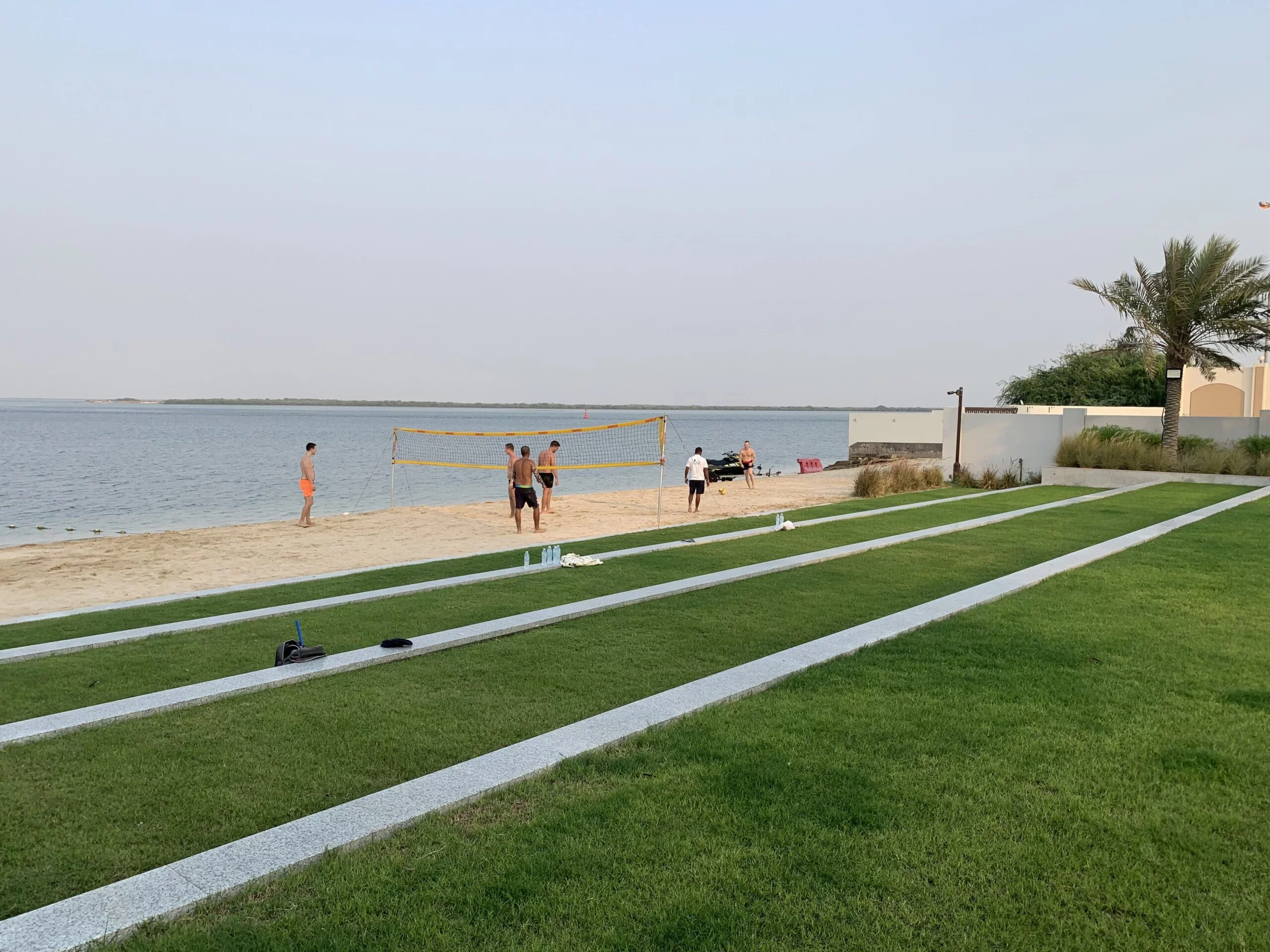 Pool Activities
The resort offers a range of pool activities, including aqua gym,  pool volleyball, and other pool games.
Bicycles
The resort has bicycles available for guests to use free of charge. Guests can explore the local area on two wheels, with routes available for all abilities.
Service and Staff
At Vida Beach Resort Umm Al Quwain, guests often praise the excellent service provided by the friendly and attentive staff. And I can confirm that.
We really enjoyed the service provided at the hotel.
The animation team is also very friendly, attentive, and not annoying.
Other Amenities
There is a small shop with swimsuits, tunics, and other beach staff and perfume at quite reasonable prices.
Reviews and Ratings
Vida Beach Resort in Umm Al Quwain is highly praised by guests who have stayed there. With Travelers' Choice recognition on Tripadvisor, it ranks as the number one choice among nine hotels in the area.
The majority of the reviews describe the resort as excellent, with several factors contributing to its exceptional reputation. Among these are:
Cleanliness: Maintaining a 4.8 score out of 5, Vida Beach Resort is highly regarded for its pristine appearance and hygienic standards.
Service: Guests appreciate the attentive staff and responsive customer care, contributing to a 4.6 service score.
Location: With a convenient setting that garners a 4.4 rating, the resort's location is yet another reason for its popularity among travelers.
Value: Visitors consider the resort to be a great value for their money, awarding it a 4.4 rating in that aspect.
As a result, the overall traveler rating of Vida Beach Resort is 4.5 out of 5 on Tripadvisor, further solidifying its position as a top-notch accommodation option for visitors to Umm Al Quwain.
In addition to Tripadvisor, Vida Beach Resort has received positive feedback on Booking.com, with almost 2,000 verified reviews and an 8.5/10 ranking, and on Google Maps with with around 2,000 verified reviews and 4.7/5 ranking.
The resort's outstanding reputation is echoed across multiple platforms, attesting to the positive experiences of their guests.
With such an array of glowing reviews, it's clear that Vida Beach Resort is committed to exceeding the expectations of visitors looking for a pleasant and comfortable stay in Umm Al Quwain.
Location
The address is Al Raudah – AL KHOR 1 – Umm Al Quawain.
How To Reach Vida Beach Resort Umm Al Quwain
Vida Beach Resort Umm Al Quwain is conveniently located on Sheikh Ahmed Bin Rashed Al Mualla Road, making it easy to access for travelers. There are a few options to consider when planning your journey to the resort.
By Car: If you're driving from nearby cities like Dubai or Sharjah, take the E11 highway, which connects you directly to Umm Al Quwain. Once you reach Umm Al Quwain, continue along the Sheikh Ahmed Bin Rashed Al Mualla Road to reach Vida Beach Resort. There's ample parking available at the resort for guests.
Note! There is a valet parking. But it seems to be outdoor as it was very very hot inside our car when we got it back.
By Taxi: A taxi ride from Dubai, Sharjah, Ajman or Ras-Al-Khaimah is another convenient option. Many local taxi services are familiar with the location of Vida Beach Resort and can provide hassle-free transport to the resort. Be sure to inquire about fares and estimated travel times beforehand.
By Public Transport: Public transport options are limited in Umm Al Quwain; however, you can still reach the resort by taking an intercity bus to Umm Al Quwain from central bus stations in Dubai or Sharjah. Once you arrive at the Umm Al Quwain bus station, you can book a taxi to take you to Vida Beach Resort. It is essential to check bus schedules and plan your journey accordingly.
Sights Nearby
Vida Beach Resort Umm Al Quwain offers guests plenty of opportunities to explore the local area and indulge in various activities.
One popular attraction nearby is the Umm Al Quwain Bazaar, located just 2.9 miles from Vida Beach Resort. Here, visitors can browse through an assortment of souvenirs, handicrafts, and local delicacies, immersing themselves in the authentic culture of the emirate.
Nature enthusiasts will appreciate the UAQ Mangrove Tours, which is ranked as the number one tour in Umm Al Quwain. These guided tours provide an up-close and personal experience with the region's unique ecosystem, as well as the chance to spot various wildlife species and learn about the area's environmental importance.
For those looking to cool off and enjoy some fun-filled water activities, Dreamland Aqua Park is just 7.6 miles away from the resort. One of the largest water parks in the UAE, Dreamland features numerous exciting rides, slides, and attractions suitable for all ages, making it an ideal destination for a family day out.
For history and culture lovers there are Umm Al Quwain Fort and UAQ National Museum.
Several shopping centers like Mall of UAQ, Al Zahra Shopping Centre are close to Vida UAQ.
Beaches like Kite Beach, and Mangrove Beach could deserve your attention.
Moreover, Dubai is only 45-60 min. away from the hotel so you can easily visit all the Dubais attractions as well. You can take a taxi, rent a car, or order an excursion with the transfer from your travel agency, at the hotel, or at any online service like Rayna Tours.
Conclusion and Final Thoughts
Visiting Vida Beach Resort Umm Al Quwain can be a truly relaxing and good experience for guests seeking a delightful staycation. The resort's cleanliness and well-maintained facilities contribute to its high-quality appeal.
When it comes to value for money, Vida Beach Resort offers that in spades.
The prices are reasonable considering the exceptional services and amenities provided.
Guests can appreciate the resort's balance between luxury and affordability.
Operated by Emaar, the resort exhibits a well-organized approach to hospitality, ensuring that visitors feel comfortable and welcomed throughout their stay. Staff members are known for their attentiveness and professionalism, further enhancing the overall experience.
In conclusion, Vida Beach Resort Umm Al Quwain offers an enjoyable getaway for those looking for a comfortable, clean, calm, and well-organized place to unwind.
With its attractive prices and exceptional quality, it is undoubtedly a top choice for visitors seeking a great experience in Umm Al Quwain.
Recommended for a qualitative relaxing family holiday, and for holidays of 4-legged friend owners for a reasonable price.
Here are some other people's video reviews of Vida Beach Umm Al Quwain: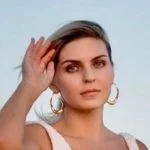 I am Anastasia, the author of this blog and a passionate and experienced traveler who resides in the UAE.
I have visited every Emirate, every popular sight, and every hidden gem.
I m here to help you make your trip to the UAE unforgettable.