Dubai is renowned for its opulent retail centers, luxurious resorts, and world-class attractions, and it doesn't fall short when it comes to indoor activities. Imagine yourself in the city's center, surrounded by a vivacious environment while you bounce the day away. Where may you be? The solution may be found at one of the trampoline parks in Dubai from our pick!
These trampoline parks offer a unadulterated fun and exciting way for you and your family or friends to enjoy quality time together. With a variety of trampoline-based attractions and activities, you'll find yourself jumping, flipping, bouncing, and laughing like never before.
From BOUNCE Dubai to Gravity Air Park, there's a park for everyone, whether you're a seasoned gymnast or just looking to have some fun and defy gravity.
Not only are these trampoline parks action-packed with numerous interconnected trampolines, but they also offer other exciting activities, catering to all ages and interests.
With facilities featuring obstacle courses, mini zip lines, and even VR rooms, you're guaranteed an unforgettable experience in Dubai's trampoline parks. So, why not give them a try on your next visit to this bustling city?
Best Trampoline Parks In Dubai
Whether you're looking for a fun way to stay fit or searching for the perfect place to host a birthday party or corporate trips, Dubai has a fantastic selection of trampoline parks. Each one has something unique to offer, so let's dive in and explore our guide to the top trampoline parks.
Bounce
Bounce is among the most popular and best trampoline parks in Dubai, with locations in Al Quoz and Festival City Mall. There are also indoor trampoline parks in Abu Dhabi and Al Ain.
With a vast range of programs and products, you can enjoy freestyle trampoline jumping, holiday camps, exciting activities for team building, and even BOUNCE Fit classes to work on your fitness and health goals. Bounce is known for its lively atmosphere and is a popular choice for birthday parties.
Bounce Dubai seems to be a popular and enjoyable attraction because of its clean and well-maintained facility, friendly and helpful staff, and good value for money, but it has a few minor drawbacks that visitors should be aware of like not enough seating options for adults to keep an eye on the children and long wait times during peak hours.
Entry fee: from 80 AED
Opening hours: Bounce X at Festival City Mall: Sunday to Thursday: 10:00 AM-10:00 PM, Friday to Saturday: 10:00 AM-12:00 AM, Bounce in Al Quoz: Monday to Friday: 11:00 AM-8:00 PM, Saturday 10:00 AM-9:00 PM, Sunday 10:00 AM-8:00 PM
Location: Building #32 4th St – Al Quoz – Al Quoz 1 – Dubai; Bounce X – Dubai Festival City – Dubai
Trampo Extreme
Trampo Extreme offers a thrilling trampoline experience in Nakheel Mall and Dubai Mall. Trampo Extreme in Nakheel Mall houses the biggest soft play area and the largest indoor cave in the UAE, making it an exceptional choice for adventurous adults and children alike.
While many activity venues cater to children aged 3 years and older, some offer a special section specifically designed for toddlers aged 0 to 2 years old. This area provides a safe and fun environment for the little ones to explore and play, with different activities and equipment tailored to their developmental needs.
So, there is a top pro of Trampo Extreme: parents can rest assured that their youngest family members can join in on the fun too!
Get ready for hours of fun while improving your balance and agility with their climbing wall, soft play and kids trampoline zone, and so on.
Entry fee: from 85 AED
Opening hours: Nakheel Mall: 10:00 AM-10:00 PM, Dubai Mall: Sunday to Thursday: 10:00 AM-10:00 PM, Friday to Saturday: 10:00 AM-11:00 PM
Location: Nakheel Mall – Palm Jumeirah Rd – The Palm Jumeirah – Dubai; The Dubai Mall, Near Reel Cinema, Parking Level 10 – Dubai
Air Maniax
Air Maniax is the trampoline park for you if you want diversity. This park, which is located in Al Quoz, has trampolines as well as Warrior Assault Interactive Obstacle Course, an indoor zipline, and other things, guaranteeing a wonderful time for everybody.
Visitors of Air Maniax have observed several cons that make it stand out. The facility boasts multiple zones for thrilling activities, an eye-catching design, and a first-floor cafe where parents can unwind while their children play.
Additionally, visitors can take advantage of other amenities such as a prayer area, washrooms, and lockers.
Entry fee: from 85 AED / 25 AED for Zig Zag or Lazer Frenzy
Opening hours: 9:00 AM-10:00 PM
Location: 16/Street 1, Al Quoz Ind – Area 1 – Dubai
JUMPX
Offering a unique mix of trampolining and parkour, JUMPX is the newest spot for adrenaline junkies that's thought to be the largest inflatable park in the world.
You'll find a range of features to suit different skill levels and interests such as tunnels and climbing walls, making it an excellent choice for honing your jumping and agility skills. Please note that only people over 110 cm can visit this place.
Entry fee: from 60 AED
Opening hours: Sunday to Thursday: 04:00 PM-08:00 PM, Friday to Saturday: 04:00 PM-09:00 PM
Location: W294+VQG Dubai Parks Creek – Dubai
JumpBoxx
JumpBoxx is one of the most sought-after trampoline parks in Dubai, featuring an extensive network of over 120 interconnected trampolines.
The park offers a wide range of activities, including an open-jump arena, dodgeball courts, slam dunk hoops, and foam pits, making it an ideal destination for visitors of all ages.
Additionally, JumpBoxx is known for hosting unforgettable birthday parties and providing exciting promotions regularly, ensuring that visitors always have a memorable experience.
Entry fee: from 59 AED
Opening hours: Monday to Thursday: 12:00 PM-9:00 PM, Friday 12:00 PM-10:00 PM, Saturday to Sunday: 10:00 AM-10:00 PM
Location: 47th St, Uptown Mirdif Mall – Dubai
Street Maniax
For those looking for a more urban-inspired trampoline park, Street Maniax is the perfect choice. This expansive indoor park combines trampolines with street art, giving the space a unique and energetic atmosphere.
Trampoline parkour, Jump Tower, Warped Wall, and Ninja Obstacle are some of the attractions that make Street Maniax a remarkable place.
Entry fee: from 85 AED, 25 AED for Quick Flight or Cableway
Opening hours: 9:00 AM-10:00 PM
Location: First Al Khail St – Al Quoz – Al Quoz Industrial Area 3 – Dubai
Velocity
Velocity is a trampoline park that focuses on promoting fitness, sports, and fun through jumping and exercise for football, cricket, or padel tennis players.
Here, you'll find a variety of workout and tournament programs designed to help you improve your strength and endurance, a VR arcade.
Moreover, numerous visitors have remarked on the exceptional quality of the café at Velocity DXB which prides itself on using only the freshest ingredients and serving generous portion sizes.
Entry fee: from 35 AED
Opening hours: 10:00 AM-11:00 PM (Soft play area), 8:00 AM-11:00 PM (Sports area)
Location: 5 25 A St – Al Quoz – Dubai
Just Play
At Just Play, you'll get the best of both worlds: trampolining and sport. This park offers a range of services like organizing birthday parties, and sports activities, including basketball and volleyball, ensuring a diverse and enjoyable experience.
Entry fee: from 50 AED
Opening hours: Sunday to Thursday: 10:00 AM-10:00 PM, Friday to Saturday: 8:00 AM-10:00 PM
Location: 15A St – Al Quoz – Al Quoz Industrial Area 1 – Dubai
Sky Zone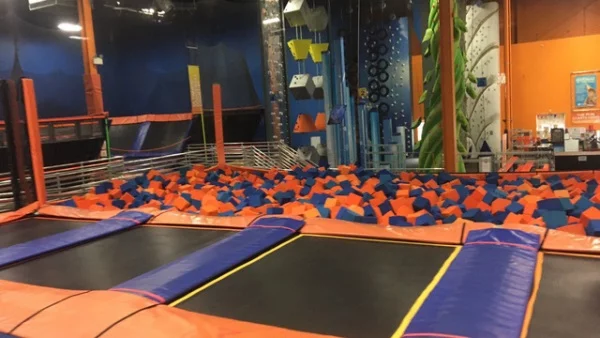 Dedicated trampoline enthusiasts will adore Sky Zone, where you'll find interconnected jumping spaces for adults and kids alike.
This park also offers excellent group events and fitness classes. Reviewers note that it has a wide range of activities, including trampolines, a foam pit, and dodgeball courts, friendly staff, modern equipment, and affordable prices.
Entry fee: from 49 AED
Opening hours: Monday to Thursday 12:00 PM-10:00 PM, Friday to Sunday 10:00 AM-10:00 PM
Location: Persia Court, Ibn Battuta Mall – Sheikh Zayed Rd – Dubai
Gravity Air Park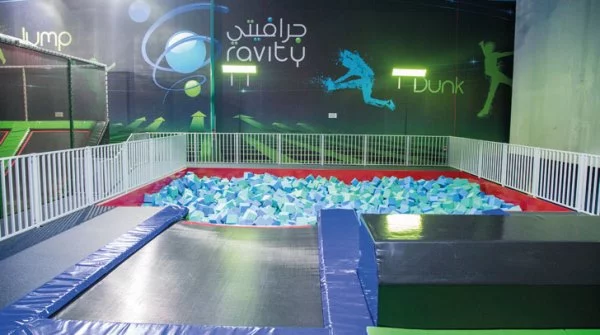 The 1,200-square-foot Gravity Air Park in the Mall of the Emirates is home to 24 linked trampolines. Gravity is yet another excellent option for parties and group gatherings in Dubai and is ideal for a day of bouncing fun.
Entry fee: from 45 AED
Opening hours: Sunday to Wednesday: 10:00 AM-10:00 PM, Thursday to Saturday: 10:00 AM-12:00 AM
Location: Mall of the Emirates, Level – 2 Sheikh Zayed Rd – Dubai
Jumpnfun Marina Mall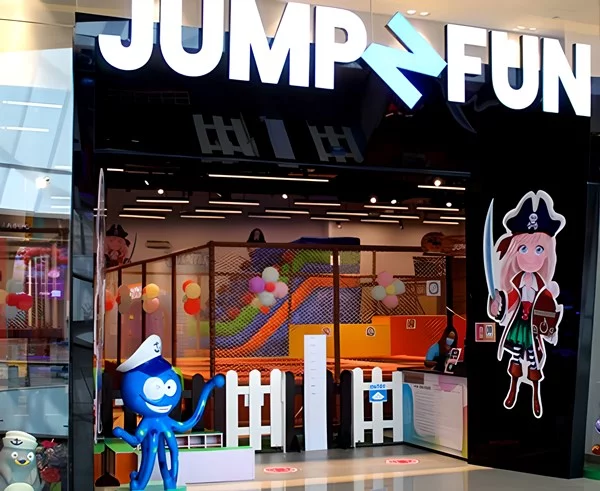 For kids between the ages of two and thirteen, Jumpnfun Marina Mall is a safe and exciting indoor soft play facility that offers a fun and engaging atmosphere.
The facility has many play areas that promote imagination and creativity while assuring the security and well-being of young guests.
Entry fee: from 45 AED
Opening hours: Monday to Friday: 10:00 AM-10:00 PM, Saturday to Sunday: 10:00 AM-11:00 PM
Location: Dubai Marina Mall – 2nd Level – Dubai Marina – Dubai
Map: The Best Trampoline Parks In Dubai
F.A.Q
How much is the trampoline park in Dubai?
The prices for trampoline parks in Dubai vary depending on the park you choose and the duration of your stay. For an hour of jumping pleasure, you can typically expect to pay between 60 AED and 120 AED. It's a good idea to always check the website of the particular park you intend to visit to find out about its rates and any deals or discounts that could be running.
What was the biggest trampoline park Dubai?
The supremacy in terms of the area has been given to Bounce-X, a trampoline park that boasts an impressive area of over 5,000 square meters spread across two floors.
With a sprawling area of 1,262 square meters, JumpX is the world's largest inflatable park, capable of accommodating up to 400 individuals at a time.
What is Trampo Extreme?
Trampo Extreme is actually another popular indoor trampoline park. These parks feature an extensive array of trampoline-based activities and facilities, encouraging freestyle jumping and movement. While "trampo extreme" might sound like a particular activity, it's simply a play on words to encompass the fun and excitement to be had at trampoline parks.
What age is best for trampoline park?
From small toddlers to the elderly, trampoline parks are appropriate for individuals of all ages and cater to a wide age range. Some parks have spaces specifically designated for Junior Jumpers (children under 110 cm and of walking age). Check the precise age limits and regulations for the park of your choosing before going because they can have different advice or limitations.
What are the best Dubai trampoline parks?
Dubai has a great selection of trampoline and sports parks, each offering unique experiences and activities to suit various preferences. Some popular trampoline parks in the city include StreetManiax, Bounce UAE, and Trampo Extreme. Be sure to explore their websites and visit the parks to find out which one suits your needs best.
Visiting trampoline parks in Dubai is a fantastic way to spend your leisure time and enjoy some fun-filled activities with friends and family. With so many amazing options like Bounce and Jump Boxx Dubai, you're sure to find the perfect spot to unleash your inner child and bounce to your heart's content.
Whether you're focused on improving your fitness levels or simply enjoying quality time with your loved ones, these parks offer something for everyone. They are an excellent way to stay active while avoiding the hot Dubai sun, as most locations are indoors.
Feel the energetic buzz as you explore all the exciting trampoline activities and features these facilities have to offer, like the mini zip line, a foam pit, a free jump arena, VR rooms, dunk hoops, and safety harness jumping areas found at the best trampoline parks mentioned above.
To ensure a good experience and avoid any accidents, keep in mind to adhere to any safety instructions supplied by the trampoline parks. So go ahead, soak in the welcoming environment, and enjoy yourself while bouncing at a trampoline park in Dubai.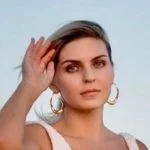 I am Anastasia, the author of this blog and a passionate and experienced traveler who resides in the UAE.
I have visited every Emirate, every popular sight, and every hidden gem.
I m here to help you make your trip to the UAE unforgettable.