Rove Expo City is a 3-star hotel, which is the only hotel located inside Expo City Dubai (formerly known as Expo 2020).
The hotel is within walking distance of the Dubai Exhibition Centre, making it an ideal choice for business travelers and event attendees.
With a free shuttle bus to JBR Beach and Mall Of The Emirates, you can combine your stay with sunbathing, swimming in the sea, and shopping.
Moreover, the Expo 2020 metro station is only a 6-minute walk, so you can easily access any destination in the city.
With its stylish and contemporary design, welcoming service, all the needed facilities, and affordable rates, Rove Expo 2020 is the perfect place to relax and recharge after a busy day of meetings or exploring the city.
The hotel is situated in close proximity to Al Wasl Plaza so that you can see it from your room.
About Rove Expo 2020 Hotel
Rove Expo 2020 Hotel is a contemporary located on the Dubai Expo 2020 site, which makes it an ideal choice for visitors who want to attend events and exhibitions there or Expo City itself.
Rove Expo is one of the newest hotels of the Rove Hotels chain, which was opened to the public on October 1, 2021, coinciding with the opening of Expo 2020 Dubai.
Since Rove Hotels chain launch, the company has made a significant effort to cut down on plastic waste as well as the amount of water, paper, and electricity used.
As a result, all of its locations have been granted the Green Key accreditation, a coveted "green" badge that is only given to 3,700 hotels worldwide.
Rove Expo 2020 is a LEED Gold-certified facility, which means that the building has achieved a high level of sustainability and energy efficiency.
To gain this gold level the building should perform in areas such as water efficiency, energy and atmosphere, materials and resources, and indoor environmental quality.
Rove Expo 2020 has won multiple awards, including:
In 2023 Rove Expo was nominated for The Best Business Hotel at the Business Traveller Middle East Awards 2023.
Rove Expo Dubai features 312 rooms including different types: 
Rover Room (26 sq.m) with a maximum capacity of 2 adults and 1 child.
Expo 2020 Suite (43 sq.m) with a maximum capacity of 3 adults or 2 adults and 2 children.
Al Wasl Suite (51 sq.m.) with a maximum capacity of 4 adults or 2 adults and 2 children.
Family rooms and Interconnected rooms are also available.
The hotel boasts comfortable and modern accommodations, excellent service, and fabulous facilities such as an outdoor rooftop swimming pool, kids pool, contemporary gym, working area, meeting rooms, a restaurant, laundry service, lockers, and an indoor play area. 
Rove Expo 202 check-in time is 4:00 p.m., and check-out time is at 2:00 p.m., which gives guests ample time to enjoy the hotel's amenities and explore the surrounding area.
Take note that the hotel is not pet-friendly.
Accommodation Options
Guests can choose from a variety of room types, including Rover Rooms, Expo Suites, and Al Wasl Suites.
We stayed in a standard Rover Room together with my husband and 9. y.o old daughter.
The rooms come with a private bathroom and are equipped with air conditioning, a flat-screen TV, a mini-fridge, and a safety deposit box. 
Rove Expo amenities include a coffee and tea kit, slippers, a hairdryer, ironing board with iron.
Free high-speed Wi-Fi is available in all rooms and throughout the hotel.
With designer beds by Simmon, premium mattresses, pillows, and a comfortable roll-out bed that was provided for free, the rooms are built with comfort in mind.
Guests can also enjoy a view of Al Wasl Dome from their balcony.
Toiletries such as shampoo, lotion, and liquid soap can be found in the bathroom. There are also towels available. Remember that the bathroom has a shower, not a bathtub.
Reusable glass water bottles are available in any room.  They can be refilled at any time, you just need to call reception.
Also, throughout the hotel, there are water stations where guests can fill up their bottles whenever they like.
This program is a component of Rove's sustainability initiatives, which also include refillable toiletry containers, biodegradable food containers and cutlery, water-efficient taps, toilets, and showers, as well as towel reuse programs.
This environmentally friendly strategy fits with the hotel's mission to advance a more sustainable future for the hospitality sector.
Beware that all rooms are non-smoking.
As for the Expo Suite, it also features a coffee machine and extra chill-out space.
As for the Al Wasl Suite, it also features extra lounge space, a suite bathroom with a relaxing rain shower, twin basins, and a premium coffee machine.
Food&Dining Options
The Rove Expo City offers a variety of dining options to satisfy every taste.
The Daily, the hotel's on-site restaurant, serves breakfast, lunch, and dinner, with a buffet available for all three meals.
The Daily menu is known for its delicious and lip-smacking cuisines, which include Italian and American cuisine, seafood, halal, vegetarian, vegan, gluten-free, and dairy-free options.
Breakfast at The Daily is served from 6:30 am to 10:30 am, offering a variety of options to start the day off right.
If you have selected the B&B option, your breakfast will include a breakfast buffet with a selection of hot and cold dishes, including eggs, bacon, sausages, pastries, cheese, ham, fresh fruits and vegetables, and 1 dish/per person from the breakfast menu.
If you have chosen just the Bed option for your stay, you can pay AED 69 per person and enjoy the breakfast.
For those looking for something more casual, the hotel also has a bar that serves alcohol and light bites till 11 pm. The bar is a great place to unwind after a long day of exploring the Expo City.
The Rove Expo City also offers room service, allowing guests to enjoy delicious meals in the comfort of their own rooms. The hotel's room service menu includes a variety of options, including pizza, seafood, and vegetarian dishes.
Rove Expo Facilities
Rove Expo 2020 offers a wide range of amenities to make your stay as comfortable and enjoyable as possible. Here are some of the amenities available at Rove Expo 2020:
Rove Expo 2020 Gym
The 24-hour gym at Rove Expo 2020 is equipped with modern equipment to keep you fit and healthy during your stay. The gym is open 24 hours a day, so you can work out whenever you need. By the way, it has a very nice view.
Rove Expo Pool
Take a dip in the rooftop pool at Rove Expo 2020 and enjoy stunning views of the surrounding area.
The temperature-controlled rooftop saltwater outdoor swimming pool is open from 8 am to 8 pm, so you can relax and unwind after a busy day.
Also, there is a small separate children's pool nearby.
There are water dispensers, washrooms, showers, and towels provided.
Plenty of lifeguards are on duty.
The adult pool's height is 1.2 meters.
Coworking area
The coworking area at Rove Expo 2020 is the perfect place to get some work done during your stay. The area is equipped with high-speed Wi-Fi, comfortable seating, and power outlets, making it easy to stay productive.
Meeting rooms
Rove Expo 2020 has meeting rooms available for hire, perfect for business meetings or small events. The meeting rooms are equipped with audiovisual equipment and can accommodate up to 12 people.
Indoor Play Area
For families with children, Rove Expo 2020 has an indoor play area, complete with games and activities to keep kids entertained for hours. There you will find table tennis, table football, video games, board games, mini golf, and more.
Bar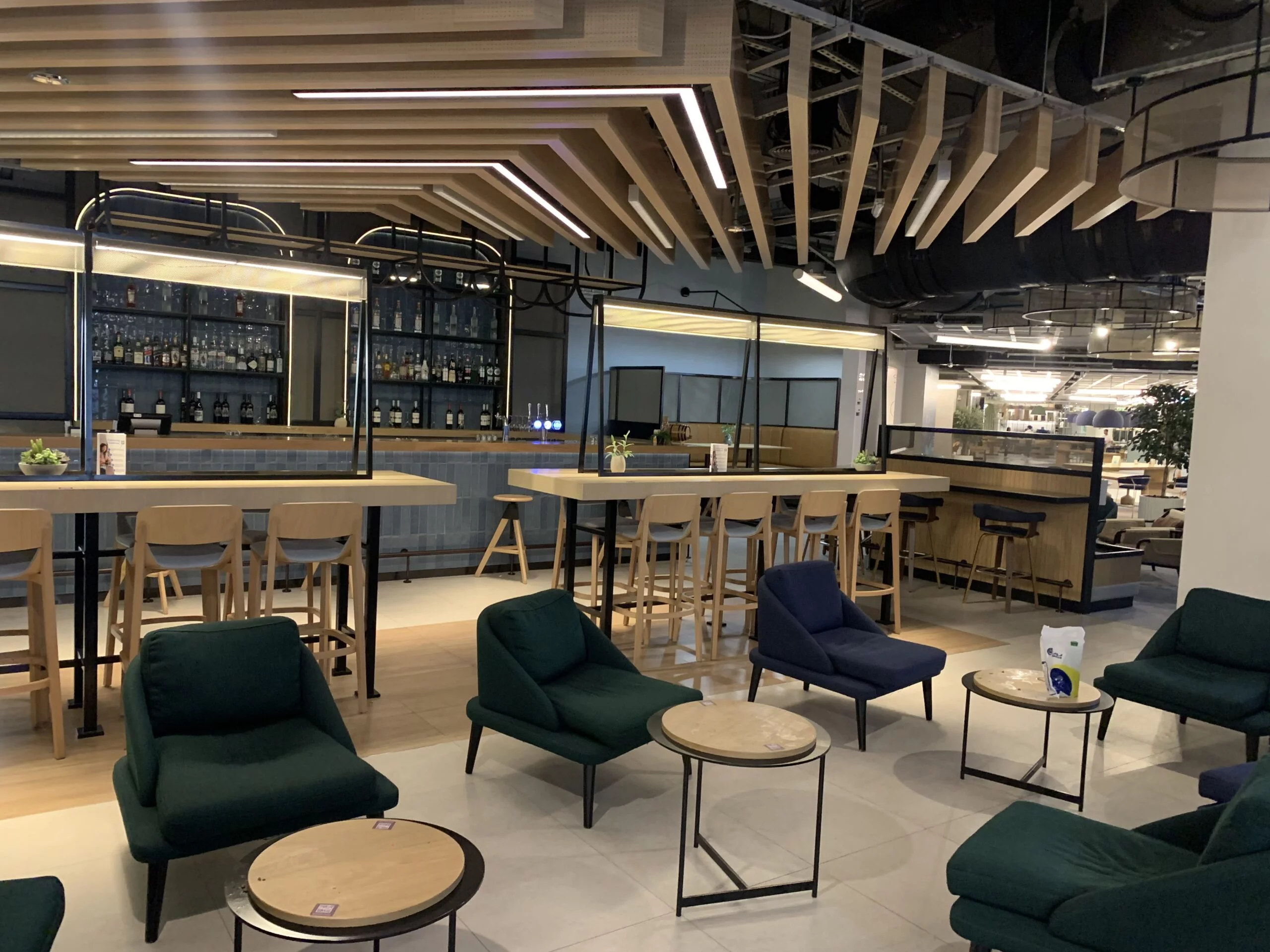 The hotel bar is the perfect place to unwind after a busy day. Enjoy a refreshing drink and socialize with other guests in a friendly atmosphere.
Laundry
Rove Expo 2020 offers self-lundry service, including dry cleaning, and ironing, so you can look your best during your stay.
Shuttle bus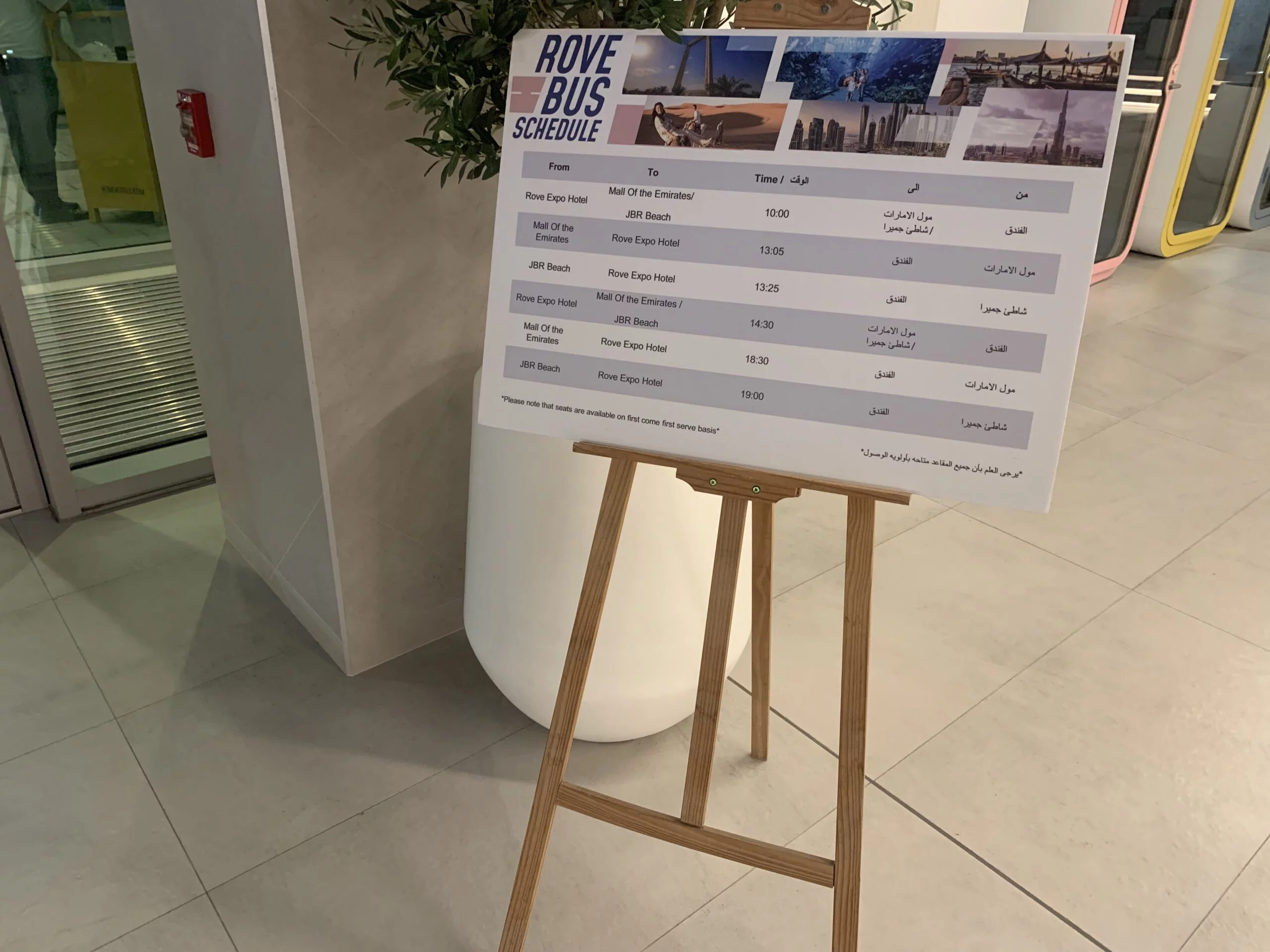 The hotel provides a shuttle bus service to and from JBR Beach, Mall of The Emirates making it easy to get to and from the hotel.
Lockers
Rove Expo 2020 has lockers available for guests to store their belongings, providing peace of mind during their stay.
E-Bikes/E-scooters Rentals
For guests who want to explore the surrounding area, Rove Expo 2020 offers e-bike and e-scooter rentals, making it easy to get around and see the sights.
The site is popular for cycling as it provides a great area.
Rove Expo 2020 Rates
The rates start from AED 369/per night.
Rove Expo 2020 Location
The Rove Expo 2020 Hotel address is Al Wasl Plaza Expo 2020, Dubai World Central, Dubai, United Arab Emirates.
How To Reach
Rove Expo City is conveniently located in the heart of Expo City Dubai, making it easily accessible from various parts of the city.
If you are driving to Rove Expo City, you can follow the directions on Google Maps to reach the hotel. The hotel provides free valet parking for guests, so you can leave your car at the entrance and enjoy your stay without worrying about parking.
Use Careem, Hala Taxi, YanGo, or Uber to get to the destination.
The nearest metro station to Rove Expo City is the Dubai Expo 2020 station, which is located just a few minutes walk from the hotel. The Dubai Metro is a convenient and affordable way to travel around the city, and you can easily reach Rove Expo City from any part of Dubai.
By Dubai World Central Airport
If you are flying into Dubai, the closest airport to Rove Expo City is Al Maktoum International Airport, also known as Dubai World Central. The airport is located just 25 minutes away from Expo City Dubai, making it a convenient option for travelers.
There is a RTA bus stop near Dubai Metro Station, you can use route F55 and others to get there.  Check the RTA Journey planner to plan your trip.
Rove Expo 2020 Reviews And Rankings
Based on most common reviews on the above-mentioned resources guests mention the following pros:
Great location: The hotel is located inside Expo City Dubai, which is near the Dubai Expo 2020 site. It is also close to the metro station, making it easy to reach all the popular destinations in the city.
Cleanliness: Many reviewers praised the hotel's cleanliness, including the rooms and common areas.
Friendly staff: Guests appreciated the hotel staff's helpfulness and friendliness.
Good value for money: Many guests found the hotel to be reasonably priced for the quality of the accommodations and amenities.
Modern design: The hotel's modern and stylish design was a common point of praise.
Comfortable rooms: The hotel's rooms were frequently described as comfortable and well-equipped.
Good food options: The hotel's on-site restaurants and cafes received positive reviews for their food and drink offerings.
Based on most common reviews on the above-mentioned resources guests mention the following cons:
Distance from city center: Some guests found the hotel to be too far from downtown Dubai and other popular tourist areas.
As for my personal point of view, it is a great hotel for a stay if your goal is to visit an event, or exhibition in the Expo area or to learn the city. I'm sure, you will enjoy your stay as it is a modern, clean hotel with great service and all the needed facilities both for work and leisure.
Sights & Attractions Nearby
Photos
Videos
Conclusion and Final Thoughts
Rove Expo City is an excellent choice for those looking for a comfortable and convenient stay in Dubai.
With its prime location near the Dubai Exhibition Center, Expo City, and metro station, free shuttle buses to the beach and mall, its modern and trendy design with a focus on functionality and comfort, and contemporary facilities, this hotel is perfect for all types of travelers: business travelers, solo travelers, families, and couples alike.
Actually, it deserves more stars for its cleanliness, service, and comfort.
One of the standout features of Rove Expo City is its commitment to sustainability.
The hotel has achieved Level 2 of the Travel Sustainability program, which means that it has implemented several eco-friendly practices to reduce its environmental impact. For example, the hotel uses energy-efficient lighting and appliances, recycles waste, and encourages guests to conserve water and electricity.
In addition to its sustainability efforts, Rove Expo City offers a range of amenities that make it a great choice for travelers. The hotel has a fitness center, a swimming pool, an indoor play area, a coworking area, and a restaurant that serves a variety of international cuisine.
Guests can also enjoy free Wi-Fi, complimentary shuttle service to nearby attractions, and a 24-hour convenience store.
Overall, Rove Expo City is an excellent choice for those looking for a comfortable and convenient stay in Dubai. Whether you're in town for business or pleasure, this hotel has everything you need to make your stay enjoyable and stress-free.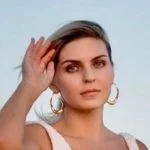 I am Anastasia, the author of this blog and a passionate and experienced traveler who resides in the UAE.
I have visited every Emirate, every popular sight, and every hidden gem.
I m here to help you make your trip to the UAE unforgettable.