With its breathtaking beaches, majestic mountains, and rich culture and history, Ras Al Khaimah is an ideal tourist destination.
From exploring the Hajar Mountains to discovering ancient sites like Al Dhayah Fort and Jazirat Al Hamra, there are plenty of activities to enjoy in this beautiful emirate.
Visitors can also relax on pristine white sand beaches and swim or go kayaking in crystal clear waters.
And with a host of luxury resorts along the waterfront as well as affordable hotels, Ras Al Khaimah will surely have something for everyone!
When people say about Ras-Al-Khaimah words like "relaxed", "nature", "lush green oasis", "calm and peaceful", "family-friendly" and "clean beaches with clear water" come to my mind.
If you are looking for a peaceful place to recover and have rest, here it is.
Below you will find Ras Al Khaimah tourist places list, and I believe you will find something for you there.
Why Visit Ras-Al-Khaimah
Here are 12 reasons why you should visit Ras-Al-Khaimah:
Explore the spectacular Hajar Mountains. There you can not only go hiking or camping but also visit the highest restaurant or experience world's longest zipline or Jebel Jais Sledder.
Relax on pristine beaches and crystal clear waters and enjoy swimming, snorkeling, kite surfing, kayaking, and sup boarding. You will see the difference: the water is much more clear than on Dubai's most popular beaches.  Also, you can admire spectacular views over the Arabian Gulf.
Visit Marina Yachts and go fishing or just relax on a yacht.
Ras Al Khaimah is a golfer's paradise. There are 2 golf courses with lush green grass. With year-round sunshine, this is the perfect place to hit the links.
Here you will find both luxury brand hotels with 5-star service and affordable hotels to stay in, which are cheaper than Dubai ones.
Visit historic sites like Al Dhayah Fort and local museums.
Explore the majestic sand dunes of the Arabian desert and witness breathtaking sunsets and starry night skies on a safari tour in Ras Al Khaimah desert. During your safari tour, you can enjoy activities like dune bashing, sandboarding, quad biking, camel riding, and more.
Shop for everything you need at Ras Al Khaimah malls.
Ras Al Khaimah is home to some of the most pristine mangrove forests in the world. Mangrove forests provide important habitats for a variety of marine species and play an essential role in protecting the coastline from erosion and storms. And it is an ideal location for kayaking, bird watching, photography, and other outdoor activities. Take a boat tour through these majestic forests and discover a unique natural environment!
Here you can experience a hot air balloon flight over the desert.
There are a lot of camping spots at the beach, desert, or in the mountains. If you don't like camping, there are several glampings as well.
Temperature is lower by several degrees than in Dubai, Sharjah, or Abu-Dhabi.
Ras Al Khaimah Tourist Places
There are plenty of tourist spots to explore and we will guide you through them!
Jebel Jais Mountains
Jebel Jais mountains are a part of the Hajar Mountains located 50 km far from Ras Al Khaimah city and offer a wide range of activities for nature and adventure lovers.
Puro 1484
The Puro 1484 Restaurant in Ras Al Khaimah's Jebel Jais is a fantastic place to eat. From sunrise to sunset, this restaurant's stunning patio, which looks out over the towering Jebel Jais mountains, provides breathtaking views.
It offers a wide selection of delicious Mediterranean cuisine that will tempt your taste buds with its robust tastes together with wonderful music and a soothing ambiance.
The menu is ideal for both informal and elegant meals because it offers both healthy selections and decadent options.
Beware to book a table in advance!
Timings: 8.00 AM-10.00 PM
Location:
Zipline (Jais Flight )
Jais Flight is the world's longest zipline which spans 2.83 kilometers, or 28 soccer fields, in length. You will take off from the UAE's highest point (1,680 m above sea level), fly at an average speed of 160 kph over Ras al Khaimah's stunning Jebel Jais mountains, and then land on suspended platform. The experience takes around 1 hour.
Beware that the zipline has weight and height restrictions: 40-120 kg weight and min.122 cm height.
Timings: 9.30 AM – 1.00 PM
Prices: 330-550 AED per person (depending on the day)
Location:
Jais Sky Tour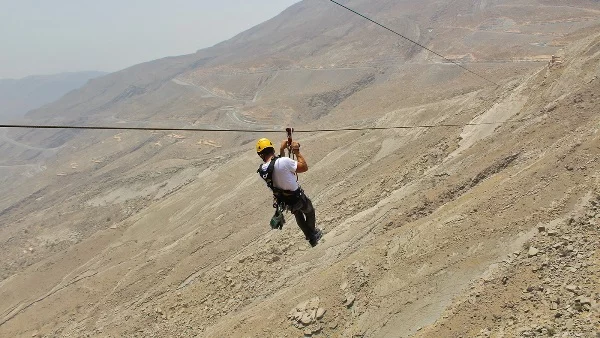 The Jais Sky Tour is a self-guided aerial mountain excursion in which you will travel 5 KM over 6 ziplines from platform to platform. The trip also includes an exhilarating 300-meter trek across the tallest sky bridge in the UAE. The experience takes around 2 hours.
Timings: 9.30 AM-12.30 PM
Prices: 260-315 AED per person (depending on the day)
Location:
Observation Deck
Jebel Jais Viewing Deck is a spectacular attraction located in the Hajar Mountains of Ras al Khaimah. From this vantage point, visitors can marvel at breathtaking panoramic views of the surrounding landscape. The deck is located atop the tallest mountain peak in the United Arab Emirates, offering unparalleled views for miles around.
Timings: 9.00 AM – 8.00 PM
Prices: 5 AED per person
Location:
Sledder
The Jais Sledder follows to the ISO 19202 criteria, the most recent design technology for planning track, design, calculation, manufacture, build, and testing requirements for summer sledding sports, and is constructed to the highest safety and technical standards.
The sleds are made to comfortably accommodate two persons, one in the front and the other in the rear. Each sledder has access to the braking mechanism, and you are securely fastened within the sled.
You will experience 1,840 exhilarating meters of hairpin curves and undulating waves at speeds up to 40 kilometers per hour.
3 years of age and 105 cm in height are requirements.
Timings: 10.00 AM – 5.00 PM
Prices: 45 AED single ride (weekdays), 49 AED single ride (weekends)
Location:
Camping
For the ultimate outdoor adventure, camping at Jebel Jais in Ras al Khaimah is a must! With its impressive mountain views and welcoming climate, it's the perfect place to explore and reinvigorate. Whether you're looking to pitch a tent, set up a caravan, or rent one of the private campsites, there are plenty of options to choose from.
There are several camping spots at the beach, desert, and in the mountains. Also, you can experience glamping at Banan Beach Resort, Longbeach Campground, The Dunes Camping, RAK Glamping, or Bedouin Camps.
Picnic and Barbecue
Gather your friends and family for an unforgettable experience of picnicking and barbecuing at Jebel Jais in Ras al Khaimah!
Located near the top of UAE's highest peak, this breathtaking location offers stunning mountain views for all to enjoy. With plenty of designated picnic areas to choose from, you can lay out a tasteful spread of food or fire up the grill for a delicious barbecue.
Trekking, Hiking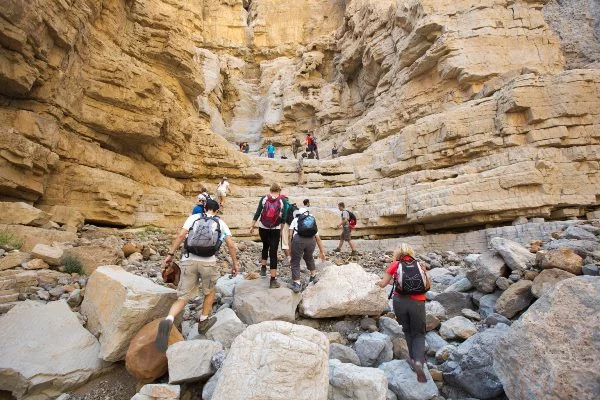 If you're looking for a hiking and trekking adventure like no other, head to Jebel Jais in Ras al Khaimah! With its stunning mountainside views and winding trails, it's the perfect place to explore and discover.
Take your time as you venture through the different paths, immersing yourself in the breathtaking scenery each step of the way.
There are several trails of different distances and difficulty levels, so you can choose the suitable one for you.
Bear Gryll
Bear Grylls Explorers Camp is the first permanent home of the Bear Grylls Survival Academy in the UAE.
You can just stay for the night at the camp or order both lodging and an essential survival course.
The camp's objective is to provide you with Bear's varied survival skills so that you can navigate the difficult terrain in the UAE's mountains and deserts. For private groups, the teachers can also create unique challenges.
Each explorer-instructor is well-versed in the Bear Grylls OBE survival skills and has had extensive training in them. His crew will provide you with the necessary tools and skills throughout your stay in his camp in Ras Al Khaimah so that you can live in the mountains and deserts.
Timings: 3.00 PM – 11 AM
Prices: from 400-650 AED per night
Location:
Wadi Shawka
Take a break from the hustle and bustle of city life and come explore Wadi Shawka in Ras al Khaimah! This nature-filled valley offers a variety of activities from leisurely strolls along its paths, to more challenging hikes up the steep terrain.
Enjoy the peaceful scenery as you make your way around the valley, marveling at its cascading waterfalls and breathtaking views. Take a dip in one of its many natural pools or stop for lunch at one of the designated picnic areas.
Timings: 24 hours
Prices: Free
Location:
Jazirat Al Hamra
Jazirat al Hamra is an abandoned fishing village located off the coast of Ras al Khaimah City. Its unique layout and historic buildings make it a fascinating place to explore and discover.
Take your time wandering through its winding streets, admiring the ruins, and imagining what life in a ghost town must have been like for its residents over the centuries.
Shimal
Nestled in the foothills of Ras al Khaimah City lies the charming small rustic village area of Shimal. In the shadow of the Hajar Mountains, this small village is a UNESCO World Heritage Site. Many of the ancient tombs dating back to the Umm-an-Nar era, which dates back to 1300BC.
Atop the site, Husn al-Shimal Fort offers breathtaking views of the entire area. Take a peaceful stroll through a small village and its traditional streets and feel the hustle and bustle of everyday life as you hear stories from locals about their heritage and culture.
Ras Al Khaimah Fine Arts Festival
The Ras Al Khaimah Fine Arts Festival is an annual event that celebrates the local creative talent of the emirate located in Jazirat Al Hamra. From paintings and sculptures to music and performance art, the festival features a wide variety of artwork from a range of artists.
Attendees can also explore interactive workshops and catch up on inspiring talks from industry leaders. With its vibrant atmosphere, engaging activities, and exquisite art on display, the festival is sure to be a feast for all senses. Great place for art lovers.
Timings: Tuesday-Thursday&Sunday: 9.00 AM – 6.00 PM, Friday-Saturday: 9.00 AM – 11.00 PM, Monday: closed.
Location:
Dhayah Fort
Dhayah Fort is an iconic landmark located in the foothills of Ras Al Khaimah City. It was built in the 16th century as a defensive military tower. Now it is listed on the UNESCO World Heritage Tentative List.
Standing tall and proud, the fort bears witness to the region's history, with its remains dating back to the 17th century. Today, visitors of Dhayah Fort can explore its ruins, learn about its past, and appreciate the spectacular views of the city below it. There are also interactive exhibitions and activities available at the fort that bring its story to life.
Timings: 8.00 AM – 7.00 PM
Prices: Free
Location:
Al Qawasim Corniche
Al Qawasim Corniche in Ras Al Khaimah City is a picturesque waterfront promenade located along the shores of the Arabian Gulf. Perfectly positioned to offer majestic views of the city skyline, this seven-kilometer-long stretch is a popular spot for locals and visitors alike. It's equipped with amenities such as parks and exercise pathways, as well as food outlets offering cuisines from around the world.
National Museum of Ras Al Khaimah
The National Museum of Ras Al Khaimah is a must-visit destination for anyone who wants to experience the culture ancient tradition and history of this vibrant Emirate. Located in the city's historic center, it is home to many fascinating archaeological and ethnological that tell the story of Ras Al Khaimah's past. Visitors can explore galleries dedicated to local culture, traditional life, maritime activities, archaeological sites, and Islamic art.
Timings: Tuesday-Thursday&Weekends: 8.00 AM–6.00 PM, Monday: closed, Friday: 2.00 PM – 8.00 PM
Prices: 5 AED per person
Location:
Saqr Park
Saqr Park in Ras Al Khaimah is a lush oasis of greenery, activities, and entertainment. This popular public park has something for everyone – whether it's enjoying the beautiful open spaces, taking part in recreational activities, or having a bite to eat at one of the many food outlets. There are also plenty of special events that take place here, such as cultural celebrations and festivals. Saqr Park is an ideal spot for visitors looking to get away from it all and enjoy some outdoor fun.
Timings: 7.30 AM–11.00 PM
Prices: Free
Location:
Al Marjan island
Al Marjan Island is a man-made archipelago located off the coast of Ras Al Khaimah. It has a long promenade with playgrounds, sports areas, a paddle court, and cafes. Here you can rent a scooter or a bicycle and enjoy the sea breeze and evening sunset.
Al Hamra Marina &Yacht Club
The Royal Yacht Club of Ras Al Khaimah is the ideal place to go sailing.
Motor and sailing boats may dock at approximately 220 protected wet and dry berths, which are known for their exceptional position, high level of amenities, and services.
A distinctive and safe place to anchor and unwind is the anchoring lagoon close to the marina.
Al Hamra Marina & Yacht Club also features several restaurants and bars, giving visitors a complete package of convenience and comfort. Whether you're looking to go sailing or just relax with friends and family, this is the perfect spot!
Desert Safari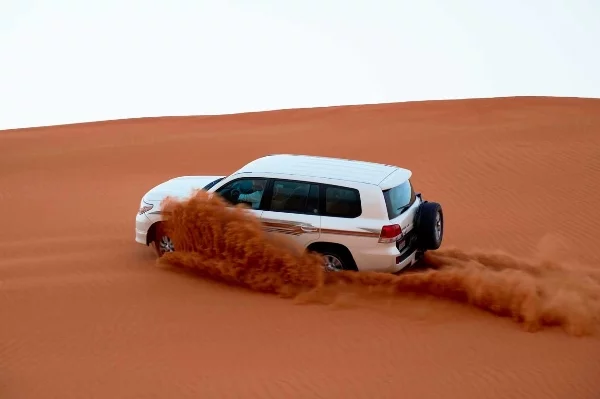 Experience the beauty and adventure of the Arabian desert on a desert safari in Ras Al Khaimah! With experienced tour guides, you'll explore some of the region's most mesmerizing dunes and landscapes as you embark on an exciting 4×4 journey through the stunning desert terrain.
Enjoy thrilling activities like sand boarding, camel rides, quad biking, and falconry, all while reveling in breathtaking views of the surrounding landscape. At sunset, admire a spectacular view of traditional Bedouin campsites illuminated by dozens of warm fires – it truly is an experience to remember!
Timings: Morning and evening tours are available
Prices: from 200 AED per person
Al Jazeera Flying/Aviation Club
AL Jazeera Flying Aviation Club is the perfect choice for aspiring pilots and enthusiasts of aviation. The Club offers a comprehensive range of flight instruction courses for all levels, from beginner to advanced.
Along with certified pilot training, the club also provides exclusive access to state-of-the-art aircraft like gyrocopters and fixed-wings and simulation rooms. Visitors can even experience aerobatic flights firsthand with experienced instructors leading them on a journey through the desert sky!
Timings: 8.00 AM–6.00 PM
Prices: on request
Location:
Hot Air Baloon Flight
An unforgettable experience, riding in a hot air balloon over Ras Al Khaimah. Views of old jagged cliffs, lagoons, and desert oasis may be seen as you soar over the Arabian Sea and stunning mountains.
This absolutely extraordinary journey will live long in your memories as you float serenely over the bright blue sky while listening to the birds chirping below and enjoying the sensation of being one with nature.
Prices: AED 1099 AED per child, AED 1199 per adult
Location:
Al Jazeera Diving&Swimming Centre
This center offers a variety of services including scuba diving instruction, fishing trips, diving trips, boat rentals, and more. With experienced instructors dedicated to teaching you the basics of safety and diving etiquette, you can feel confident that you'll be well-prepared for your next underwater excursion.
Timings: 9.00 AM–8.00 PM
Prices: depending on the service
Location:
Mangrove System
Ras Al Khaimah is home to an incredible mangrove system, which serves as a vital habitat for many species of plants and animals. The area is great for nature lovers, as it provides an opportunity to observe the many species of wildlife that inhabit the area.
From colorful birds to rare fish and even crocodiles, visitors can expect to encounter a wide variety of wildlife during their visit. The mangrove system also helps protect the coastline from erosion, providing a safe haven for marine creatures. You can go kayaking or sup boarding around these wonderful mangroves.
Suwaidi Pearl Farm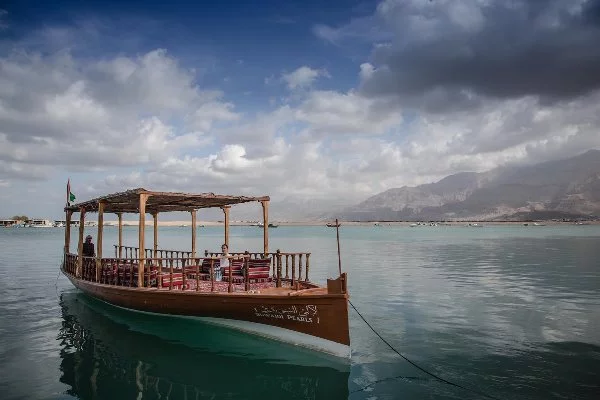 Suwaidi Pearl Farm is a uniquely captivating attraction in Ras Al Khaimah important to its habitat as the village relied heavily on risky pearl diving until the oil boom of the UAE in the late 19th century.
Here, visitors have the opportunity to explore an expansive pearl farm and witness the entire process of cultivating pearls.
From seeding oysters with nuclei to tending to the mature oyster beds, there's something for everyone to experience at Suwaidi Pearl Farm. Guests can even purchase some of the precious pearls produced onsite or take a souvenir home with them.
Timings: Saturday-Thursday 10.00 AM–5.30 PM, Friday: 9.30 AM- 6.00 PM
Prices: from 250 AED per person
Location:
Shopping Malls
Ras Al Khaimah City is home to some of the most popular shopping malls in the UAE. There are numerous options for shoppers, from large malls that offer a variety of international and local brands to traditional souks and markets that let you experience the local culture.
There are Manar Mall, Al Hamra Shopping Mall, and RAK Mall. Each mall offers something unique, from entertainment areas to family-friendly zones with playgrounds and cafes.
Al Hamra Mall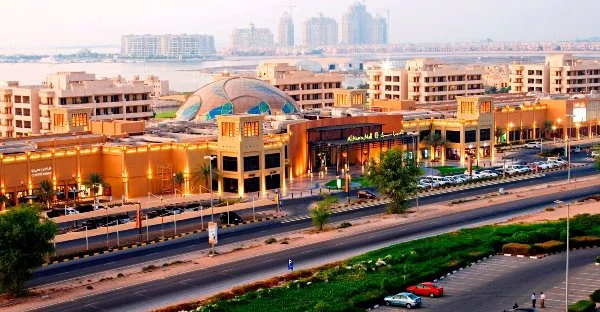 Timings: 10.00 AM–10.00 PM
Location:
Manar Mall
Timings: 10.00 AM–10.00 PM
Location:
RAK Mall
Timings: 10.00 AM–10.00 PM
Location:
Beaches
Ras Al Khaimah is known for its stunning array of beaches, offering everything from secluded coves and pristine sands to bustling resorts.
Flamingo Beach
It is a free public beach with free parking space nearby. There are no umbrellas or sunbeds so bring everything with you. There are lifeguards at the beach. Also, there are several cafes and restaurants. For your convenience, there are restrooms, showers, and changing rooms.
Al Rams Beach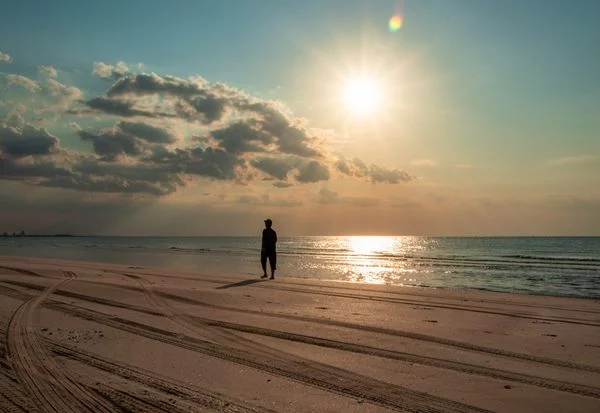 It is a silent and clean beach with no facilities. You may need a 4*4 car to get there.
RAK Beach
This beautiful beach is located just south of the city, boasting crystal clear waters, white sand, and plenty of attractions nearby. Visitors can relax on the shore or take part in some fun activities like jet skiing, parasailing, and banana boat rides
Al Hamra Beach
Nice sandy beach with water sports. You can rent a sunbed with an umbrella there. But there is no restroom, shower, or changing room there.
Khatt Springs
Khatt Springs is an oasis in Ras Al Khaimah that's sure to take your breath away. This natural hot springs spa is located in the foothills of the Hajar Mountains, providing visitors with stunning views, lush greenery, and pure relaxation.
The spring water has a natural temperature of 45°C, which can help soothe aches and pains as well as provide relief from stress and tension. There are also plenty of amenities on offer including jacuzzis, steam baths, saunas, and massage cabins to ensure you have a truly blissful experience.
Timings: closed
Location:
Natures Treasure Museum
Everyone who appreciates nature should visit Ras Al Khaimah's Nature's Treasure Museum. This magnificent museum features a sizable collection of plants, animals, and minerals in addition to engaging exhibits and instructive activities.
In this exquisitely constructed place, both adults and kids may experience the marvels of nature thanks to its more than 2,000 species from across seven regions of the globe.
Also, there are live exhibits to see, including fascinating and motivational parrots and turtles. Also, you can feed animals there and take part in workshop activities.
Timings: 8.00 AM–8.00 PM
Prices: 20 AED per adult
Location:
Tridom Indoor Theme Park
Tridom Indoor Theme Park is a thrilling fun-filled adventure in Ras Al Khaimah. Located inside the Manar Mall, this exciting indoor playground is filled with rides, attractions, and activities for all ages.
As well as classic carnival rides like bumper cars, roller coasters, and mini golf courses, there's also a three-story soft play area and a virtual reality gaming room. Ride the Ferris wheel over the mall roof, scale the Ninja Tower, or drift down the lazy river.
Timings: 12.00 – 11.00 PM
Prices: from 120 AED
Location:
Al Sewaan Camel Race Track
Ras Al Khaimah's Al Sewaan Camel Racing Course is a must-see for thrill-seekers. Every Friday, more than 500 camels compete in some of the most exciting camel racing events in the area at this magnificent venue.
The action takes place straight in front of the spectators, who may cheer on their preferred horse as it races around the course. It's not just a fun day out, but it's also intriguing to observe how this ancient event has been updated for contemporary participation. Camel races are usually held in the wintertime.
RAK Zoo
The RAK Zoo is a fantastic wildlife park that is situated in Ras Al Khaimah. Visitors may tour the grounds and learn about many species, including lions, monkeys, hippos, and rare birds.
The facility is home to around 600 animals. There are several participatory events to participate in, such as bird exhibitions and animal feedings.
It includes a toddler's play area, an adventure playground, and a petting zoo with amiable animals for the younger guests. A wonderful family outing that emphasizes nature and conservation is the RAK Zoo.
Timings: 9.00 AM – 8.00 PM
Prices: 40 AED for over 4 years. Under 4 y.o- free.
Location:
Golf Courses
Towel Links Golf Club
Ras Al Khaimah's Towel Links Golf Club is a premier golf facility with a wide range of courses, amenities relaxing facilities, and activities. Three championship courses are available, and each is specifically created to test your ability level.
Al Hamra Golf Club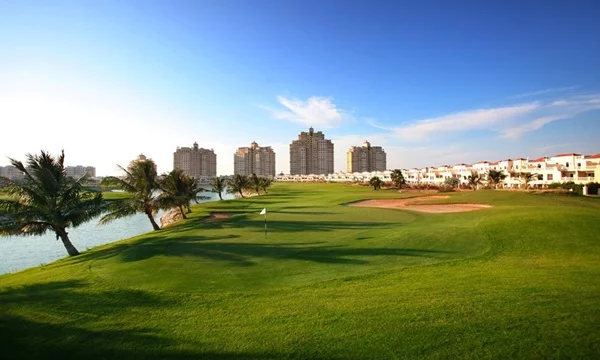 An 18-hole, par-72 championship golf course with international and Italian restaurants is available. Al Hamra Golf Club, which was created by Peter Harradine, features both open-water lagoons and desert vistas. Its complete length is 7,325 yards, and there are five different tee alternatives. It's a fantastic location for both seasoned professionals and new enthusiasts. To develop your talents, you may also attend Golf Academy. Nearby you can also find Padel Beach court.
Map Of Ras Al Khaimah Tourist Places
How To Get to Ras Al Khaimah
Here are some ways to get to Ras Al Khaimah:
Fly into the Ras Al Khaimah Airport.
Take a bus to Ras Al Khaimah City from Dubai. There is a bus going from Dubai Union Metro Station to Al Hamra Bus Station.
Rent a car and drive in via E11, E311, or E611 from Dubai, Ajman, Sharjah, and Abu-Dhabi.
Also, you can check Rome2Rio to find the best route.
Where to Stay in Ras Al Khaimah
5 stars hotels
4 stars hotels
F.A.Q.
Is Ras Al Khaimah good for tourists?
Absolutely! Ras Al Khaimah is the perfect destination for tourists who want to experience a mix of culture, adventure, and relaxation. From zip-lining through the Jebel Jais mountain range and exploring ancient villages to lounging in beach resorts and exploring historic sites, there's something for everyone. With its beautiful beaches, majestic mountains, and vibrant cultural offering, Ras Al Khaimah is sure to make your vacation an unforgettable one.
Is it worth going to Ras Al Khaimah?
Definetely! Ras Al Khaimah is an amazing destination that offers something for everyone. From breathtaking beaches and stunning mountain peaks to exciting adventure activities and historic sites, a trip to Ras Al Khaimah promises to be an unforgettable experience. Whether you're looking for a fun-filled getaway or just some rest, this beautiful city in the United Arab Emirates has it all!
What are the top shopping places in Ras al Khaimah?
When it comes to shopping, Ras Al Khaimah City has plenty of options. The two three popular places for shopping are Manar Mall, RAK Mall, and AL Hamra Mall.
Manar Mall is one of the largest malls in the country and boasts a huge selection of shops, cafes, and entertainment venues.
Meanwhile, RAK Mall offers all kinds of luxury brands as well as international designer stores.
Al Hamra Mall features a variety of dining options, a multiplex cinema, and other family-friendly attractions. With its convenient location and beautiful architecture, Al Hamra Mall provides an enjoyable shopping experience for all visitors.
What are the top sightseeing places in Ras al Khaimah?
Here are some of the top sightseeing places in Ras Al Khaimah:
* National Museum of Ras Al Khaimah
* Dhayah Fort
* Jebel Jais
* Jazirat Al Hamra
* Al Qawasim Corniche
* Marjan Island
* others...
Photos
Videos
Whether it's an exciting day out with the family or a peaceful escape into nature, Ras al Khaimah would be a perfect choice as it is extremely diverse location. From the iconic Corniche Road to the stunning Jebel Jais Viewing Deck, there are plenty of tourist attractions and experiences in this emirate that will delight visitors.
With its beautiful landscapes and lively culture, this lush green oasis with its palm trees, and beautiful mountains is sure to become a favorite destination for both locals and tourists alike.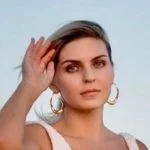 I am Anastasia, the author of this blog and a passionate and experienced traveler who resides in the UAE.
I have visited every Emirate, every popular sight, and every hidden gem.
I m here to help you make your trip to the UAE unforgettable.