Global Village Dubai is a cultural and entertainment destination that brings together diverse cultures from around the world. Located in Dubai, United Arab Emirates, it offers an immersive experience of different traditions, cuisines, music, and art forms.
With over 27 pavilions representing more than 75 countries, it is a unique platform for people to learn about and celebrate the world's rich cultural heritage. From thrilling rides to live performances by global artists, there's something for everyone at this vibrant destination.
Further, you will find all the information you need before you go:  Global Village parking, location, ticket price, timings, things to do, and more.
Overview
Recommended time: 4-5 hours

Area of 1.6 million square meters

Lasts about 6 months

Over 70 countries

Over 27 pavillions

200+ shows every day

Free WI-FI

Washrooms

Global Village app

with which you can pay for both entrance tickets and parking space

Friendly for wheelchairs
Opening & Closing Dates 2023 – 2024 (Season 28)
The opening and closing dates for 2023-2024 are 18th October 2023 – 28th April 2024.
Global Village Dubai Timings
Sunday – Wednesday: 4:00 PM – 12:00 AM

Thursday – Saturday: 4:00 PM – 1:00 AM
Except for official public holidays and opening days, Tuesdays are exclusively reserved for ladies and families.
Where To Buy Tickets
Tiqets
4.5 rating and more than 30 593 reviews on Trustpilot

Free cancellation prior 24/72 hours *(for most tickets)

Skip-the-line service *(for most tickets)

8+ payment methods

24/7 support

Mobile tickets with instant delivery

Convenient app
GetYourGuide
4.4 rating and more than 20 235 reviews on Trustpilot

Reserve now & pay later

Free cancellation before 24 hour

Transfer (Optional for some tickets)

Regular promotions

24/7 support

Available in 23 languages and 40 currencies
RaynaTours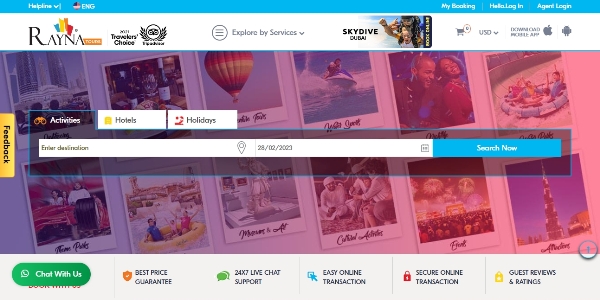 4.9 rating and more than 20 802 reviews on Trustpilot

Free cancellation before 24 hours

Pick up & Drop Back Service (Optional)

24/7 Online help

Best Price Guarantee
Viator
4.2 rating and more than 108 240 reviews on Trustpilot

Reserve Now & Pay Later

Free cancellation *(For some tickets)

24/7 customer support

Lowest price guarantee
Klook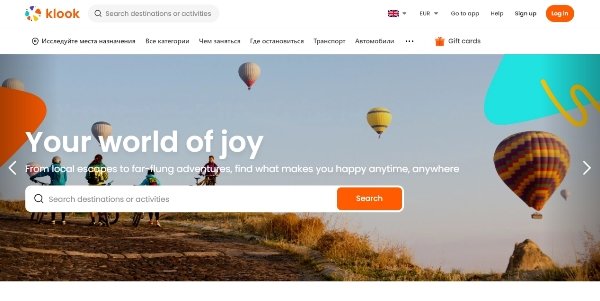 3.3 rating and more than 4446 reviews on Trustpilot

Free cancellation before 24 hours

24/7 customer service

Guaranteed best prices and offers
Tickets Options
Entry Tickets – a normal ticket to enter the park. Starts at AED 22.5 (~$6.13).
Global Village VIP Packages – usually offers benefits such as VIP parking, concierge, priority queue lines, table reservations, Wonder Pass with points, complimentary tickets, exclusive offers, and other VIP privileges. Silver  – AED 1750,  Gold – AED 2250, Platinum – AED 2700, Diamond – AED 7000 (All VIP Packs are sold out).
Wonder Pass – you can buy this pass to enter chosen attractions at the Global Village. It costs Dh100 and comes with 105 'points'. Each point is equal to Dh1 and you can use it to pay depending on its entrance fee. The card is rechargeable and you can top it up at all ticket counters or via app.  Rides and attractions are priced at 12-70 points for one ride. Here are some examples: Caribbean Ship – 25 points, Festival Wheel – 30 Points, Mumbai Xpress – 18 points, Cuban Dance – 12 points, Fly France – 32 points, Global Burj – 40 points, Athens Slingshot – 70 points.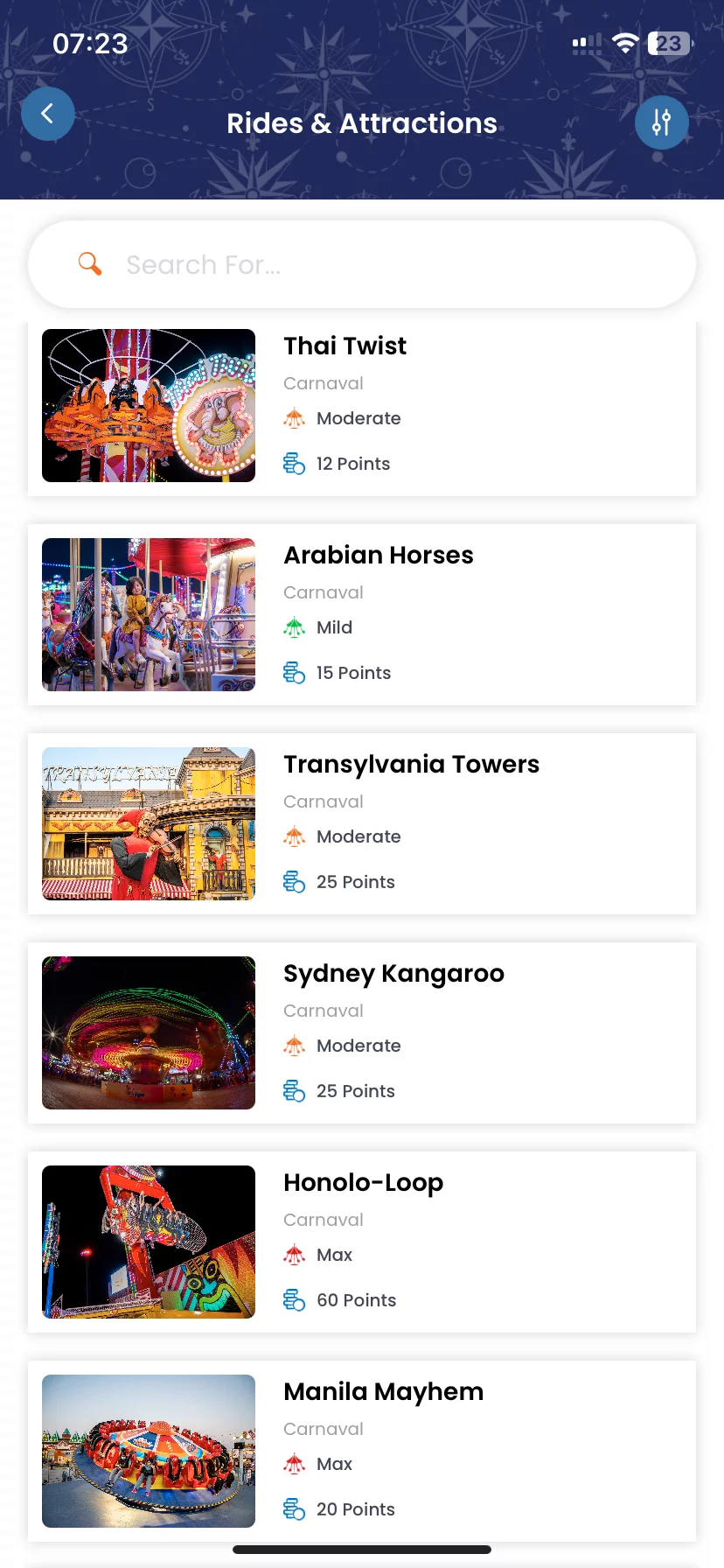 Booking Policy
Usually, most agencies do not offer to reschedule dates and most tickets are non-refundable.
Take note! Before you go, Download Global Village app where you can buy tickets, pay for parking, top up Wonder pass, and see all the upcoming events.
Entrances
The Park has several gates to cater to the needs of its visitors. Each entrance is designed to provide easy access to different parts of the park and its attractions.
The main entrance is called Gate of The World, which leads visitors directly to the heart of Global Village. This entrance is located near the parking area and provides easy access to the park's central plaza, where guests can find a wide range of restaurants and shops.
The second popular gate is the Cultural Gate which is opposite the Gate of The World.
Another popular entrance is Gate of India, which offers direct access to the Indian pavilion and its many attractions. You can experience traditional Indian handicrafts, sample delicious Indian cuisine, and enjoy live performances by Indian artists.
Gate of Americas is another popular entrance that leads visitors directly to the American pavilion. Here, visitors can experience American culture through music, food, and entertainment.
There are also several other entrances located around the perimeter.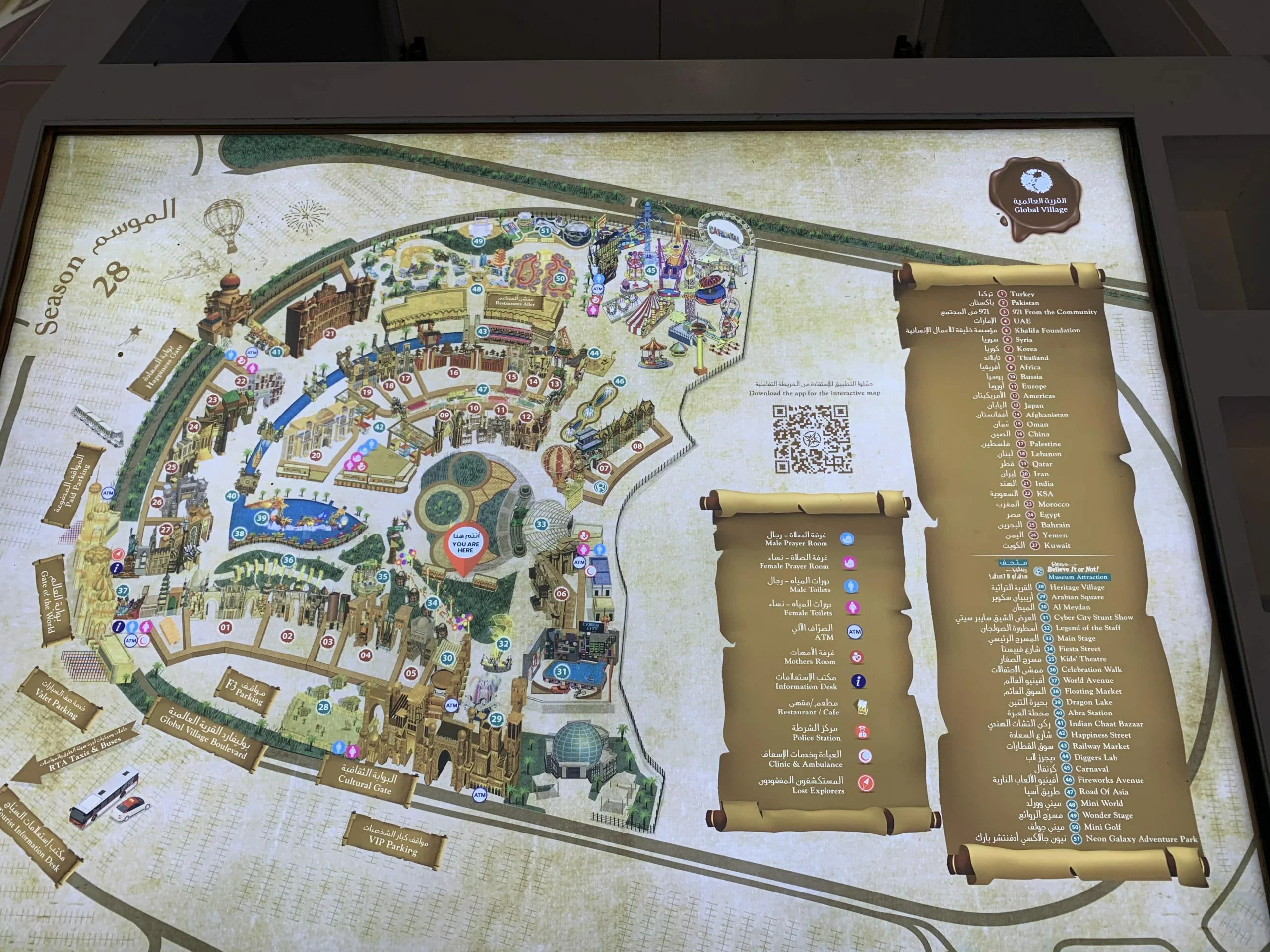 Location

The Address is: Sheikh Mohamed Bin Zayed Road and Emirates Road – Exit 37 – E311 – Dubai
How To Reach
Global Village Dubai is located conveniently on 2 of Dubai's major highways. It is easily accessible by car, taxi, or public transportation.
If you are planning to drive to Global Village, there is ample parking available at the venue. However, during peak hours and weekends, the parking can get crowded, so it's advisable to arrive early.
Alternatively, you can take a taxi or ride-sharing service such as Uber, Careem, or RTA taxi directly to your destination. Most drivers in Dubai will be familiar with the location and should have no trouble finding it.
For those using public transportation, several bus routes stop near Global Village.
These include the RTA Bus №102 from Rashidiya Metro Station and Bus №106 from Mall of Emirates Metro Station passing through Al Barsha, №103 from Union Metro Station, and №104 from Ghubaiba Bus Station passing through Al Jafiliya Metro Station.
Now there is one more bus route 107 from Al Nahda Bus Station.
Overall, reaching it is easy and convenient no matter what mode of transportation you choose.
Global Village Parking
General Parking (Area P1 – P12) : Free

VIP Parking Area: 200 AED per day (around $54)

Premium Parking Area: 100 AED per day (around $28)

Valet Parking: 150 AED (around $41)
Global Village Dubai offers ample parking facilities for visitors who arrive by car. There are several parking areas located around the perimeter of the park, with a total capacity of over 20.000 vehicles.
The main parking area is situated near Gate of The World entrance and provides easy access to the park's attractions. In addition, there are several other parking areas located near other entrances such as Gate of India and Gate of Americas.
To make it even more convenient for visitors, the park also offers valet parking services at AED 150. This service allows visitors to drop off their vehicles at designated points and have them parked by professional attendants.
Do not worry if you have parked a bit far. You can take a rikshaw for 5 AED per person to take you to the entry gate.
Visitors are advised to arrive early during peak seasons to secure a good parking spot. Additionally, those who prefer public transportation can take advantage of the free shuttle bus service that operates from various locations in Dubai to Global Village.
What Is New In This Season 28
Season 28 promises to bring an exciting array of new experiences for visitors.
Over 40,000 concerts hosted by 400 international acts are planned.
The Main Stage will feature performances by international performers such as AAINJAA, Fusion Japan, and Dhol Foundation.
Favorites like Peter Rabbit and PJ Masks will be shown in the Kids' Theatre.
Mini World
Mini World at Global Village Dubai is a brand-new location that offers activities for guests of all ages, celebrating cultures from across the world with tiny landmarks, street food options, new gaming and adventure zones, and a mini golf zone.
Cyber City Stunt Show
Action lovers should not miss the brand-new Cyber City Stunt Show, Powered by Surge. The program, which is set in the year 2075, promises to keep viewers on the edge of their seats the entire time with its flying motorcycles, LED-covered police vehicles, and tank. Available every day except Mondays.
Fire And Laser Show
The world's largest underwater LED screen will host a captivating new fire and laser display at The Dragon Lake, with flawless synchronization guaranteeing spectators stunning hourly performances.
Another attraction that is expected to captivate tourists is the renowned Dallah at the Gate of the World, which will include never-before-seen 3D projection performances. Every Friday and Saturday at 9:00 p.m., the sky above the park will be illuminated with enchanting firework displays.
Addition-To Ripley believe it or not
Besides 4D moving theater, Ripleys Power Up, and mirror maze, 10 new exhibits await you at Ripley's Believe It or Not!® Odditorium.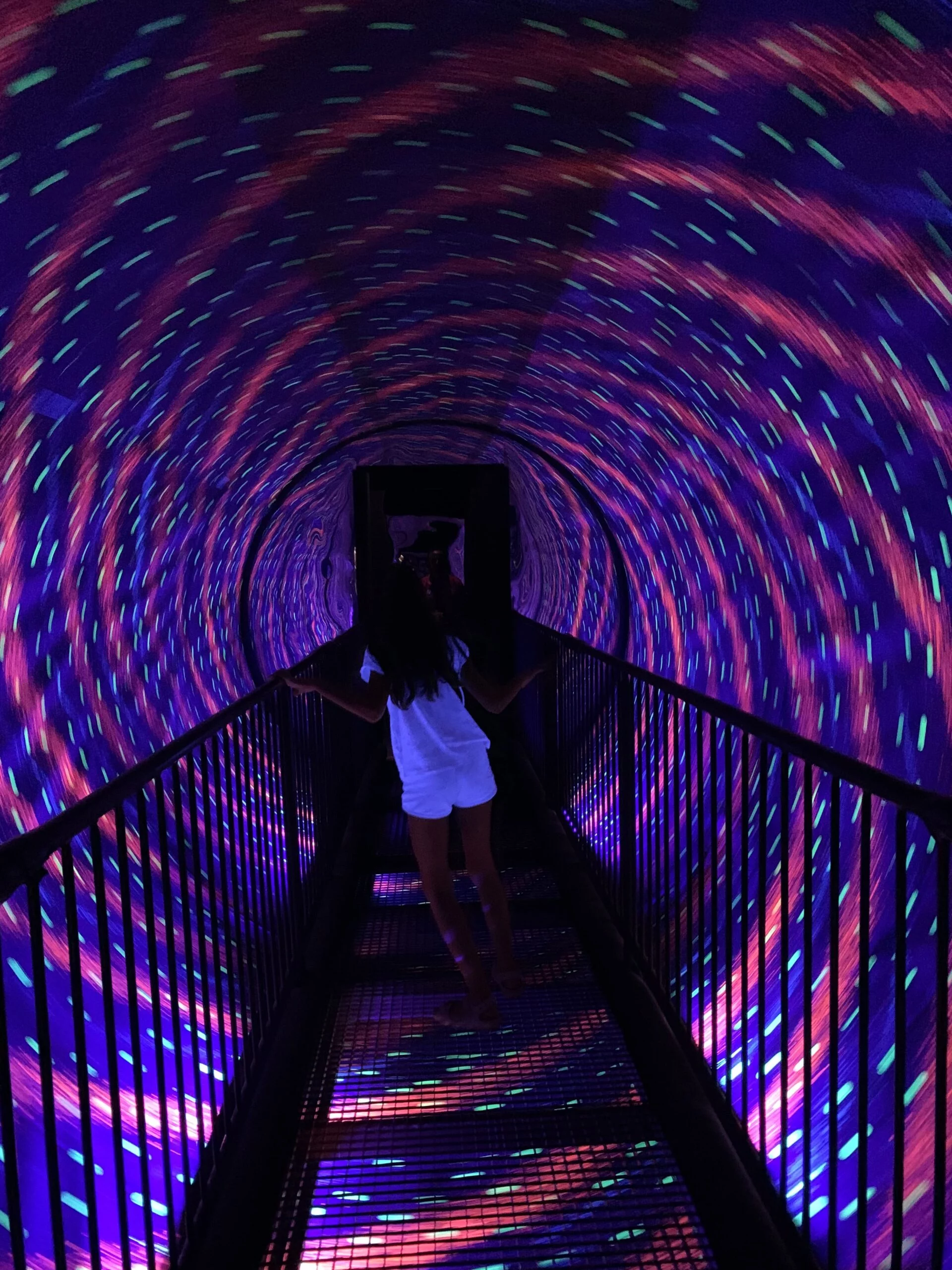 Previous Season 27
One of the biggest additions the previous season was the brand-new Carnaval Funfair, which features over 30 rides and attractions for all ages. From thrilling roller coasters to family-friendly carousels, there is something for everyone to enjoy.
If you are a thriller-sicker, check out our blog post about best roller coaster in Dubai.
A new addition to Season 27 was Ripley's Believe It or Not! Museum, which showcases a fascinating collection of oddities and curiosities from around the world. Visitors can see interactive exhibits and displays that are sure to amaze and entertain.
Global Village introduced two new pavilions: Oman and Qatar. These pavilions offer visitors a unique opportunity to explore the rich culture, heritage, and traditions of these countries. The Oman Pavilion showcases the country's ancient history, traditional handicrafts, and delicious cuisine. Visitors can also enjoy live performances by Omani artists and musicians.
On the other hand, the Qatar Pavilion offers a glimpse into the country's modern achievements in technology, innovation, and sustainable development. It features interactive exhibits that highlight Qatar's vision for the future as well as its cultural heritage. Both pavilions are beautifully designed with intricate architecture that reflects each country's unique identity. With these new additions, it continues to provide an unparalleled experience for visitors from around the world.
The Road of Asia was also one new attraction, offering visitors a glimpse into the diverse cultures of Asia. The road stretches across a large area and is divided into different sections, each representing a specific country or region.
As you walk down the Road of Asia, you'll be transported to various parts of the continent. You can experience the hustle and bustle of India's colorful bazaars or admire the intricate designs of Chinese porcelain at one of their many stalls.
The section dedicated to Japan features traditional crafts like origami and calligraphy, while the Korean section offers visitors delicious street food like kimchi pancakes and bulgogi.
One cannot miss visiting the Persian section that showcases intricately designed carpets and beautiful handcrafted jewelry. Additionally, there are also live performances showcasing traditional dances and music from each country.
The Road of Asia serves as an immersive experience for visitors to learn about Asian cultures in an interactive way. It's a perfect place to indulge in local delicacies, shop for souvenirs or simply stroll around and take in all that it has to offer.
In addition to these new attractions, the park also offers a wide range of cultural events, live performances, and international cuisine options from over 70 countries. With so much to see and do, Season 28 promises to be an unforgettable experience for visitors of all ages.
Things To Do
Top Popular Pavilions
Japan
The Japan Pavilion is a celebration of the country's rich cultural heritage and modern innovation. The pavilion features a stunning display of Japanese arts and crafts, including traditional pottery, calligraphy, and origami.
Visitors can also look at the latest technology from Japan with interactive displays showcasing cutting-edge advancements in robotics and virtual reality.
Additionally, several food stalls offer delicious Japanese cuisine like sushi, ramen, and tempura.
The pavilion also hosts cultural performances such as taiko drumming and martial arts demonstrations that provide an immersive experience into the vibrant culture of Japan.
Turkey
The Turkey Pavilion is a vibrant showcase of the country's rich cultural heritage. The pavilion is designed in the style of a traditional Turkish bazaar, or "souk," and features an array of handmade crafts such as carpets, ceramics, and textiles.
Visitors can watch skilled artisans demonstrate their craft and even try their hand at traditional Turkish instruments. There are also live music performances and dance shows that offer visitors an immersive experience of Turkey's vibrant cultural scene. And let's not forget about the food! The pavilion offers a wide range of delicious Turkish cuisine, from savory kebabs to sweet baklava.
Syria
The Syria Pavilion offers visitors a glimpse into the rich cultural heritage of this ancient country. The pavilion is designed to resemble a traditional Syrian marketplace, or "souk," and features an array of handicrafts, textiles, and jewelry that are made using traditional techniques.
Visitors can watch skilled artisans create intricate pieces such as glassware and pottery while enjoying live music performances. Additionally, several food stalls are offering delicious Syrian cuisine like shawarma, falafel, and baklava.
Africa
The African Pavilion is a vibrant celebration of the diverse cultures and traditions found across the African continent.
The pavilion features an array of colorful handicrafts, including woven baskets, wooden carvings, and beaded jewelry. Visitors can also experience traditional African music and dance performances that showcase the rhythm and energy of this vibrant culture.
Additionally, several food stalls are offering authentic African cuisine like jollof rice, grilled meats, and spicy stews.
The pavilion also offers educational exhibits on African history and wildlife conservation efforts, providing visitors with a deeper understanding of this fascinating continent's rich heritage.
America
The American Pavilion is a celebration of the United States' diverse culture and iconic landmarks.
The pavilion features replicas of famous American landmarks, such as the Statue of Liberty, the White House, and Hollywood Boulevard.
Visitors can also enjoy interactive exhibits on American history and culture, including displays on the Civil Rights Movement and pop culture icons like Elvis Presley.
Additionally, several food stalls are offering classic American cuisine like burgers, hot dogs, and fries. The pavilion also hosts live performances showcasing various genres of music popular in America, such as country, rock & roll, and hip-hop.
Europe
The European Pavilion is a fascinating showcase of the continent's rich history and diverse cultures.
Visitors can see replicas of famous European landmarks, such as the Eiffel Tower, Big Ben, and the Colosseum.
The pavilion also features interactive exhibits on European art and history, including displays on Renaissance art, medieval castles, and ancient civilizations.
Additionally, several food stalls are offering authentic European cuisine like pasta dishes from Italy, waffles from Belgium, and sausages from Germany. The pavilion hosts live performances throughout the day featuring traditional European music and dance styles like flamenco from Spain or a polka from Germany.
Iran
The Iran Pavilion is a stunning display of the country's rich cultural heritage and modern achievements.
Visitors can explore replicas of famous Iranian landmarks, such as the Persepolis ruins and the Jameh Mosque of Isfahan.
The pavilion also features interactive exhibits on Iranian art and history, including displays on Persian carpets, calligraphy, and miniature paintings.
Additionally, several food stalls offer authentic Iranian cuisine like kebabs, rice dishes, and traditional sweets like baklava. The pavilion hosts live performances showcasing various genres of music popular in Iran, such as traditional folk music and contemporary pop music.
Ripley's Believe It or Not Museum
Ripley's Believe it or Not Museum is a fascinating attraction that showcases some of the most bizarre and unusual exhibits from around the world.
Inside Ripley's Believe it or Not Museum, visitors can have a look at the collection of over 200 exhibits that range from the weird to the wonderful. You can view rare artifacts like a piece of the Berlin Wall or marvel at strange items like a portrait of Michael Jackson made entirely out of candy.
One of the highlights of Ripley's Believe it or Not Museum is the "Odditorium," which houses some of the most peculiar items you'll ever see. Here, visitors can see a replica of an ancient Chinese torture device, an eight-legged lamb, and even a motorcycle made entirely out of bones.
But Ripley's isn't just about oddities – there are also interactive exhibits that challenge visitors to test their limits. You can try your hand at the laser maze challenge, navigate through a mirror maze, or take part in other mind-bending illusions.
In addition to its permanent collection, Ripley's Believe it or Not Museum also hosts special exhibitions throughout the year. These exhibits focus on specific themes such as science fiction or pop culture icons like Star Wars.
Family Rides
Global Village is a popular destination for families seeking fun and adventure. There are several family rides available at the theme park, all designed to provide thrills and excitement for visitors of all ages.
The Wheel of the World is one of the most iconic attractions, offering stunning views of the entire park from its towering height.
The Ferris Wheel is another classic ride that provides panoramic views of the surrounding area.
For those seeking a bit more excitement, there are roller coasters like Dragon's Spine and Scary-Go-Round that offer twists, turns, and drops for an adrenaline rush.
For younger children, there are gentle rides like the Circus Train or Flying Elephant that provide a cheerful and safe experience.
Dinings
Global Village is a food lover's paradise, offering an extensive selection of dining options to suit every taste and budget.
With over 200 restaurants and food stalls, visitors can indulge in an array of international cuisines, including Arabic, Chinese, Indian, Italian, and more.
There are fine dining restaurants like Al Mashowa that offer traditional Emirati dishes with a modern twist, as well as street food carts selling quick bites such as hot dogs and burgers.
For those with a sweet tooth, there are plenty of dessert shops serving up delicious treats like ice cream and pastries.
Global Village's Floating Market with merchants offering genuine cuisines from Southeast Asian nations, especially Thailand, is a multi-cultural market that provides worldwide cuisine. Located near the park's well-known lake, the market was a brand-new addition to the 26th season of Global Village.
Shows And Events
Global Village is not just a destination for foodies, but also for those seeking entertainment and cultural experiences.
The park hosts a variety of shows and events throughout the year, including live concerts, dance performances, and theatrical productions.
Events take place at the main stage, kids theater, and wonder stage.
Visitors can witness traditional Emirati dances like the Tanoura or indulge in Bollywood-style performances with colorful costumes and lively music.
Ice Rink
The ice rink is a must-visit attraction for those who love to skate or want to try it out. The rink is open to visitors of all ages and skill levels, offering a fun and exciting experience for everyone. Skaters can glide on the ice while enjoying the beautiful surroundings of Global Village, including bright lights and colorful pavilions.
The rink also hosts various events throughout the season, such as figure skating shows and ice hockey matches.
There is no ice rink in Season 28.
Aqua Action Stunt Show
The Aqua Action Stunt Show is an adrenaline-packed performance that is sure to leave visitors on the edge of their seats.
The show features a team of skilled performers who showcase their talents through a series of daring stunts and acrobatics, all while being drenched in water.
The show takes place in a large pool, allowing for high-flying jumps, flips, and dives that will leave you amazed.
The performers also incorporate special effects and pyrotechnics into the show, making it an unforgettable experience.
Shopping
Global Village is a shopper's paradise, offering a wide range of shopping options that cater to all tastes and budgets. Visitors can browse through over 3,500 retail outlets that sell everything from traditional handicrafts to luxury goods from around the world. The pavilions are designed to resemble traditional markets, with each country or region represented by its unique style and products.
Shoppers can experience the Egyptian bazaar, the Moroccan souk, or the Indian market and find an array of spices, snacks, textiles, furs, leather, shawls, jewelry, and other souvenirs to take home. It also features high-end fashion boutiques and designer stores for those looking for luxury experiences.
Carnival
The carnival is a vibrant and colorful experience that is sure to delight visitors of all ages. The park comes alive with the sounds of music, laughter, and screams of excitement from the various rides and attractions.
The carnival features a wide range of games, from classic ring tosses to more challenging skill-based games where visitors can win prizes. In addition to the games, there are also a variety of food stalls serving up delicious treats such as cotton candy, popcorn, and churros.
Aqua Fantasia
Aqua Fantasia is a spectacular water-based performance that takes place at Global Village, combining stunning visuals with impressive stunts and acrobatics. The Aqua Fantasia show takes place in a large pool, which serves as the stage for the performers to showcase their skills through thrilling jumps, dives, and synchronized movements.
The show also incorporates special effects such as lasers, lights, and pyrotechnics to create an immersive experience that will leave you in awe.
Dragon Lake And Artificial River
The artificial river at Global Village is a stunning feature that adds to the charm and beauty of the park. The river winds its way through the various pavilions, providing visitors with a unique perspective on the different cultures represented at Global Village.
Visitors can take a leisurely Abra boat ride around the lake, admiring the colorful buildings and intricate decorations along the way. The river is also home to several beautiful fountains that add to the ambiance of this tranquil oasis in the middle of all the excitement.
Selfie Spots
Among popular Selfie, Spots are Celebration Walk, Arabian Square, Cultural Gate, Heritage Village, Gate of The World, Dragon Lake, Dry Fountains, and World Avenue.
Fireworks
Fireworks are a highlight of the entertainment offerings at Global Village. The nightly displays are a spectacular sight to see, with colorful explosions lighting up the sky and reflecting off the water. The show is choreographed to music, adding an extra layer of excitement and drama.
Visitors can watch the fireworks from various spots around the park, including from the lake, where they can enjoy the reflection of the fireworks in the water.
The fireworks usually take place towards the end of each day, making it a perfect way to cap off an exciting day at Global Village Dubai. It's a great opportunity for visitors to capture some stunning photographs or simply sit back and marvel at one of Dubai's most spectacular displays!
New Year
New Year's Eve at Global Village is an unforgettable experience that attracts visitors from all over the world. The park comes alive with a festive atmosphere, with live performances by musicians, dancers, and acrobats adding to the excitement. As midnight approaches, visitors gather around the lake to watch a spectacular fireworks display that lights up the sky and reflects off the water.
The countdown to midnight is accompanied by music and cheering from the crowd, creating an electric atmosphere that is hard to match.
After the fireworks, visitors can continue to enjoy the festivities at one of several after-parties hosted by Global Village. With so much energy and excitement in the air, New Year's Eve at Global Village Dubai is truly a once-in-a-lifetime experience that should not be missed!
Tips
Better choose weekdays for visiting to avoid crowds.

Do bargain! You may be able to purchase items at a price that is half of what the shopkeepers are asking for.

Buy tickets online – it is cheaper and also you can save some time.

Before coming check for a schedule online to plan your evening.

Wear comfortable shoes.

Download Global Village app to learn about upcoming events. Also, there you can buy tickets, top-up Wonder pass and pay for parking.

Do not eat before coming, you would better come hungry to taste everything )))
Rules
Global Village has certain rules and regulations that visitors are expected to follow. These rules have been put in place to ensure the safety and well-being of everyone within the park.
Here are some of the rules that visitors should be aware of:
Dress Code

: Visitors are expected to dress modestly and appropriately while visiting. Revealing clothing is not allowed, and visitors must ensure their attire is respectful of local customs and traditions.

Smoking:

Smoking is strictly prohibited within the park, except in designated smoking areas.

Food and Drinks:

Outside food and drinks are not allowed inside the park, except for baby food or medical requirements.

Filming

: Filming is allowed within the park only with a special permit.

Behavior

: Visitors should behave respectfully towards others and refrain from any activity that may cause harm or disturbance to fellow visitors or staff members.

Pets:

Pets are not allowed inside Global Village, except for service animals such as guide dogs.

Bicycles, rollers, and skates are not allowed in the park

.
By following these rules, visitors can enjoy a safe and pleasant experience at Global Village Dubai while respecting local customs and traditions.
F.A.Q.
Is parking free in Global Village?
Yes, parking is free at Global Village Dubai. Visitors can park their cars in one of the many designated parking areas around the venue without any additional cost. The parking lots are spacious and well-maintained, ensuring a hassle-free experience for all visitors.
How much is VIP parking at Global Village?
The cost of VIP Parking Area: 200 AED per day (around $54)
The cost of Premium Parking Area: 100 AED per day (around $28)
Take into consideration, if you have a VIP Pack - you need to register your car online in advance to activate your pack and unlock a world of privileges.
Is entry to Global Village free?
Entry to Global Village Dubai is free only for:
* Children under the age of 3
* People of Determination and a companion
* Senior Citizens (over 65 y.o)
All the others need to purchase tickets to enter the park. The ticket prices may vary depending on the day of the week and time of the year you visit, but usually, the park entry is around $6 per adult.
Is outside food allowed in Global Village?
No, outside food is not allowed in Global Village Dubai. However, there are many dining options available inside the park that cater to a wide range of tastes and preferences. From fast food to fine dining, you can find something that suits your taste buds.
There are also many food kiosks and stalls selling snacks and drinks throughout the park. So, you can enjoy a delicious meal or snack while exploring the various pavilions and attractions at Global Village.
What Is Global Village?
Global Village is a popular cultural and entertainment destination located in Dubai, United Arab Emirates. It is a large open-air park that features pavilions representing different countries from around the world, showcasing their unique culture, traditions, and products.
Visitors can explore various attractions such as live performances, concerts, shopping stalls, food kiosks, amusement rides, and much more. The park has something for everyone and is a must-visit destination for tourists visiting Dubai. It typically operates during the winter months from November to April each year.
Is Global Village friendly for People of Determination?
Yes, Global Village Dubai is friendly for People of Determination (people with disabilities). The park has been designed to be accessible to everyone, including those with mobility issues. There are dedicated parking spaces close to the entrance, wheelchair ramps and pathways throughout the park, and disabled-friendly restrooms.
In addition, many attractions have been adapted to accommodate people with disabilities. For example, some rides have special seats or safety harnesses for people who use wheelchairs or have other mobility issues. Overall, Global Village is committed to providing a safe and enjoyable experience for all visitors, regardless of their abilities.
What is the best time for visiting?
The best time to visit Global Village Dubai is during the winter months. During this period, the weather is pleasant and mild, making it comfortable for visitors to enjoy the outdoor attractions and enjoy the various cultural experiences that Global Village has to offer.
Additionally, many seasonal events take place during this time, such as the Dubai Shopping Festival and New Year's Eve celebrations. However, it's important to keep in mind that this is also peak tourist season, so expect larger crowds and longer wait times for some attractions.
Reviews
We summarized what people usually notice after visiting Global Village.
Pros
"The food here is exceptional and you can try different cuisines from different countries."

"Very affordable ticket price."

"Very beautiful at night."

"Good place for shopping enthusiasts."

"Lovely rides and carnivals."

"Huge parking area."

"Nice place to spend your evening with your loved ones with exploring the culture of different countries in one place."
Cons
"Crowded on weekends."

"Stores can be super annoying and forceful to sell their products."

"Navigating around the global village is a nightmare, you will have to search for certain shops you're looking for. No maps are available to help you."

"Washrooms are not very clean."
Photos
Videos
In conclusion, Global Village Dubai is a unique and exciting destination that offers visitors a glimpse into the cultures and traditions of more than 90 countries around the world.
With its wide range of attractions, including amusement rides, live performances, shopping, dining, and cultural exhibits, it's no wonder that millions of visitors flock to this iconic destination every year.
The park's convenient parking facilities and multiple entrances make it easy for visitors to enjoy all that it has to offer. Whether you're looking for a fun day out with family or friends or want to experience something new and exciting, this place is worth a visit.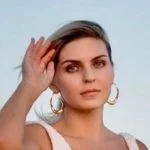 I am Anastasia, the author of this blog and a passionate and experienced traveler who resides in the UAE.
I have visited every Emirate, every popular sight, and every hidden gem.
I m here to help you make your trip to the UAE unforgettable.