Experience the thrill and beauty of a Dubai Yacht Tour. Whether you join one of the shared tours or opt for a private tour, you will be sure to enjoy breathtaking views of Dubai's skyline as you cruise the waters in comfort and style.
You will explore some of the city's most iconic landmarks from the unique perspective that only a yacht can offer.
Soar past futuristic skyscrapers, marvel at man-made islands, and take in stunning vistas across the Arabian Gulf all while enjoying delicious refreshments on board.
Read further to learn about all the options, prices, and tips.
Reasons To Rent A Yacht
Sightseeing. Renting a Dubai Yacht Tour is an ideal way to experience the beauty of this city from a unique perspective. From exploring the city's iconic landmarks to taking in the stunning views of the Arabian Gulf, yacht tours offer a variety of experiences for everyone. On board, you can enjoy refreshments while enjoying the luxurious amenities such as air conditioning, comfortable seating, and even swimming pools. You can also take advantage of the tour's knowledgeable guides who will provide insight into some of Dubai's most impressive sights.
Water Sports. Water sports activities are a great way to add an extra element of excitement to your Dubai Yacht Tour. You can choose from thrilling activities such as wakeboarding, water skiing, and others for an unforgettable experience.
Fishing Trips. Fishing trips are a great way to make the most of your Dubai Yacht Tour. Whether you're an experienced fisherman or just looking for some fun, this type of tour offers something for everyone. The local skipper will provide you with all the fishing gear to be ready to get the fish once you set out into the waters off Dubai's coast. Species like Tuna, Harmour, Marlin, B

arracuda, and Sharie

beneath the waves provide exciting catches for all the anglers. Also, you will be able to choose an o

ption to do grilling on the yacht. If you would like, you can also choose one of

deep sea fishing charters.
Special Occasions ( Birthday Party, Anniversary, Wedding, Romantic Dinner). Yacht tours are also perfect for special events or occasions such as birthdays, anniversaries, or graduations. The exclusive feel of being on a luxury yacht
allows you to create unforgettable memories with your family and friends without having to worry about overcrowding or noise levels. Plus, there is no better way to explore Dubai than on a luxury yacht surrounded by glimmering waters and amazing skyline views. You can order special decorations with flowers, balloons, a red carpet welcome, a birthday cake, DJ, and a premium buffet with beverages for extra.
Where To Book a Yacht Tour
Tiqets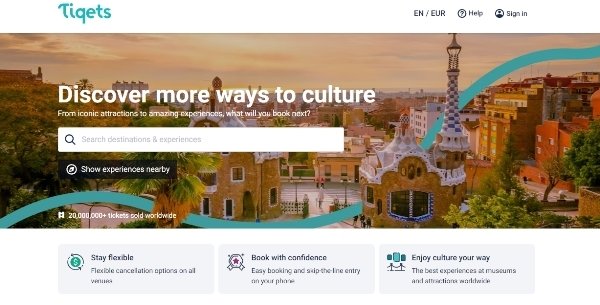 4.5 rating and more than 30 593 reviews on Trustpilot
Free cancellation prior 24/72 hours *(for most tickets)
Skip-the-line service *(for most tickets)
8+ payment methods
24/7 support
Mobile tickets with instant delivery
Convenient app
GetYourGuide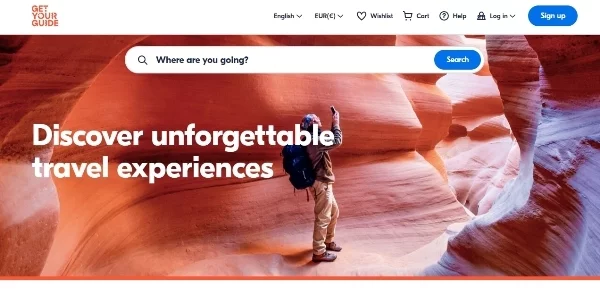 4.4 rating and more than 20 235 reviews on Trustpilot
Reserve now & pay later
Free cancellation before 24 hour
Transfer (Optional for some tickets)
Regular promotions
24/7 support
Available in 23 languages and 40 currencies
RaynaTours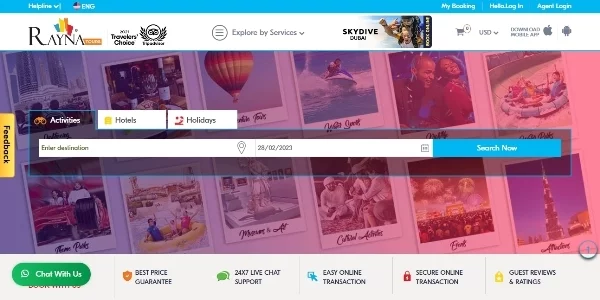 4.9 rating and more than 20 802 reviews on Trustpilot
Free cancellation before 24 hours
Pick up & Drop Back Service (Optional)
24/7 Online help
Best Price Guarantee
Viator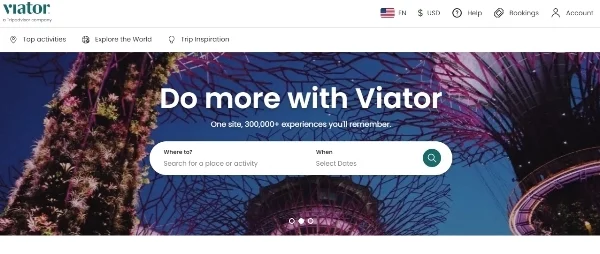 4.2 rating and more than 108 240 reviews on Trustpilot
Reserve Now & Pay Later
Free cancellation *(For some tickets)
24/7 customer support
Lowest price guarantee
Klook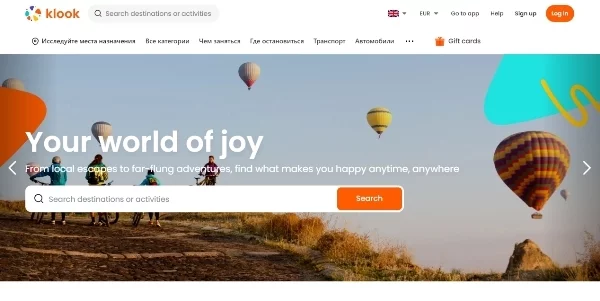 3.3 rating and more than 4446 reviews on Trustpilot
Free cancellation before 24 hours
24/7 customer service
Guaranteed best prices and offers
Private Yacht Tours
What Affects The Price
The price of a private yacht tour in Dubai depends on various factors, such as the type of yacht that you wish to rent, the number of guests that you are bringing along, the route, and the duration of your tour.
Additionally, the price may vary depending on whether you want to rent for a day or multiple days. The amenities included in your package will also influence the cost.
Common amenities can include catering services, jet skis, fishing equipment, and entertainment onboard.
If you choose to book a guided tour with an experienced captain and other crew members, there may be additional fees associated with this service.
The time of year during which you plan to take your tour is also important when determining cost; peak season prices tend to be higher than off-season rates.
Ultimately, it's essential to compare prices and packages from different providers before deciding on a particular tour operator for your Dubai yacht experience.
Pros
A private yacht tour in Dubai offers numerous benefits that you can't get from a shared tour.
First and foremost, you have the freedom to determine your own route so you can make sure that your experience is tailored to your interests and preferences.
With a private charter, you won't have to be concerned about other passengers changing or disrupting your plans.
Additionally, you'll have exclusive access to luxurious amenities such as a private sun deck, comfortable seating areas, and more.
Private charters also provide the opportunity for private dining experiences with custom menus prepared by an onboard chef.
Finally, a private yacht tour allows you to enjoy an intimate experience of the Arabian Gulf away from crowds of tourists and large groups of other boaters.
Cons
Renting a private yacht can be a costly option, with prices ranging significantly depending on the size of the boat, the amenities provided, and the duration of your trip.
It is also important to consider any additional fees that may be charged for services such as fuel, cleaning, or catering.
Options
Dubai: Private Yacht Tour
Experience luxury at its finest while cruising aboard a private luxury yacht in the gorgeous Dubai Marina. Marvel at the stunning monuments and landmarks of modern Dubai while being served by a professional and friendly crew.
As you embark on your private tour, enjoy a welcome drink and take in the breathtaking views as the yacht sails past iconic sites such as Palm Jumeirah, Atlantis, and Burj al-Arab.
Take a dip in the lagoon or let your hair down to chill-out music while the captain drops anchor. Choose between a 2-hour or 3-hour tour that ends back in the Dubai Marina.
Duration: 2-5 hours
Price:  AED 1,606.21 per group up to 20
What is included:  Private yacht tour, Water, soft drinks, Fresh towels, Lifejackets, Music
Dubai: Marina Private Luxury Yacht Tour
Marvel at the city's iconic landmarks from the comfort of our luxurious yacht, while enjoying impeccable hospitality and unmatched scenery. The expert team ensures that you get the most unforgettable experience possible, with stops at renowned landmarks such as the Lagoon, JBR, Skydive area, Kempinski, Atlantis, and the Anchor. Take a dip in the JBR area or swim in the lagoon before partying with chill-out music onboard. Your luxurious cruise culminates at the Dubai Marina, leaving you with memories that will last a lifetime.
Duration: 2-5 hours
Price: AED 1,814.42 per group up to 15
What is included:  Private luxury boat tour, Crew, Swim stop
Dubai: Private Yacht Charter from Dubai Marina
Experience the ultimate luxury cruise on a private yacht and be captivated by the beauty of Dubai's skyline. Your adventure begins when you meet your private skipper at Dubai Marina and board the 42-foot motor luxury yacht. Amenities such as a spacious sun deck, indoor saloon, cabins, washroom, and kitchen are all available for your convenience.
While cruising on the crystal blue waters, take in the stunning panoramic views of Palm Island, Burj Al Arab, Sheikh Palace, and Jumeirah Beach. Don't forget to bring along your own food and music to make this a customized open-water adventure.
Duration: 2- 8 hours
Price:  AED 1,281.59 per group up to 10
What is included:  Air-conditioned yacht, Water and ice, Refrigerator and cooler box, Crew and captain, Life jackets, Restroom on board, Music system, BBQ for cooking (available on 4-hour cruises, you need to inform the activity provider one day before), Towels, Fishing equipment (available on 4-hour cruises, you need to inform the activity provider one day before)
Dubai: Sea Cruise with Swimming, Tanning, and Sightseeing
Escape the scorching city heat and embark on a luxury cruise from Dubai to cool off in the sea. Admire the stunning cityscape from a unique vantage point as you sail past iconic landmarks like the Burj Al Arab and Atlantis the Palm Hotel. Choose between a 1-hour cruise that showcases the Dubai Marina and Jumeirah Beach Residence, or a 2-hour voyage that will take you past the exclusive developments of Palm Jumeirah and beyond.
The cruise is available both as a non-private and private option for up to 6 people, allowing you to tailor the experience to your preferences and budget. Enjoy a refreshing swim in the sea and soak up the sun's rays in the Persian Gulf. Bring your own food and drinks or enjoy a picnic on board as you listen to your favorite tunes on the boat's high-quality stereo system.
Duration: 1-2 hours
Price:  AED 730.76 per group up to 6
What is included:  Water, Soft drinks, Life jackets, Stereo system, Bathroom, Inside cabin, WI-FI
Shared Yacht Tours
What Affects The Price
duration – guests pay for each hour on the way, so long excursions will cost more;
route – companies form the cost taking into account the popularity of the tour, for example, routes around Palm Island are among the most expensive;
time of day – morning tours cost less, and daytime and evening tours cost more;
whether food and drinks are included – companies organize food and drinks, including alcohol, which increases the price tag by 20-40%, and in the case of alcohol – up to 60%;
the availability of a transfer – if there is a delivery to the port, then guests must pay about $30-50 on top;
availability of live music and programs on board – for live music and entertainment programs, on average, they charge from $ 30 per hour.
Pros
Shared yacht tours offer a cost-effective way to experience the beauty of Dubai from sea level.
A shared yacht tour allows travelers to save money without sacrificing luxury, as guests can still enjoy all the amenities and features.
Guests will be accompanied by a professional tour guide who will provide valuable information about the sights they visit, as well as ensure their safety throughout the journey.
Since they're split between several people, shared yacht tours also help to reduce carbon footprint and promote responsible tourism in Dubai.
Cons
You will have more people onboard than on private yacht tours, which can make it difficult to relax and enjoy the journey.
Moreover, these tours also tend to stick more closely to the predetermined itinerary than private ones, making it difficult for guests to customize their experience or spontaneously visit certain locations.
Luxury Dinner Cruises
Options
Dubai: Superyacht Experience with Live Music & Drinks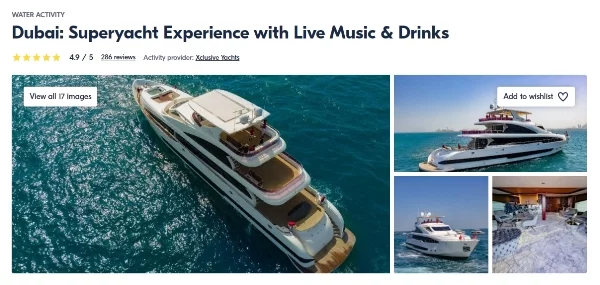 Experience luxury like never before aboard a 144-foot super yacht with 3 decks, operated by a prestigious yacht charter company with over 15 years of experience and serving over 1 million guests annually in Dubai. Enjoy a red-carpet welcome and let the crew cater to your every need while you explore the stunning sights of Jumeirah Beach Residence, Palm Jumeirah, Bluewater Island, and more.
Relax in any of the six spacious cabins or dine in elegance on the well-equipped boat with a dining area. Head to the top deck, where the DJ keeps the party going, and take in the breathtaking views of the Ain wheel, JBR, and Bluewater Island while indulging in premium beverages.
Duration: 3 hours
Price:  AED 311.88 per person
What is included:  Guide, Captain, Yacht cruise, Live DJ, WiFi, Swim time, Mario Kart game console, Life jackets, Drinks (tea, coffee, water, soft drinks, juice, beer, wine), Breakfast/lunch/dinner (if selected)
Dubai: Marina Yacht Cruise with Breakfast, Lunch, or Dinner
Indulge in a luxurious and tranquil waterfront experience as you explore Dubai's must-see attractions on a Dubai Marina boat tour. Sip on refreshing fresh juice as you board your yacht, and enjoy the convenience of drinking water available throughout your journey, with a crew ready to attend to your every need.
As you make your way through Dubai's iconic landmarks, marvel at the towering Burj Al Arab Hotel, the stunning Dubai Eye, and the bustling Dubai Harbor and Big Cruises. Soak in the scenery of the popular Jumeirah Beach and the Palm, and continue past the legendary Burj Al Arab Hotel.
Whether it's breakfast, lunch, or a mouth-watering BBQ dinner, savor your meal amongst the lavish and posh comforts of your 5-star dinette and cabin. Sit back, relax, and unwind in the lounge area, where you can soak up the sun or seek refuge in the shade to your heart's content.
Duration: 2 hours
Price: AED 174.80 per person
What is included:  Yacht cruise, Captain and crew, Live tour guide, Sliced fruit and fresh juice, Unlimited water, coffee, and soft drink, Light breakfast with pastries, Turkish labneh, fruit, cheese, butter & jam (if option selected), BBQ lunch or dinner buffet, including Arabic bread, Fattoush salad, hummus, BBQ vegetables, shrimp, chicken, kababs, veggie rice, and Umm Ali (if option selected)
Dubai Marina: Yacht Tour with Breakfast or BBQ
Sail through the stunning Dubai Marina to Bluewaters Island, capturing sights of the iconic Dubai Eye, Jumeirah Beach, and the world-famous Palm, while passing by the majestic Burj Al Arab.
Indulge in a red-carpet welcome as you board your yacht, and choose from a scrumptious breakfast or a delightful barbecue option. Spend quality time socializing and networking aboard the 64-foot vessel, all while enjoying a spacious yacht with state-of-the-art amenities, including a beautiful dinette area and 3 well-lit cabins.
Duration: 2-3 hours
Price: AED 158.45 per person
What is included:  Yacht cruise, Virtual tour guide, Captain, Life jackets, Light breakfast (if option selected), BBQ buffet (if option selected), Lounge with free Wi-Fi access
Dubai: Marina Dinner Cruise with Drinks & Live Music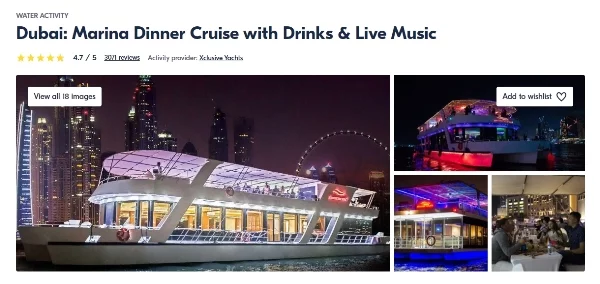 Step aboard a plush, glass-enclosed boat and embark on a dinner cruise that will take you through the stunning sights of Dubai Marina, Ain Wheel, and JBR.
Relax and feel like a VIP with our red-carpet treatment, complimentary drink, and the freedom to explore the boat's two decks. Savor a delectable buffet of continental and oriental dishes complemented by refreshing juices and thirst quenchers. And, let the melodic music add a romantic vibe to your evening.
After the sumptuous dinner on this Dubai Marina boat tour, unwind on the outdoor terraces and be mesmerized by the breathtaking view as you head back to the dock. Your tour services end at an estimated time of arrival of 10:00 PM. Book your unforgettable experience and let us make your dream cruise come true.
Duration: 1.5 hours
Price:  AED 168.99 per person
What is included:  Return yacht cruise, Buffet dinner (if option selected), Unlimited soft drinks, juices, water, tea, and coffee (if option selected), Non-alcoholic welcome drink on arrival, Live Music, Free wifi on board, Lounge
Dubai: Mega Yacht Cruise with Buffet Dinner
Embark on a luxurious city sightseeing cruise of Dubai that will take you on a magical journey of flavors and panoramic views. Sail past iconic landmarks such as the Palm Jumeirah and Atlantis Hotel, while indulging in a scrumptious buffet dinner.
Set sail from the Dubai Marina district and bask in the mesmerizing surroundings. Take in the fresh sea breeze as you cruise across Jumeirah Beach Residence and the iconic Dubai Ferris Wheel before reaching the famous Atlantis Hotel.
Satisfy your palate with the wide range of delicious canapes and dishes served at live cooking stations by the yachting pool. As you move to the main dining area, treat yourself to an array of both local and international flavors.
Wrap up the incredible experience by returning to the departure point, where your Dubai Marina boat tour will come to an end.
Duration: 3-3.5 hours
Price:  AED 249 per person
What is included:  Professional captain and crew, Safety equipment, Live entertainment, in-house DJ, AC, International buffet dishes, Alcoholic beverages (Additional Charges), soft drinks, juices, water, Bar and food service, Separate VIP area with food station (Applicable for VIP tickets), VIP priority check-in lounge with welcome soft refreshments. (Applicable for VIP tickets)
Traditional Boat Tours
Options
Tickets for Dubai Sunset Abra Cruise with High Tea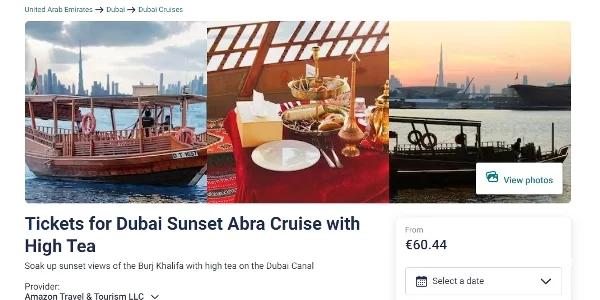 Experience Dubai's culture in a unique way by taking a traditional Abra ride along the Dubai Canal. As you glide along the water, you'll see breathtaking views of Downtown Dubai, Burj Khalifa, Mohammed Bin Rashid Library, and more.
Don't miss out on the opportunity to indulge in tasty Emirati delicacies during our High Tea as you cruise aboard the oldest form of public transport in Dubai.
End the day on a high note as you witness the stunning sunset from the water.
Duration: 1 hour
Price:  AED 240
What is included:  Abra cruise on the Dubai Canal, Emirati high tea and delicacies, Guided commentary
Tickets for Dubai Sightseeing Abra Cruise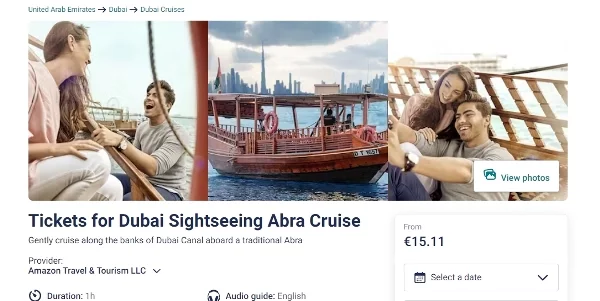 Step back in time and climb aboard a traditional Abra boat, the oldest form of public transport in Dubai. With its sturdy wooden build, it was the key link between Deira and Bur Dubai, moving men and goods along the creek.
Experience Dubai's vibrant culture from a new perspective as you glide down the Dubai Canal. Enjoy breathtaking views of Downtown Dubai, Mohammed Bin Rashid Library, and the iconic Burj Khalifa.
For a truly unforgettable experience, opt for a sunset cruise. Listen to a taped commentary and take in the golden hues of the setting sun.
Duration: 1 hour
Price:  AED 60
What is included:  Cruise, Audio-guide
Tickets for Dubai: Ocean Empress Dinner Cruise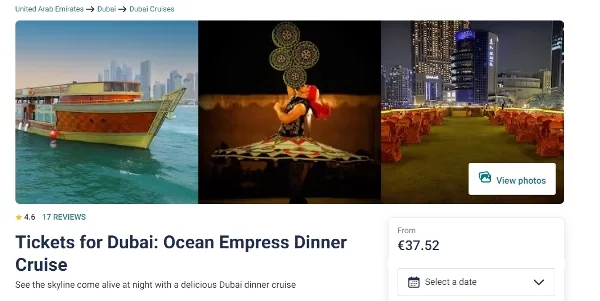 Experience the luxurious side of Dubai like a celebrity on a dinner cruise aboard the stunning Ocean Empress. With a red carpet entrance, this VIP-style vessel spans four decks and offers uninterrupted panoramic views of the city's skyline from anywhere on the boat.
Sip on a welcome drink while enjoying live entertainment, taking in the dazzling sights of Bluewaters Island, Jumeirah Beach Residence complex, and the artificial Palm Islands. See how the city lights reflect on the water to create an unmatched, breathtaking glow.
Indulge in a wide selection of international dishes from the buffet, while treating yourself to drinks of your choice to purchase onboard. For added extravagance, choose the VIP package with included champagne. After dinner, return to the marina, ready to continue your unforgettable night in Dubai.
Duration: 2 hours
Price: AED 149
What is included:  2-hour Cruise, Buffet Dinner, Welcome drinks on arrival, Red carpet entrance, Alcoholic drinks (if selected)
Tickets for Black Pearl Sightseeing Cruise
Set sail on an unforgettable pirate adventure in Dubai! With your parrots and eye patches at the ready, climb aboard the UAE's only pirate-themed boat at Dubai Creek Harbour.
Cruise through Ras Al Khor Wildlife Sanctuary and past the Mohammed Bin Rashid Library, all while admiring the stunning panoramic views of Dubai's skyline. Keep an eye out for the world's tallest building, the mighty Burj Khalifa, which looks even more impressive from the water.
As you sail, enjoy the onboard music and indulge in tasty snacks like popcorn, soft drinks, and water. And be sure to take in the breathtaking sunset on the horizon.
Duration: 1 hour
Price:  AED 125
What is included:  One-hour cruise on Dubai Creek Harbour, Soft drinks and water, Captain Jack Sparrow and crew, Popcorn, Music on board, Life Jackets
Tickets for Dubai Creek Dhow Cruise with Dinner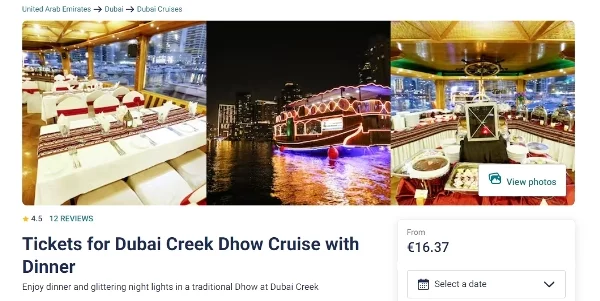 Experience the magic of Dubai by dining on a traditional Bedouin dhow! Sip on a refreshing welcome drink as you set sail, and indulge in mouth-watering barbecue dishes.
Take in the stunning sights of Dubai's architectural marvels, all illuminated by night lights.
Enjoy a sumptuous buffet featuring a wide variety of vegetarian and non-vegetarian dishes, along with live music and Tanoura dancing.
Duration: 1.5 hours
Price:  AED 65
What is included:  Shared hotel transfer (if selected), 90-minute cruise, Welcome drinks, coffee, tea, and water, Tanoura show and soft background music, International buffet dinner with BBQ items
Speed Boat Tours
Options
Dubai Speedboat Tour: Marina, Atlantis, Palm & Burj Al Arab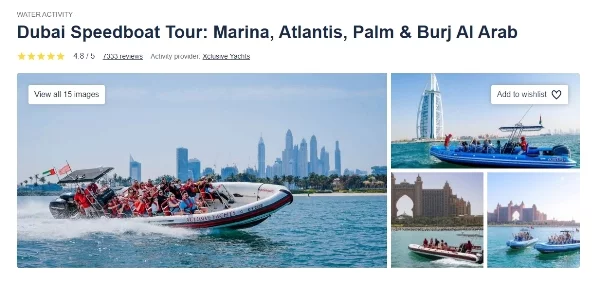 Experience the exhilaration of a speedboat tour and witness the beauty of Dubai from the water.
Departing from the renowned Dubai Marina, our tour will take you on an incredible journey to key landmarks like the iconic Dubai Eye Wheel and the opulent Burj Al Arab.
Along the way, you'll cruise past splendid hotels, exquisite beaches, and more. Conducted by an expert guide, this tour is bound to leave you with unforgettable memories.
Duration: 1.5 hours
Price:  AED 112.66
What is included:  90-minute sightseeing cruise, Live commentary from an English-speaking guide, Photo opportunities, Complimentary chilled bottled water, Professional safety life jackets, Brand new rigid inflatable boats
Tickets for 75-minute Atlantis Boat Tour: Dubai Marina Palm Jumeirah & Atlantis Tour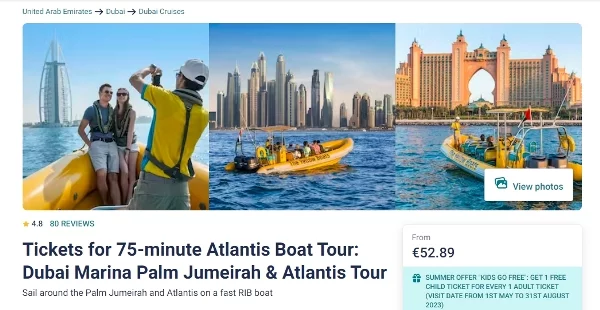 Experience the luxurious beauty of Dubai on a thrilling 75-minute boat tour. Starting at the superyacht-filled Dubai Marina, prepare to be awed by the stunning sights of Palm Jumeirah's 5-star hotels and posh villas.
Your guide will capture amazing photos of you to commemorate the trip. Continue the adventure to Atlantis, The Palm – a modern wonder with a dolphin park and underwater suites.
Don't miss the chance to propose in their romantic underwater restaurant, where a diver will surprise your loved one with a "Will You Marry Me?" sign.
This tour is your ticket to marvel at the wonders of modern-day Dubai on the glittering waters of the Arabian Gulf.
Duration: 1 hour 15 min.
Price:  AED 210
What is included: 75-minute Palm Jumeirah and Atlantis Tour, 10% discount on The Yellow Boats deep sea fishing charters in Dubai (by showing your smartphone ticket when booking on-site), 1 bottle of water, Commentary about the sights by a personal guide, Photo opportunities, Lightweight life jacket
Tickets for Dubai Marina Boat Tour: Adrenaline Fun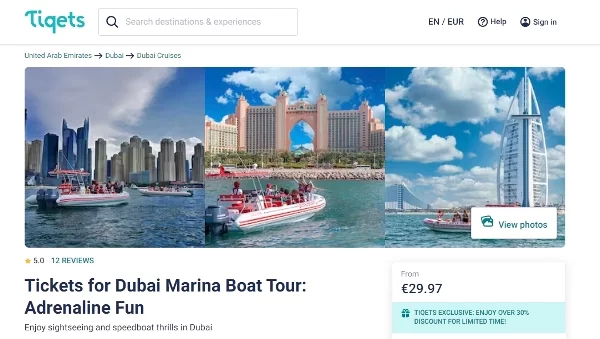 Experience the beauty of Dubai in just 90 minutes with our popular tour of Dubai Marina! Embark on a water-level sightseeing cruise and enjoy thrilling speedboat action as you tour some of Dubai's most iconic landmarks.
Starting at the Dubai Marina Lagoon, we'll take you to Palm Jumeirah's Atlantis the Palm Hotel and then head to the Burj Al Arab, one of the world's most luxurious seven-star hotels.
But that's not all – you'll also be able to see the world's largest Ferris wheel up close as we pass underneath Ain Dubai. Get ready to zoom, whip, and feel the refreshing spray of water as you go!
Don't worry about safety as they will provide life jackets for all the guests.
Duration: 1 hour
Price:  AED 130
What is included:  90-minute cruise, Bottled water, Lightweight life jacket, Professional guide
Tips
Book your tour in advance to ensure availability and the best prices.
Bring along a camera to capture all the amazing views of the city skyline, including Ain Dubai, Burj Al Arab, and JBR.
Choose between a morning, afternoon, or sunset tour for a unique experience.
Enjoy light breakfast, dinner, or BBQ options on board the yacht.
Make sure to bring sun protection such as hats, sunglasses, and sunscreen if you're going on an afternoon or sunset tour.
Don't forget to bring your swimming gear if you want to take a dip in the sea.
F.A.Q.
How much is a yacht trip in Dubai?
The price for a private tour starts at AED 700 per hour.
The price for a shared tour starts at AED 60 per hour.
How much does it cost to rent a private yacht in Dubai?
The average price for renting a private yacht in Dubai can range from AED 500-700 per hour to AED 13,000 per hour. Factors such as the size of the vessel and the type of services offered will affect the cost. For example, a luxury yacht charter may be more expensive than a motorboat rental.
How much does it cost to rent a yacht for a day in Dubai?
If you're looking to rent a yacht for a day in Dubai, you'll find that the cost can vary depending on the type of yacht and amenities you choose. Motorboats typically range from AED 8000 per day, while luxury yachts can start at around AED 16000 per day.
What should I bring with me to the Yacht tour Dubai Marina?
If you're planning to take a yacht tour in Dubai Marina, there are a few things you should bring with you. First and foremost, make sure to bring sunscreen and sunglasses to protect yourself from the sun's rays especially if your cruise is planned for morning or daytime.
You'll also need to bring some snacks and drinks (if they are not included in your tour), as well as a camera or phone for capturing memories of your tour. Additionally, it's important to wear comfortable clothing according to the weather that won't restrict your movement while on the boat.
Will there be music on the Yacht Dubai Marina?
Depending on the chosen provider and tour you can have a cruise with live music or DJ.
Do we need to wear life jackets on Yacht Rides in Dubai?
During speed boats tour all the guests need to wear life jackets, while during other tours it is not necessary.
A Dubai Yacht Tour is a great way to experience the beauty of this city from a unique perspective. Whether you choose a shared tour or a luxury private yacht charter, be sure to come prepared with all the necessary items for your journey.
Don't forget snacks and drinks (if this option is not included), comfortable clothing that won't restrict movement on board, and some kind of camera device to take pictures and capture memories!
Depending on your provider and package, there may also be music or entertainment program available during your cruise.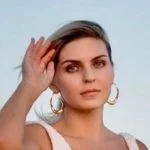 I am Anastasia, the author of this blog and a passionate and experienced traveler who resides in the UAE.
I have visited every Emirate, every popular sight, and every hidden gem.
I m here to help you make your trip to the UAE unforgettable.