Welcome to Yas Waterworld, Abu Dhabi's biggest aqua park! This thrilling water paradise, which is situated on the lovely Yas Island, has more than 40 amazing rides, slithering slides, and immersive experiences for the whole family. Y
as Waterworld offers a large range of attractions with varying levels of adrenaline, so there is truly something for everyone.
You will find yourself immersed in a world of non-stop excitement and adventure as soon as you set foot in the watery paradise. Surf endless waves, free-fall down a water slide, or ride the tornado water coaster with your friends.
Yas Waterworld promises an amazing day, regardless of your age or preferences for an adrenaline rush.
Not only does Yas Waterworld provide thrilling attractions, but it also boasts fantastic amenities to ensure a comfortable and enjoyable visit.
Convenient transportation options such as a free bus service make it easy for you to maximize your time on the island. So pack your swimsuit, sunscreen, and sense of adventure, and get ready to dive into a world of fun activities at Yas Waterworld Abu Dhabi City!
About
Yas Waterworld Abu Dhabi is an Emirati-themed 37-acre waterpark located on Yas Island in Abu Dhabi, United Arab Emirates. This amazing waterpark is home to more than 40 rides, slides, and attractions, offering a diverse range of seasonal events and shows for endless fun for the whole family.
Located in the heart of the entertainment district, Yas Island, the waterpark attracts residents and tourists, especially during the hot desert months. It's an ideal place to cool down and have fun under the Abu Dhabi sunshine.
What's more, it's only a 10-minute drive from the Abu Dhabi airport, making it a great spot for passengers on a layover.
Some of the park's notable attractions include the world's largest sheet wave for an unforgettable surfing experience.
Yas Waterworld has even received recognition from the prestigious World Travel Awards as the Middle East's Leading Water Park.
With its convenient location and a variety of water features waiting to be explored, Yas Waterworld guarantees an unforgettable experience, no matter what's your thrill level.
Interesting! Yas Waterworld Abu Dhabi has won more than 80 international honors and distinctions, including being voted the "World's Leading Waterpark" at the 2018 World Travel distinctions.

Aside from the over 50 industry medals and honors from top organizations in the sector, other prizes include a Silver Award for Innovation in Consumer Events and a Gold Award in Innovation in the Use of Celebrities, both from the Stevie medals.
Key Facts About Yas Waterworld in Abu Dhabi
Year Opened: 2013
The time needed: 6+ hours
Best time to visit: October-March
Tickets Price: from 295 AED
Dining Options: 3 restaurants (Salma's Snack Shack, Chubby's Kitchen, Dana's Diner) & 2 kiosks (Gahwat Nasser, Skinnys Frozen Treats)
Shops: 4 shops (Sultan & Sons, QARYAT AL JEWANA, Jewana Photo, Tawasha Pearl Shop)
Lifeguards: Yes
Towel Rental: Yes (40 AED)
Sun loungers: Yes
Private cabanas: Yes (349 AED)
Lockers: Yes (45 AED)
Changing Rooms: Yes
Showers: Yes
Wheelchair and stroller accessibility: Yes
Parking: Yes (free)
Wi-Fi: Yes (free)
Fast track: Yes (150 AED)
Height restrictions: depend on the ride (mostly 1.1-1.2 m)
Pool Heating/Cooling: Yes
Opening Hours
From Sunday to Thursday, Yas Waterworld opens its doors at 10:00 AM and keeps the family fun going until 8:00 PM.
If you're planning to visit on a Friday, it's essential to know that the park holds a special event called Ladies' Day. From 01:00 PM to 10:00 PM, Yas Waterworld welcomes the ladies to enjoy their time at the park exclusively. This unique event provides a comfortable and enjoyable experience in a female-only environment.
On Saturdays, the park extends its opening hours from 10:00 AM to 9:00 PM. Saturdays are particularly great for those who want to make the most of their weekend, enjoying an extra hour of fun at Yas Water World.
Tickets Options
Important! You can get free access to Yas Waterworld Abu Dhabi when booking one of the following hotels: Hilton Abu Dhabi Yas Island, W Abu Dhabi Yas Island, Double Tree by Hilton Yas Island, The WB Abu Dhabi, Crowne Plaza Abu Dhabi Yas Island, Park Inn Radisson Abu Dhabi Yas Island, Centro Yas Island, Staybridge Suites Yas Island.
Booking Policy
When booking tours and activities with online providers, it's important to know the cancellation and rescheduling policy. Some providers offer more flexibility than others.
For example, with GetYourGuide, you can cancel for free up to 24 hours before the activity. Viator also offers a 24-hour cancellation policy. Tiqets and Klook both offer a 48-hour cancellation policy, but Tiqets gives you a chance to reschedule the date 48 hours in advance. However, with RaynaTours, bookings are non-refundable.
Best Rides
For Kids
Yas Waterworld offers a variety of rides and attractions specifically designed to keep your kids entertained:
Tot's Playground: This is a fun and interactive play area designed for young children. It features a variety of water features and slides that are safe and easy for little ones to use. Parents can relax in the nearby loungers while keeping an eye on their kids. Height restriction: 150-210 cm
Yehal: This is a thrilling waterslide that sends riders on a high-speed journey through twists and turns. The ride features dumping buckets that add an extra element of excitement.
Cannon Point: It is situated beneath the Bandit Bomber ride, providing a unique experience as the ride passes overhead and showers visitors with water. For those looking to get in on the action, water cannons are available to shoot back at the riders.
For Thrill-seekers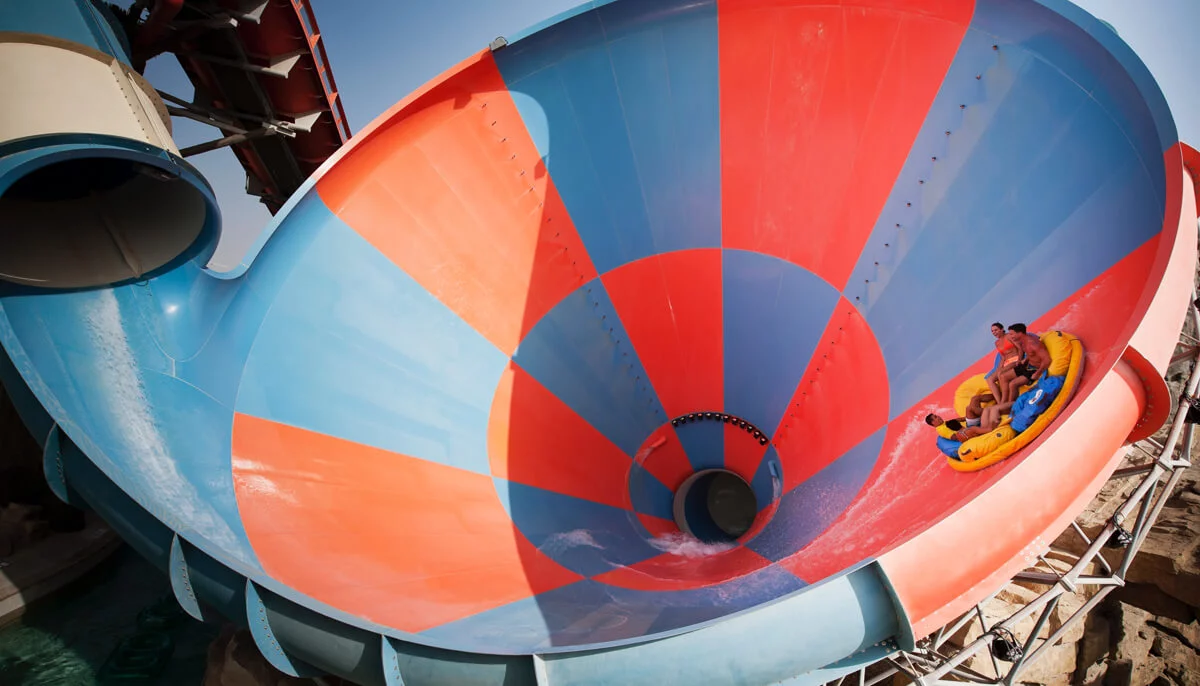 If you're looking for adrenaline-pumping rides, Yas Water World definitely has you covered:
Rush Rider: This is a thrilling ride that simulates the experience of surfing on a giant wave. Riders can test their balance and skills as they ride the wave. Minimum height: 110 cm
Bubbles Barrel: One of the park's most exhilarating activities, Bubbles Barrel, transports visitors on a surfing adventure through the biggest sheet wave in the world. Minimum height: 110 cm
Liwa Loop: This ride sends riders on a high-speed journey through a series of twists and turns. The ride's highlight is a vertical drop that sends riders plummeting down a near-vertical slide. Minimum height: 120 cm
Dawwama: The largest six-person tornado water coaster in the world has an innovative design that sends passengers spinning around a massive funnel before plummeting them out the bottom. Minimum height: 130 cm
Hamlool's Humps: This ride is a series of steep, hump-shaped water slides that send riders flying down at high speeds. It's a classic water slide experience that's sure to get the heart racing. Minimum height: 120 cm
Slithers Slide: This ride features a series of twisting and turning slides that are sure to thrill visitors. It's a great choice for those looking for a high-intensity water slide experience. Minimum height: 110 cm
Sebag: It's a fun and exciting ride that's sure to leave visitors feeling dizzy as you slide head-on. Minimum height: 110 cm
Jebel Drop: This ride is a high-speed water slide that sends riders flying down a steep drop at high speeds. It's a classic water slide experience that's sure to get the adrenaline pumping. Minimum height: 120 cm
Bandit Bomber: This ride is a roller coaster/water slide hybrid that sends riders on a thrilling journey through twists, lost caves, and turns. The ride features water cannons that allow riders to shoot at targets and other riders. Height restriction: 100-205 cm
Falcon's Falaj: The gigantic six-seat water coaster on this attraction is the longest one ever made! Have a great time with your friends or family! Minimum height: 110 cm
Relaxing
For a calmer and more leisurely time, Yas Waterworld offers several relaxing attractions for you to enjoy. Here is the unique version of the text as a list of rides:
Cinesplash: For a unique and immersive entertainment experience, check out Cinesplash. This underwater theater features captivating 5D movies that are sure to keep you entertained.
Al Raha River: If you're looking for a more relaxed water activity, take a leisurely float down the Al Raha River. It's a great way to cool off and enjoy the scenery.
AMWAJ Wave Pool: For a calming and refreshing dip, head to the AMWAJ wave pool. Lounge on the pool's edge or take a relaxing swim in the gentle waves.
Yadi Yas: For a chance to unwind and float along a lazy river, visit Yadi Yas. This attraction is perfect for those looking for a more leisurely water experience.
Marah Fortress: This multi-level play structure features numerous aquatic activities for everyone to enjoy. It's a great option for families and kids looking for a fun and engaging water play area.
Check out all the rides for the full Yas Waterworld experience!
Facilities
You'll discover a variety of amenities at Yas Waterworld that are intended to make your time there pleasant. There are four restaurants and food stands scattered throughout the park, so let's start with the different dining options.
As for shopping, Yas Waterworld offers an assortment of retail outlets where you can pick up souvenirs, swimwear, and other essentials. For a broader shopping experience, Yas Mall is just a stone's throw away, boasting world-class brands and dining establishments.
You'll also appreciate the ample free parking spaces provided at the water park, which make arriving by car a breeze.
Once inside, you'll find a range of conveniences, like the mother's lounge, where you can relax and take care of your little ones in a private, comfortable space. Moreover, Yas Waterworld offers prayer rooms to cater to the spiritual needs of visitors.
To ensure a smooth experience for all guests, Yas Waterworld provides stroller and wheelchair rentals and features well-maintained toilet facilities throughout the park. For your peace of mind, the park also offers locker rentals (from 45 AED) to secure your belongings.
Staying safe and hygienic is a priority at Yas Waterworld. That's why the park has a professional lifeguard service, as well as clean changing rooms and shower facilities that make it easy to freshen up after a fun day in the water.
Finally, if you happen to misplace any items during your visit, don't fret! The Lost and Found counter is available to assist you in recovering your possessions.
For a touch of luxury, consider renting an Al Waha Cabana for 349 AED which comes with VIP butler service, complimentary towels, a mini-fridge, and a safe for your valuables.
Note! Only 7 km away from Yas WaterWorld you can find Seaworld Abu-Dhabi, marine life theme park, animal research, rescue, and rehabilitation center.
Location

Yas Waterworld is located in the heart of the entertainment district on Yas Island, Abu Dhabi.
The address is Yas Island – Abu Dhabi.
This fantastic water park is just a short 20-minute drive from the city of Abu Dhabi, making it an accessible and fun-filled destination for the whole family.
Yas Island is also home to other exciting attractions such as Ferrari Park, SeaWorld Abu Dhabi, Yas Marina Circuit, and Warner Brothers, so you can easily spend a whole day or even a weekend exploring this entertainment hub.
Alongside Yas Waterworld, you can enjoy shopping, dining, and visiting other top attractions.
How To Reach
It's easy to get there whether you're traveling from Dubai or Abu Dhabi itself. Here are a few options to help you plan your visit.
If you prefer to travel by bus from Dubai, you can take the 106 bus directly to the water park. The bus trip typically takes around 2 hours, so sit back and enjoy the ride.
For those starting in Abu Dhabi, you have a few bus options as well. You can take either the Line 160 bus, The Line 190 bus, or the Line 216 bus to reach Yas Waterworld, Yas Island Abu Dhabi. Bus routes will take you close to the spot with minimal hassle, so pick the one that suits your schedule the best.
Once you reach Yas Island, you can take advantage of the complimentary Yas Express shuttle service provided by most hotels in the Yas Island area.
Finally, if you're looking for a more direct option, taxis are a popular choice for visitors coming from both Dubai and Abu Dhabi. Taxis will take you straight to Yas Waterworld's entrance, making it a convenient choice for those wanting a quick and hassle-free transportation option.
Yas Waterworld Map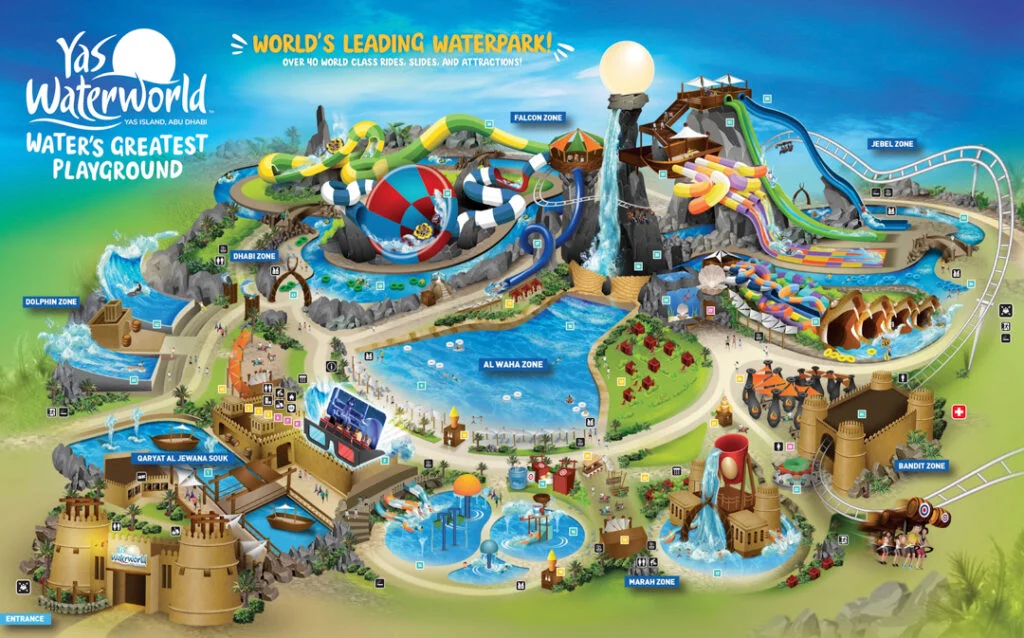 Rules
At Yas Waterworld, it's essential to follow some important rules to ensure a safe and enjoyable experience for everyone. Here's a friendly reminder of what to keep in mind during your visit.
Adhere to the dress code. Yas Waterworld requires guests to wear modest swimwear that covers the body appropriately, with swimwear made of water-friendly material. Remember, regular clothes are not allowed at the attractions.
Follow safety measures. This includes following height/weight restrictions, listening to lifeguard instructions, and not running in the park. Your safety is a priority at Yas Waterworld.
No inflatables are allowed in the park. This helps maintain a safe environment for all guests, so kindly leave your inflatables at home and enjoy the variety of experiences on offer at the park.
A strict no-photography policy during ladies' days. This rule ensures the utmost privacy for female guests, so be sure to respect their privacy and leave your cameras behind on these special days.
Yas Waterworld is a non-smoking zone. Smoking is not allowed in the park, allowing everyone to breathe clean air and have a refreshing experience. Designated smoking areas are available outside the park for your convenience.
Tips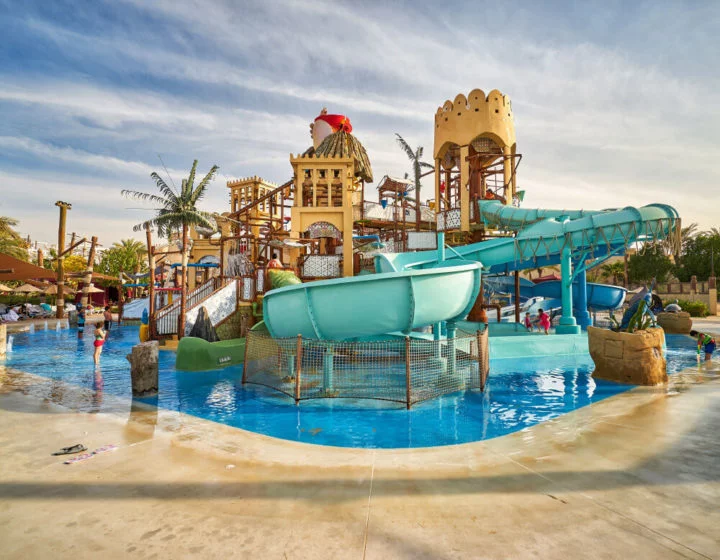 Visiting Yas Waterworld Abu Dhabi can be an exciting adventure for you and your family. To make the most of your experience, here are a few tips to keep in mind:
Plan ahead: Before your trip, check the operating hours and available attractions to ensure you have enough time to enjoy all your favorite rides and activities.
Avoid visiting on public holidays and weekends, as there will be too many people.
Think of buying fast-track if you planning your visit during weekends and holidays. It costs around AED 150.
Dress comfortably: You'll be spending a lot of time in the water, so make sure to wear proper swimwear. Also, don't forget to bring a change of clothes for when you leave the park.
Sun protection: Yas Waterworld is an outdoor park, and you'll be exposed to the sun throughout the day. Wear sunscreen, sunglasses, and a hat to stay protected.
Stay hydrated: With all the excitement and physical activity, it's important to stay hydrated. Make sure to drink plenty of water throughout the day, and take advantage of the various food and beverage options available within the park.
Pack essential items: Bring along necessary items like towels, soap, shampoo, and deodorant for a refreshing shower after a long day of fun. Also, remember to carry a waterproof bag or container for your valuables, like your phone, wallet, and keys.
Enjoy the thrilling rides: Yas Waterworld is home to several adrenaline-pumping rides like the Dawwama, Liwa Loop, and Sebag. Make sure to try these out to get the adrenaline rush and high speed!
Following these tips will help you have a memorable and enjoyable day at Yas Waterworld, making the most of your visit to this water's greatest playground.
Reviews
Here are the most noted pros and cons of Yas Waterworld Abu Dhabi.
Pros:
Fantastic rides, slides, and attractions
Clean and well-maintained facilities
Great for families
Enough deck chairs and lots of shade
Friendly and helpful staff
Cons:
Long queues for rides and attractions
Expensive entry fees and fees for the towel rental and lockers
Crowded during peak times
Limited and overpriced food options
F.A.Q.
What is the price for Waterworld?
Yas Waterworld offers various ticket options and prices depending on the type of admission you choose. Usually, regular ticket cost starts at AED 295. For accurate and updated pricing information, it's best to check their official website and our table in the 'Tickets Options' section.
How many rides are there at Yas Waterworld Abu Dhabi?
Abu Dhabi Yas Waterworld boasts over 40 rides and attractions for visitors to enjoy. There's something for everyone, from thrilling water slides to relaxing pools and play areas for children!
What are the Yas Waterworld opening times?
The opening times for Yas Waterworld can vary throughout the year, so it's always a good idea to check their official website for the most up-to-date information before planning your visit. Now you can visit Yas Waterworld Abu Dhabi from Sunday to Thursday 10:00 AM-8:00 PM, Saturday 10:00 AM-9:00 PM and Friday is Ladies' Day from 01:00 PM to 10:00 PM.
What should I wear to Yas Waterworld?
You should wear comfortable and modest swimwear while at Yas Waterworld. Keep in mind that swimwear should be suitable for a family-friendly environment and have no abrasive clothing accessories. Don't forget to bring a pair of water shoes or flip-flops to protect your feet from the hot surfaces.
Can I buy Yas Waterworld tickets at the entrance?
Yes, you can purchase Yas Water World tickets at the entrance. However, buying tickets online in advance can save time and sometimes offer better deals.
When is the best time to visit Yas Waterworld?
It depends on your preference. If you prefer cooler weather and smaller crowds, consider visiting during October-March. For warm weather enthusiasts, summer can be an ideal time, but it's helpful to remember that the park may be busier during this season.
What is special about Yas Waterworld?
Abu Dhabi Yas Waterworld offers unique, innovative attractions such as the UAE's first-of-its-kind underwater VR experience and the world's biggest sheet wave. The park also features a diverse range of water slides, pools, and activities that cater to all ages, making it a fantastic destination for kids and thrill-seekers alike.
Is it safe to go to Yas Waterworld?
Yas Waterworld is committed to ensuring the safety of all its guests. The park regularly updates its safety measures and maintains strict standards for ride maintenance and water quality. Additionally, lifeguards and staff are trained to handle emergencies and assist guests in need.
Photos
Videos
Yas Waterworld in Abu Dhabi is a fantastic destination for both residents and tourists looking to escape the heat and have some fun. With its Emirati-themed design and over 40 rides, slides, and attractions, there's something for everyone to enjoy at this premier waterpark.
If you're on the lookout for adrenaline-pumping activities, the Yas Waterworld experience won't disappoint. Test your bravery on some of the park's exhilarating rides, or challenge yourself to conquer the unique attractions like the region's only water cinema.
Afterward, you can cool down at the park's large wave pool and grab a delicious bite like frozen lemonade, BBQ wings, and fried chicken at one of the dining options available.
Therefore, remember to add Yas Waterworld to your travel plans if you're seeking fun theme parks (together with Warner Bros. World Abu Dhabi) and a refreshing day of entertainment in Abu Dhabi.
You won't be let down, and it will leave you with long-lasting memories of your time at Abu Dhabi Yas Waterworld thanks to its variety of attractions and incredible views.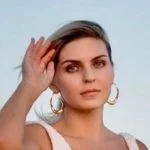 I am Anastasia, the author of this blog and a passionate and experienced traveler who resides in the UAE.
I have visited every Emirate, every popular sight, and every hidden gem.
I m here to help you make your trip to the UAE unforgettable.