The United Arab Emirates is an amazing destination for camping experiences, with its stunning desert landscapes and incredible coastlines. From the rugged Hajar Mountains to the lush oases of Al Ain, there are a variety of campsites in the UAE offering something for everyone so you will definitely find the perfect camping spot for you whether you are traveling just with your family or with large groups of friends.
Whether you're looking for a remote escape or an adventurous weekend getaway, camping in the UAE will provide you with unforgettable experiences.
In the UAE there are campsites for every taste: by the sea or lake, in the sand dunes of the desert, or in the mountains. And there are many operators offering camping trips throughout 2023; from budget-friendly glamping options to luxury tented retreats and off-road safaris – all providing an authentic taste of life under the stars in this beautiful part of the world!
So if you're looking to explore some new terrain and experience nature at its best, then look no further than these top campsites and operators for camping in 2023!
Actually, all camping sites can be divided into three types:
Wild camping. Camping in permitted places where there is no electricity, water, light, toilet, or other facilities. You just need to choose a place and set up your camp there. In this case, you need to prepare well in advance and take all the camping equipment and everything you may need with you for your convenience.
Campsites are in specially equipped places where you can find shared toilets, showers, electricity, and some common areas (pool, barbecue, parking), but all food must be taken with you. In such places, you can put up your tent, or rent it on the spot. Some accommodations may even have a private toilet and bathroom.
Glamping. The most comfortable options where you can also order dining – breakfast, lunch, or dinner in addition to all amenities,  And often there is even Wi-Fi. In general, you can not take anything with you except personal items.
Depending on your desires, you can choose a camping experience for your needs.
Table with a list of best locations for camping
| Name | Type | Emirate |
| --- | --- | --- |
| Liwa Oasis | Desert camping | Abu-Dhabi |
| Al Khaznah | Desert Camping | Abu-Dhabi |
| Al Razeen Desert | Desert Camping | Abu-Dhabi |
| Shipwreck Beach | Beach campimg | Abu-Dhabi |
| Al Dhafra Beach | Beach campimg | Abu-Dhabi |
| Al Wathba Lake Camp | Beach campimg | Abu-Dhabi |
| Mirfa Beach | Beach campimg | Abu-Dhabi |
| Bab Al Nojoum – Al Mugheirah Resort | Glamping/ Desert | Abu-Dhabi |
| Bab Al Nojoum | Glamping/ Beach | Abu-Dhabi |
| Green Mubazzarah Chalets | Glamping/ Nountains | Abu-Dhabi |
| Nujum Camp At Qasr Al Sarab Desert Resort by Anantara | Glamping/Desert | Abu-Dhabi |
| Tilal Liwa | Glamping/Desert | Abu-Dhabi |
| Al Qudra | Desert camping/ Near Lake | Dubai |
| Lahbab sands | Desert camping | Dubai |
| Hatta | Mountain camping/// wildlife | Dubai |
| Hatta Sedr Trailer Camp | Glamping/Mountain | Dubai |
| Bianky Beach | Resort Camping//Beach camping | Ajman |
| Fossil Rock | Desert camping | Sharjah |
| Al Dhaid Desert | Desert camping | Sharjah |
| Mleiha Camp | Glamping/Desert | Sharjah |
| Moon Retreat | Glamping/Desert | Sharjah |
| Al Rafaah | Beach campimg | Umm Al Quwain |
| Mangrove Beach | Beach campimg | Umm Al Quwain |
| Umm AL Quwain Beach | Beach campimg | Umm Al Quwain |
| Ras Al Khaimah desert | Desert camping | Ras Al Khaimah |
| Jebel Jais | Mountain camping/// wildlife | Ras Al Khaimah |
| The Dunes Camping | Glamping/ Desert | Ras Al Khaimah |
| Longbeach Campground | Glamping/ Beach | Ras Al Khaimah |
| RAK Glamping | Glamping/Desert | Ras Al Khaimah |
| Banan Beach Resort | Glamping/ Beach | Ras Al Khaimah |
| Bedouin Camps | Glamping/ Desert | Ras Al Khaimah |
| Al Aqah | Beach campimg | Fujairah |
| Snoopy Island | Beach campimg | Fujairah |
| Wadi Sana | Mountain camping/// wildlife | Fujairah |
| The Retreat camp | Glamping | Fujairah |
| Al Hajar Mountains Camping Site | Mountain camping/// wildlife | near Oman |
| Acacia Forest | Mountain camping/// wildlife | near Oman |
| White Sands Beach | Beach campimg | near Oman |
Camping places in Abu Dhabi
Desert campings
Liwa Oasis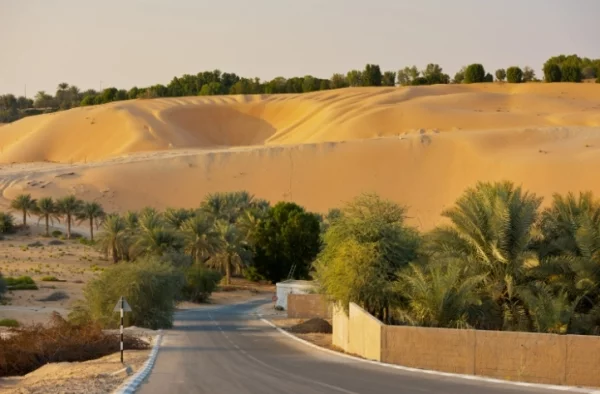 The Rubh Al Khali, also known as the Empty Quarter, is a section of the broader Arabian Desert and is the world's biggest contiguous sand desert, spanning 650,000 square kilometers over Saudi Arabia, Oman, the United Arab Emirates, and Yemen.
The center of it all is the breathtaking Liwa Oasis, which many claim offers the best desert camping experience.
It is advised to have at least a few automobiles and an experienced guide for the company when a beginner ventures into the desert in Liwa Oasis near Abu Dhabi.

Al Khaznah
Al Khaznah is a great Abu Dhabi camping place for free where you can get a taste of nature.
This location is perfect for off-roading excursions amid towering dunes and deep-dish sand valleys because of the stunning dunes that span between Abu Dhabi and Al Ain.
The overnight safari campground with facilities is another alternative for camping in the Al Khaznah neighborhood of Abu Dhabi.
You may pay extra for dune bashing, quad biking, sand boarding, and a trip to the camel farm whether or not you intend to stay at the official campsite.
In addition to an oasis and camping, take in the breathtaking sunsets and surrounding desert vistas.

Al Razeen Desert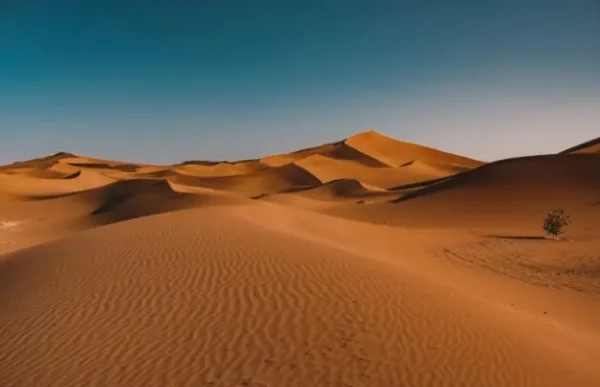 Al Razeen Desert Campsite is a great choice if you don't mind camping site in a remote location in Abu Dhabi.
Set up camp with friends, spend the evening playing games, roasting marshmallows, and singing while the food is being cooked on the grill.

Beach campings
Shipwreck Beach
The Shipwreck Beach is an attractive camping location that lets you take advantage of the clear sea while admiring the Rub Al Khali in the distance. It is a relatively remote beach that is only a 25-minute drive from the city of Ruwais, Abu Dhabi. As the location is wild and secluded, don't expect to find any amenities there, and carry all the food and camping gear you'll need.
Feel free to take a walk down the shore and get your feet wet because the waters close to the beach are very shallow and won't reach much deeper than knee height.

Shuweihat Island
The magnificent and remote Shuweihat Island is a camping site situated off the coast of Abu Dhabi. The region features beautiful beaches with pure water that is ideal for swimming, spectacular rock formations, and starry skies at night. The rocky landscape and rock formations beside the shore make for wonderful photo opportunities.
You might need to make travel arrangements because the island is far away. Before making the drive to the island to go camping, make sure to load up on petrol and other necessities. There is a UAE military facility nearby; be cautious to avoid it. Beaches and other areas of the island are accessible to the general public.

Al Dhafra Beach
Al Dhafra Beach in Abu Dhabi is a stunning beachside camping destination. This secluded spot overlooks the Arabian Sea and makes for an idyllic escape from the hustle and bustle of city life. Visitors to Al Dhafra Beach can explore its many attractions, such as pristine white sand beaches, crystal clear waters perfect for swimming, and a host of activities for adventure seekers.

Al Wathba Lake Camp
About a 45-minute drive separates Al Wathba Lake Camp from Abu Dhabi's downtown. One of the nicest Abu Dhabi camping spots in the area is the gorgeous lake tucked away in a desert environment.
The vast terrain at this specific camping location in Abu Dhabi may be cycled around on a designated trail.
Al Wathba Lake Camp offers a total of 13 free camping sites. There are cafés, food trucks, restrooms, a jogging path around the lake, a 1.2-kilometer bike path, two volleyball courts, seven playgrounds, and a sizable gathering area among the attractions accessible to the public.
The Al Wathba Salt Lake, the wildlife reserve, and the fossil dunes are all worthwhile stops while you're around.

Mirfa Beach
Al Mirfa Beach in Abu Dhabi is another fantastic beachfront location. Many locals will be familiar with the beach, but many may not be aware that it also makes an excellent camping location. It's hidden away around 90 minutes drive from Abu Dhabi.
Although Mirfa Beach provides amenities, you still need to pack everything you need for camping. Take a stroll on the beach where you may partake in some of the adventure sports that Mirfa Beach has to offer before you pitch your tent for the night.

Glamping
Bab Al Nojoum – Al Mugheirah Resort
This camping trip is unlike any other. This opulent desert hideaway in Abu Dhabi is close to the shore and gives visitors a chance to take in the beauty and peace of the area.
The resort offers both big groups and individuals a variety of well-planned lodging alternatives, including caravans and cabins.
You may experience an unusual form of camping at Bab Al Nojoum Al Mugheirah Resort, which fuses luxury with the outdoors. Flat-screen televisions, Wi-Fi, air conditioning, and comfy mattresses are all features of lodging.
Also, there are individual restrooms and showers, power, and round-the-clock security for guests. Together with these features, the resort also offers on-site dining options and bars, as well as complimentary bikes, an outdoor pool, and nighttime entertainment.
For those looking to explore the local area, there is plenty to do around the resort too. Go hiking or cycling across the vast sand dunes or take a mountain bike ride through the majestic desert landscape.

Bab Al Nojoum – Hudayriyat Island
The Mugheirah Resort is an eco-tourist attraction in Abu Dhabi, located at the beach.
There are a ton of activities available for visitors, such as snorkeling, tennis on site, or cycling in the surroundings. There is a children's playground as well.
Visitors of this glamping area can spend the day or the night in one of several types of lodging: a tent, a cottage, a caravan, a mobile home, a bungalow, or a chalet.
Also, you can have breakfast or lunch there.
For your convenience, there is free Wi fi and spacious parking.

Green Mubazzarah Chalets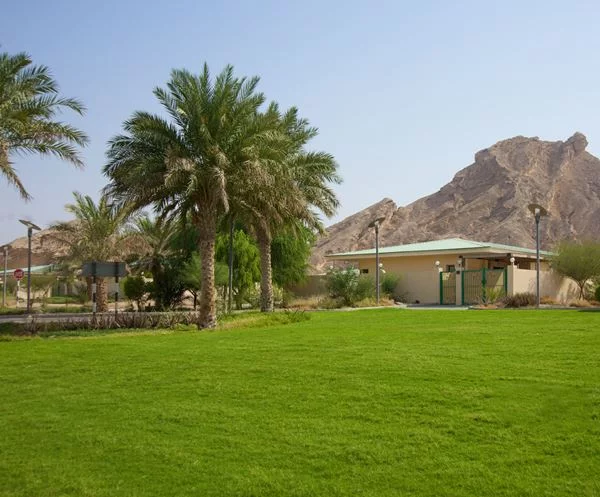 At the base of the Al Ain mountains, the Green Mubazzarah Chalets provide visitors with a tranquil escape. The beautiful surroundings at Jebel Hafit's base highlight Al Ain's abundant natural riches.
Families, explorers climbing the mountain, and campers spending the night in tents at the base are all gathered at the well-liked Abu Dhabi Camping and picnic spot.
The Green Mubazzarah offers a wide range of events. from miniature railways to thermal springs. not to mention the artificial lake and the green hillside.

Nujum Camp At Qasr Al Sarab Desert Resort by Anantara
This hidden getaway with chic desert castle decor offers a beautiful view while being peacefully located inside the Liwa Desert. Also, it has a spa, a gym, and an outdoor pool.
The lodging in Qasr Al Sarab is decorated in earthy tones and opulent fabrics. Sliding glass doors that open to a patio with desert views are included in every room. They include a pillow menu, a rain shower, and a deep soaking tub.
The hotel's Desert Excursion Center arranges desert hikes, dune-bashing excursions, and camel treks. For younger visitors, the Anantara Qasr Al Sarab also has a kid's club and a tennis court available. Horseback riding, archery, and mountain biking are other activities.
The outdoor pool, which is flanked by sun loungers and palm trees, provides relaxation after a day of exploring the desert. As an alternative, visitors may experience the genuine hammam or unwind with a soothing massage at the Anantara Spa.
Fine Arabic cuisine is served at Anantara's Al Waha restaurant, while French influences may be seen in Suhail's menu. The Ghadeer restaurant offers light fare in an island setting that is reachable via bridges.
Two hours' drive from Abu Dhabi, this desert resort has free parking and Wi-Fi.

Tilal Liwa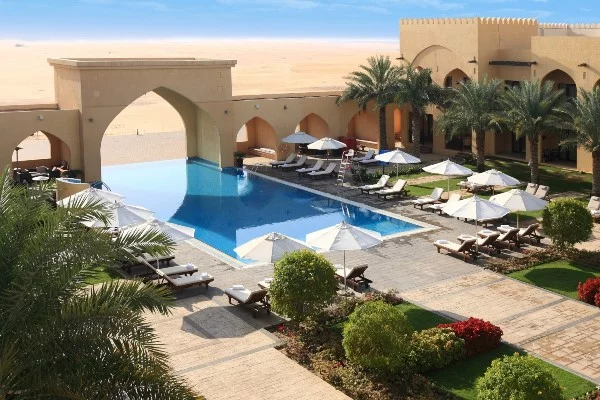 The infinity pool and sun lounger terrace of this 4-star resort provides stunning views of the Rub al Khali Desert. Tilal Liwa offers roomy, luxurious accommodations with an Arabian-inspired design.
Views of the garden, swimming pool, or desert are available from every air-conditioned accommodation at Tilal. There are furnished balconies in some rooms. Each bathroom has toiletries, and each room has a satellite TV.
The two on-site eateries provide both domestic and foreign food. In Al Liwan, patrons may take in the relaxed ambiance and garden views, or they can dine in Al Badiya's open kitchen while watching the cooks produce their food. Layali offers drinks in a cozy setting for guests.
Visitors have the option of taking a desert safari excursion or relaxing in the steam room. There are also sandboarding activities available.
There are some of the tallest dunes in the Middle East at Moreeb Dunes, and Tilal's 24-hour reception can arrange safari expeditions there.

Camping places in Dubai
Desert camping
Al Qudra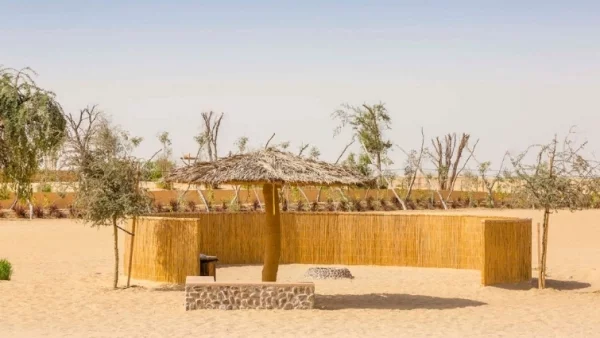 Those who seek a complete camping experience with the security of the Dubai cityscape in the distance can choose Al Qudra Lakes as their first campground.
It is only 30-40 minutes far from Dubai's city center.
This is one of the more accessible locations for tourists because it doesn't require a 4×4 and extensive camping supplies.
You may go far and wide within this expansive location, which has the famous dual environment of an oasis and desert topography.
With so many lakes, including the Love Lakes and the Last Lake of Al Wudra, you're sure to spend the weekend taking photos of the diverse fauna and lovely scenery.
There you will find public toilets which are very convenient.
But you will not find any rentals or shops so take everything with you.

Lahbab sands
Lahbab Sands is one of the most secluded and beautiful campsites in Dubai. Located approximately 40 kilometers from the city center, it offers a unique desert camping experience to those who are brave enough to take it on. The large sandy area provides plenty of space for campers to explore and set up their tents.
From Fossil Rock, where dune bikers frequently pass by, campers set off on their adventure. Speed driving on dunes, where the sifting wind creates problems for motorcycles, is sometimes heaven for dunes bashers.
A 300-foot-tall sand dune known as "The Big Red" that everyone who enjoys dune-bashing wants to climb is the center of attention in the region.
It is ideal for first-time campers despite frequently being overrun by frothing tourist crowds. And at night, it's a treat to watch the stars from the shoddy sands.

Mountain camping
Hatta
The Hatta sceneries may be comfortably explored from the luxury of their own caravan or tent by outdoor enthusiasts who wish to genuinely be one with nature.
The Grounds is the ideal location to acquire a distinctive perspective of the nearby national park.
Outdoor adventurers in the UAE can leave their automobiles parked close to their campsites for quick access to and from the Grounds.
There are barbecue pits are set nearby, and those who want to dine without cooking can go to the food trucks parked at the Hatta Wadi Hub.
It is best to use a 4*4 because driving across rocky terrain is possible. Dubai campers may have a really rewarding time in the Hatta Mountains.
Make the most of your time in Hatta if you're going camping and trying out all the other exciting things to do there, including going to the renowned Hatta Dam and participating in Hatta Kayaking.
Hatta Dam is famed for its turquoise waters.

Glamping
Hatta Sedr Trailer Camp
Hatta Sedr Trailers Resort offers accommodations with private balconies in Hatta.
The 2-star hotel features air-conditioned rooms with free Internet and a terrace. The motel has a barbeque and views of the mountains.
Each accommodation has a coffee maker, a TV, and a safety deposit box.
Some rooms have a balcony, while some offer views of the lake. There is a minibar in each guest room. The hotel offers a halal breakfast and lunch for additional pay.
Also, it offers bike rental, and the region is well-known for hiking and riding.

Camping spots in Ajman
Beach camping
Bianky Beach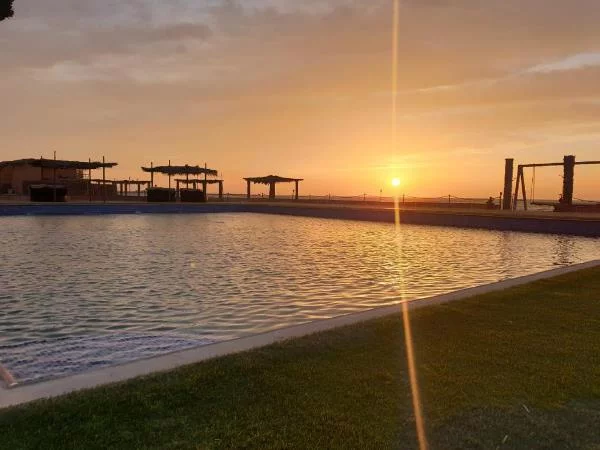 One of the favorite camping locations for visitors and residents alike is found at Al Zorah Beach in the emirate of Ajman. For those who are sick of the rush of city life, the Bianky Beach Camp, which is situated on this well-known beach, offers tents and coastal wooden picnic areas to its guests.

Camping places in Sharjah
Desert camping
Fossil Rock
A massive rock protrudes out of the sand in the middle of a desert about a one-hour drive from Sharjah. The boulder is known as the Fossil Rock because it contains some exquisitely preserved remains of extinct sea creatures.
This rock's presence has transformed the region around it into a fantastic camping location.
You may camp close to the rock and trek to it to be rewarded with a breathtaking view of the desert surroundings. The region's extensive dunes make it a haven for off-roaders as well.

Al Dhaid Desert
The oasis village of Al Dhaid, which is located in the Al Dhaid desert, is about 60 kilometers east of Sharjah. From Sharjah, you may go directly to the desert by taking the E88 route.
It might be challenging for travelers to choose the ideal camping location in Al Dhaid due to its size. Nevertheless, if you keep traveling down the E88 road, you will soon come to an open area that is ideal for putting up your camp.
In addition, you may stop by Sharjah Desert Park the route to Al Dhaid Desert. It serves as a facility for the preservation of threatened desert plants and animal species.
The park also has a petting farm where kids and their families may interact with domestic farm animals.

Glamping
Mleiha Camp
Consider spending a night in the Mleiha camp near Sharjah if you want to indulge your inner explorer. In the heart of the desert, Mleiha Archaeological Center has a fully furnished camping area.
You'll need to set out on foot through the desert to get to the camp.
The camp provides the necessary equipment for stargazing, which is followed by a great BBQ party. In the morning, breakfast is also provided at the camp.

Moon Retreat
The Sharjah-based Moon Retreat offers rooms with air conditioning, free Internet, and access to a patio.
A private bathroom with a shower and free amenities are available.
The deluxe tent offers a halal breakfast every day.
Cycling is possible nearby, and there is a barbeque on the property.

Camping spots in Umm Al Quwain
Beach Camping
Al Rafaah
Nothing beats drifting off to the sound of the waves. For camping in Umm Al Quwain beach in the UAE, go to the Al Rafaah region.
Simply take the Dreamland Aqua Park to exit off of the Sheikh Mohammed Bin Zayed highway going towards Ajman, and then follow the directions towards Al Rafaah.
Сheck if camping is allowed as it is prohibited in some areas of this beach.

Mangrove Beach
Mangrove Beach in Umm Al Quwain is a great place to unwind. A peaceful getaway from the rush of daily life can be found at Mangrove Beach, which is tucked away on the calm Arabian Gulf coastline. Take enjoy the breathtaking vistas while swimming, kayaking, or just relaxing at the beach.
Build a campfire to retell tales you've shared with loved ones around at night, or just relax and look up at the sky. Mangrove Beach is the ideal location for a relaxing camping vacation because of its distinctive ambiance.

Umm Al Quwain Beach
This camping place is situated along Dubai's coastline and is considered to be among the greatest beach camping locations in the UAE.
While many campers choose to set up their tents close to the water, it is essential to check the tides before choosing a location.
Enjoy fishing, kayaking, and bird viewing are all enjoyable activities with frequent flamingo sightings.
Things become exciting at the shore of Al Ras, so bring your best fishing equipment, binoculars, and barbecues. A typical pleasant and distinctive camping experience by the sea.

Camping places in Ras Al Khaimah
Note that camping on public beaches is prohibited by Ras Al Khaimah Municipality Department. The ban was implemented due to concerns about the distortion of the general appearance of the emirate and the hindrance caused to other beachgoers' enjoyment of the public space. This decision aims to ensure that the public can freely enjoy the beaches without the presence of camping equipment.
Desert camping
Ras Al Khaimah desert
You might choose to camp close to the farms or visit Ras Al Khaimah's breathtaking dunes. The local vegetation and animals are fantastic reasons to camp overnight.
You won't have any trouble spotting native wildlife like the Arabian oryx in addition to the banyan, palm, and ghaf trees that line the desert.
Many wild birds are a common sight at this time of year, some of which migrate from cooler climates. But, keep in mind that it is extremely off-road and in the middle of nowhere, so overnighters must bring enough food and water in addition to other necessities.
Check out the best Ras-Al-Khaimah tourist destinations.
Mountain camping
Jebel Jais
The world's longest zip line and is located atop the UAE's tallest mountain, which is also a popular camping location. City people love camping at this location in the United Arab Emirates. Jebel Jais boasts rocky terrain with breathtaking panoramas and a winding drive to the peak.
Campers have a wide range of alternatives for choosing the best position (or height) to put up their tents and settle in for the night thanks to the numerous Wadi beds along the route. As the night goes on, it may become a little too windy and cool, so bring extra blankets and fuel to remain warm.
But, keep in mind that it is not permitted to make a fire on the ground, so we advise using a fire pit or a grill instead.

Glamping
The Dunes Camping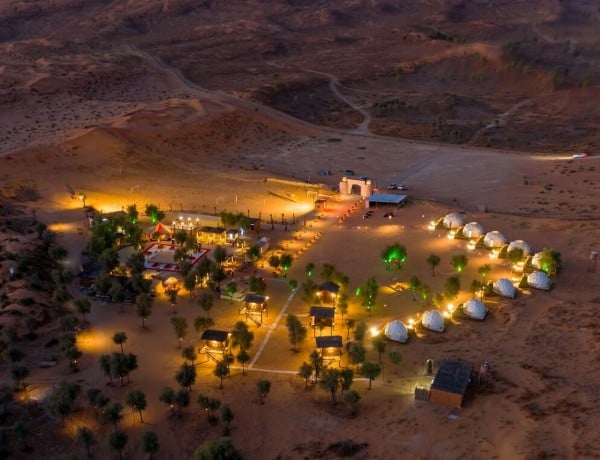 The Dunes Camping in Ras Al Khaimah is the perfect destination for your next camping trip! Located within a lush oasis of dunes, The Dunes Camping provides luxury amenities and adventure activities to ensure an unforgettable stay.
Here you can enjoy walks along the white sand dunes, explore the natural surroundings with like-minded campers or simply relax and take in the desert ambiance.
With its comfortable lodgings and stunning views, The Dunes Camping is sure to be an unforgettable experience for everyone. For visitors free private parking is available. The campsite offers a breakfast buffet each morning.

Longbeach Campground
Ras Al Khaimah's Longbeach Campsite is the ideal location for a luxurious glamping trip. The campsite has elegantly decorated tents and bungalows. Some of them had private bathrooms, while others had shared ones.
Also, there are many enjoyable things available, like a floating theater, a beach, a pool, a spa outside, water sports, and more.

RAK Glamping
RAK Glamping in Ras al Khaimah offers lodging, a garden, an outdoor pool, a patio, and BBQ places. It also has garden views.
Each unit has air conditioning, a private bathroom, and a kitchenette with a burner, microwave, and refrigerator. Some apartments feature a patio or balcony with mountain views.
With patches of Ghaff Trees, a Koi Pond, and breathtaking vistas of the Hajjar Mountains, nine secure acres of desert pleasure dunes.
You should be aware that it is a dog-friendly location if you want to travel with your pet.

Banan Beach
Banan Beach offers lodging with an outdoor swimming pool, free private parking, a garden, and a patio in Ras al Khaimah, 7.4 miles from Al Hamra Mall.
This property's amenities include a restaurant, room service, a 24-hour front desk, free Internet, and more. A bar is accessible to visitors.
Some rooms have a kitchen with a refrigerator. The resort offers a continental, vegetarian, or vegan breakfast. The hotel provides a grill.
Cycling is one of the activities that visitors to Banan Beach may take advantage of in and around Ras al Khaimah.

Bedouin Oasis Desert Camp
Experience glamping among miles of sand dunes and breathtaking natural beauty while gazing up at starry night skies.
Choose between cabins with private bathrooms and toilets and tents with shared bathrooms and toilets.
Bed linen, an outside seating space, and a fireplace are extras.
A bar and barbeque amenities are also available. There is free parking on the premises.

Camping spots in Fujairah
Beach camping
Al Aqah
One of the most popular and stunning places to camp in the UAE is Al Aqah Beach. It is situated on Fujairah's east coast and provides breathtaking views of the Indian Ocean.
Swimming, tanning, fishing, and beach lounging are all available to visitors.
There are several eateries close by, so you won't have to worry about running out of food. For a quick adrenaline rush, you may also participate in a variety of water activities.

Snoopy Island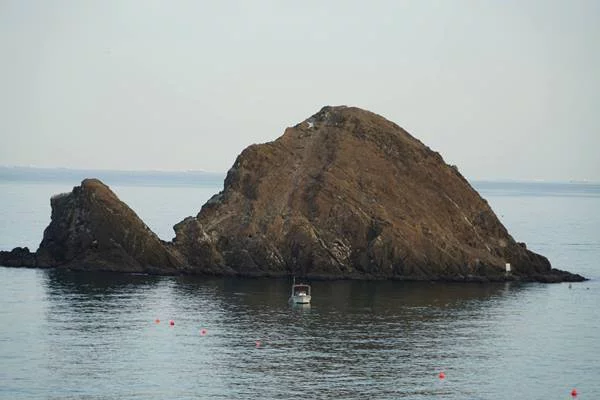 Snoopy Island is an idyllic camping spot off the coast of Fujairah.
It is surrounded by natural beauty and provides the perfect backdrop for camping under the stars.
Visitors of Snoopy Island can explore the island's beaches, take in breathtaking views and enjoy a range of activities such as fishing, snorkeling, and diving.
It is known as Snoopy Isle among English-speaking people due to its resemblance to the cartoon character Snoopy.
The island itself can be reached only by boat or by swimming.
The Al Aqah beach is next to this little, rocky island. Keep in mind that due to the island's popularity and tiny size (approximately 100 meters in length), you might not always be able to find an empty camping place.
Yet it will be an unforgettable event, so it's absolutely worth a try.

Mountain camping
Wadi Sana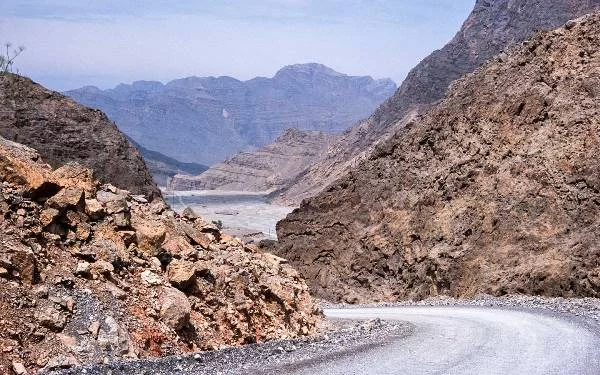 The camping trip destination of Wadi Sana charms you from the start of your adventure. The scenery changes as you go between Dibba and Masafi from sandy deserts to rocky mountains, and finally, you'll find yourself on a highland with breathtaking views of the landscape below.
You may trek the steep landscape or take in the views while camping in Wadi Sana. As Wadi Sana has some of the greatest mountain biking trails in the UAE, you can also bring a bike and make the most of this camping location.
You'll need a 4*4 to get about Wadi Sana's rugged terrain if you intend to go camping there.

Glamping
The Retreat camp
The Retreat located in a hidden gem in the middle of nowhere offers accommodations with access to a garden with a patio and air conditioning.
There is a private bathroom with a bidet and complimentary amenities.
Every morning, breakfast is offered and includes buffet, vegetarian, and halal options.
You can find nice hiking routes nearby.

Camping Spots Near Oman
Mountain camping
Al Hajar Mountains Camping Site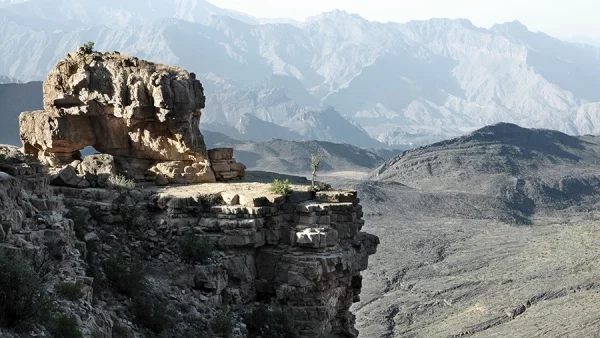 Al Hajar Mountains Camping Site is a tranquil camping destination located in the heart of the Hajar Mountains near the Oman-UAE border.
This area is rich in natural beauty and provides spectacular views over the surrounding mountains.
Visitors to Al Hajar have the opportunity to explore lush valleys, go on hikes or simply relax by the campsite fire and observe an incredible night sky. Usually, this trip is preferred by experienced campers.
When camping at Al Hajar, it's important to take all necessary safety precautions and respect local customs and wildlife.
Don't forget to pack all your rubbish when leaving so that this beautiful destination remains unspoiled!

Acacia Forest
When you explore Dubai's mountainous terrain properly, you can find a soothing camping spot; the Acacia forest. It is located in Musandam's mountains, 10 kilometers from Khor Najd.
The Acacia forest can be hard to find, so it's best to explore the area with other campers who have already been there. Convoy camping is a good way to stay on track and avoid getting lost.
At night, the tranquility of this beautiful forest will charm you. Don't forget to bring your own firewood if you plan to set up campfires in the forest since there won't be any.

Beach camping
White Sands Beach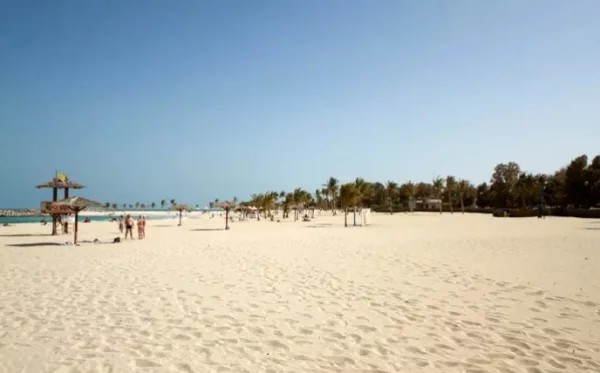 Between the Fins and the Wadi Shab, White Sands Beach can be a good place for you to set up your tent if you're on a tight budget.
The bluff that looks out over the beach is an excellent place to make up a tent.
You may partake in several water activities on White Sands Beach, including diving, snorkeling, and paddle boarding.
Moreover, you are welcome to bring your fishing gear and go fishing. But, be cautious and steer clear of the sea urchins that are common in the area.
Camping Map
Planning Tips
Research the camping location before you go – check for any rules or regulations that may be in place to ensure your safety and respect for the environment.
Ensure you bring enough water (min.15 liters a day), food, and supplies with you when camping in UAE deserts as they can be very remote locations with limited access to amenities.
Pre-plan your food.
Pack light but don't forget important items such as a first aid kit, sunscreen, insect repellent, flashlights/torches, and extra batteries if needed. Check yourself with our Packing checklist.
Respect local customs by respecting wildlife reserves and not disturbing nests or habitats of native animals – it is illegal in some parts of the country!
Make sure you fuel up so that you won't find yourself stranded.
Ensure that the car is in good condition and has been serviced. The tyre pressure and fluid levels should also be checked.
Don't forget to bring phone chargers and memory cards for your camera, along with an extra battery.
In your car or on your phone, make sure you have GPS.
Don't forget to pack a tyre pump to re-inflate, shovels, and tow rope in case you get stuck in the sand and petrol in a jerrycan.
It's hot and dry in the desert during the daytime, but it can get chilly at night, so make sure you pack appropriately for both climates.
Packing Checklist
This is a minimum required camping equipment and camping essentials list to take with you:
Tent
Tent footprint or ground cover for the base
Sheets and sleeping bags
Blow-up mattresses and pillows
Blankets and warm clothes
Firewood or chopped logs of wood for a fire
Grills and stovetop kettle
Utensils such as plates, forks, spoons, and tongs.
Camp chairs and table
Barbecue set and tin foil
Extra batteries
Insect repellent
Sunscreen
Charcoal
Tow rope
Tyre pump
Trash bags
Tissues and wipes
Maps and GPS (when off-roading)
Small shovel
Cool box and ice
Water- for washing
Torch or flashlight
Toiletries
Extra clothes, hats
Fire extinguisher
Repair kit (with basic items for emergency purposes)
First Aid Kit
Food and drinking water
Camping and Safety Rules
The most dangerous things about camping are wildlife and fire. So beware of them and take measures,
Pitch tents in high flat areas away from water tide levels, cooking stations, or places where wood is burned, and far enough away from fuel depots, fuel storage tanks, generators, and electricity to be safe. Prefer to choose shaded spots under trees or bushes whenever possible since direct sun exposure greatly increases inside temperature even during winter months.
Be sure to fully close your tent at night if you are sleeping in one. Also, use sleeping bags.
In your tent or nearby, make sure you have a fire extinguisher.
Make sure all fires are extinguished properly when leaving campsites at night
You should always wear shoes when you visit the campsite, and you should shake them out every morning to make sure nothing has crawled inside them.
Desert, beach and mountain creatures are diverse, most of them will not harm you unless they feel threatened or provoked.
Be mindful of mud floors infested with scorpions, ants, and other insects
Do not use open flames – like candles or lighters – inside the tent
Make sure you don't leave any trash behind.
Let someone know where you plan on going so they can contact authorities if necessary during an emergency situation (especially in remote areas).
It is safer to use a 4×4 car.
F.A.Q.
Is camping legal in UAE?
Yes, camping is legal in the United Arab Emirates. But The Dubai Municipality has issued safety guidelines for those looking to camp in the UAE which must be followed.
Where can you camp in the UAE?
You can camp in the United Arab Emirates in a variety of places - in the mountains, in the desert, or at the beach. Additionally, there are various operators offering luxury tented retreats and off-road safaris that provide an authentic experience under the stars.
Does camping in the UAE pose any dangers?
Yes, camping in the UAE does pose certain dangers. From extreme temperatures in summer to rough terrain and wildlife, campers should be aware of their surroundings and take necessary precautions before embarking on a camping trip.
It is especially important to stay alert to animals such as snakes, scorpions, or other dangerous creatures that can be found in some areas of the desert. Additionally, campers must bring enough water and food with them while they are out camping as access to supplies may be difficult in remote locations.
As always make sure you tell someone where you're going just in case something goes wrong during your adventure.
What kind of camping equipment do you need?
When camping, you need to make sure you have the proper equipment to ensure a safe and enjoyable trip. Basic items such as a tent, sleeping bag, flashlight, and headlamp are all essential for any camping trip.
You'll also want to make sure you have a fire starter, water containers or jugs, cooking supplies like pots or pans and utensils, a first aid kit with necessary medications, and insect repellent. Also, it's important to bring extra blankets or clothing in case of cold weather.
Clothes that can be layered are ideal so that you're prepared for changing temperatures and unexpected weather conditions. Finally don't forget any entertainment items like books or games which can help pass the time when not exploring your surroundings!
Where Is The Best Place To Buy Camping Gear And Equipment?
The best place to buy camping gear and equipment are specialty stores, such as Adventure HQ or Decathlon. Online stores like Amazon offer a wide selection of camping gear that can be conveniently delivered right to your doorstep as well. For budget camping gear you can go to Dragon Mart.
What is the best time for Desert Camping?
The best time to go camping in the desert is during cooler months - from October until the end of April. Temperatures tend to be more pleasant during these times, making it easier and safer for campers to enjoy a comfortable experience.
It's also important to avoid camping in hot and humid weather as heat exhaustion can set in quickly in the desert due to its dry air. Additionally, make sure you plan your trip for days when there isn't much wind so that your tent stays upright and secure throughout the night!
How to avoid a fire in camps?
To avoid a fire in camps, make sure to never leave a campfire unattended and ensure that all embers have been extinguished before departing the campsite. Make sure to keep combustible materials such as wood, leaves, and paper away from the fire, and always use dry wood to build your campfire.
Additionally, you should avoid building your campfire on dry grass or brush which can easily catch fire. When finished with your campfire you should thoroughly douse it with water until there are no longer any hot spots or smoke visible. Finally, be aware of changing wind directions which could cause an unexpected spread of flames!
Do I need permission before camping?
No. You only need to obtain a permit if you plan on camping in the UAE for a long time. You can get a camping permit from any approved tourist office or tourism authority in the area. The permit will give you access to designated areas where it is safe and legal to camp, as well as other important information regarding camping regulations and safety precautions. Additionally, make sure your campsite has all the necessary amenities such as toilets and showers before setting up camp.
 
Camping in the UAE is an incredible experience that lets you immerse yourself in the unique beauty of the Middle East. From Ras Al Khaimah to Abu Dhabi and more – the camping experience in the UAE offers a variety of activities and unforgettable scenery that will stay with you forever. Whether it's spending time under the starry night sky or enjoying memorable activities like sand surfing, camel rides, and falconry shows, camping in the UAE is one of life's great adventures.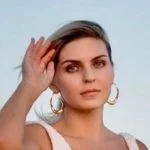 I am Anastasia, the author of this blog and a passionate and experienced traveler who resides in the UAE.
I have visited every Emirate, every popular sight, and every hidden gem.
I m here to help you make your trip to the UAE unforgettable.