One of Dubai's most magnificent man-made wonders along with the Palm Jumeirah and The World Islands is Bluewaters Island (also known as Blue Water Island). Off the shore of Jumeirah Beach Residence (JBR), this magnificent island living at a prime location is home to several opulent resorts, residential buildings, and dining establishments as well as amazing recreational facilities, beach activities, and entertainment options.
In just five years, Meraas, a government-owned company responsible for developments like City Walk and The Beach, constructed a phenomenal island that boasts an extraordinary design. Dubbed a $1.6 billion project, the island was completed in 2018, culminating in years of hard work and effort.
From the comfortable breezes created by its building placement to the shading supported by giant canopies, this island has been engineered for optimal enjoyment.
To further separate its residential and retail areas, a traffic-free boulevard stands as the main division. Inspired by the Supertrees seen in the Gardens by the Bay of Singapore, beautiful tree-link structures line the island's center, offering visitors a stunning visual.
The biggest observation wheel in the world, Ain Dubai, is also located on Bluewaters Island Dubai. It provides fantastic views of the world's tallest Burj Khalifa and other Dubai sites.
It should come as no surprise that this multi-billion dollar project by Meraas is destined to become one of Dubai's most famous tourist attractions with more than 150 retail stores and dining concepts, Caesars Palace, and the ever-popular Cove Beach.
Visit Bluewaters Island Dubai to see for yourself why it is definitely a sight to behold!
Why Visit Blue Water Island
For its luxury resorts and hotels, magnificent eating and entertainment choices, recreational amenities, spectacular beach activities, and famous Ain Dubai – the largest observation wheel in the world – tourists should visit Bluewaters Island.
Visitors may choose from a wide range of opulent shopping and entertainment experiences thanks to Caesars Palace Bluewaters Dubai and more than 132 retail locations. Given that it has luxurious waterfront houses, stores, and fine dining options, it's hardly a place to hang out on a limited budget.
The stunning beaches of Bluewaters Island are great for swimming or just lounging in the sun.
Another fantastic photo option is the famous bridge that connects Jumeirah Beach Residence to Bluewaters Island Dubai.
Things To Do On Bluewaters Island
Bluewaters Island is the place to go if you're seeking a leisure and vibrant lifestyle destination in Dubai! Some of the most incredible sites, restaurants, and activities that will make your vacation unforgettable are found on this artificial island. Here are 6 Must-Do Things at Blue Water Island.
Ain Dubai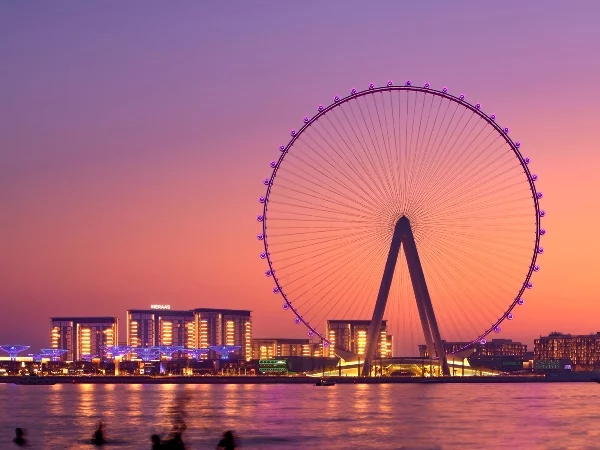 The largest observation wheel in the world, Ain Dubai, offers 360-degree panoramic views. The Ain Dubai towering height of 250 meters affords breathtaking views of the Arabian Gulf, Palm Jumeirah, Burj Khalifa, and the skyline of the city.
Starneth Engineering and Hyundai Contracting are in charge of the design and construction.
Each of the 48 cabins on the observation wheel Ain Dubai, which can accommodate up to 40 passengers, includes an LED screen that plays educational movies about the places you may see while riding on Ain Dubai.
Additionally, after admiring the breathtaking views from Ain Dubai, tourists may stop by the Seaview Lounge on the first level or the contemporary bistro café on the ground floor for a bite to eat or a drink. Licensed bars are located in six VIP capsules.
Unfortunately, Ain Dubai has been shut down since March 2022.
Opening Hours: temporarily closed
Entry Fee: from 130 AED (adults), from 100 AED (children)
Madame Tussauds Museum
Madame Tussauds Dubai, a popular museum on Blue Water Island, is well-known for its collection of more than 60 lifelike wax figures of famous local artists and international stars, and notable figures from throughout the world. It's the only Madame Tussauds in the Middle East.
Here you may snap pictures next to their wax replicas and fool your friends since Rihanna, Vin Diesel, Cristiano Ronaldo, Jackie Chan, Kylie Jenner, and other celebrities are too realistic.
The photos taken by their photo booth may be downloaded for free using the QR code you can get from the museum's staff.
Madame Tussauds Dubai offers some interactive attractions. The Wax Hand experience is one of them. You may have your hand beautifully adorned and wax-modeled in this one-of-a-kind interactive space to take home as a memorable souvenir. To purchase "Standard Entry & Wax Hands" (180 AED) to receive the wax treatment.
This place is one of the indoor activities in Dubai you can visit during hot, humid, sandy, or rainy weather.
Opening Hours: Sunday to Thursday 12:00 PM – 8:00 PM, Friday to Saturday 11:00 PM – 9:00 PM
Entry Fee: from 145 AED
Caesars Palace Hotel
On Bluewaters Island, there is a chic and contemporary luxury resort called Caesars Palace Dubai.
A secluded 500-meter beach, five temperature-controlled pools, and 1.7 kilometers of immaculate oceanfront make this the ideal island escape for visitors from all over the world. This resort provides an elegant and laid-back environment for individuals wishing to make lifelong experiences because of its convenient location close to important business and recreational areas.
Each exquisite room, suite, and apartment features private balconies, sleek, modern furnishings, and outstanding service with thoughtful personal touches.
Enjoy a variety of outdoor dining experiences prepared by chefs who are well-known throughout the world and relax in the peaceful Qua Spa.
It is surely not a low-budget pleasure. The cost of the Deluxe Resort View Room per night is 1,250 AED in June, the lowest price among other rooms and suites.
We included this hotel in our list of family hotels in Dubai for its private beach and kids club. To learn more about Dubai Family Hotels check our article.
Cove Beach Lounge
Between the Caesars Palace Hotel and the Caesars Palace Resort, on Bluewaters Island, sits the opulent beach facility known as Cove Beach Lounge. Visitors will have a memorable time at the lounge thanks to its stylish decor and elegant ambiance.
There are three primary amenities:
Restaurant TWO.0
Beach Club that offers pool and beach sides
The Rosé Lounge, which can accommodate up to 350 people for drinks and 150 people for seated dinners
Cove Beach Lounge provides visitors with a premium dining and entertainment experience, with specialty meals influenced by international cuisines and masterfully prepared drinks served by professional mixologists.
Cove Beach also has an outdoor terrace with cabanas and daybeds surrounding the waterfront for guests who want to unwind in luxury. On the poolside are daybeds, single beds, a jacuzzi, and free towels.
The venue also serves as an ideal spot for events and many attractions like live performances, DJ sets, ladies' days with unlimited beverages, and pool parties.
Access to Cove Beach Dubai is free during the week and charged half the price during the weekends for guests staying at Caesars Palace Hotel, while access is charged during both weekdays and weekends for those staying at Caesars Resort.
Keep in mind that visitors under 21 years old must be accompanied by an adult.
Opening Hours: 10:00 AM-01:00 AM
Entry Fee: from 200 AED on weekdays, from 300 AED on weekends
Cafes And Restaurant
Anyone wishing to indulge in some delectable cuisine and beverages can visit Bluewaters Island. Bluewaters Island features several cafés and eateries that provide a wide range of international cuisines and leisure activities. You may find something to tempt your taste buds whether you're in the mood for Italian, European, Mexican, seafood, or something completely different.
Bluewaters Island Dubai has something for everyone, whether it is gourmet dining or just a relaxed day of café hopping!
The London Project 
Visit the intriguing London Project, one of Dubai's Bluewaters Island's must-visit food service venues. Take a culinary journey through the intriguing world of contemporary London cuisine, which is accompanied by a wide range of drinks and classic British street food.
Your opinion of English food and drink will be completely changed by their creative and young staff of chefs, who will astound you with their unique gastronomy, which includes battered fish, Thames tapas, ancho chili squid, and The London Project burger.
Cuisines: International
Price: Moderate
Opening Hours: 12:00 AM-12:00 PM
Tripadvisor: 4.5 (536 reviews)
Google Maps: 4 (1,119 reviews)
Location: EA001 – Bluewaters Island – Dubai
The Pods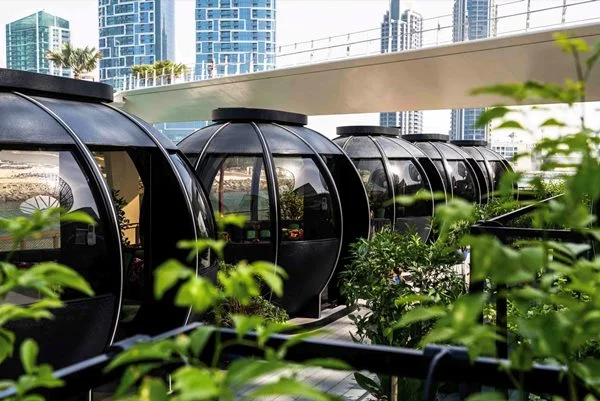 Enjoy private and weather-shielded dining in style with 22 air-conditioned spheres featuring a contemporary design. Satisfy your pan-Asian cravings with a selection that includes sushi, dim sum, soups, and major entrees. Take your pick from delectable dishes like Tuna Tartare, catchy Beef Teriyaki Crostini, or mouthwatering crabmeat and sweet corn soup. Your selected company and palette will appreciate it!
Cuisines: Chinese, Japanese, Thai
Price: Moderate
Opening Hours: Monday to Thursday 01:00 PM-01:00 PM, Friday to Sunday 01:00 PM-02:00 PM
Tripadvisor: 4.5 (198 reviews)
Google Maps: 4.8 (2,835 reviews)
Location: Bluewaters Island – Dubai
Sahelnom Restaurant And Cafes
Enter a sophisticated Bluewaters dining area that radiates nostalgic charm and is furnished with intriguing and alluring artwork. Visit the Sah El Nom Restaurant on Bluewaters Island if you're looking for a Syrian delicious food and a gorgeous view of Ain Dubai. Taste the finest Damascene cuisine, expertly crafted to meet and surpass your expectations.
Cuisines: Middle Eastern, Arabic
Price: Cheap
Opening Hours: 10:00 AM-01:00 AM
Tripadvisor: 4 (23 reviews)
Google Maps: 4.3 (1,105 reviews)
Location: Bluewaters Island, Building 7, Ground Floor, Retail 7 – Dubai
Virgin Izakaya Dubai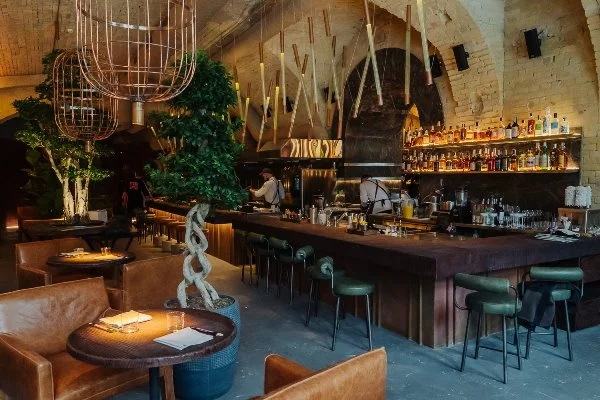 It's an izakaya-style restaurant, where traditional and contemporary Japanese cuisine is served alongside top-notch refreshments including wines, sake, and cocktails.
The chefs proudly showcase their culinary talents on a traditional robata grill, providing guests with a front-row seat to watch their culinary wishes come to life.
Cuisines: Asian, Japanese
Price: Fine-Dining
Opening Hours: Sunday to Thursday 12:00 PM-12:00 AM, Friday to Saturday 12:00 PM-02:00 AM
Tripadvisor: 5 (129 reviews)
Google Maps: 4.3 (145 reviews)
Location: Orange Parking B1 – Bluewaters Island – Dubai
Puerto 99 Restaurant
Come experience the ultimate view of Bluewaters Island while indulging in a culinary journey through Mexico's Pacific shore. The restaurant offers a diverse selection of top-notch steak cuts, gourmet seafood, and authentic Mexican dishes prepared with time-honored techniques.
Cuisines: Mexican, Latin
Price: Fine-Dining
Opening Hours: Tuesday to Sunday 01:00 PM-01:00 AM, Monday 01:00 PM-11:50 PM
Tripadvisor: 4.5 (1,246 reviews)
Google Maps: 4.1 (1,780 reviews)
Location: Bluewaters Island – Dubai
SHI Restaurant & Lounge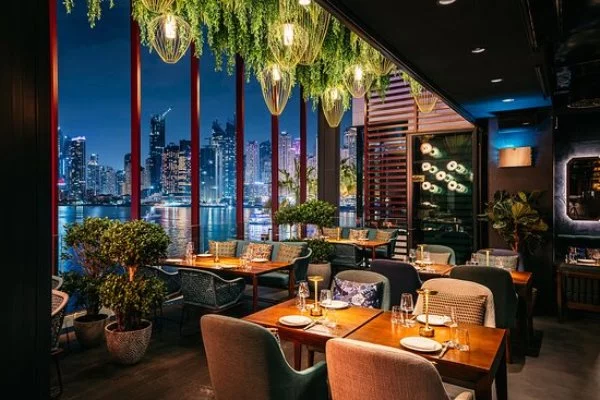 Enjoy a sumptuous breakfast at SHI, which is located on Bluewaters Island. Offerings of Chinese and Pan-Asian cuisine are exquisitely matched by breathtaking views of the skyline.
Prepare to be treated like a VIP as soon as you enter the restaurant on the ground level by friendly personnel.
You are welcome to upgrade your experience by going to the exquisite lounge above, where you will find scrumptious canapés, fine shisha, and breathtaking views of Blue Water Island Dubai.
Cuisines: Chinese, Japanese
Price: Fine-Dining
Opening Hours: Sunday to Thursday 01:00 PM-01:00 AM, Friday to Saturday 01:00 PM-02:00 AM
Tripadvisor: 5 (238 reviews)
Google Maps: 4.8 (870 reviews)
Location: Ground Floor – Blue Waters Island St. -Blue Waters Island ​ 15a – Dubai
88 Terrace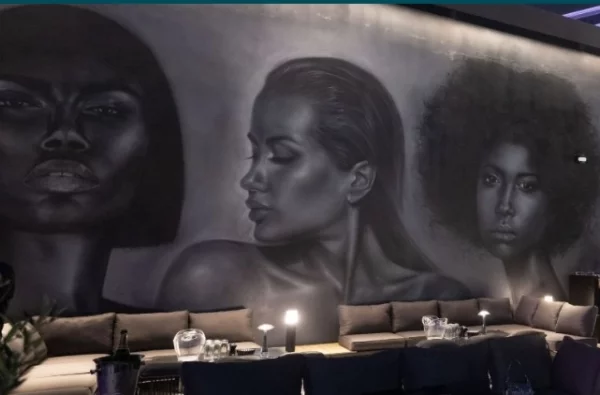 At 88 Terrace, a destination for nightlife unlike any other, you can enjoy a spacious rooftop with gorgeous, modern lighting and edgy, industrial decor. Admire larger-than-life artworks and give the room a creative character.
However, don't simply rely on the spooky atmosphere and twilight discounts; treat yourself to the Spanish Mediterranean cuisine for a real taste sensation that will please your senses.
Cuisines: Mediterranean
Price: Moderate
Opening Hours: Tuesday to Sunday 01:00 PM-03:00 AM
Tripadvisor: 5 (196 reviews)
Google Maps: 4.7 (143 reviews)
Location: No. EB1, Entrance 8 – Bluewaters Island – Dubai
Alici
A visit to Alici will give you a full experience of southern Italy, complete with the finest seafood and freshly prepared pasta.
This elegant restaurant is ideal for a romantic dinner or a leisure lunch after a lovely walk because of its fantastic location overlooking the sea and the glittering shoreline of the bustling JBR.
Cuisines: Italian
Price: Fine-Dining
Opening Hours: Monday to Friday 05:00 PM-11:00 PM, Saturday to Sunday 12:00 PM-11:00 PM
Tripadvisor: 4 (225 reviews)
Google Maps: 4.2 (916 reviews)
Location: Bluewaters Island – Dubai
Brass Monkey 
It's one of the most popular Bluwaters entertainment zone providing American dining concepts and bars.
Enjoy American-style meals including tacos, sliders, pizza, quesadillas, and traditional sweets, along with a variety of refreshing drinks.
In addition to dining and drinking, there are other entertainment options inside, including dance, bowling, billiards, arcade and VR games, and more.
Cuisines: American
Price: Moderate
Opening Hours: Monday to Friday 04:00 PM-01:00 AM, Saturday 12:00 PM- 03:00 AM, Sunday 12:00 PM-01:00 AM
Tripadvisor: 5 (1,075 reviews)
Google Maps: 4.3 (2,040 reviews)
Location: Bluewaters Island – Dubai
Shopping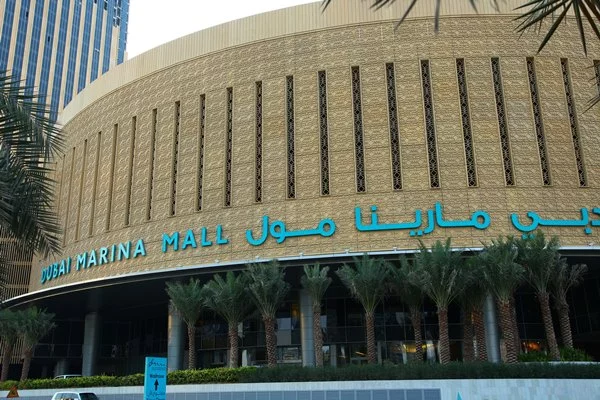 Shopping therapy in Blue Water Island Dubai is an unforgettable experience. With a wide range of options, you can find everything from high-end designer brands to unique souvenirs and local products.
The shopping complex features over 150 retail establishments, including well-known international brands such as Mumuso, Franprix, and many more.
Enjoy a stroll along many walkways of Bluewaters Island or take a break at one of the many cafes and outdoor seating areas while you shop.
The best retail center in Dubai near Bluewaters, Dubai Marina Mall, is also easily accessible through Sheikh Zayed Road in about 11 minutes. There are amenities for both adults and children to enjoy in this comprehensive shopping and dining concept.
Timings
Though Blue Water Island is open 24/7, timings according to the official website of Bluewaters are below:
Monday to Thursday:
For retail: 10:00 AM-11:00 PM
For food and beverage: 10:00 AM-12:00 AM
Friday to Sunday:
For retails: 10:00 AM- 12:00 AM
For food and beverage: 10:00 AM- 12:00 AM
Location

Blue Water Island is located off the coast of Dubai, UAE, and can be reached via its dedicated bridge, which connects it to the Jumeirah Beach Residence district. Blue Water Island is close to Dubai Marina.
How To Reach
There is a pedestrian Bluwaters bridge that connects the mainland to Bluewaters Island. Bluewaters Island is reachable by car, taxi, subway, bus, or even abra.
From Dubai, you may go in about 2 hours by taking bus lines 106 or 84.
From the Mall of Emirates, take the MRed line to DMCC, then cross the Wharf Link to get to Bluewaters Island in around 90 minutes.
From a central location in Dubai, take a taxi cab to get to Bluewaters in under 30 minutes.
Tips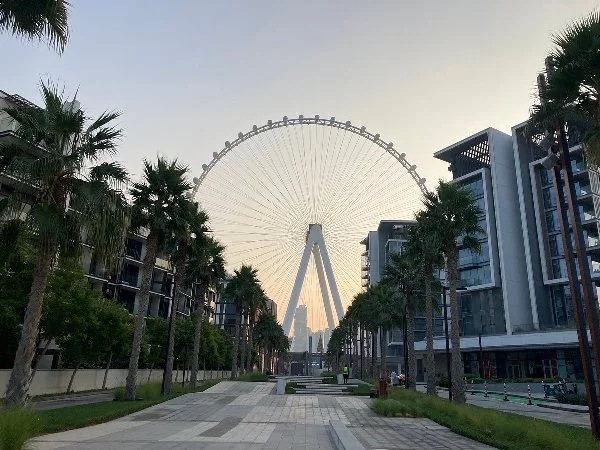 When visiting Bluewaters Island, here are some tips to make your trip enjoyable:
Wear comfortable shoes and light clothing as you may be doing a lot of lovely walks during your visit
Allow plenty of time to explore Blue Water Island, as there's much to discover and see
To ensure entrance, make sure to reserve tickets for the various Bluewaters attractions online beforehand
Check out the world's largest observation wheel Ain Dubai website for an opening announcement
F.A.Q.
Can you walk to Bluewaters Island?
Yes, you can reach Blue Water Island on foot. The pedestrian Bluewaters bridge connects Jumeirah Beach Residence to the island, which is accessible by a 15-minute walk for visitors.
Is Bluewaters Island parking free?
No, it's not. Underground parking on Bluewaters Island is 20 AED per hour, with a 24-hour maximum of 200 AED. Additionally, if you spend AED 100 or more at any participating Bluewaters retailer, you may get three hours of free parking.
What is the nearest metro station to Blue Water Island?
The nearest metro station to Blue Water Island is DMCC Metro Station on the Dubai Metro Red Line. It's an 8-minute drive from Dubai to the artificial island.
How big is Bluewaters Island?
Bluewaters Island is a stunningly modern, mixed-use development located off the coast of Dubai near Dubai Marina. It covers more than 400,000 square meters.
What are the best places to visit near Blue Water Island Dubai?
Here are the top four destinations near Bluewaters Island Dubai you can't miss:
* Marina Beach: Unwind and enjoy the sunshine on this seven-kilometer-length golden beach bordered by azure seas and dense vegetation.
* Dolphin Bay is a must-see attraction in Dubai where you can interact with the amiable and stunning Indo-Pacific bottlenose dolphins.
* Xline Zip-line - Get ready for a thrilling adventure on the world's largest urban Zip-line, with a panoramic view from 170m high and 1km long!
* Jumeirah Beach Residence - Enjoy a community space with a fantastic waterfront view at this 1.7km long open beach spot, popular amongst tourists, and luxury resorts. and hotels. For instance, The Address Beach Resort offers opulent suites and a family-friendly beachfront setting.
What are the best things to do in Bluewaters Island Dubai?
The best activities, restaurants, and attractions in Blue Water Island Dubai are:
* Experience Ain Dubai's Heights and Beauty. Awe-inspiring views of the Dubai skyline may be seen from the peak. Unfortunately, it's now closed; nevertheless, you may still take some great pictures and selfies close to Ain Dubai.
* Discover Luxury at Caesars Palace: Caesars Palace, a popular destination for travelers, has a variety of facilities and services to take advantage of. There are many reasons why luxury and leisure seekers are drawn to this renowned hotel brand, from the magnificent suites to the delectable dining selections.
* Savor Global Flavors: Bluewaters Island is a true foodie's paradise, offering a wide variety of exquisite dining alternatives. Numerous eateries provide delectable meals from all over the world, reflecting the island's thriving culinary industry.
* Indulge in the shopper's paradise: Shopping at international brand outlets is one of the most relaxing things to do on Bluewaters Island housing unique retail and dining concepts. Browse clothing, accessories, souvenirs, and more as you take a stroll through the island's many retail outlets.
What is the best time to visit Bluewater Island?
We advise going to Bluewaters Island in the morning or evening when the vista is at its peak for the most stunning experience. Blue Water Island is open all year round, however, we don't recommend going there in the sweltering summers when Dubai can become extremely hot.
How can I get to Bluewater Island from Dubai?
Bluewaters Island is easily accessible from the major areas of Dubai.
To get to the artificial island, you may always take a bus, metro, or cab. An abra is another alternative for those who want to go to the urban island from JBR.
Reviews
Pros of Bluewaters Island Dubai:
Full of dining concepts, entertainment, and retail options for every taste and wallet
Spectacular views, especially at night
Ideal for a family lovely walk
Atmospheric open-air live performances
Active nightlife
Cons of Bluewaters Island Dubai:
Poorly managed and expensive parking
Accommodations are pricey
Ain Dubai is not functioning now
Crowded in the evenings
Photos
Videos
Bluewaters Island Dubai offers a plethora of activities and attractions for visitors to enjoy.
From entertainment, retail options, amazing restaurants, spectacular views at night, Ain Dubai, open-air live performances, and active nightlife – there are plenty of reasons why you should travel to Bluewaters Island while visiting Dubai!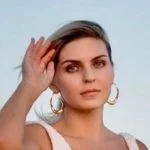 I am Anastasia, the author of this blog and a passionate and experienced traveler who resides in the UAE.
I have visited every Emirate, every popular sight, and every hidden gem.
I m here to help you make your trip to the UAE unforgettable.