Dubai's Emirates Mall is a shopper's paradise that offers a diverse range of entertainment, dining, and retail options for visitors. The mall boasts an impressive 630 retail outlets, over 100 restaurants, and 80 luxury brands, making it a must-visit destination for locals and tourists alike.
Additionally, the mall features unique attractions such as Ski Dubai, which offers a thrilling indoor skiing experience. To ensure that you have a memorable visit, it is important to familiarize yourself with the mall's location, timings, and other important details.
To make the most of your visit to Emirates Mall, it is important to note that the mall operates from 10 am to 12 am on Fridays through Sundays, and from 10 am to 11 pm on Mondays through Thursdays, although some sections such as the food court, VOX cinemas, and select shops and restaurants may have different opening hours.
It is also worth noting that during special occasions or public holidays, the mall's hours may be extended slightly, so it is always advisable to stay up-to-date with the mall's current timings and plan your visit accordingly.
Additionally, it is essential to understand how to reach the mall and any entry fees that may be associated with certain attractions to ensure a seamless and enjoyable trip. Be sure to check out our helpful tips to make your visit to Emirates Mall a memorable one!
Key Takeaways:
Emirates Mall offers shopping, dining, and entertainment experiences in Dubai
Familiarize yourself with the mall's timings, location, and other important details
Plan your visit by understanding how to reach the mall and any associated entry fees
Overview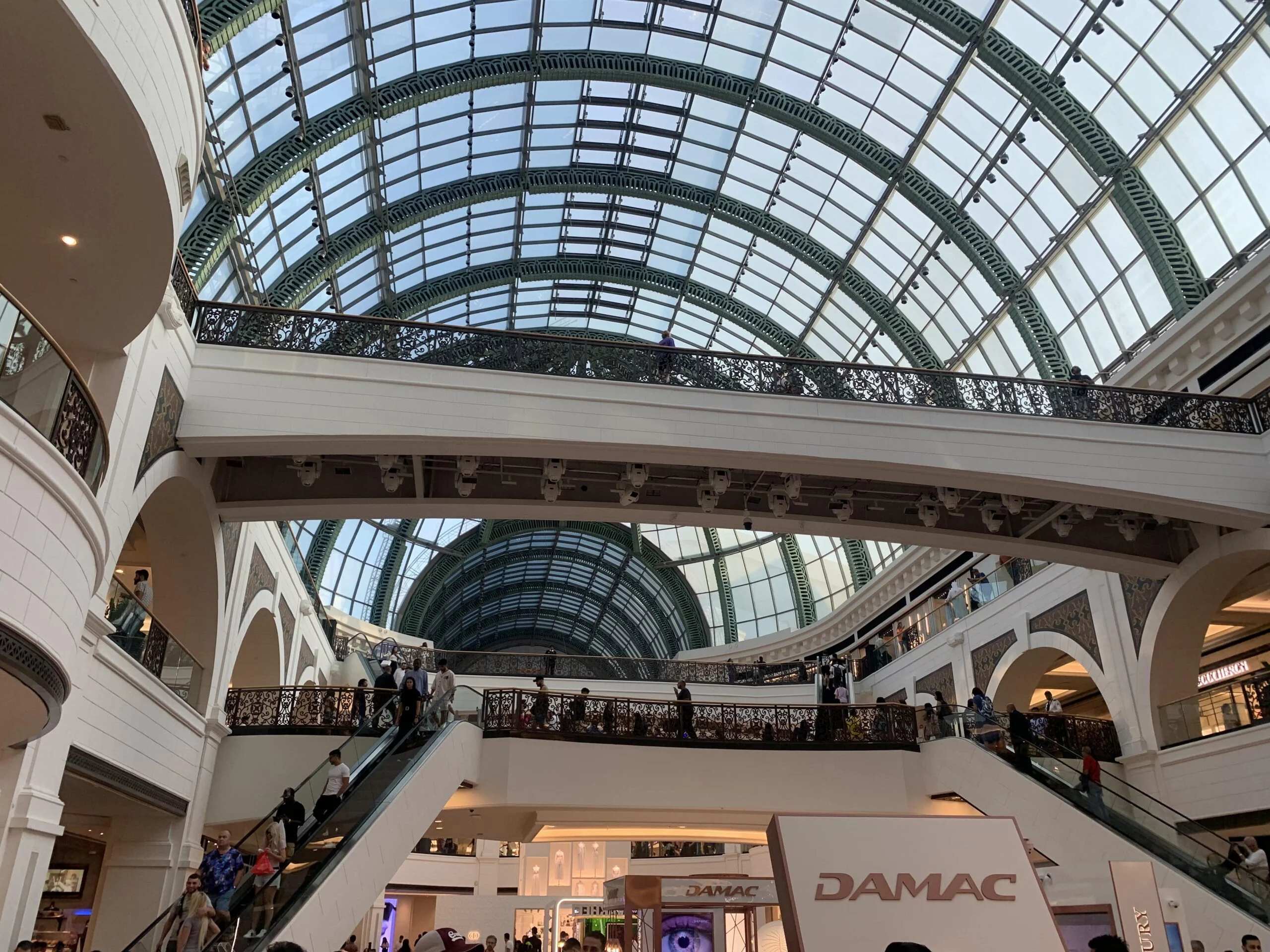 Mall of the Emirates, located in Dubai, is a popular shopping destination with a wide range of luxury and midscale brands. With over 630 retail outlets, and more than 100 restaurants and cafes, you're bound to find something to suit your tastes.
Mall of the Emirates opening times are 10:00 AM to 11:00 PM from Monday to Thursday, and 10:00 AM to 12:00 AM from Friday to Sunday. However, during special occasions or public holidays, the mall's timings may extend a bit, providing you with extra time to shop and enjoy the facilities. It's essential to keep in mind that the food court, VOX cinemas, and some restaurants may have different timings.
Emirates Mall is not just a shopping center, it's a hub of exciting attractions that cater to all ages. One of the most popular attractions is Ski Dubai, which boasts the largest indoor ski hall in the world and attracts visitors from all over. In addition to skiing, the mall also features 14 cinema screens where you can catch the latest blockbusters.
For added convenience, the mall provides concierge services to assist you during your visit, ensuring that you have a stress-free and enjoyable experience. So whether you're in the mood for shopping, skiing, or catching a movie, Emirates Mall has got you covered.
To ensure a seamless experience during your visit to Mall of the Emirates, you can reserve parking in advance. This will save you time and hassle, allowing you to focus on enjoying all the mall has to offer. With a range of amenities and services on offer, Mall of the Emirates has everything you need for a fun-filled day out.
Things To Do Inside Emirates Mall
Shopping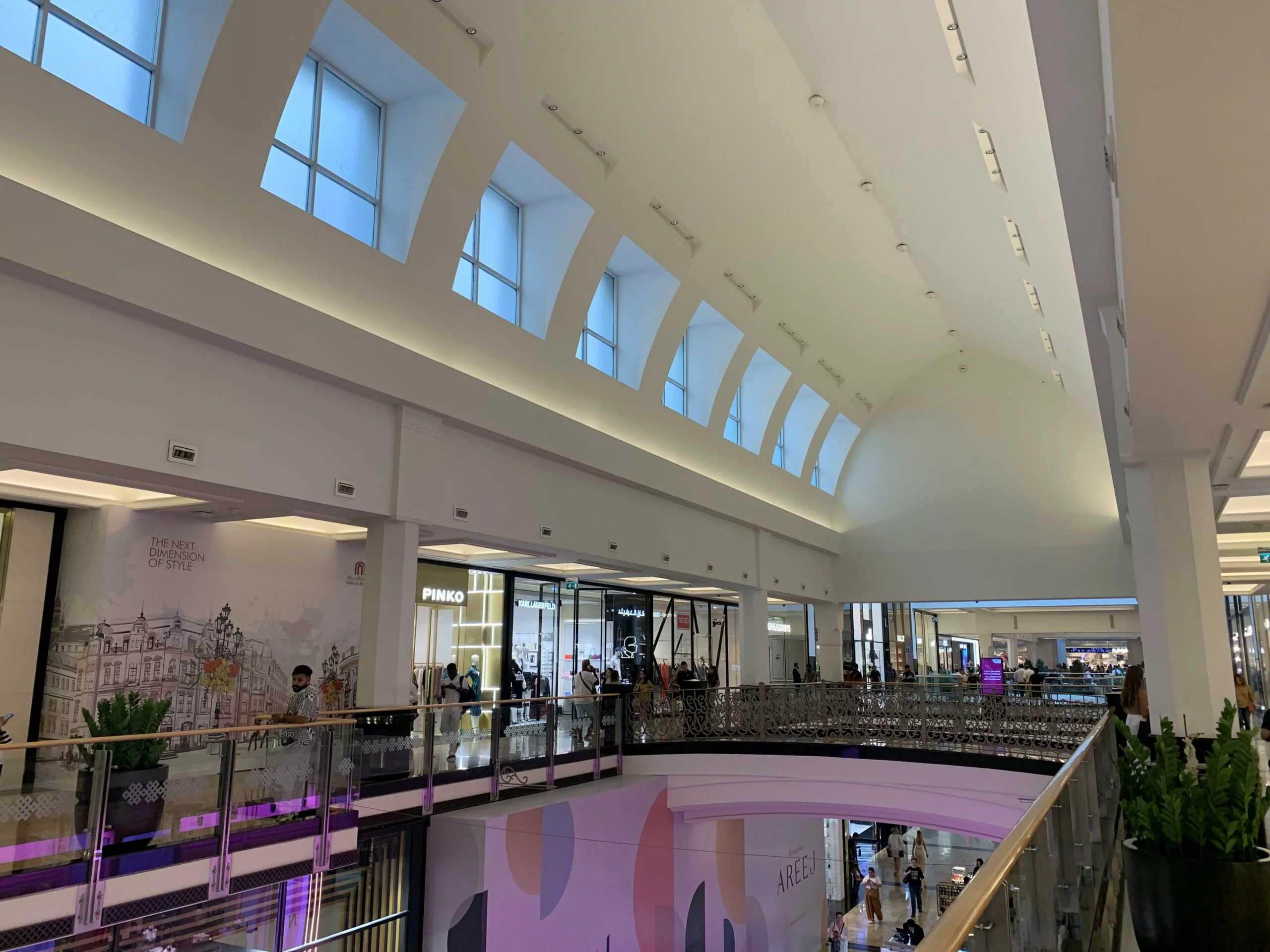 At the Mall of the Emirates, you can explore an incredible range of stores, from luxury labels like Christian Louboutin to mid-scale brands like DKNY. With so many options, you're sure to find something that suits your taste and budget.
To enhance the shopping experience for visitors, the Mall of The Emirates offers two unique services: Personal Stylist and Hands-Free Shopping.
With the aid of the Personal Stylist service, customers may meet one-on-one with a professional stylist who will provide them with specialized fashion guidance to help them discover the ideal outfit for any occasion.
To create a unique shopping experience, the stylist considers the customer's tastes, style, and spending limit. The service offers three different session options, including an express 2-hour session for 950 AED, an extended 4-hour session for 1800 AED, and a full 6-hour session for 3270 AED.
Customers may enjoy the mall without having to lug their purchases around thanks to the Hands-Free Shopping service. At the Hands-Free Shopping desk, customers can leave their shopping bags to be picked up later so they can carry on with their shopping.
For customers who want to send their products home or abroad, the store also offers home delivery and foreign shipping options. While the service is free, home delivery is priced at 30 AED for deliveries made on the same day and 18 AED for next-day deliveries, which may vary depending on the specified delivery location.
Dining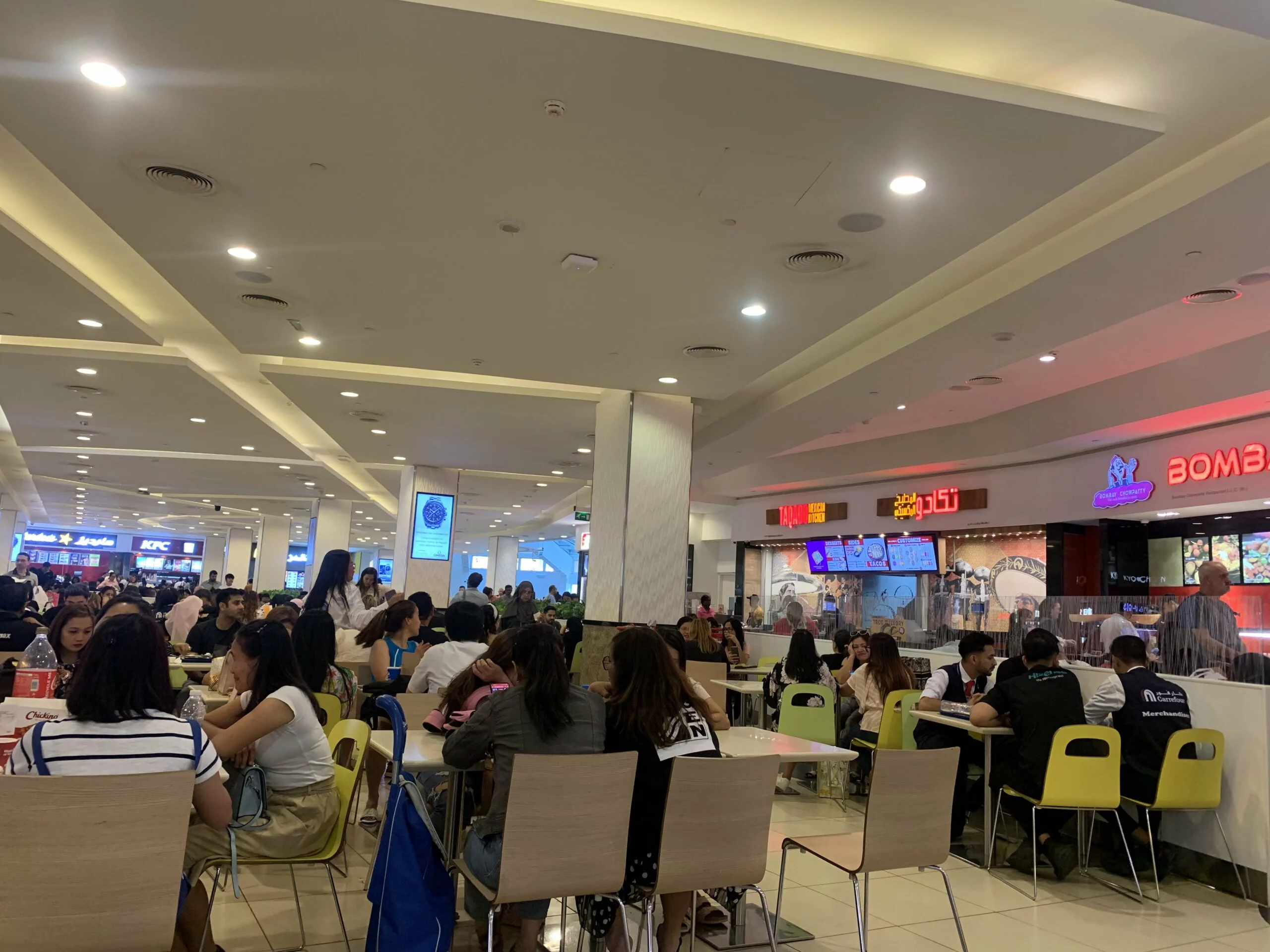 After a long day of shopping, take a well-deserved break and embark on a culinary journey at the Mall of Emirates. With a diverse range of dining options available, from fast food to fine dining, you'll be spoilt for choice when it comes to satisfying your cravings. Whether you're in the mood for a juicy burger, a refreshing salad, or a decadent dessert, the mall has something to offer for every taste and preference.
Here are 10 dining options of Mall of the Emirates:
1. Aux Merveilleux de Fred: For those with a sweet tooth, Aux Merveilleux de Fred is a must-visit French bakery located in the heart of Mall of Emirates. The bakery is renowned for its exquisite pastries, including its signature "Merveilleux" cakes, which are made with a light and fluffy meringue and filled with whipped cream.
2. PF Chang's: Sushi, noodles, and stir-fries are just a few of the Asian-inspired meals that are available at PF Chang's, a restaurant well known for its contemporary approach to Asian cooking.
3. The Cheesecake Factory: The Cheesecake Factory is a must-go place for dessert fans, serving up a wide selection of yummy cheesecakes in addition to a number of other American-style cuisine.
4. Cipriani Dolci: Cipriani Dolci is a premier Italian restaurant located in the Mall of the Emirates, known for its refined and elegant dining experience. The menu is a celebration of classic Italian cuisine, including homemade pasta, fresh seafood, and delectable desserts.
5. Shake Shack: It is a well-liked fast food restaurant that's famous for its juicy burgers, crinkle-cut fries, and creamy milkshakes.
6. Al Hallab: This Lebanese restaurant offers a range of traditional Middle Eastern dishes, including mezze, grilled meats, and fresh salads.
7. California Pizza Kitchen: Pizza aficionados seeking for something a bit different will adore California Pizza Kitchen's distinctive thin-crust pizzas and creative toppings.
8. Le Pain Quotidien: This bakery and café with French influences serves a variety of freshly made breads, pastries, and sandwiches in addition to organic coffee and tea.
9. Pappa Roti: A well-liked ice cream retailer, it offers a superior selection of both traditional and uncommon flavors, including mango sorbet, green tea, chocolate, and vanilla.
10. Yo! Sushi: With a variety of sushi, sashimi, and other Japanese-inspired goods to pick from, this conveyor-belt sushi restaurant offers an engaging and enjoyable eating experience.
Entertainment
Mall of the Emirates offers a wide range of entertainment options for all ages. Watch the latest movies at the state-of-the-art Vox Cinema, or enjoy live performances at the Dubai Community Theatre and Arts Center.
Ski Dubai
You won't find another winter sports facility like Ski Dubai anyplace else in the area. In the middle of the city, you can hit the slopes and experience the rush of skiing, snowboarding, or tobogganing thanks to the approximately 22,000 square feet of indoor ski slopes and the cold temperatures.
Opening Hours: Monday to Thursday: 10:00 AM – 11:00 PM, Saturday to Sunday: 9:00 AM – 12:00 AM
Entry Fee: from 195 AED
Magic Planet
The indoor amusement park Magic Planet claims to awaken the kid in everyone. This is the ideal spot to let free and have some fun with your family and friends because it has a variety of exhilarating rides and arcade games. There is something for everyone at Magic Planet, from bumper cars and roller coasters to video games and virtual reality activities. Visit Magic Planet to see the magic for yourself, whether you're searching for an exhilarating adventure or just a pleasant day out.
Opening Hours: Sunday to Thursday: 10:00 AM – 11:00 PM, Friday to Saturday: 10:00 AM – 12:00 AM
Entry Fee: from 150 AED
Dubai Community Theatre and Arts Center
 

View this post on Instagram

 
A visit to the Dubai Community Theatre and Arts Centre (DUCTAC) is highly recommended if you enjoy the arts. The center, which is impressively 7,424 square meters in size, is situated on the Mall of the Emirates' second level. This prominent facility is a creative hotspot, offering a variety of events, exhibitions, and seminars that are sure to satisfy your creative soul. DUCTAC offers something to offer for everyone, regardless of your passion in theater, music, dance, or visual arts.
Opening Hours: 10:00 AM – 12:00 AM
Entry Fee: depends on the event
Yalla! Bowling
 

View this post on Instagram

 
Yalla is a great place to go out for a fun and competitive evening! The bowling alley has 12 lanes with a cosmic motif. Yalla! is the perfect place to organize a team-building exercise or hang out with friends.
Opening Hours: 10:00 AM – 10:00 PM
Entry Fee: from 40 AED
Dreamscape
 

View this post on Instagram

 
Step into a world of limitless possibilities at Dreamscape, where you can explore the wonders of virtual reality. This interactive experience allows you to immerse yourself in unbelievable adventures and explore new worlds that challenge your senses.
The experiences called "MIB", "The Blue" and "CURSE OF THE LOST PEARL" cost 78.50 AED each separately.
Opening Hours: 10:00 AM – 12:00 AM
Entry Fee: from 78.50 AED
Vox Cinema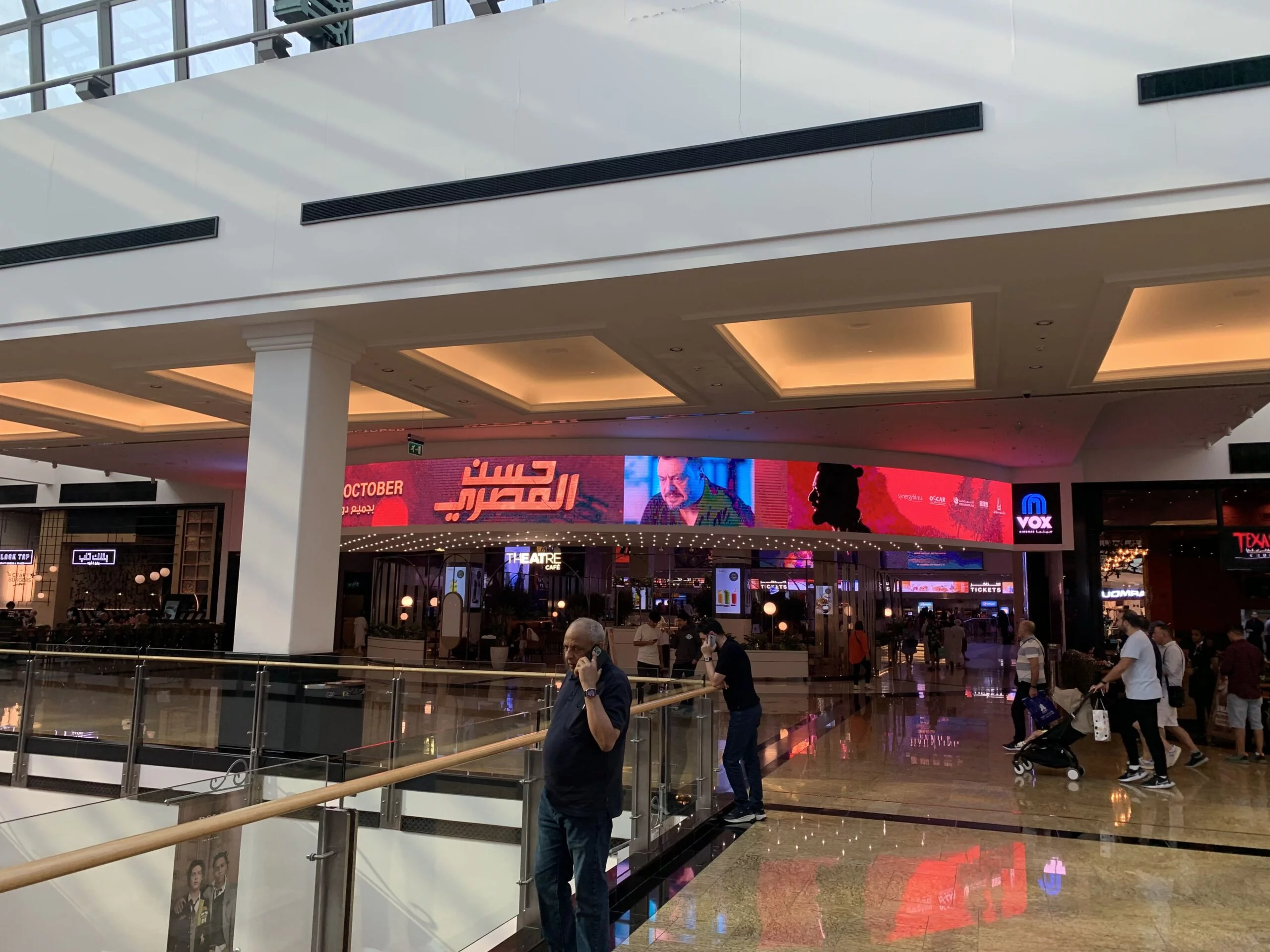 Experience the ultimate movie-watching experience at Vox Cinema, where you can sit back, relax, and enjoy the latest blockbuster movies in style. With impressive facilities and a diverse range of films to choose from, Vox Cinema is the perfect place to unwind after a day of exploring the shopping mall.
Vox Cinema offers plenty to offer for every taste, whether you're in the mood for an exciting thriller or an endearing love story. So grab some popcorn and sit down for an entertaining evening at Vox Cinema.
Opening Hours: 10:00 AM – 12:00 AM
Entry Fee: depends on the time and movie
Timings
Visit Mall of the Emirates which is open Monday through Thursday from 10:00 AM to 11:00 PM, giving you ample time to explore various shops and attractions during weekdays. On weekends, which are Friday to Sunday, the timings extend to 10:00 AM – 12:00 AM, allowing you even more time to enjoy.
So, it's a good idea to check their website or contact customer service for any changes in usual timings or special events being held. This way, you can plan your visit accordingly and avoid any potential disappointment.
It's important to note that not only shopping and entertainment options but also restaurants in the mall may operate at different timings. So, be sure to check ahead and plan accordingly to avoid any inconvenience.
To avoid crowds choose day-time on weekdays for visiting. In the evenings and on weekends it could be crowded.
Sales And Discounts
Wondering about the best time for shopping with good deals?
Further you can find some of the ideal times to shop in the UAE for discounts and sales:
Summer Sale: You can get excellent bargains on anything from apparel to gadgets during the summer months (June to August) in the United Arab Emirates. To draw customers trying to escape the heat, many merchants around this time offer discounts and promotions.
Ramadan and Eid Al Fitr: For Muslims, Ramadan (which is usually in March-April) is a season for fasting and introspection as well as for shopping and celebration. When the holy month of Ramadan and its conclusion, Eid Al Fitr, arrive, many merchants run sales and promotions.
Dubai Shopping Festival: Every year in December and January, the Dubai Shopping Festival lasts for a whole month. The festival also offers entertainment and cultural activities, making it a fantastic opportunity to get bargains and discounts on anything from electronics to apparel.
Eid Al Adha: Eid Al Adha is one of the most significant Islamic festivals and a fantastic opportunity to shop in the United Arab Emirates. The exact date of this event varies every year, but usually it falls on July or Agust.
Diwali: The Hindu festival of lights is observed in the UAE with fireworks, cultural activities, and retail therapy. Diwali is a wonderful time to discover savings on apparel, jewelry, and other products since so many stores run sales and promotions.  It is usually observed in late October or early November, depending on the lunar calendar.
If the aim of your visit is shopping, we recommend you to check the calendar of retail events before buying tickets.
Entry Fee
One of the best things about visiting the Mall of the Emirates is that there is no entry fee.
Location

Mall of the Emirates is conveniently located in the heart of Dubai, making it easy for you to access and enjoy all it offers.
This popular shopping destination is situated along Sheikh Zayed Road, within the bustling Al Barsha area of the city.
With its prime location, you'll find that reaching the mall is a breeze, whether you're using public transportation or driving.
The address is Sheikh Zayed Rd – Al Barsha – Al Barsha 1 – Dubai – United Arab Emirates.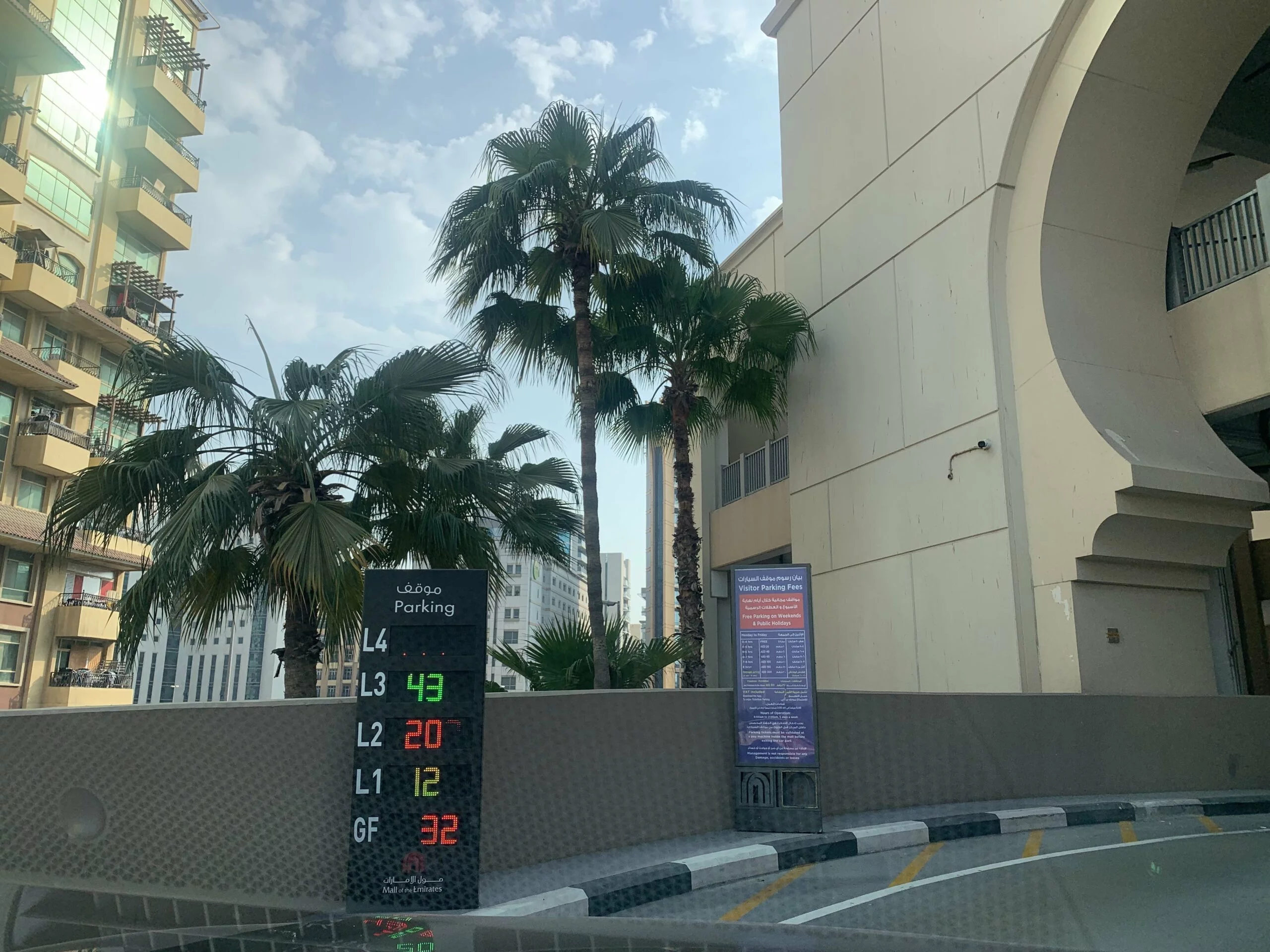 How To Reach
If you're looking for a hassle-free way to reach the Mall of the Emirates, consider taking the Dubai Metro. The mall has its own metro station on the Red Line, allowing you to quickly and easily reach your destination. Simply follow the signs to the mall entrance once you exit the metro station.
The mall is also well-connected by bus services and taxis, in case you're not driving or prefer not to use the metro. Don't worry about getting lost or not finding your way – there are plenty of signs guiding you to the mall, and you can always rely on the friendly locals for assistance if needed.
For those who prefer to drive, the Mall of the Emirates offers ample parking options with ticketless parking for added convenience. With numerous parking spaces spread across different zones, you can easily find a spot near your desired location. Enjoy free parking on weekends and public holidays, and on weekdays, you can enjoy free parking for the first four hours.
According to the following breakdown, a parking fee is assessed for each extra hour or fraction of an hour: 0-4 hours are free. 20 AED for 4-5 hours, 40 AED for 5-6 hours, 60 AED for 6-7 hours, 100 AED for 7-8 hours, and 150 AED for 8 hours or more. 350 AED needs to be paid for overnight parking.
To guarantee a parking space, take advantage of the Reserve Parking service offered by the mall. This service allows you to book a spot in advance, ensuring you have a dedicated space when you arrive at the mall.
Here's a summary of how to reach the Mall of the Emirates in Dubai:
Location: Heart of Dubai, Sheikh Zayed Road
Metro Station: On the Red Line, dedicated station for the mall
Parking Options: valet parking, ticketless parking, reserved parking available
Tips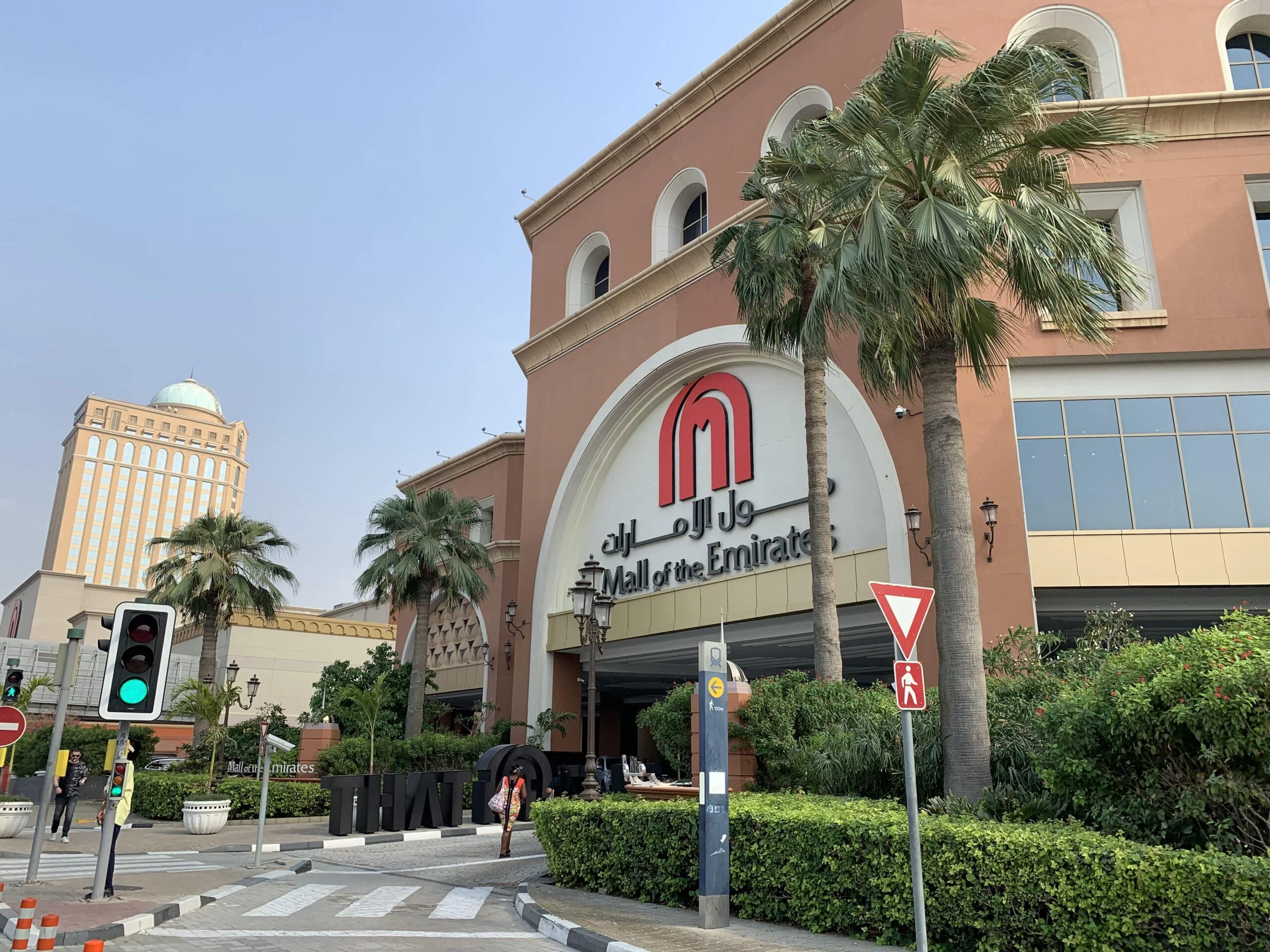 Here are some tips for visiting the Mall of the Emirates:
Check the mall's website for any ongoing promotions or discounts or contact customer service for any changes in timings or special events being held.
If you're looking for a specific brand, check the mall's list of brands before planning your visit.
Take advantage of the Reserve Parking service offered by the mall to guarantee a parking space.
Don't forget to dress appropriately. Being respectful by dressing modestly will make your visit go more smoothly.
Wear comfortable shoes as the mall is quite large and you'll be doing a lot of walking.
Bring a jacket or sweater as the mall can get quite chilly due to the air conditioning.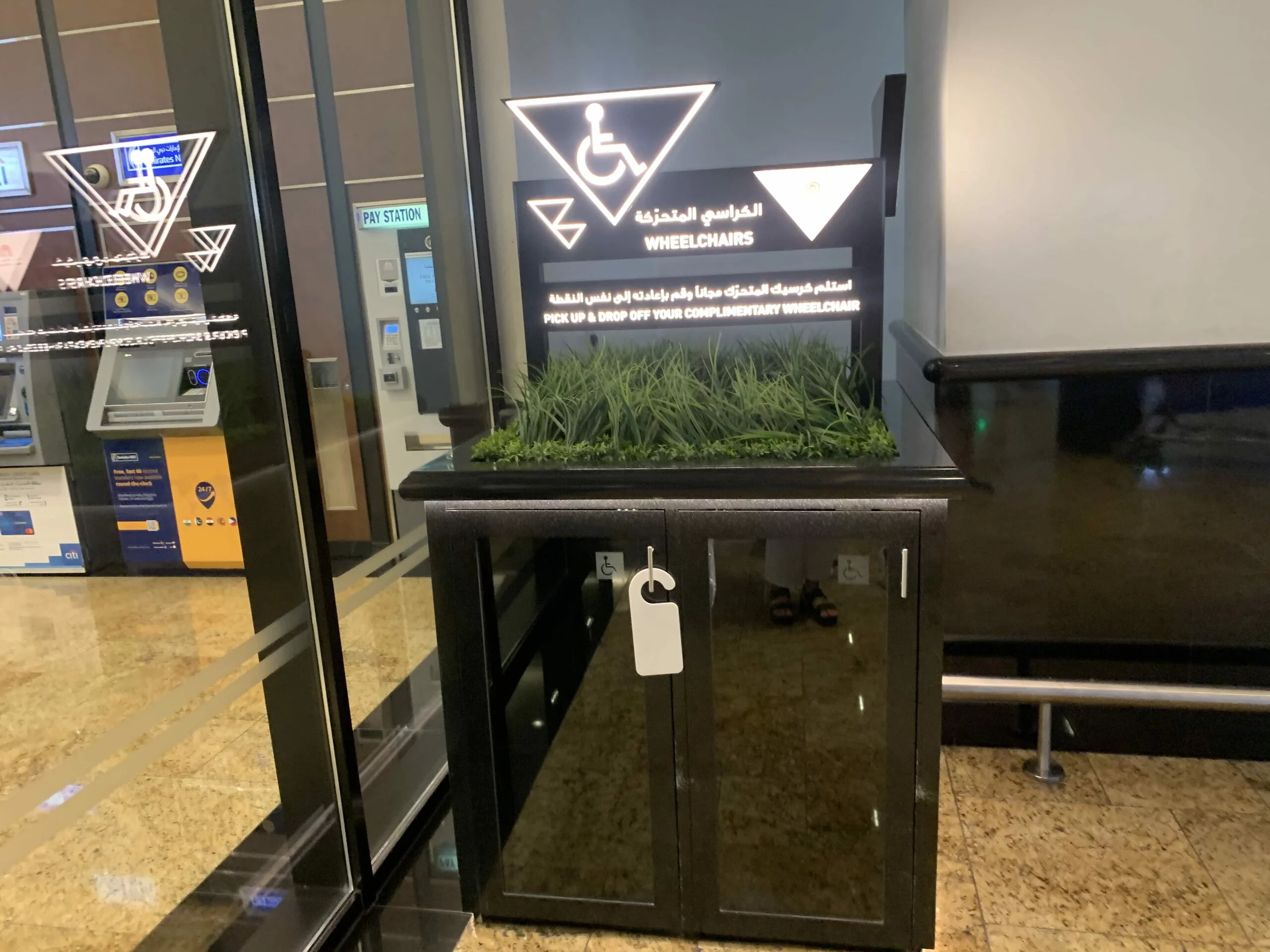 Frequently Asked Questions
What time does Emirates Mall work?
Mall of the Emirates operates from 10 AM to 11 PM (Monday to Thursday) and from 10 AM to 12 AM (Friday to Sunday).
What is the best time to go to Emirates mall?
The Mall of the Emirates is best visited on weekdays when there may be less crowding. However, travelling in the evenings might be a terrific option if you're there for entertainment and shopping.
What time does the Mall of Emirates Metro open?
Opening times of the Mall of Emirates station as of 2023:
* Monday to Thursday: 05:00 AM – 12:00 AM
* Friday 05:00 AM – 01:00 AM
* Saturday 05:00 AM – 12:00 AM
* Sunday 08:00 AM -12:00 AM
Please check the current Dubai Metro timings for accurate information.
Are there kid strollers for hire? If yes, how much do they cost?
Yes, Mall of the Emirates provides kid strollers for hire. It costs around 21 AED per hour, but better check on-site as prices are subject to change.
The exact cost may vary, so it's recommended to check with their customer service or visit the mall's website for updated pricing.
Does this mall have a wheelchair facility?
At the Mall of the Emirates, accessibility is a top priority. The mall is well-equipped with a range of wheelchair facilities to ensure that all visitors can enjoy a comfortable and accessible experience. From wheelchair-friendly entrances and elevators to accessible restrooms and parking spaces, the mall has taken great care to ensure that every aspect of the shopping experience is accessible to all.
How to reach the Mall of Emirates by public transport?
By using the Red Line of the Dubai Metro and getting out at the Mall of the Emirates station, you can easily travel to the Mall of the Emirates. Additionally, plenty of buses stop close to the mall, making it simple to get there via public transportation.
Are there any kids play area?
Yes, there are kids' play areas at the Mall of the Emirates. The indoor family entertainment complex Magic Planet, which has rides, arcade games, and other enjoyable activities, is one of the most well-liked kid-friendly attractions. The mall also houses the indoor ski resort Ski Dubai, which features family-friendly attractions.
Reviews
Here are some pros and cons of the Mall of the Emirates based on reviews of the guests.
Pros:
Huge variety of shops and brands, including luxury brands
Lots of dining options, from fast food to fine dining
Great entertainment options, including Ski Dubai, Magic Planet, and Vox Cinema
Good parking facilities, with ample parking space available
Easy access via the Dubai Metro's Red Line, with a station located at the mall
Well-maintained and clean facilities
Wheelchair-friendly facilities and accessibility options available
Helpful and friendly staff
Cons:
Can get very crowded, especially during peak hours
Some shops and brands can be quite expensive
Limited seating areas, especially during peak hours
Poor WI-FI connection
Can be difficult to navigate due to its size
Some visitors have reported long wait times for elevators and escalators
Videos
It's easy to state that Emirates Mall is a first-rate shopping complex that offers a distinctive experience to both visitors and residents. It has become a must-visit location in Dubai because of its magnificent architecture, enormous assortment of shops, and varied entertainment options.
Emirates Mall can accommodate all tastes, whether you're a shopaholic or just looking for a fun day out. This mall offers everything, from exhilarating skiing and snowboarding activities to seeing the newest blockbuster film and indulging in fine dining. Emirates Mall is unquestionably a destination for shopping and entertainment that is well seeing while in Dubai.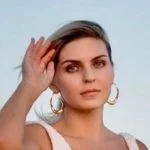 I am Anastasia, the author of this blog and a passionate and experienced traveler who resides in the UAE.
I have visited every Emirate, every popular sight, and every hidden gem.
I m here to help you make your trip to the UAE unforgettable.