Expo City Dubai is the hub of innovation and cross-cultural interaction! As you set out on this adventure, you'll learn why this remarkable place has drawn interest from all over the world and turned Dubai into a center for sustainable living, science and technology, and creativity.
You will be engrossed in an experience that is unmatched because of its breathtaking design, first-rate facilities, and wide variety of exhibitions representing different countries and scientific inventions. Expo City Dubai aims to inspire and energize you and the business sector by engaging with like-minded people and experiencing cutting-edge concepts.
With our review, you will be able to learn more about the pavilions that are now on display, upcoming events, opening times, cost of tickets, and locations to dine and stay after discovering ground-breaking innovations.
What Is Planned To Be
Expo City Dubai has several exciting upcoming projects planned, including a number of additional attractions and facilities that are scheduled to debut in 2023–2024. The residential area featuring villas, other structures, and top-notch, environmentally friendly accommodations is one of the most eagerly awaited improvements.
Further upgrades envisioned for Expo City Dubai include 10- and 5-kilometer cycling and jogging tracks, additional restaurants and food trucks, retail, leisure, and entertainment establishments, and enhanced infrastructure and transportation connections to the upcoming event COP28. The nearby mall is now under building projects. Stay tuned!
What Is Open Now
Visitors of Expo City Dubai can currently enjoy exploring the pavilions and exhibitions, as well as the serene surroundings of Al Forsan Park, offering ample opportunities for photography and leisurely walks. Additionally, the dining options, surreal waterfall, children's playgrounds, amazing architecture, and the iconic Al Wasl dome with evening laser show provide a range of experiences for visitors, making it an ideal destination for a day of leisure and exploration.
Al Wasl Plaza
Expo 2020 Dubai is believed to be the biggest event ever organized in the Arab world, with Al Wasl Plaza serving as its major hub:
The Arabic term "Al Wasl," which translates to "connection" in English, has inspired the plaza's name throughout history. The plaza connects guests to the several Expo pavilions and attractions, which is reflected in the name.
The 500-ton Al Wasl dome is a sight to behold, both in terms of its height and width (67.5 meters and 130 meters, respectively).
During the Expo, a range of multimedia events were presented on its largest 360-degree projection displays ever assembled on one surface.
To further emphasize its avant-garde and creative qualities, the plaza's Al Wasl dome has broken the record for being the largest interactive immersive dome, setting a Guinness World Record.
Al Wasl Plaza is intended to be an energy-efficient and sustainable building. Its advanced cooling system consumes less energy compared to conventional air conditioning systems.
Al Wasl Plaza's exceptional design and sustainable elements have won it multiple awards and praise. Cementing its status as a world-class architectural marvel, it just won the coveted "Rethinking the Future Awards 2022" in the "cultural (built)" category.
Additionally, the plaza has made the highly coveted Dezeen Awards 2022 top. Its effort to minimize its environmental impact has been acknowledged by CEEQUAL, the globally renowned sustainability assessment for civil engineering companies, where it was awarded the maximum rating of 91.6 percent.
Every evening you can enjoy a musical laser show.
Timings: 24/7 (musical laser show in the evening time only)
Entry fee: free
Surreal Waterfalls
Expo City Dubai is home to the captivating water feature known as Surreal Waterfalls. This one-of-a-kind attraction comprises three 13-meter-tall sloping water surfaces that create an amazing visual display of water falling between the plates.
Ramin Djawadi, the award-winning composer of the Game of Thrones, and WET Design, the creators of Dubai Fountains, cooperated on the exhibit. Visitors are given an intense sensory experience by the installation's coordinated sound and light effects with the water movements and fire.
Timings: 24/7
Entry fee: free
Garden in the Sky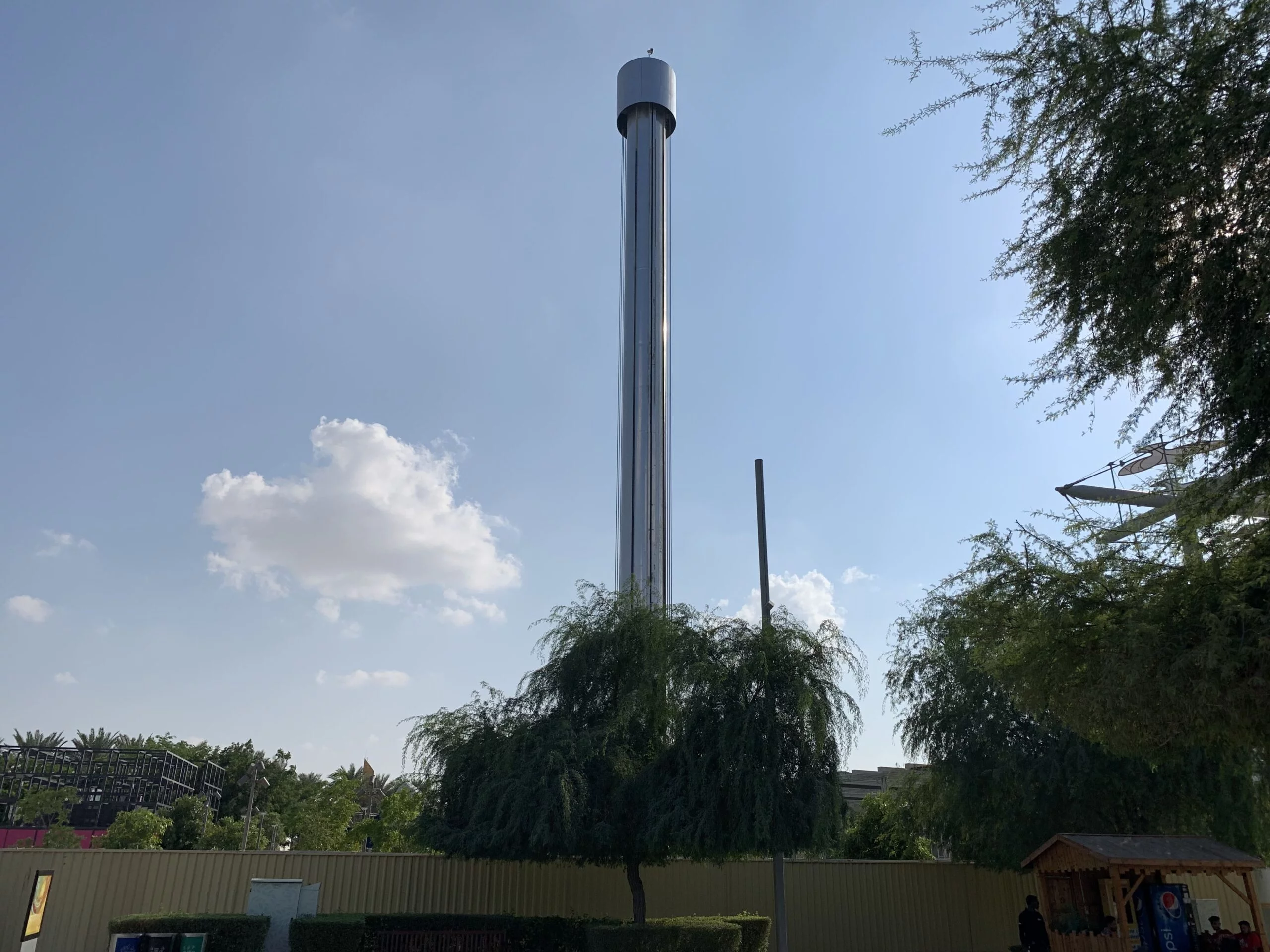 High, high on the tower lives… not a princess, but a unique green garden, which is located at the height of an 18-story building. The buildings and parks next to Expo City are breathtakingly visible from this viewing platform.
The area takes on an astonishing appearance at night when various lights illuminate the tower and top deck. Although a visit to the top is temporarily closed, you may still appreciate the structure and get some amazing nighttime shots of it.
Timings: Temporarily closed
Entry fee: 30 AED (free for kids 2 y.o. and younger, people of determination)
Terra – The Sustainability Pavilion
Terra – The Sustainability Pavilion is evidence of Dubai's dedication to environmental awareness. This is where you may look around at different exhibitions that highlight cutting-edge ways to use less water and energy. Additionally, you'll discover how to reduce the negative effects of everyday actions on the environment.
This pavilion makes extensive use of renewable energy sources. Much of the energy required to run the pavilion is supplied by the solar panels that cover its roof.
The building's distinctive architectural design includes an impressive canopy spanning 120 meters and 18 energy trees, which together help to generate 4 GWh of 'green' energy each year.
Timings: 10:00 AM-6:00 PM
Entry fee: 50 AED (free for kids 12 y.o. and younger, people of determination)
Alif – The Mobility Pavilion
Alif – The Mobility Pavilion will transform the way you perceive transportation. Here, you can explore the perspectives of mobility and the potential for a greener, more efficient world.
You'll encounter exhibits featuring cutting-edge approaches to transportation and logistics, using digital technologies, AI, and smart design. From autonomous vehicles to space travel, these innovations have the potential to revolutionize the way we move.
As you explore the Mobility Pavilion, consider how these advancements can reduce our carbon footprint and promote a more interconnected world.
Timings: 10:00 AM-6:00 PM
Entry fee: 50 AED (free for kids 12 y.o. and younger, people of determination)
Stories of Nations Exhibitions
Visitors can go and expect an immersive exhibition called Stories of Nations at Expo City Dubai, which transports them through the histories and cultures of many nations. More than 80 genuine objects are on offer in the exhibition, highlighting each country's distinct heritage and customs.
The show features a wide variety of displays that are designed to attract visitors of all ages, ranging from modern art to ancient artifacts. This is a unique chance to view them all together as some of the items were sent back to their countries of origin following Expo 2020 Dubai.
Timings: 10:00 AM-6:00 PM
Entry fee: 50 AED (free for kids under 12 y.o. and people of determination)
Vision Pavilion 
Expo City Dubai's Vision Pavilion is a state-of-the-art presentation that looks at innovation and technology in the future. The pavilion is home to a variety of interactive displays showcasing the most recent developments in the city as well as values established by Dubai's ruler and UAE's vice president, Sheikh Mohammed bin Rashid Al Maktoum.
A 30-minute guided tour of the pavilion is available to visitors.
The goal of the pavilion is to inform and inspire guests about the potential of the future and the part technology will play in shaping cities and their culture.
Timings: 10:00 AM-6:00 PM
Entry fee: 50 AED (free for kids 12 y.o. and younger, people of determination)
Women's Pavilion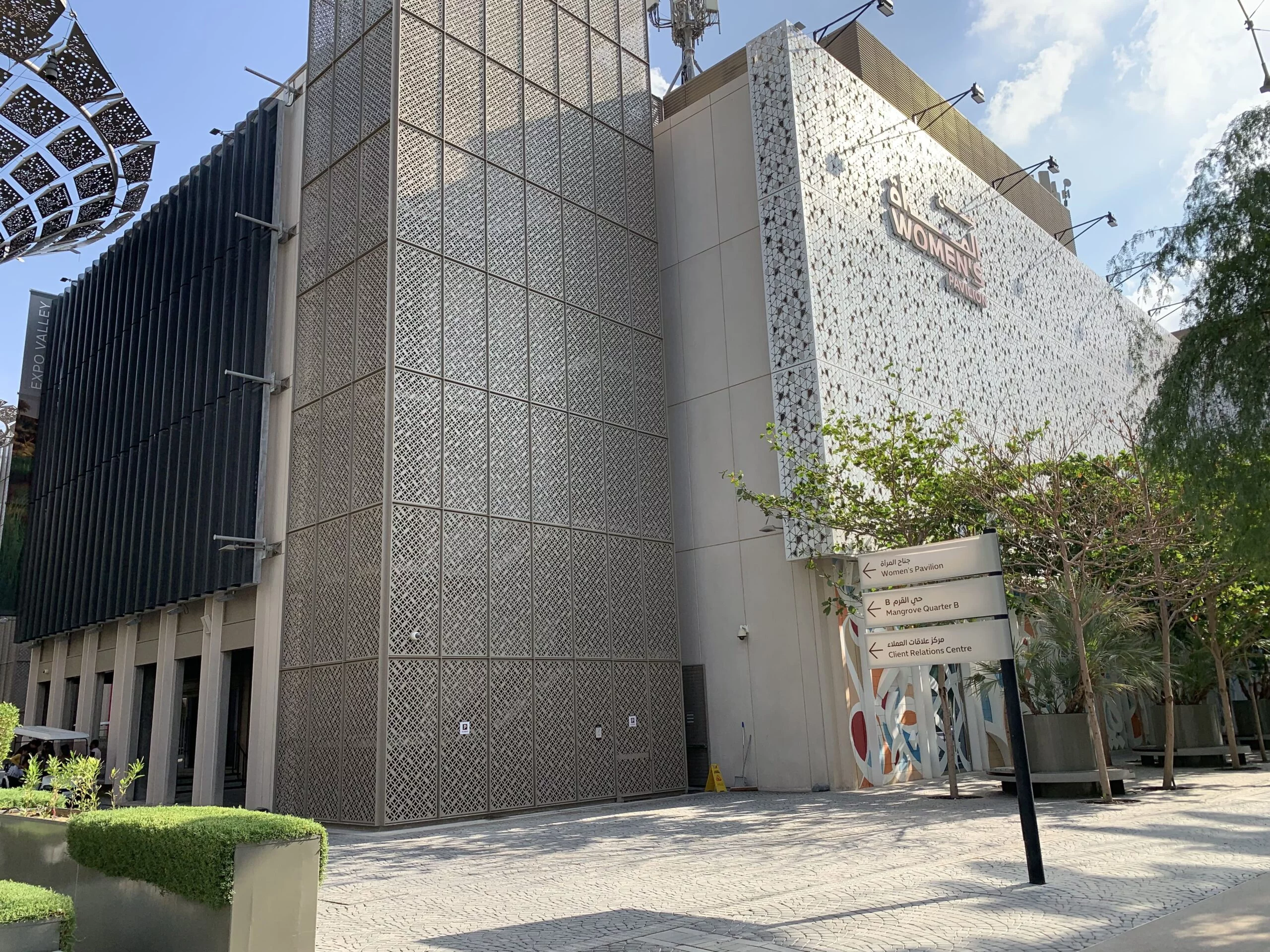 The Women's Pavilion at Expo City Dubai is a motivational display that highlights the contributions and accomplishments of women worldwide. The pavilion has a variety of interactive displays that show off the significant impact that women have had on the development of our world, from the arts and culture to science and cutting-edge technologies.
Part of the pavilion is reserved for an art object in the form of a large tree; the crowns reaching up to the ceiling are illuminated with bright white light, reflecting the strength of women and their unity against problems.
In addition, the pavilion offers a forum for women to talk about the difficulties they encounter daily and to share their experiences and tales.
Timings: 10:00 AM-6:00 PM
Entry fee: 50 AED (free for kids 12 y.o. and younger, people of determination)
Al Forsan Park
Al Forsan Park is a peaceful and relaxing park located in the Sustainability District of the expo. The park features cultural performances, interactive exhibits, and displays showcasing the latest innovations and technologies in sustainability and renewable energy.
Timings: 24/7
Entry fee: free
Expo City Dubai Map
Expo City Dubai Tickets
The ticket price which allows you to enter all 5 available pavilions and exhibitions (the Stories of Nations Exhibitions, the Opportunity, Mobility, and Sustainability districts, Women's Pavilion) is AED 120.
Buying this combo ticket you don't need to pay an entrance fee (which is AED 50) for every pavilion.
Expo Dubai Opening Hours
You can access Expo Dubai 24/7. It offers free admission for everyone, so you can enjoy walking there any time. Surreal Waterfall, Al Wasl Plaza, Jubilee Park, and Al Forsan Park are open around the clock.
However, The Expo City Dubai pavilions are open from 10:00 AM to 6:00 PM, with the last admission time varying based on the pavilion – 5:18 or 5:30 PM.
Expo City Dubai Location 
The Expo City address is Al Wasl Avenue – Dubai
How To Reach
Metro: The Expo 2020 station, which is close to the Expo City Dubai location, may be reached by visitors via the Red Line of the Dubai Metro. The metro timings are below:
Bus: Several buses operate to and from the Expo City Dubai site. For example, route F55. You can find bus routes by getting directions from your place to this Google tag or using RTA's journey planner.
Taxi: Taxis are readily available throughout Dubai, and visitors can easily hail a taxi to get to the Expo City Dubai site. Use Careem, Uber, Yango, or HalaTaxi to order one for you. For more info on taxi apps and fares read there.
Car: Driving up to Expo City Dubai, visitors can park in one of the spaces reserved for that purpose. Major thoroughfares, such as Sheikh Zayed Road and Sheikh Mohammed bin Zayed Road, provide easy access to the location.
5 huge zones for free parking can handle more than 20,000 cars in total:
Where To Dine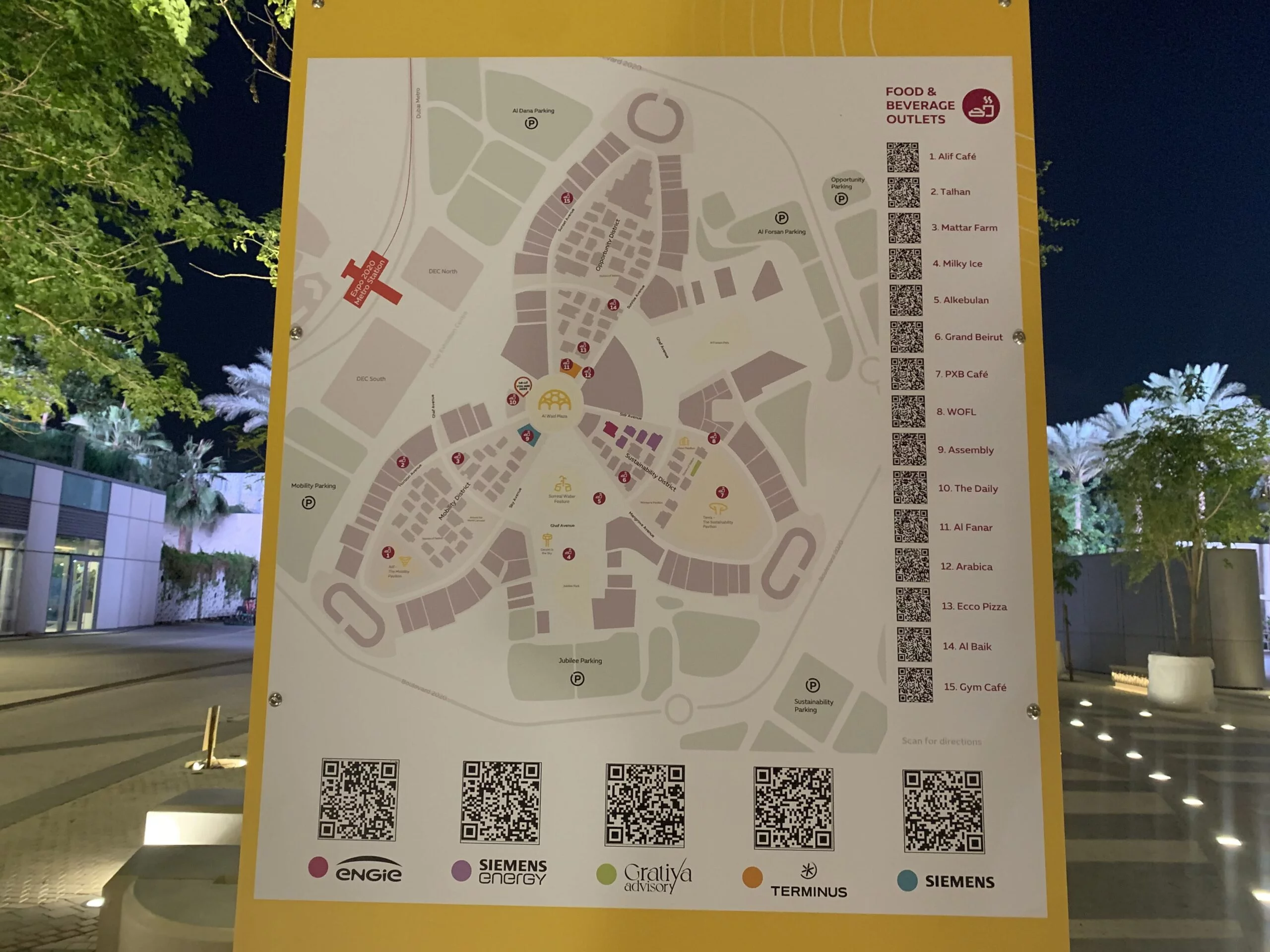 Fine-Dining
1. Al Wasl Plaza Cafe: Al Wasl Plaza Cafe offers a range of delicious snacks, sandwiches, and beverages. The Saffron Cheesecake will set you back 49 AED, with an additional 35 AED if you'd like to get Arabic Coffee to go with it.
2. ECCO Pizza&Pasta: A casual Italian restaurant that serves up classic pizza and pasta dishes, ECCO Pizza&Pasta is a great choice for families and groups. Napoletana pizza or Rizotto with asparagus will cost you 75 AED.
3. Grand Beirut: A Lebanese restaurant that serves up a range of delicious mezze, grilled meats, and seafood dishes. Come get their Kafta with tahini for 34 AED or Tabouleh for 29 AED.
Moderate
1. Alif Cafe: Specializing in light and healthy meals, Alif Cafe is the perfect spot for a quick pick-me-up. You can have a healthy meal for 20 AED by choosing Almond Apricot Granola.
2. Alkebulan Food Hall: A food hall featuring a variety of African-inspired dishes. You may savor delectable food and drink selections from 15 AED during the Thursday happy hour, which runs from 4:00 PM to 8:00 PM.
3. Assembly: Assembly is a contemporary café that offers a variety of delectable and healthful Lebanese meals. Savor A La Carte's Freekeh (55 AED).
4. ECD Gym: A health-focused cafe that offers a range of protein shakes, smoothies, and healthy snacks, ECD Gym is the perfect spot for those who try to stay fit. Sip the fruit smoothie from 25 AED there.
5. Milky Ice: A dessert kiosk that specializes in ice cream, Milky Ice offers a range of creative and delicious flavors. By creativity, we mean an ice cream sandwich with Kit Kat for 30 AED and a huge ice cream that looks like the Burj Khalifa for 29 AED.
6. PXB Cafe: An organic restaurant that serves up a range of healthy dishes like Scrambled Tofu & Avo on Sourdough (50 AED), Protein brownie (35 AED), or Acai Smoothie Bowl (52 AED).
7. Talham: A Turkmenistan restaurant that serves up traditional dishes: Plov (50 AED), Samsa (24 AED), and Chicken Batyrma (48 AED).
8. The Daily: A casual cafe with a fast WI-FI connection. The menu is varied: from light snacks and thin-crust pizza (from 50 AED) to Chicken Tikka Biryani (65 AED) and apple pie (35 AED).
Cheap
Albaik: Albaik is a well-known fast-food restaurant brand from Saudi Arabia that offers a variety of fried chicken and seafood entrees, along with sides and desserts.
Where To Stay
Rove Expo Hotel
For guests visiting Expo City Dubai, Rove Expo is a three-star hotel with a variety of contemporary amenities and chic accommodations. It features a 24-hour fitness center, free private parking, and an outdoor saltwater rooftop pool.
The sleek and contemporary rooms come with mini-fridges, Smart TVs, tea and coffee makers, and Wi-Fi. Sofa beds and/or balconies with breathtaking views of the Expo Dome are standard in superior accommodations. The hotel offers a range of room options, with the average price for a standard room starting at 369 AED per night.
Expo City Dubai Events
Fragile Beauty at Terra
Wander through the thought-provoking photographic collection, take in the beauty of the ocean, and consider how humans affect our nature.
When: 30th November 2023, 6:00 PM; 1st December, 10:00 AM; 13th December, 6:00 PM
Age Limit: No
Entry Fee: from 50 AED
Terra Tinker Table – Keva Planks
Simple towers intricate bridges and other buildings can be constructed with the planks. Workshops and other entertainment offerings are available for visitors to learn how to utilize Keva Planks to create original and creative designs.
When: 30th November 2023, 6:00 PM
Age Limit: No
Entry Fee: Free (for those who hold Attractions Pass or tickets to Terra Pavilion)
Bottle It Up
Guests can take part in educational activities, learn about recycling, and discover ways to use bottles with one-time use less frequently. The workshop is a fantastic way to study science in a fun and interactive way, and it is appropriate for all ages.
When: 30th November 2023, 5:00 PM
Age Limit: No
Entry Fee: Free (for those who hold Attractions Pass or tickets to Terra Pavilion)
COP28
COP28 is the 28th session of the Conference of the Parties (COP) to the United Nations Framework Convention on Climate Change (UNFCCC).
The conference will bring together delegates from around the world to discuss and negotiate global efforts to address climate change.
The conference will focus on the implementation of the Paris Agreement and accelerating global action to reduce greenhouse gas emissions and limit global warming to well below 2 degrees Celsius. COP28 in Dubai is expected to be a significant event in the global effort to address climate change, with many countries and organizations expected to make important commitments and announcements during the conference.
Winter City
Winter City at Expo Dubai is a seasonal event that offers a festive and family-friendly experience and Al Wasl Plaza turns into a magical snowy Christmas wonderland. It features a variety of attractions, including Christmas markets, holiday-themed entertainment, and cultural activities.
The event typically includes festive decorations, light displays, and opportunities to enjoy seasonal treats and beverages.
When:15 December 2023 – 7 January 2024,  3:00 PM-12:00 AM
Entry Fee:  Free for kids under 12 years old, AED 20/ adult (from 15-19 December and from 25 December-7 January) and AED 50/ adult (from 20-24 December). You can book your tickets on Platinumlist.
Spinneys Dubai 92 Cycle Challenge
If your passion is a healthy lifestyle, winning competitions, and most importantly, cycling, then register for the challenge to test your strength and endurance over long distances of more than 90 km.
When:

25th February, 2024

Age Limit: from 2 y.o.
Entry Fee: 325 AED
Tips
Due to the establishment's immense size, thorough preparation is required before visiting.
We kindly recommend you save money by buying a ticket from verified ticket sellers or taking an official 'Pass' to visit 5 pavilions, which cost 120 AED.
Pack sunglasses, a hat, sunscreen, and loose, comfortable clothing as it can be hot outside.
Bring a reusable water bottle and use the water refill stations scattered over the property to stay hydrated.
Take footrests and pauses. When you need a break, make use of the many seating places and shady spots located throughout the surroundings.
You can rent an e-bike or e-scooter or use an internal taxi cab to explore the area.
Reviews
These are a few of the pros and cons of Expo City Dubai that people have brought up in their reviews:
Pros:
The location is easily accessible via bus or Metro and is well-organized.
There are enough entertainment options for guests, including attractions, workshops, and exhibitions.
The spot has amazing and eye-catching architecture and design.
Cons:
Since there is a lot of walking, strolling with kids can be challenging.
There are not too many dining options.
Many attractions are under reconstruction now.
In the summer, the place can get very hot and uncomfortable, although venues are shaded.
Photos
Videos
To sum up, it is a great place to spend time walking, jogging, and cycling during cool weather. You can dine there as well and visit educational exhibitions and events. But you need to consider that most of the area is under construction now.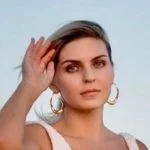 I am Anastasia, the author of this blog and a passionate and experienced traveler who resides in the UAE.
I have visited every Emirate, every popular sight, and every hidden gem.
I m here to help you make your trip to the UAE unforgettable.