The Pointe Dubai is an iconic waterfront destination offering a unique blend of shopping, dining, and entertainment experiences that opened in 2018.
Located at the end of the world-famous Palm Jumeirah, it boasts spectacular views from sunrise to sunset and features attractions such as the world's largest dancing fountain, Reel Cinemas, dining options, and multi-level sports facilities.
With ample parking spots available and no entry fee required, The Pointe is sure to be a memorable experience!
UPD: The entire area of The Pointe will be renovated. Yet there is no information about what exactly will be at The Pointe instead. The Palm Fountain was closed in May 2023. Also, in May 2023 all the restaurants and bars at The Pointe got a notification to vacate the area in 12 months. The Pointe Monorail station was closed in August 2023.
Timings
The Pointe Dubai is open from Monday to Thursday between 10:00 AM and 10:00 PM, and from Friday until Sunday between 10:00 AM and 12:00 midnight.
Opening hours of other facilities may vary.
The Pointe provides exclusive discounts on particular days of the week such as happy hours, ladies' nights, brunch deals, and additional special offers.
Entry Fee
Entry to The Pointe Dubai is free! It has no entry fee, meaning that everyone can enjoy the destination's shopping, dining, and entertainment experiences.
Things To Do
Shopping
Shopping at The Pointe Dubai on Palm Jumeirah is an enjoyable experience. With over 100 shops, it offers a variety of retail outlets, ranging from fashion and lifestyle stores to electronics, jewelry, souvenirs, and more. There are also several restaurants and cafes where guests can relax and enjoy the waterfront views while sipping on delicious beverages.
Dining
With over 50 cafes and restaurants The Pointe Dubai offers a wide selection of culinary experiences, from casual eateries to fine dining. Here, guests can savor the flavors of international cuisine like Lebanese, Mexican, and Mediterranean, or indulge in some traditional Arabic dishes.
Fast Food: KFC, McDonalds, Pizza Hut, Bikanervala.
Casual Dining: Al Beiruti, The Qasab, Lads Burger, Starbucks, TGI Fridays, La Bella Vitta, and others.
Lounges: Argentina Grill, Chalet Berezka, Chuan, Zor, A Capella, Alaca, Phantom House and others.
Photoshooting
As this place has an iconic view of the popular landmarks (such as Atlantis The Palm, and Royal Atlantis) it is perfect for making some photos.
Walking along the promenade
The Pointe Dubai boasts one of the most scenic promenades in the world. Stretching for nearly 1.5 kilometers, it offers visitors a unique opportunity to take in breathtaking views of the Palm Jumeirah skyline from sunrise to sunset.
Palm Fountain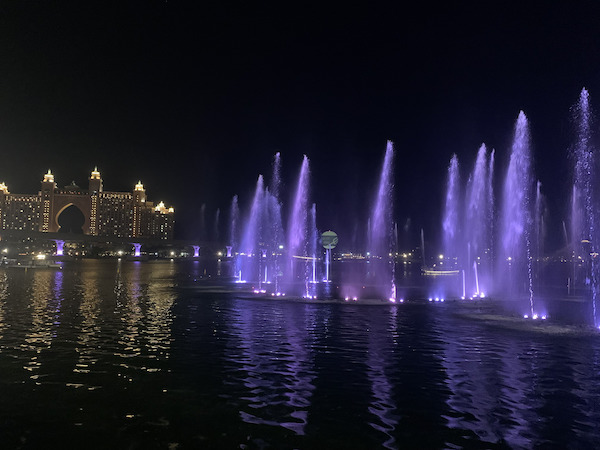 In October 2020, Dubai unveiled its latest record-breaking attraction – The Palm Fountain.
This awe-inspiring attraction earned a Guinness World Record for being the World's Largest Fountain, spanning an impressive 7,327 square meters.
Two giant floating platforms encompass over 14,000 square meters, and with more than 3,000 LED lights, the fountain presents a stunning choreographed display.
Witness the highest shooters soar to incredible heights of 105 meters, and be captivated by the magic of this magnificent spectacle.
Palm Fountain works every evening every half an hour.
But beware that now Palm Fountain is not working, it is under construction. The last show was on 12-14 May 2023.
Shows And Events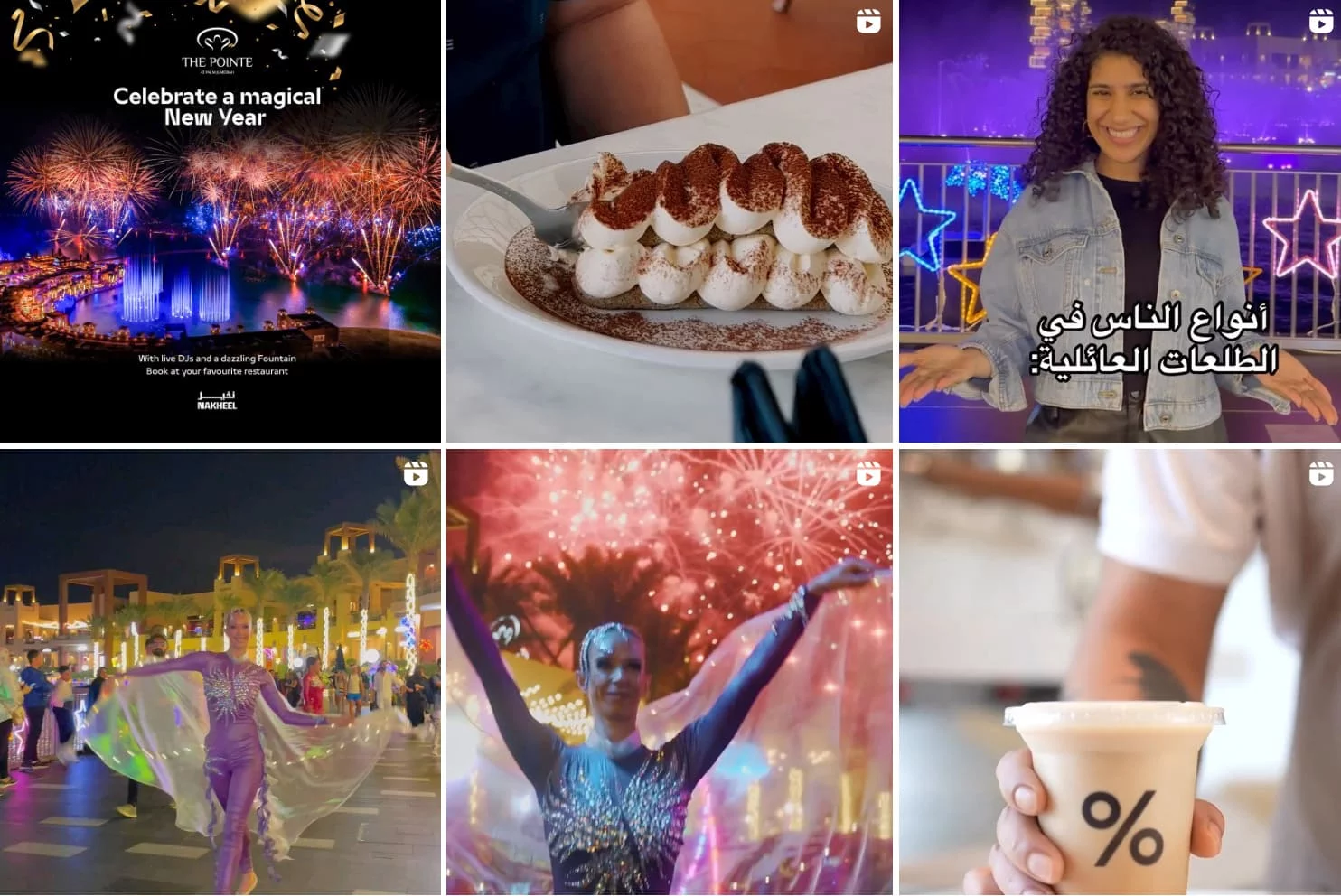 The Pointe Dubai on Palm Jumeirah is a vibrant destination that regularly hosts shows and events. Whether it's music festivals, art exhibitions, outdoor movie screenings, or theatrical performances, there is something for everyone.
Reel Cinema
Reel Cinema at The Pointe Dubai is an experience like no other. Boasting 13 state-of-the-art screens, the cinema offers its guests a luxurious movie viewing experience that includes full HD projection and 3D capabilities.
In addition to the latest blockbusters and international releases, Reel Cinema also offers a wide selection of special programming such as interactive screenings and classic films. Guests can choose from the iconic VIP lounge with high-back leather chairs, luxury recliners, or even private screening rooms for up to 12 people.
For those looking for a truly unique experience, Reel Cinema also has 4D technology – bringing movies to life with immersive sound effects and realistic movements provided by vibrating chairs and fog machines. It's truly an unforgettable movie-watching experience!
The ticket prices at Reel Cinema start from AED 30 per person, depending on the timings and type of seat chosen. Special discounts are available for students, seniors, children & more!
Water Sports
 

View this post on Instagram

 

The Pointe Dubai provides visitors with a unique opportunity to explore the iconic destination from the water. You can choose from kayaking, standup paddleboarding, and others. The price starts from AED 199 per person (VAT included).
Sports
Pinpoint Fitness and Fit Boys Gym are two sports facilities offered at The Pointe Dubai, which will help you achieve your fitness goals.
For those who like Padel, there is Padel Park, the perfect place for sports enthusiasts to enjoy a wonderful entertainment and leisure experience. Padel Park offers modern outdoor padel courts with two standard courts and a mini-court available seven days a week. You can just book a court or choose from one of the coaching packages.
For Kids
At The Pointe, you will find an outdoor children's play area. And do not worry about the sun, the area is sheltered with a tent.
Also, your kids can enjoy Cheeky Monkeys, the ultimate indoor kids' play area. Award-winning and packed with adventure, this playground is the perfect place for kids to learn, play, and celebrate. Treat your child to the birthday of their dreams with one of the most popular birthday party venues in Dubai, complete with a 5-level play structure featuring slides, trampolines, and climbers. Your little monkeys will have a blast exploring our life-size monkey clubhouse and making new friends.
Prices start from AED 50 per hour per child depending on the package chosen.
Location

The address is The Pointe – Frond H – Palm Jumeirah – Dubai
How To Reach
By Car: The Pointe Dubai offers ample parking spots for visitors traveling by car.
By Public Transport: The Palm Jumeirah Monorail (now closed) is the quickest way to reach The Pointe Dubai from other parts of the city.
By Taxi: Taxis and rideshare apps such as Uber and Careem are convenient options for getting to and from The Pointe Dubai.
On Foot: you can reach the Pointe but the walk will not be very pleasant as there are a lot of roads and underground tunnels on the way,
As for parking:
• You can get 3 hours of parking for free if you spend a minimum of AED 100 upon dining in any of the restaurants.
• Or you can pay AED 20 for the first hour and AED 10 for any additional hour.
You can use free parking spaces near the mosque as well.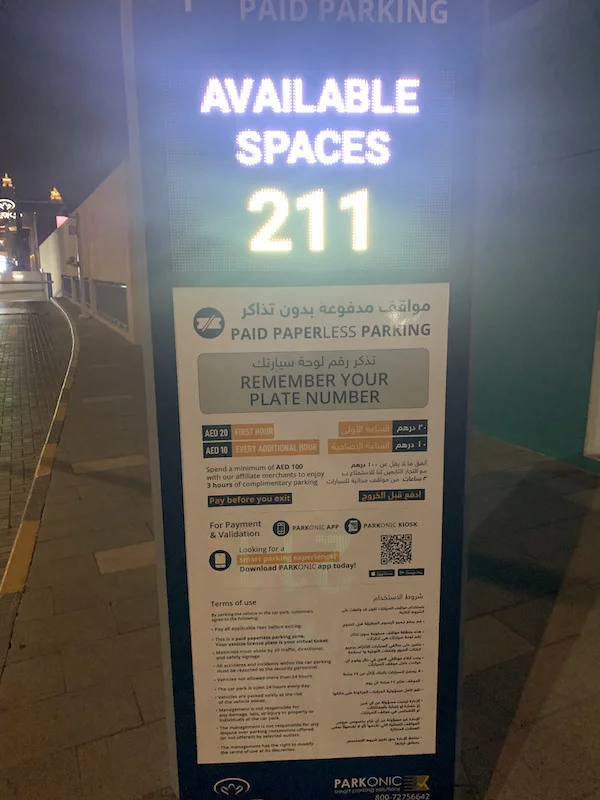 F.A.Q.
What is the Pointe?
The Pointe is a waterfront dining, shopping, and entertainment destination located at the end of Palm Jumeirah, Dubai. It features several restaurants, retail, and entertainment outlets, and attractions including an iconic Palm Fountain show, Reel Cinemas, water experiences, and multi-level sports facilities.
The Pointe also offers a range of family-friendly activities such as Cheeky Monkeys indoor play area for kids and Pinpoint Fitness Center. Visitors can enjoy walking along the promenade while taking in spectacular views of Atlantis The Palm from sunrise to sunset. It is easily accessible by car with ample parking spots available.
What is the best time to visit The Pointe at The Palm Jumeirah?
The best time to visit The Pointe is in the evenings when it's cooler outside and the fountain shows start. You can also benefit from discounted rates by visiting during weekdays or non-peak hours. It's advisable to check out the event calendar for any special activities or promotions happening during your visit. Finally, make sure you leave enough time to enjoy all the attractions and shopping experiences available onsite.
Is there an entry fee for The Pointe?
No, there is no entry fee for The Pointe at Palm Jumeirah. Visitors can enjoy the waterfront destination and all its attractions at no cost. There are plenty of activities to partake in, such as a waterfront promenade walk with views of the Dubai skyline, watching the iconic fountains show, or enjoying the pointe's wide range of shopping and dining experiences.
Can you walk from Atlantis The Palm to the Pointe?
Yes, you can walk from Atlantis The Palm to the Pointe but the route passes through an underground tunnel and it will not be a very pleasant walk. You can take the Palm monorail from Atlantis to the Point, it is just the next station.
What time are the fountains at the Pointe?
The fountains at The Pointe in Dubai run for 3-5 minutes every 30 minutes in the evenings from sunset till midnight.
Can I come to the Pointe with my dog?
Yes, the Pointe is a pet-friendly area.
Reviews
People who have visited Pointe Dubai notice the following pros:
The fountain is very beautiful.
Good iconic view of the Atlantis Hotel.
Plenty of waterfront restaurants and cafes with nice food.
Fewer people than at other attractions especially on weekdays.
There are activities for kids such as a playground.
The entrance is free.
People who have visited the Pointe Dubai notice the following cons:
Some restaurants are expensive.
Paid parking.
Photos
Videos
The Pointe Dubai on Palm Jumeirah
is an incredible destination for visitors of all ages and interests.
From the iconic fountain show of the world's largest dancing fountain to shopping experiences and waterfront dining, it is a great place to visit in the evening.
With easy access via car or public transportation, you can explore this amazing attraction in no time! Whether it's a romantic evening stroll along the promenade or watching movies at Reel Cinema with friends – The Pointe has something special for every visitor. So come on over and experience everything that this outstanding destination has to offer!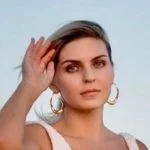 I am Anastasia, the author of this blog and a passionate and experienced traveler who resides in the UAE.
I have visited every Emirate, every popular sight, and every hidden gem.
I m here to help you make your trip to the UAE unforgettable.