Culturally diverse Ajman is the smallest of the country's seven emirates. The principality possesses two enclaves on land, Manama and Masfut, in addition to its city of Ajman. It gets overlooked frequently by tourists in favor of other places to visit like Dubai and Abu Dhabi.
However, with its stunning beaches, thriving cultural heritage, and family-friendly tourist attractions, Ajman has a lot to offer. The city has a vibrant retail environment, a varied culinary scene, and some recreational opportunities for both families and adventurers.
For tourists seeking an authentic experience in the United Arab Emirates, Ajman is a wonderful choice because of its fair prices and warm atmosphere. Check out our list of top places to visit in Ajman.
Why Visit Ajman
For calm travelers and thrill-seekers alike, Ajman is a paradise that can sate every hunger. While luxurious hotels are the ideal getaway from the city, historical locations such as old forts give the chance to travel back in time. Camel racing takes place in the desert surroundings of this emirate, offering an unforgettable show for those seeking something truly unusual.
Here is a list of the reasons why tourists should pay attention to Ajman tourist places:
Beautiful sandy beaches: in the United Arab Emirates, Ajman is home to some exquisite and unspoiled beaches. Tourists can get the pleasure of the sunshine near the coastline, swim in the crystal-clear waters and engage in water sports like jet skiing, kayaking, and paddleboarding.
Historical sites: the Ajman Museum, Masfout Castle, and Ajman Dhow building Yard are just a few of the historical and cultural sites of Ajman. Through these tourist and cultural attractions alone, travelers can discover more about the region's rich history and culture.
Family-friendly attractions: family-friendly places to visit in Ajman include shopping malls, the Dreamland Aqua Park (which is 30 minutes away from Ajman), and the Ajman City Center. Families with kids can enjoy a day out at these popular locations.
Shopping: there are several places to visit in Ajman for shopping, including traditional marketplaces and modern malls. Both tourists and residents like visiting the Ajman China Mall and the Ajman City Centre.
Affordable: while still providing a high-quality experience, Ajman is quite cheaper when compared to other tourist destinations in the United Arab Emirates. Luxury accommodations, exquisite meals, and a variety of entertainment alternatives are all more affordable for tourists to enjoy comparing Dubai and Sharjah.
Close to Dubai: While vacationing in Ajman, you can also visit Dubai and Sharjah which are incredibly close to Ajman for day trips and take advantage of the activities they have to offer.
Facts About Ajman
1. Ajman is the smallest emirate of the United Arab Emirates, the total area of Ajman is just 259 km2.
2. The city of Ajman is home to 95% of the emirate's residents.
3. Ajman has no own international airport but is located 15-30 minutes from both Dubai International Airport and Sharjah International Airport.
4. Mineral springs in Ajman are renowned for providing drinking water to the Persian Gulf areas.
5. When you first walk inside the Ajman National Museum, one of the most striking exhibits is an unearthed cemetery with ceramics and burial jewelry dating back to 3000 BC.
6. Modern shipbuilding started to take off at the beginning of the 1990s of the 20th century, making Ajman the primary UAE shipyard for small-tonnage and sports vessels with a stellar reputation across the Middle East.
Places To Visit in Ajman
We suggest 20 important places to visit in Ajman that should be at the top of every traveler's must-see list when visiting.
Etisalat Tower
For: architecture and leisure lovers, families with friends, singles, photo shooting
Timings: Saturday to Thursday 9:00 AM – 9:00 PM, Friday: 1:00 PM – 9:00 PM
Entry fee: free
Location: 
Etisalat Tower is one of the tallest towers in Ajman. The tower's construction, which is made of structural steel and glass covering, was created to be significant and recognizable. The top of the Tower is a giant golf ball. It is a striking sight to behold, in the city center of Ajman, especially at night, when the upper floors are illuminated.
Additionally, it has inside gardens and green areas, as well as several restaurants and cafés where guests can taste a wide variety of cuisines while taking in the spectacular views.
Etisalat Tower also serves as an important telecommunications hub for the Middle East, Asia, and Africa, providing telecommunication services to various countries across this region such as Thailand, Malaysia, Indonesia, and Singapore. That's why here you can check out art galleries and museums dedicated to the history and evolution of telecommunications.
Ajman Dhow Yard
For: history/boat lovers, families with kids, singles
Timings: 6:00 AM – 6:00 PM, event dates should be checked in advance
Entry fee: free
Location: 
Anyone interested in maritime history and culture must go to Ajman Dhow building Yard which is located on the north side of Ajman Creek. One of the oldest shipyards in the Middle East is situated along the of Ajman.
Visitors can explore the process of making wooden boats using conventional equipment and methods at the Ajman Dhow Yard. Depending on the size and style of a boat being made, the complete procedure might take days to months.
For those who want to try their hand at building their own dhow, there are many Dhow Yard events that provide insight into replica construction methods. Others can buy a miniature dhow as a souvenir to take home.
Ajman Corniche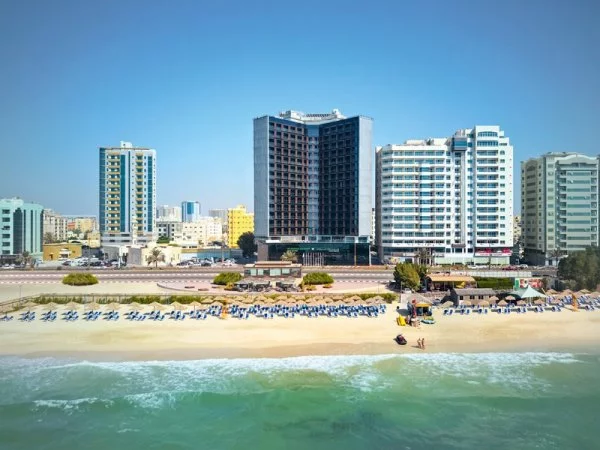 For: nature, entertainment, and leisure lovers, families with kids, families with friends
Timings: 24 hours
Entry fee: free
Location: 
Ajman Corniche is one of the most popular places to visit in Ajman. If you want to spend some time outside and see Ajman's natural beauty, head to the Ajman Corniche, one of the most popular places to visit in Ajman.
The white sands of Ajman Beach or Al Zorah Beach, the breathtaking views of the Persian Gulf, strolling down the boardwalk along the beach, and relaxing in one of the numerous bars and restaurants are all available to tourists.
Some of the high-rated places to eat (rates provided by Google Maps users):
Pergola Beach Bar & Kebab Corner (takeaway food) – 5/5
Seascape Restaurant Ajman – 4,6/5
Gazal alsham – 4,5/5
Zanzibar – 4,4/5
Bab Al Bahr Beach Bar & Grill – 4,3/5
Families with children are sure to appreciate parks and playgrounds. Other activities at the Ajman Corniche include kayaking, jet skiing, and sailing.
Ajman Marina
For: nature, entertainment, and leisure lovers, families with kids, families with friends, shopping
Timings: 24 hours
Entry fee: free
Location: 
Ajman Marina is a luxurious waterfront destination located along the coast of Ajman.
Ajman Marina is thought to be a 1,5 km long boulevard that is popular among families, runners, and cyclists. It includes a yacht club, 30 residential and business properties, recreational facilities, luxury hotels, eating places, offices, and a large shopping center.
Ajman City Centre
For: shopping, families with kids
Timings: 10:00 AM – 12:00 AM
Entry fee: free
Location:
Ajman City Centre is a large shopping complex located in the heart of Ajman. It offers a variety of shops, restaurants, and entertainment venues as well as plenty of other services and amenities.
The mall has more than 79 international brands represented. There is also an extensive food court offering food from all over the world, including fast food outlets and coffee shops.
Children may enjoy indoor rides and arcade games at the center's designated Kids Zone.
The mall also offers a number of entertainment options for visitors of all ages, including bowling, virtual reality gaming stations, an international blockbuster movie theater, and a 4D cinema experience. Designer boutiques, clothing, and technology stores provide a wide variety of goods for shoppers.
Ajman City Center also offers amenities like ATMs and money exchange counters so that customers may simply make their purchases. Visitors who choose to drive their own vehicles or use their cab service can park for free.
Sheikh Zayed Mosque
For: history/architecture lovers / religious
Timings: 5:30 AM – 7:30 PM
Entry fee: free
Location: 
The Sheikh Zayed Mosque is a must-see destination in Ajman and one of the largest religious sites in the UAE.
Sheikh Zayed Ajman Mosque has a striking facade, including four 87-meter-tall minarets that can be seen for kilometers around and 82 white marble domes. Islamic interior features include marble flooring and ornate chandeliers.
For a moment of peace for meditation or thought, visitors can tour the mosque's many courtyards, gardens, and fountains. Furthermore, there are gender-specific prayer areas within.
Ramadan and Eid al-Fitr are when the Sheikh Zayed Mosque hosts religious services, however, anybody can go there any time of the year without any limitations or particular preparations. To have a deeper understanding of its history or to learn more about Islamic culture in general, guided tours are also offered.
When visiting the mosque, don't forget to follow the rules. For instance, prepare the proper clothing. Women should wear scarves to cover their hair, long dresses, and tops with long sleeves that aren't low-cut, transparent, or clinging, or an abaya or shaila that will completely enclose them. Shorts are prohibited for men, better wear pants and long-sleeved shirts.
Ajman National Museum
For: museums/history/ archaeological lovers, families with kids
Timings: Saturday to Thursday 8:00 AM – 8:00 PM, Friday: 2:30 PM – 8 PM
Entry fee: 5 AED (adults), 15 AED (family ticket), 1 AED (kids over 6 y.o and school students), children under 6 are free of charge
Location: 
Visitors may get a glimpse of the history, culture, and legacy of the Ajman region at the Ajman National Museum and Ajman Fort. The displays of the Ajman Museum include coinage from the late 19th and early 20th centuries, Ajman images, and ceramics, tools, and weapons discovered in local tombs.
The museum also has a collection of traditional Islamic artwork, such as manuscripts and calligraphy. The traditional Emirati folk arts, such as henna paintings, needlework, and woodcarving, are also shown.
Through various local archaeological sites and exhibits illustrating historic civilizations like the Umm Al Nar Culture (third millennium BC to second century AD), visitors may learn about more than 300 years of history.
Ajman Museum also hosts exclusive exhibitions of modern Arab photography and art. Artifacts from pearl diving, fishing, and other nautical pursuits that were crucial to the growth of Ajman's economy are also in view.
Pros:
Highly informative interactive displays
Air-conditioned rooms
Close to the Ajman bus station and the coastline
Cons:
Some exhibit videos are only in Arabic
Seneyah Island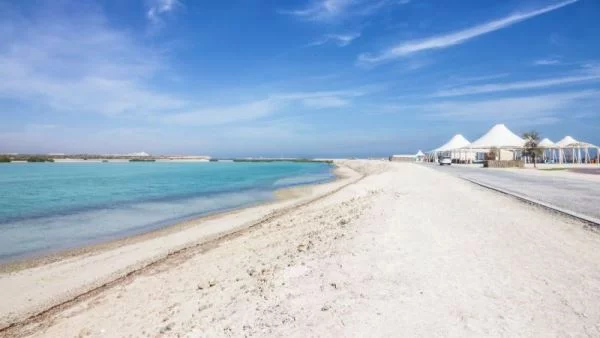 For: nature lovers, couples
Timings: 10:00 AM – 6:00 PM
Entry fee: free
Location:
Seneyah Island, also known as Al Sinniyah (Seanneeah) Island, is a magical paradise of natural beauty. Its lush mangroves and forests, which are home to species like flamingos, herons, terns, and seagulls, make it a birdwatcher's dream.
This picturesque location is one of the romantic places for honeymooners wishing to experience everything the United Arab Emirates has to offer. Couples may spend romantic days exploring its many attractions, and nature lovers will be pleased by the escape from city life it offers.
Masfout
For: adventure and nature lovers, families with kids
Timings: 24 hours
Entry fee: free
Location:
In the stunning Hajar Mountains that encircle Ajman, there lies an idyllic hideaway called Masfout. This tiny village has grown to be a well-liked vacation spot for families wishing to discover nature through activities like hiking and off-road riding.
By knowing more about the traditional tribes of the Emirates, who have lived in these areas for a long time, you may not only take in the breathtaking beauty of nature but also part of the cultural past of the UAE.
Ensure that you take a break from your research to take in the breathtaking marvels that are just 90 minutes away from the city of Ajman!
Al Zorah Natural Reserve
For: adventure, sports, and nature lovers, families with kids
Timings: 9 AM – 6 PM
Entry fee: free but you should pay extra for activities
Location:
Al Zorah Natural Reserve is a beautiful and unique wildlife sanctuary located in the emirate of Ajman, United Arab Emirates. It is over 190 hectares of protected mangrove forests, lagoons, and wetlands which are home to a variety of native species such as flamingos, turtles, and various types of fish.
The reserve also provides visitors with the opportunity to birdwatch, kayak, or canoe through its breathtaking surroundings, as well as wander along its extensive network of paths.
Al Zorah Natural Reserve is regarded as one of the best places to мisit in Ajman, especially for playing golf and watersports including wakeboarding, waterskiing, and kitesurfing. Speaking about prices, mangrove tours and wakeboarding cost around 100-150 AED.
Al Hamriya Beach
For: nature and leisure lovers, families with kids, romantic travelers
Timings: 6 AM – 7 PM
Entry fee: free
Location:
Al Hamriyah Beach is a peaceful location that is ideal for anyone seeking some quiet time. With lifeguards on duty nearby, the white dunes are lapped by crystal-clear waters, making it the perfect place to swim or engage in other water-related pastimes.
Other excellent additions are a 1,300-metre jogging track and 3 meters wide interlock walking track. Barbecues can be enjoyed privately by families while their children have fun in the playground nearby. Public restrooms and showers also make this beach convenient.
Al Zorah Beach
For: nature and leisure lovers, families with kids, romantic travelers
Timings: 6 AM – 7 AM
Entry fee: free
Location:
Al Zorah Beach is the ideal location to get away and relax. With its crystal-clear seas, fine sands, and variety of fun activities like swimming in the warm Persian Gulf, building sandcastles, and sunbathing, it makes the ideal location for family picnics with stunning sunset views. From here, you can ride thrilling Jet Skis and get your heart pumping. Beware: part of this beach is owned by one of Ajman's finest hotels, the Oberoi Beach Resort.
Here are some main pros and cons of the public beach mentioned by vacationers.
Pros:
Soft sand
Great views and sunset
10 minutes drive from the city's center
Cons:
There are no shops and restrooms nearby
Crowded on weekends
Night camping and barbeque are not allowed
Al Dur Archaeological Site
For: archaeological / history lovers
Timings: 6 AM – 6 PM
Entry fee: free
Location:
It is believed to date back to the Iron Age and Umm Al-Nar period and features several ancient structures which have been preserved for over 5,000 years.
Some of the most notable findings include a large watchtower, mounds, a tomb, and a sunken courtyard. Visitors are also able to explore the ruins of five smaller dwellings, evidence of early irrigation systems and pottery remains from various periods in the area's history.
Al Dur Archaeological Site has been designated a UNESCO World Heritage Site due to its significant archaeological value.
Al Murabba Watchtower
For: history/architecture lovers
Timings: 24 hours
Entry fee: no entry
Location:
The remarkable Al Murabaa Tower was constructed by Sheikh Rashid bin Humaid Al Nuaimi in the 1930s, an iconic landmark that has been a part of Ajman's history ever since.
It once served as a graceful guide to pearl divers and offered protection against any potential pirates who may have threatened the fishing community.
After being restored in 2000, this beautiful tower is now open to visitors with its old-fashioned charm standing tall amongst modern giants – creating quite the contrast!
Safeer Mall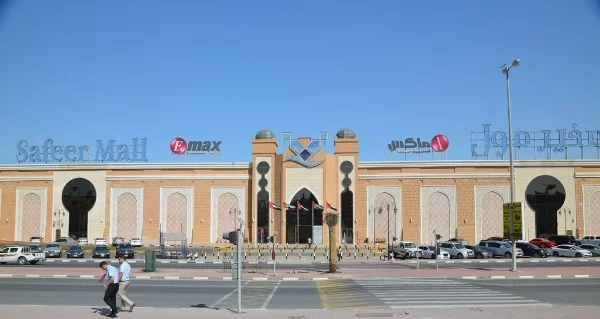 For: shopping, families with kids
Timings: Sunday to Thursday 8:30 AM – 11:30 PM, Friday to Saturday 10:00 AM – 10:00 PM
Entry fee: free
Location:
Located close to Sheikh Zayed Road and Ajman University, this impressive shopping center features stores, entertainment venues, restaurants, and cafes such as SF Restaurant, KFC, and Chow King.
The mall offers a diverse selection of products ranging from clothing and accessories to electronics, home furnishings, and more.
Fun City has a variety of kid-friendly attractions, including video games and ball pits. You can purchase 15 plays for 120 AED.
Safeer Mall is a terrific place for consumers and families seeking a fun day out because of its extensive selection of entertainment and retail opportunities.
Fish Market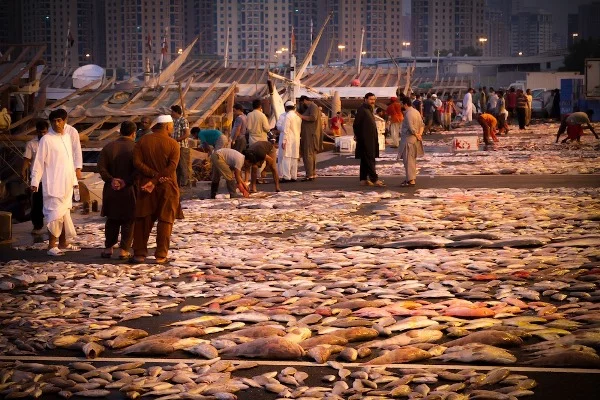 For: shopping
Timings: 7:00 AM – 10:00 PM
Entry fee: free
Location:
One of the oldest fish markets in the UAE is the one in Ajman, which is a well-liked tourist destination. This market, which is close to the seaside, has been selling fresh seafood with its cutting for an additional fee. Bargaining at the market is acceptable.
Today, tourists can wander through its confusing lanes and find a variety of local delicacies like kingfish, shrimp, squid, and hammour. The market stalls also sell a range of spices and techniques for preserving the catch.
The Red Fort
For: history/architecture lovers
Timings: 8:00 AM – 5:00 PM
Entry fee: free
Location:
Sheikh Humaid bin Abdulaziz Al Nuaimi oversaw the construction of the magnificent Red Fort, which stood from 1910 to 1928 and served as a royal home.
After renovations in 1986, a third tower was added to the majestic structure's original four rooms, which were enclosed by two magnificent towers, one of which also housed a room.
This fort stands out owing to the surrounding trees with natural greenery combined with a welcoming spring supplying fresh drinking water nearby. It has exquisitely painted red walls, which is said to be where it got its name, and ceilings supported by sandalwood beams.
UAQ Fort & Museum
For: history/architecture lovers, families with kids
Timings: Saturday to Thursday 7:00 AM – 8:00 PM, Friday: 8:00 AM – 2:00 PM
Entry fee: 4 AED (adults), free for children under 15
Location:
The Umm Al Quwain Fort and Museum is one of the most popular places to visit in Ajman. This imposing fort tells a fascinating story of Ajman's past, some buildings are more than 150 years old.
While appreciating the views from the Umm Al Quwain Fort and Museum's balconies and terraces, visitors can explore the building's twisting staircases, undiscovered tunnels, and ancient chambers. With an excellent collection of relics from various periods on exhibit inside the museum, visitors may learn even more about the history of the fort and the local culture.
Tourists visiting Ajman will find the Umm Al Quwain Fort and Museum to be an exciting site due to its distinctive architecture and extensive history.
Dreamland Aqua Park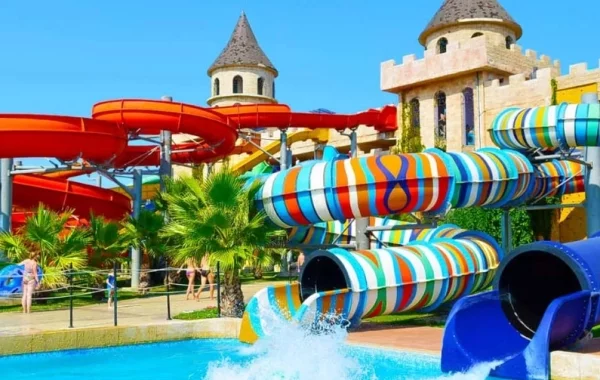 For: entertainment and leisure lovers, families with kids
Timings: 10 AM – 6 PM
Entry fee: from 100 AED
Location:
Visitors of all ages can participate in a variety of fun activities at Dreamland Aqua Park.
More than 15 rides and attractions are available at Dreamland, including adrenaline water slides, open-air play areas, and a wave pool. This place is fantastic for family enjoyment because of its distinctive AquaPlay Zone, which is specially created for little ones.
Dreamland is one of the cool places to visit in Ajman because it has a restaurant, pool bar (alcohol is also served there), tiny zoo, and an Amphi Theatre right on site.
F.A.Q.
What is the best time to visit Ajman?
The winter season, from November to March, is the ideal time to visit Ajman. With an average temperature of about 25°C (77°F) during this period, the weather is pleasant and milder, making it perfect for enjoying the outdoors and the beaches.
Ajman's summers may be unbearably hot with frequent highs of 40°C (104°F) and high humidity levels. As a result, many outdoor activities may be unpleasant, which would reduce tourists' enjoyment of them.
Is Sharjah cheaper than Ajman?
No, Sharjah is more expensive than Ajman, particularly when it comes to accommodation and dining options.
While Sharjah's costs are seen as being more moderate, the cost of living in Ajman may be up to 30% less than the cost of living in other significant Emirati cities like Dubai and Abu Dhabi. The cost of hotels in Ajman is frequently less expensive than in Sharjah. More than that, there are several low-cost or free places to visit in Ajman.
Referring to Numbeo the rental price for 1-BR apartment in the City Centre of Ajman is around 1600 AED and 2770 AED in Sharjah. A monthly transport pass costs 135 AED in Ajman and 280 AED in Sharjah. In Ajman's restaurant meal per 1 person will cost around 11 AED and in Sharjah's restaurant - 20 AED.
Is it allowed to wear shorts in Ajman?
Even though Dubai and several other popular tourist locations in the United Arab Emirates tend to be more liberal in terms of clothes, Ajman is still regarded as a relatively relaxed city in terms of dress code. In most locations, including hotels, beaches, and shopping centers, visitors to Ajman are permitted to dress casually choosing shorts and t-shirts.
But it's crucial to show consideration for the inhabitants and respect for cultural customs. Visitors should refrain from dressing provocatively in public locations like mosques and should obey local traditions like removing their shoes and covering their heads.
Is Ajman worth visiting?
Ajman is undoubtedly worth visiting. Beautiful beaches, historical sites, family-friendly attractions, and shopping centers are just a few of the spots and activities it provides. Ajman is also noted for being less expensive than other well-known tourist spots in the United Arab Emirates.
What is Ajman best known for?
Here is a short list of places to visit in Ajman and what it is best known for:
1. Beautiful Ajman beaches, for instance, Ajman Beach or Al Hamriya Beach
2. Rich cultural sites, including the Ajman Museum and the Sheikh Zayed Mosque
3. Family-friendly attractions such as the Al Zorah Nature Reserve and Dreamland Aqua Park
4. Shopping destinations, including traditional markets and modern malls
5. Affordable accommodation and entertainment options
Is alcohol allowed in Ajman?
In Ajman, it is legal to drink alcohol, but only in cafes and restaurants with a license. In addition to a few liquor outlets in the city that are open to non-Muslim inhabitants, tourists can purchase alcohol at the bars and restaurants of hotels.
In public places, it is forbidden to consume spirits or be drunk. Visitors should always respect local laws and customs, consume alcohol responsibly, and only do so inside licensed establishments.
Tourists of all ages can find plenty of entertaining places to visit in Ajman that's strategically located on the Arabian Gulf coast. Ajman has many a lot of important tourist attractions and opportunities to discover its natural beauty and vibrant culture, from an exciting downtown street to calm seaside islands. This lovely Emirate has something for everyone, whether you prefer theme parks, water sports, or simply have a thirst for adventure.
Map With Places To Visit In Ajman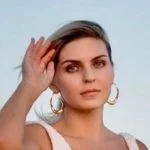 I am Anastasia, the author of this blog and a passionate and experienced traveler who resides in the UAE.
I have visited every Emirate, every popular sight, and every hidden gem.
I m here to help you make your trip to the UAE unforgettable.